The Big Read: Business of marathons — to hit the jackpot, organisers must first win public support
SINGAPORE — More than a decade ago, participating in a long-distance running event meant signing up for one of six endurance races or marathons in Singapore at the time.
SINGAPORE — More than a decade ago, participating in a long-distance running event meant signing up for one of six endurance races or marathons in Singapore at the time.
With 116 events held this year, it now seems like there is a marathon, a charity fundraising run, a race to spread awareness for some meaningful cause, or a fun run for families happening nearly every weekend in hot and sweltering Singapore, according to a listing of race events on running portal JustRunLah.
Among all these events on the calendar, the Standard Chartered Singapore Marathon, the nation's headline running event since 2002, has seen participation surge ten-fold over a decade — 51,000 runners donned race bibs as they raced around Singapore's skyline this year, up from around 5,000 in 2009.
What this means to city officials is a potential economic boon to Singapore, as well as lucrative business opportunities for race organisers, marketing agencies and other services firms involved in the multi-million dollar marathon industry.
Yet, this year's Singapore Marathon — held in the evening instead of morning for the first time — has made headlines for the wrong reasons.
The event was held over three nights as part of its bid to become listed among the Abbott World Marathon Majors (WMM), a prestigious series of six marathons held in New York, Boston, Berlin, Chicago, London and Tokyo.
But it ended up causing thousands of motorists to be ensnared in a gridlock that delayed wedding dinners among other things, and ignited a debate about the way marathons are organised and whether they are worth the disruption. Several complained about the decision to host the race at night, and an apology by race organisers Ironman Asia and Sport Singapore failed to soothe public displeasure. 
Speaking to experts, consultants, athlete groups and industry players, TODAY combs through the debate to examine the economic and social potential of Singapore's growing marathon craze, and why race organisers need to work harder to earn public support in order to realise their ambition of catapulting Singapore into the big league.
SINGAPORE'S OPPORTUNITY
Hosting 51,000 runners across all categories in this year's Singapore Marathon should not be seen lightly, sports consultants said.
It is a statistic that puts the Singapore Marathon in a similar league as the six marathons in the WMM, touted as the largest and most prestigious marathons in the world.
In terms of finishers for the full 42.1km marathon, the Tokyo Marathon attracted more than 34,450 runners. Boston and London had more than 26,700 and 42,500 respectively. Berlin saw more than than 44,000 runners finish the marathon while Chicago and New York had more than 45,700 and 53,600 finishers respectively, based on data from WMM.
Unlike Singapore's total count, the WMM numbers do not include participation figures in other races of shorter distances, such as the half-marathon. Singapore had 15,217 registered participants for its 42.1km marathon, said Ironman Asia but it did not disclose the number who completed the race. 
Of note is Tokyo, the only Asian marathon within the WMM calendar. Compared with Tokyo which held its first race in 2007, the Singapore Marathon has a longer history, having debuted in 2002.  
What the runner participation numbers do not show is the actual booming demand for WMM events — many are willing to pay high fees just for the chance of being selected to take part. The London Marathon, for example, sees over 450,000 applications for 40,000 race spots. On average, most of the WMM events attract over 250,000 applications for 40,000 to 50,000 slots.
Still, the Singapore Marathon has shown that it is able to draw a large number of participants. Assistant Professor of Marketing Jeffrey Cai from the National University of Singapore (NUS) Business School said: "The participation at running events like the recent Standard Chartered Singapore Marathon has been healthy, and is in line with the growing popularity of these events in Asia."
He noted a 2019 study by online portal RunRepeat and the International Association of Athletics Federation which showed that global marathon participation has declined 13 per cent since its 2016 peak. But in Asia, running is "very much on the rise", just not enough to compensate for the international decline, the study said.
It also found that globally, runners are more willing to travel to a different country to race. Over the last 20 years, this group increased from 0.2 to 3.5 per cent of all marathon participants.
For these reasons, the WMM, which has been planning to expand to nine cities in total, is likely to look at Asia (outside of Japan) in its global search, and that is where Singapore comes in. The Singapore Marathon's bid to be part of the WMM was first announced in 2017, and Ironman Asia is working towards achieving that status by 2021.
Speaking to TODAY, Ironman Asia managing director Geoff Meyer said: "Singapore is the centerpiece of Asia, a spectacular city that many tourists wants to visit. Many runner and elite athletes are showing that through sports tourism — for example, the Standard Chartered Singapore Marathon is the catalyst that gets them here with family and friends. A big portion of the world's travelers wants to combine their passions, a sport such as running, with a destination."
To meet the WMM's stringent requirements, this year's marathon had to be spread over three nights, compared with previous two-day events where the races were flagged off in the morning.
Some of Singapore's neighbours are gunning for the same sports market, experts told TODAY.
For example, Phuket in Thailand positions itself as a as warm-weather training venue for sports teams looking to escape winter environments, said Mr Nicholas Fang, who founded strategic communications consultancy Black Dot. His firm has worked with major sporting events such as the OCBC Cycle, the Sundown Marathon, Singapore Cricket Club Rugby Sevens, FINA Swimming World Cup, and the SAFRA Singapore Bay Run and Army Half Marathon.
While some cite Singapore's hot climate as a negative factor for marathons, Mr Fang disagreed as the climate renders it conducive for outdoor events to be held in Singapore all-year round.
"Having trained and competed in sports in many countries overseas, I've heard feedback from many foreigners that being able to come to a tropical environment, especially when they are facing wintry conditions at home, is a boon, rather than a disadvantage," said Mr Fang, a former national fencer and triathlete. 
This might also be why the Singapore Marathon is held in December when many other countries are experiencing winter and snow, he added.
The decision to hold the race at night was also meant to avoid the heat and humidity in the day and broaden its appeal to a larger international pool of elite runners, organisers previously said.
ONEathlete co-founder Jed Senthil told TODAY: "It is hard to get good personal best timings in a hot weather, thus I believe the organisers opted for a 6pm evening race." Mr Senthil's athlete management group manages national runners Mok Ying Ren and Ashley Liew.
Still, it was "very humid" during this year's race despite the later flag-off time, Mr Senthil said. Having a race later in the night, like the Sundown Marathon, may work better to help runners achieve their personal bests, he added. 
THE ECONOMICS OF MARATHONS
For avid runner Colin Tung, who started taking part in marathons since 2012, what used to be a simple affair of having a pair of decent running shoes and socks now involves — and costs — much more.
Mr Tung, who had represented Singapore in the 2015 SEA Games, told TODAY that apart from race entry fees, serious runners nowadays fork out far more on high-tech shoes, running singlets, running shades, satellite and fitness trackers as well as racing belts for instance. The belts can hold nutrition energy gels that cost S$5 each, and around five are consumed every race.
"Runners are now getting kitted out in the latest technology — a global positioning satellite watch that tracks your distance and speed is pretty indispensable these days," said Mr Tung, who is sponsored by New Balance and works in a corporate advisory firm.
"Today's marathons are serious business," he added.
The rising entry fees and spurt of running gadgets meant some serious marathon runners could end up spending more on a race than, say, the average cost of a Formula One (F1) Singapore Grand Prix ticket, which makes it a lucrative business for sports equipment manufacturers and advertisers.
When it comes to sports tourism, expenses for international participants is even higher, considering the additional outlay on flights and accommodation.
With travelling to take part in marathons becoming more popular, the Singapore Tourism Board (STB) told TODAY that marathons "show promise as a tourism product that can attract runners from the region and beyond to Singapore".
Out of an annual average of 50,000 runners in the Standard Chartered Singapore Marathon in recent years, around 12 to 20 per cent are foreign runners. This figure is also steadily growing, said Ms Ong Ling Lee, STB's director of sports.
Ms Ong said the STB does not track data on sports tourism specifically, though the proportion of foreign visitors varies due to the different formats across various sports events. For example, the F1 Singapore Grand Prix attracts around 40 per cent foreign visitors, while the Women's Tennis Association Finals has 15 to 20 per cent.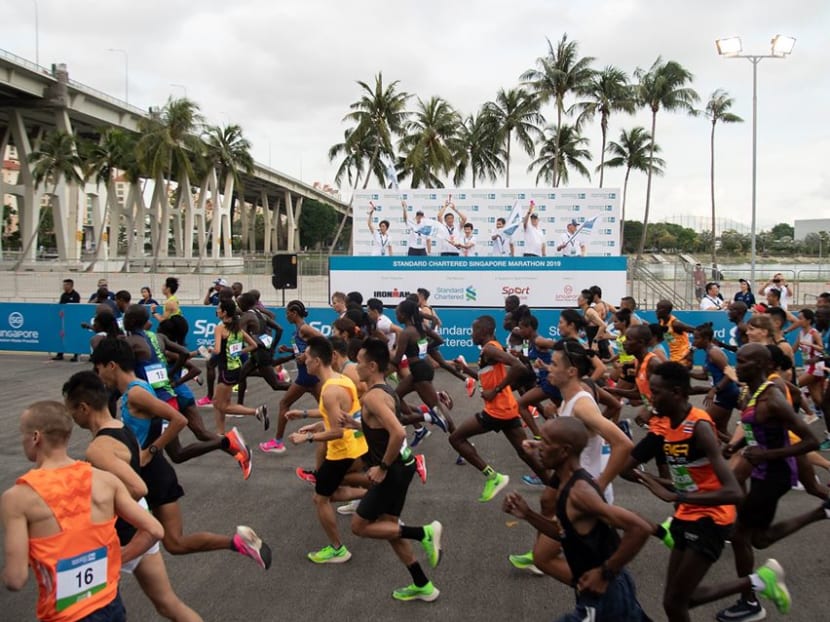 Mr Meyer from Ironman Asia said athletes typically stay a week in Singapore with family and friends. During this time, they would need to train for the race, while their family and friends enjoy the sights of the city. In 2019, foreign runners made up 23 per cent of the marathon and half-marathon field, he said.
"The Singapore Marathon contributes a tidy sum to Singapore's economy every year. According to latest available figures, the 2017 edition generated a total economic impact of S$22.6 million, with S$7.2 million of the amount spent by international visitors. In 2018, about 20,000 people travelled to Singapore for the marathon and we have seen a steady increase in this year's participation too," he said.
TAPPING MASS APPEAL
Given that the appeal of such mass events lies in the participation, the bulk of marathon participants will still be local runners who are not professional sportsmen or elite runners, said observers.
Even as the runners become more diverse and the number of professional athletes continues to increase, it is the accessibility of the sport that will attract people to marathons, said Mr Senthil. 
"It's so easy to just wear your shoe and go run, as Mok says. And running is also more relatable to most people, more easily understood and taught, as compared to swimming where you need to start with a swimming instructor. Running is alluring in that way," said Mr Senthil.
Nevertheless, marathon fan Kelvin Yam, 55, noted that the bulk of casual runners are budget-conscious and spend significantly less than the elite runners. "It is why low-cost sports brands like Decathlon, where I get a lot of my equipment from, are doing so well," he said. 
Although he may pick Decathlon shoes over more premium running brands like Salomon or Asics, he does not skimp on the marathon experience. Mr Yam, who works as a service crew in a club, has been to four overseas marathons as well as the Singapore Marathon. Mr Yam said that when his running shoes wear out every six months, he would usually buy replacement shoes of the same brand.
Experts said this mass demographic of participants are particularly receptive to marketing efforts. Since training for marathons requires a serious commitment, long-distance runners tend to be more loyal to brands too, they said.
Based on international figures, a marathon runner tends to be close to 40 years old on average and relatively well-off financially, Dr Cai added.
Hence, title sponsors, such as Standard Chartered, are often willing to pay seven-figure sums depending on the event's size to associate their names with major marathons, given the high visibility of their brands.
Said Mr Fang: "It's no surprise that the marathon in Singapore has become synonymous with title sponsor Standard Chartered, and a key mark of that is how the company name has become interchangeable with references to the event. People often say things like, 'Are you doing StanChart this year?'"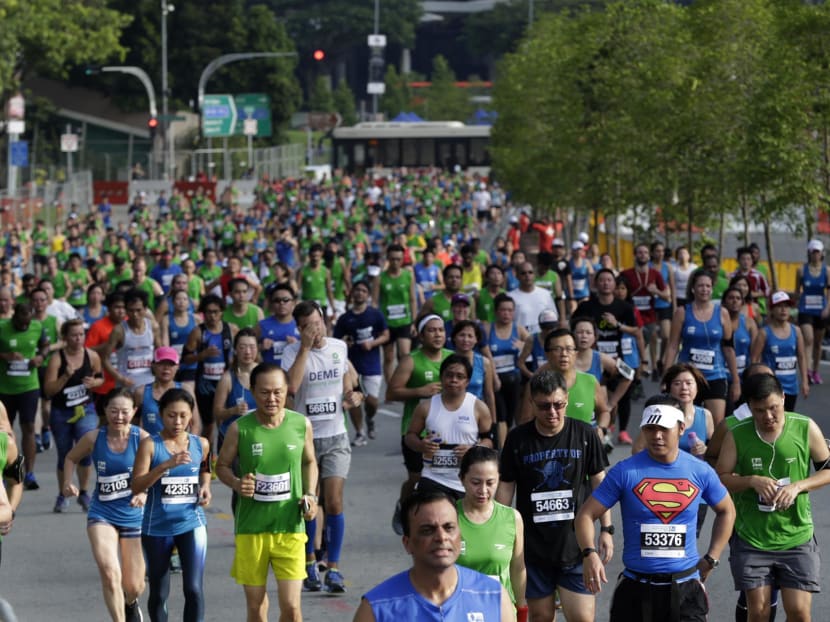 NUS Business School's Associate Professor Ang Swee Hoon said while not all runners may splurge on expensive running equipment, they appeal to race sponsors such as banks and insurance agencies.
"Because such sports events are associated with healthy living, sponsors hope that positive association is rubbed off on them. So StanChart or AIA (which was the title sponsor for the inaugural Glow Festival this year) stands to gain with positive vibes – that they are supporting a worthy cause of promoting healthy living," said the expert on marketing.
GETTING THE PUBLIC ONSIDE BY GETTING THINGS RIGHT 
Over the years, race organisers have become highly reliant on title sponsorships as the main source of event funding, especially since these sponsors are likely to stay with the event for a long time.
Standard Chartered has sponsored the Singapore Marathon since 2002, though its sponsorship deal ended this year and is up for renewal.
Mr Meyer said less than half of race revenue on average comes from race entries.
"The remainder of revenue comes from sponsorship, race expo retail activities, merchandise and the like. There is a heavy reliance on sponsorship. Race expenses are significant as we need to factor in medical, security, infrastructure, road closures, entertainment to name a few so as to provide a safe and great runner experience," he said.
Mr Kevin Wong, co-founder of sports marketing agency Equatre Asia, said with so many stakeholders — including public sector agencies — associated with a sporting event, there is a high chance for things to go wrong if there is poor inter-organisation coordination.
Any failure could create bad publicity, he added.
Such an outcome would be catastrophic for marathons as a bad image could turn away sponsors. Runners who take part in what they see as a badly-organised race are also unlikely to return the next year.
Mr Meyer said: "There needs to be a balance which both race organisers and the Government are working towards. There have been many running events that have come and gone in recent years. Races are difficult to organise, expensive and if the quality is not there, athletes will not return.
"We learn from every race and are committed to improve the experience for both runners and spectators."
In more ways than one, getting the public buy-in and support could make or break the Singapore Marathon's organisers' bid to join the WMM.
What the Singapore Marathon also lacks in comparison to the six WMM marathons currently is spectatorship — people who do not participate in the race, but watch on the sidelines or on television. 
In 2019, the event attracted 150,000 spectators on the ground, a far cry from the 1.7 million audience in the Tokyo Marathon and the 500,000 in the Boston Marathon which included television audience. Currently, the Singapore Marathon is not televised, unlike the WMM races.
While the higher footfall of spectators may be a logistical nightmare for organisers — since this group requires entertainment and amenities — their presence enables the event to be more lively and inclusive.
For example, established marathons often feature eateries and pubs along the marathon route that create a more festive atmosphere.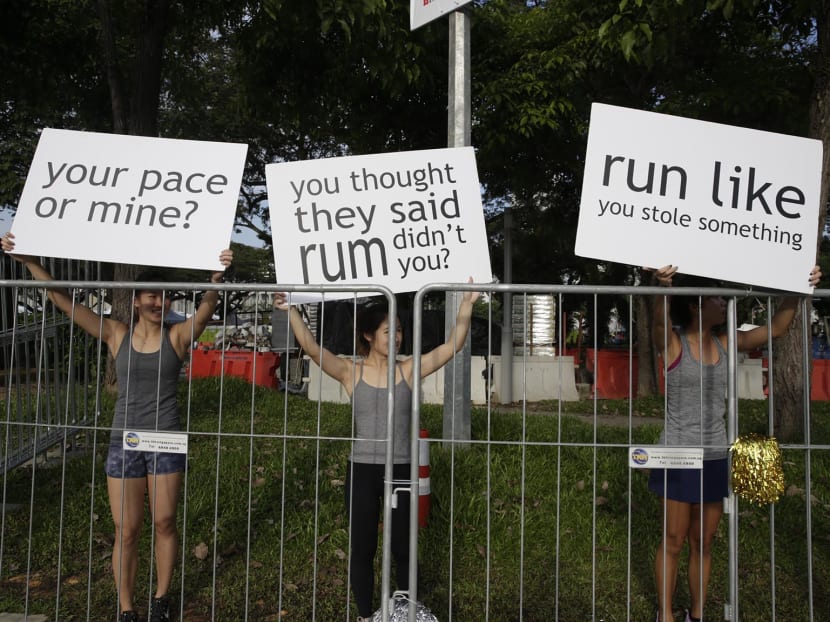 To this end, Singapore's organisers have been trying to raise the appeal to non-runners. This year, the Singapore Marathon had a Spectators Carnival — offering a plethora of live entertainment, food and beverage, and recreational options — and featured viewing points along the route for spectators.
Assoc Prof Ang said: "Athletes do not just come on their own. Their trainers and support team, including family and friends, come along as well, which they would otherwise be unlikely to come. Ultimately, they add to our tourism dollars."
STB's Ms Ong believes that if the Singapore Marathon succeeds in attaining the WMM status, it will attract more foreign runners and their supporters, helping to drive tourism receipts.
Becoming the first South-east Asian nation in the WMM will also increase the broadcast reach of the Singapore Marathon, she added.
"With the race route running through key Singapore landmarks, this would help profile Singapore as a destination of choice. The efforts made by the Singapore Marathon organisers to enhance the race experience for runners and spectators also generate positive word-of-mouth from runners and supporters, which help to build advocacy for Singapore to a wider audience," said Ms Ong.
Mr Fang said while sports tourism may not be a major revenue driver for the Singapore government currently, it has potential to be one.
What needs to be done is to develop Singapore's sporting culture in a national way, to a level where sports, sporting events and other related activities are prized and valued for their intrinsic value and also for other benefits, including monetary and prestige-related reasons, he said.
"(It takes) a creative and innovative approach to bring in not just traditional events like marathons, but also newer concepts such as adventure racing, obstacle-course races, and even e-sports," he said.
CLARIFICATION: An earlier version of the article cited publicly available participation statistics of the six Abbott World Marathon Majors (WMM) which were incorrect. The article has since been updated to reflect the data provided by WMM.