The Big Read: Excuse me, are you a hipster? How consumerism and affluence fuelled the rise of a youth subculture
SINGAPORE – The rise of "hipster" culture in Singapore is unmistakable, with the term becoming a part of Singaporeans' daily lexicon. From artisan cafes, yoga studios to fashion boutiques, the imported youth subculture seems to have found its spiritual home here, so much so that it has not been bogged down by its negative connotations. In fact, for some, being a hipster has become a status symbol, experts say.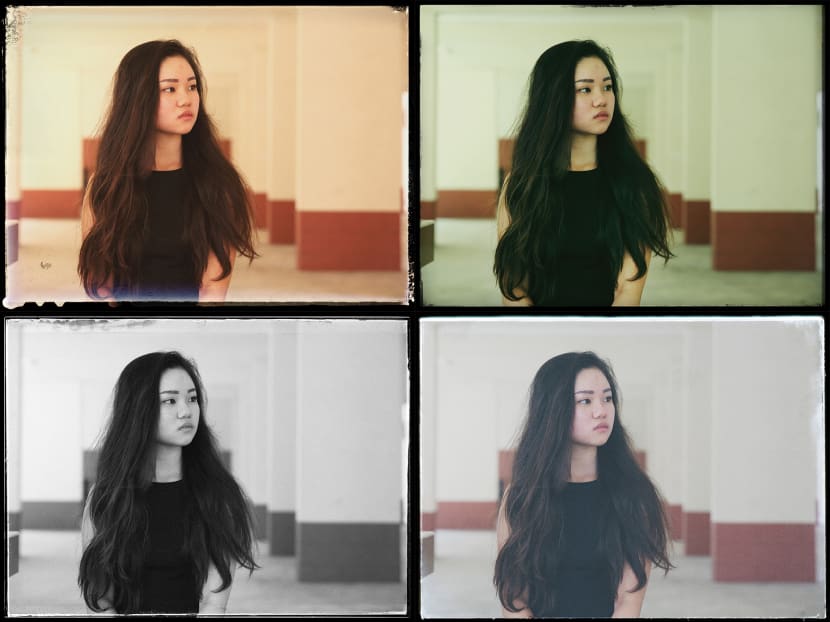 SINGAPORE – Chef Chen Siyuan, 31, counts watching films by American director Wes Anderson and listening to indie music by artists such as Norwegian duo Kings of Convenience as his hobbies. His taste in film and music has led some of his friends to call him a "hipster".
But he demurs at the tag. "You don't really want to be labelled, that's the irony (of a hipster) I guess," added Mr Chen.
The rise of "hipster" culture in Singapore is unmistakable, with the term becoming a part of Singaporeans' daily lexicon.
From artisan cafes, yoga studios to fashion boutiques, the imported youth subculture seems to have found its spiritual home here, so much so that it has not been bogged down by its negative connotations. In fact, for some, being a hipster has become a status symbol, experts say.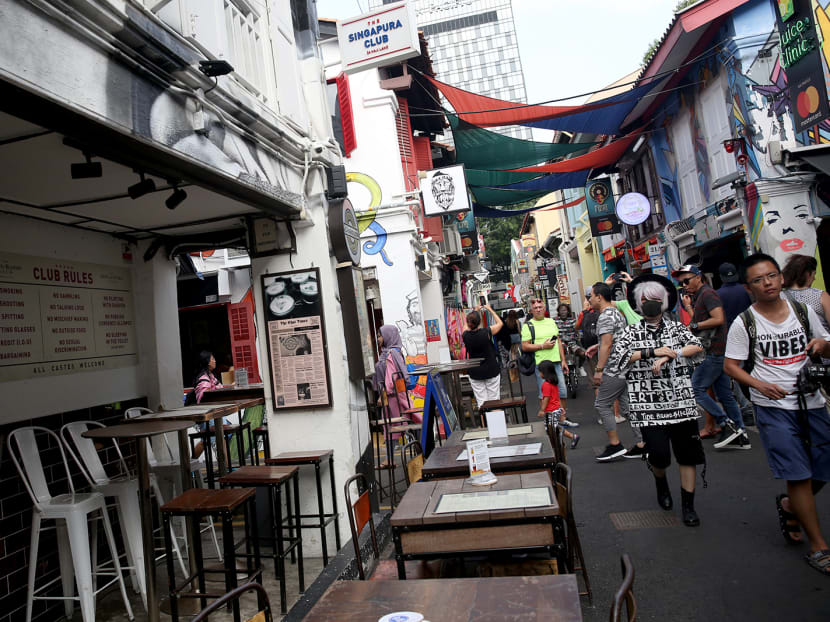 The rise of hipster enclaves in Singapore and the disamenities generated by them were in the spotlight recently. Last month, the Urban Redevelopment Authority (URA) rezoned parts of the Tiong Bahru estate, following feedback from affected residents.
TODAY had also reported about the unhappiness of some residents – especially the elderly – with the noise and the crowds, particularly during weekends, at other hipster enclaves in Housing and Development Board (HDB) estates including those at Everton Park and Jalan Besar.
But what is the hipster culture? And why has it flourished here?
Its roots have been traced by some experts to the United States in the late 1990s in Brooklyn, New York and Silver Lake, Los Angeles, said National University of Singapore sociologist Joshua Kurz.
Those cities were extremely violent then, and the authorities introduced various measures to bring down the crime rate. But these efforts were deemed to have sterilised the cities and stripped the neighbourhoods of their street culture, leading to a pushback among youth to reclaim these spaces, said Dr Kurz.
"Hipsters came as a response… resurrecting the old, finding the new before anybody else does and turning it into the next hot, new cultural thing," he explained.
Later, businesses in the US started to market their products to this group of youths including stores selling vinyl records and brands such as lifestyle retailer Urban Outfitters and clothing brand American Apparel.
Experts broadly define it as a movement of individuals looking for originality, to be different and not conform to mainstream interests and lifestyles.
"It refers to a millennial generation searching for authentic alternative lifestyles which they believe comes from a seemingly more innocent past before the internet and mass manufacturing," said Assistant Professor Liew Kai Khiun of Nanyang Technological University's Wee Kim Wee School of Communication and Information.
It is unclear when the hipster culture first appeared in Singapore, but experts including Dr Kurz narrowed it down to some time around the 2000s.
Part of the problem in determining the birth of the subculture here is the reluctance of people to identify themselves as part of a hipster culture – a paradoxical characteristic of hipsters anywhere in the world.
Dr Kurz said: "Unlike another subculture like the punks, where those who identify themselves as one readily call themselves one, hipsters hate such label."
Some aspects of the hipster culture are also contradictory, said Mr Sherman Tan, a PhD candidate at the Australian National University and visiting research scholar at the National University of Singapore (NUS).
Mr Tan co-authored a study in 2014 titled The Rise of "Hipster" Culture in Singapore: Spatial Transformation in Tiong Bahru.
Noting that the unwillingness of hipsters to define themselves as such "gives us a clue to what being hipster is about", Mr Tan pointed out that some say hipsters have a peculiar aesthetic style – a look that is relaxed and unbothered.
While this suggests that they are unbothered by social standing, it contradicts how the subculture is seen as a way for middle-class youths to distinguish themselves from their peers, Mr Tan pointed out.
In Singapore, people tend to put the label on others and rarely on themselves, he added.
"That's where you start hearing, 'Eh, don't be so hipster la' among Singaporeans," he said. "But there is an unacknowledged desire for difference and uniqueness (among hipsters), and it's not a uniquely Singapore trend."
In the Singapore context, it is the clamour for a sense of identity among a large middle class, which has been around for some time, in a densely-populated city, said Mr Tan.
When old buildings gave way to new ones, Singaporeans also became anxious about its built heritage, and looked to preserve the aesthetics of the past – a common trait of hipster culture.
The experts said the hipster culture could have been driven by the droves of Singaporeans returning home after studying overseas in the late 90s and early 2000s, and were drawn to businesses that seemed to cater to the hipster lifestyle.
For example, after Forty Hands cafe set up its first outlet along Yong Siak Street in 2010, other indie stores such as book store BooksActually set up shop in the vicinity. Haji Lane soon became a hipster spot around 2013, with a string of indie fashion boutiques drawing a strong following among youths.
WHO'S A HIPSTER?
"Trendy", "different", "cool", "pretentious", and "vintage" – these are some of the words which Singaporeans interviewed associate with the hipster culture.
Most agreed that hipsters here are people who try to be different from the crowd, and are often seen as trendy or fashionable. They like to visit artisanal cafes, and areas such as Tiong Bahru, Haji Lane, Holland Village and Everton Park.
When it comes to hipster fashion, floral-print shirts, vintage outfits, rolled-up skinny jeans and canvas totes spring to mind.
Mr Amir Mohamed, 19, is one of the few hipsters who accept the label – though not all of it.
"I do what I like so I'm pretty much a hipster in that sense… (most) Singaporeans probably think they want to get a degree and get a good job. But for me, I don't want to be under someone, I want to be my own boss, I want to be in a position where I can say, 'oh this is what I want and I can do it," he said.
His taste in music is also what sets him apart as a hipster, added the aspiring musician who listens to a wide range of music, from jazz to hip-hop.
However, he said he does not identify with hipsters when it comes to fashion and food choices. "I don't really follow hipster trends like drinking at (cafes), I really love my teh-tarik," he said.
Undergraduates Shermaine Lim, 19, and Sonia Lee, 20, admitted that they might have a hipster's preference in their choice of literature, favouring local authors and poetry as opposed to more mainstream authors. But they quipped that it is too expensive to maintain a hipster lifestyle, which would include food such as avocado toasts.
Ms Lee noted that some youths may adopt a hipster lifestyle to get more "likes" on social media.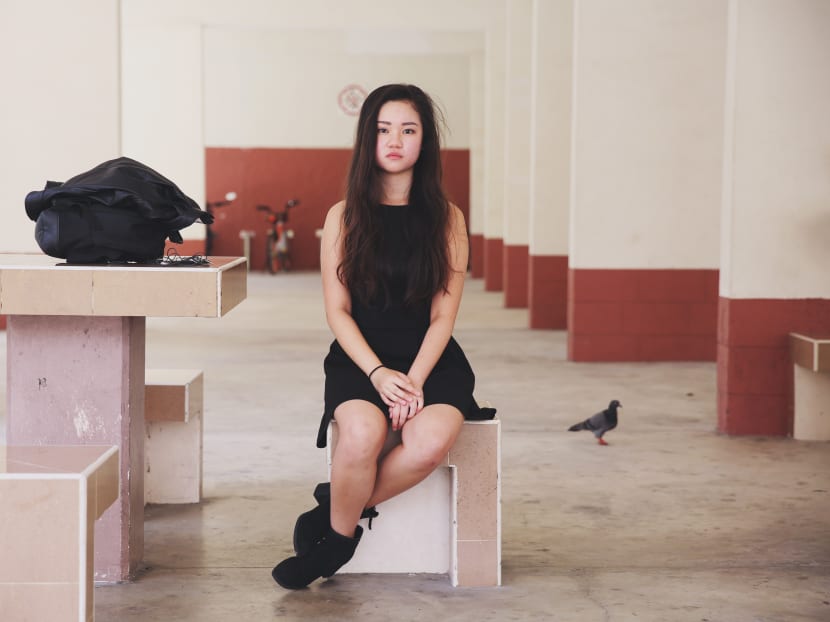 However, Ms Cheryl Chong, who is in business development, felt that the hipster culture has become commercialised today. It used to reflect a person's hobby and interests but now, it seems to be about businesses such as cafes, fashion boutiques, bookshops and music stores, said the 32-year-old.
A BYWORD FOR CONSUMERISM
With the dominance of international brands and shopping malls in Singapore, there will inevitably be a small group of consumers who reject these and search instead for local stores and less popular items, said Dr Kurz.
And "hipster" shops here say they are merely catering to this demand.
Barbershop Mr Moustache, located at Everton Park, for instance, exudes a hipster vibe by pairing its take on classic hairstyling and shaving services for men with a vintage-styled interior, such as retro-looking barber chairs.
Co-founder Victor Tan said his business is considered hipster because it tries to reinvent the traditional craft. "I'm not a hipster, I'm too old for this… but my barber shop is, and so are the (style of) hair cuts," said Mr Tan, who declined to reveal his age. "Singaporeans are quite conservative, so I'm happy that at least, there are people who are willing to try our (style) of haircuts," he added.
Since 2006, fashion boutique Saladshop, located in Haji Lane, has been bringing in a selection of women's wear different from what can be found at shopping malls. About one or two years later, people started to use the term "hipster" to describe such concept stores, said Saladshop owner Eileen Teo, 40.
While her idea of hipsters are creative individuals who make bold selections, she admitted the term has since become too generic. The word may not reflect the level seriousness or professionalism shown by those who work hard to select and bring in items for a certain concept store or style, she added.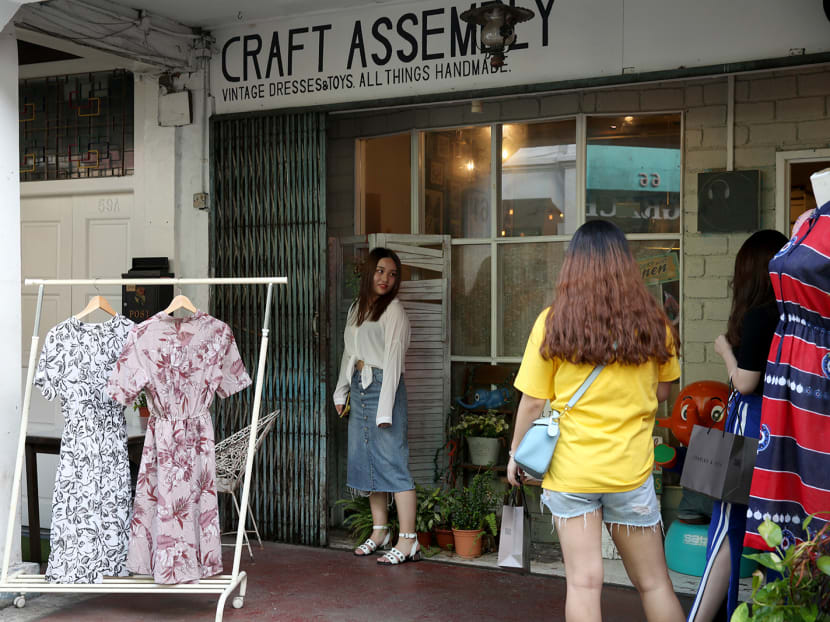 The hipster fever has engulfed even the traditional hawker centres: For example, the newly-opened Pasir Ris Central Hawker Centre has been marketed as the first to offer both traditional and hipster cuisines at affordable prices.
Mr Mohammed Rafi, 35, co-owner of Burgernomics at the hawker centre, said he does not really like the "hipster" label. However, the marketing strategy has managed to draw a younger crowd, which is the burger stall's target audience.
"It's just like graffiti… if you give someone a space to do graffiti, the essence of it is no longer there," he said of the "hipster" label.
He added: "It's an 'in' term to use, but it has also been used too much that it has become, a very – for the lack of a better word – 'obiang' (Hokkien word for out of fashion) term to use."
Coffee joint Forty Hands is seen by many to have contributed to Tiong Bahru's evolution into a hipster enclave, after its success ushered in several more indie stores in the area.
While the rush of trendy businesses has revived the once-sleepy estate, it has also been criticised for gentrification.
Director of Forty Hands cafe Harry Grover, 37, said his target audience was not the hipster crowd but he is "more than willing to take (their) money".
The idea for a cafe came from wanting to "do something cool and original", after he realised that Singapore had the market for a "third wave of coffee" after coffee chains like Starbucks, he said.
The so-called "third wave of coffee" is a movement to emphasise an appreciation of high-quality coffee, the production process, and alternative preparation methods, among other things.
"We wanted a proper business that services hundreds of customers, that built its name on merit, not just because it is located in a hipster neighbourhood," he said.
He added that while the hipster crowd is part of his clientele, he is not too concerned even if the subculture disappears further down the road.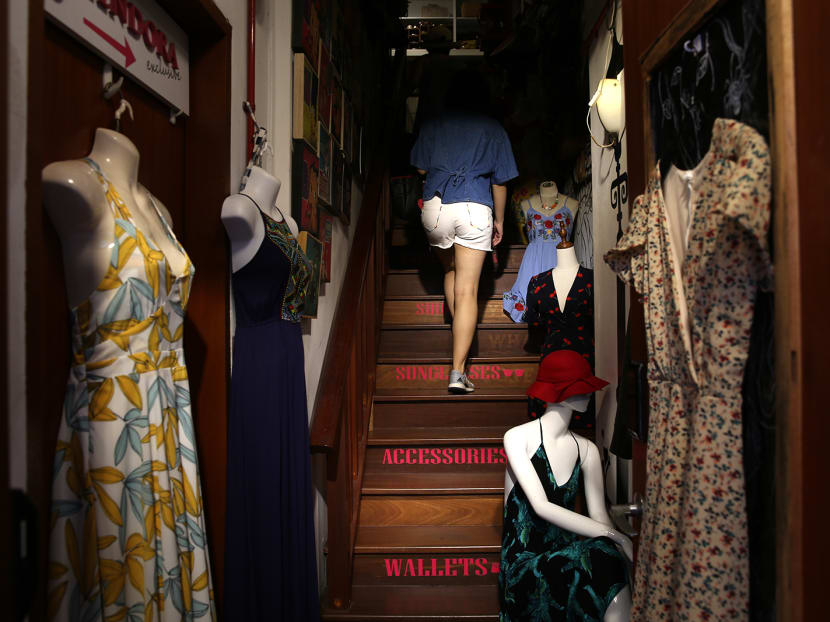 EVER EVOLVING
While the hipster culture has flourished in Singapore over the last two decades, it is not clear how it could evolve, the experts said.
Reiterating that some Singaporeans have taken to the hipster culture to differentiate themselves socially and find a sense of identity, Mr Tan, the visiting research scholar at NUS, noted the presence of a dominant and affluent middle class in the Republic, who have the means to pursue such a lifestyle.
For some in Singapore, a hipster lifestyle is in fact something to aspire to, notwithstanding the reluctance to embrace the label. In contrast, the term carries negative connotations in the US, where it is often used in a derogatory manner and associated with "middle-class trust fund youths", said Mr Tan.
"It's in everyday Singapore conversations, where you turn to your friend and say, 'wah that's so hipster'. And it doesn't really connote bad or good, it just very simply describes the visual styling of something and the aesthetics of it," he added.
Dr Kurz noted that Singapore is one of the few places where media portrayal of "hipsters" has not been too negative. He also pointed out that unlike in some other countries, hipsterism here is not so much about being anti-establishment, but more about aesthetics, fashion and trends. It also revolves around cafes given Singapore's food culture, he added.
Another factor underpinning its rise in the Republic is the younger generation's anxiety with the country's rapidly changing landscape, said NTU's Asst Prof Liew.
Colonial shophouses and early public estates are seen to be "more rustic, quaint, distinct and therefore cool", he noted. It is no coincidence that images of these places are frequently put up by hipsters on social media platforms such as Instagram and Pinterest, he added.
Asst Prof Liew concedes that he used to think hipster cafes and retailers were gentrifying some of the HDB heartlands and conservation districts including Tiong Bahru.
His perception changed when he realised that some of these shops actually add to the local culture and environment. "Better an independent hipster design shop by enterprising youths than another faceless branch of some big brands," he pointed out.
Still, Dr Kurz said some experts have argued that the hipster culture could be unwittingly threatened by businesses seeking to cash in on it – even as others see this as an evolution of the culture.
"It's been made into a brand identity. As soon as (stores) like Urban Outfitters, American Apparel and many other kinds of businesses started specifically catering this group of people, you can argue that what made the culture specific and interesting has died," he said.
In Singapore, where hipster culture is sometimes manifested in physical spaces, its fate in the coming years could also hinge on practical considerations and government policies, Dr Kurz said.
Referring to the Tiong Bahru rezoning exercise, he noted that this would have an impact on youths living or setting up business in the area.
"Changing the zoning laws could fundamentally disrupt this neighbourhood (and the subcultures)," he added.
Nevertheless, for Mr Tan, the fundamental ideal of the hipster movement – resistance to modernity – will never go away.
It stretches as far back as after the French Revolution in the 18th century. Over the ensuing centuries, such resistance has come in the form of religion or spirituality, he said.
On the malleability and durability of the hipster culture, he added: "People still have this idea that hipsterism is relatively new or it's really an innovative trend. But it isn't… hipsterism is really the latest reincarnation of a resistance to the modern mainstream."