The Big Read: From 'gold standard' to 'cautionary tale' — dissecting first 3 months of S'pore's Covid-19 response
SINGAPORE — When accused of changing his stance on economic policy over the years, the late British economist John Maynard Keynes gave his famous rejoinder: "When the facts change, I change my mind. What do you do, sir?"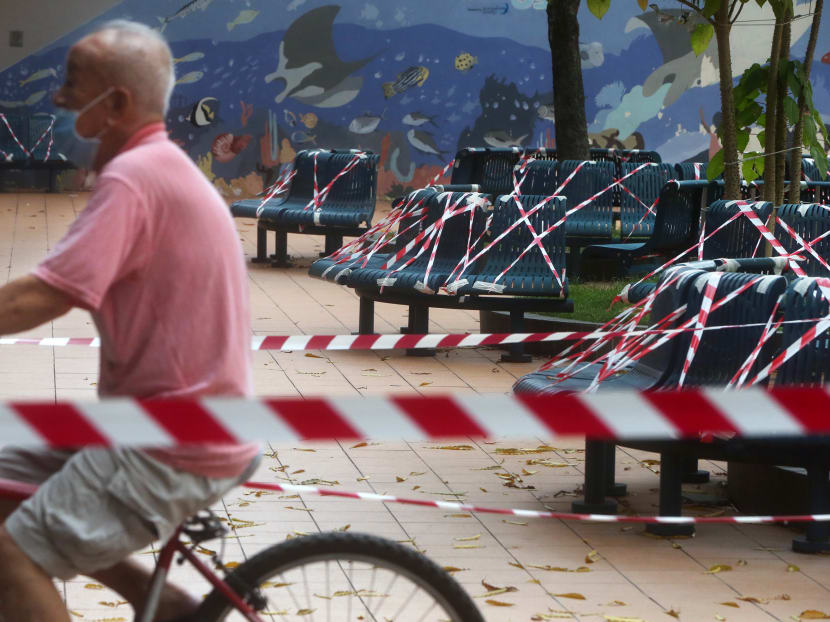 SINGAPORE — When accused of changing his stance on economic policy over the years, the late British economist John Maynard Keynes gave his famous rejoinder: "When the facts change, I change my mind. What do you do, sir?"
A parallel situation is facing Singapore today, three months after the Covid-19 outbreak landed in the city-state. On April 23, the total number of people infected with the disease crossed the 10,000-mark, 91 days after the first case was reported in Singapore on Jan 23. 
As the nation battles a worsening Covid-19 crisis, the authorities have instituted stricter precautionary measures — tighter border restrictions, a mandatory face mask policy and a newly extended national circuit breaker — which critics say are about-faces from earlier policies in the first phase of the pandemic.
While Singapore's handling of the outbreak was once hailed as the "gold standard" by international academics — which TODAY first reported in February — the Government now face criticism by some for their response, particularly for their inability to prevent the ongoing viral spread within foreign worker dormitories. Others question why the drastic moves taken today were not done sooner.
Several international headlines now paint Singapore as a "cautionary tale" and a lesson to the world that even the best-laid strategies may be derailed by the highly contagious coronavirus. 
Even with the uncertainty and the inexact science surrounding Covid-19 from the onset, Keynes' rebuttal — that actions change when facts change — will not be satisfactory to all in the current situation, experts from policy think-tanks and health institutions told TODAY. 
"Covid-19 has put Singapore's governance capacity of the adaptive and the collaborative to the test," said Dr Gillian Koh, deputy director of research at the Institute of Policy Studies (IPS).
"It is also proven that it is not only up to the Government but also up to all stakeholders in this country — businesses, parents, healthcare workers, people in general — to play their part as well, because (individual) interest has to be given up for the collective interest, with not many answers of how much, and how long this will go on for."
Did Singapore let down its guard after its initial success in keeping down the number of cases?
The answer would depend on the facts known at the time, whether decision-makers did the best they could to weigh the trade-offs, impose measures at the right time, and respond quickly to emerging situations, said experts.
Professor Danny Quah, dean of the Lee Kuan Yew School of Public Policy (LKYSPP), said: "Whether for medical or social science, however, the contours of that trade-off will always be shrouded in uncertainty. Although, of course with 20/20 hindsight, it is easy to call out policymakers for having made the wrong decision."
Amid the debate, TODAY looks back at three months of the pandemic and examines the steps that were taken to contain the virus at three distinct phases: The initial outbreak, the rise of imported cases from around the world, and the subsequent spread at the foreign worker dormitories.
THE FIRST PHASE 
Lack of virus information 
When the outbreak first arrived in Singapore from China back in January, there was a lack of scientific understanding of the novel coronavirus, even though it had been circulating for more than a month in Hubei province, where the outbreak had originated.
As a result, there was little scientific consensus over the nature of the virus other than the fact that it belongs to the same family as the severe acute respiratory syndrome (Sars) virus, and involved human-to-human transmission.
This dearth of information, such as the incubation period and whether the virus could still spread at a pre-symptomatic phase, was critical to understanding the virus in the early days.
It created uncertainty in the policy response and led nations to adopt tactics used during the 2003 Sars epidemic, such as a reliance on temperature screening which later turned out to be less effective than thought.
Associate Professor Josip Car, director of the Centre for Population Health Sciences at the Lee Kong Chian School of Medicine, said: "When the first cases of Covid-19 emerged, the initial concern was whether this new virus would be like Sars as the virus comes from the same family. Since then, there has been new information about the virus almost daily, (but) a scientific consensus has certainly yet to be reached on the virus."
He noted ongoing difficulties in generating robust evidence on the infection fatality rate or case fatality ratio, which measures how fatal the virus is. 
Back then, as the world watched how the virus situation evolved in China, which had the most number of cases at the time, there were significantly different mortality rates within and outside Hubei province.
"This still varies quite widely between countries for reasons which are not yet fully understood," said Dr Car, who also leads the school's World Health Organization (WHO) Collaborating Centre for Digital Health and Health Education.
Dr Leong Hoe Nam, an infectious diseases specialist, added: "With the lack of information, it makes sense to then cling on to something which we are familiar with. The closest relatives of Covid-19 were Mers (Middle East respiratory syndrome) and Sars, and we took precautions and used Sars or Mers protocols to control it."
But as more cases emerged, there was a switch of narrative to portray Covid-19 as a "bad flu", said Dr Leong. This had a profound impact on how governments reacted as it meant that measures such as lockdowns like those in Wuhan — the city in Hubei which became the initial epicentre of the outbreak — were not being considered by other countries.
Speaking at a press conference held by Singapore's multi-ministry task force on Feb 7, its co-chair Lawrence Wong noted that the fatality rate in China was 2 per cent, but if one excluded the Hubei province from the figure, the fatality rate would fall to 0.2 per cent.
"It is much lower than Sars. And if the mortality rate remains low or even continues to fall further, depending on the evidence and depending on how it evolves, then I think we are dealing with something quite different and we may well have to consider a different approach," said the National Development Minister, who had earlier described an approach of taking more stringent measures to contain, ring-fence and isolate cases.
A week later, on Feb 14, Mr Wong said that the virus bore clear similarities to swine flu (H1N1) or the seasonal influenza. Because of this, the authorities were considering a scenario that if there was widespread community transmission, it would cease contact tracing and send infected mildly ill Covid-19 patients to recover in isolation at home.
Singapore ultimately did not head down this path of stopping contact-tracing efforts, which would have compromised the containment approach at the time, given what is known about the virus today. During this early phase, case numbers were kept low due to astute case detection and quick contact tracing.
Dr Leong said: "Now we know a lot more (about the virus). It spreads asymptomatically and pre-symptomatically. It acts like a Trojan horse. Super-spreading events occur, like Sars and Mers. The rapid spread is incredible, beating influenza.
"People die primarily because hospitals are overloaded. Death rate can be reduced simply by helping hospitals cope."
Knowing what the world knows now about Covid-19, could Singapore have done more at this early stage to eradicate the virus then?
In hindsight, Associate Professor Eugene Tan from the Singapore Management University (SMU) said the Republic could have quickly switched gears from a containment approach to eliminating it completely while numbers were low.
"To be fair, we are still learning more about the virus, but given its potential as the most severe public health threat, an upward calibration of measures would not only flatten the curve but helped prevent a continuing spike in later days which we are now experiencing. 
"This precautionary principle would have helped. Given that little was known, we ought to have erred on the side of caution," said Assoc Prof Tan.
Face mask policy 
A second issue relates to the Government's advisory at the start of the outbreak in Singapore in late-January to discourage people who are well from wearing face masks.
The initial advisory was issued in the context of a potential shortage of masks for frontline healthcare workers, as people had reacted to the outbreak by hoarding mask supplies.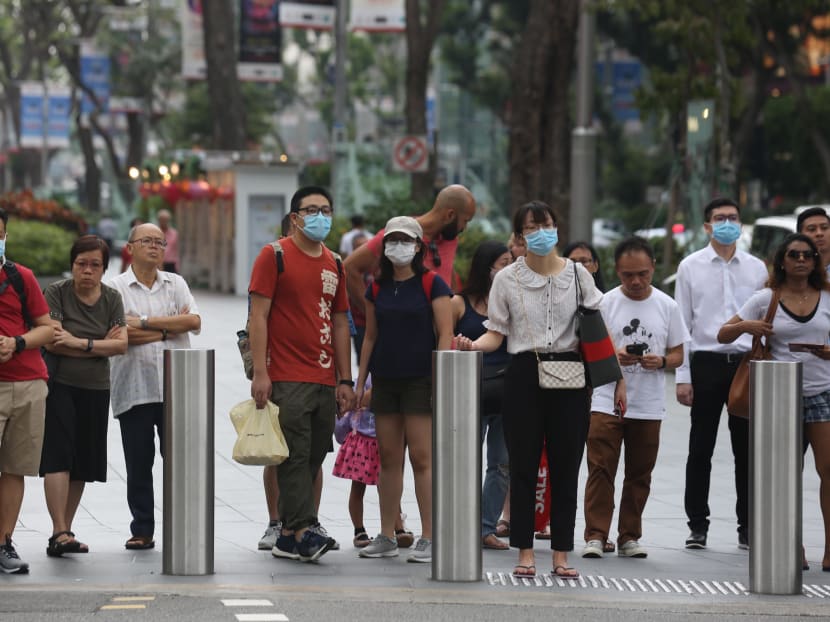 "If we do not manage the private utilisation rate and prioritise allocation, we can end up in a situation where we deprive essential health services of masks as well as those who really need it," the Ministry of Trade and Industry had said on January 30.
Outside of China, Hong Kong and Taiwan, where people started wearing masks early on in the outbreak, the Czech Republic was the first European country to make wearing masks mandatory in supermarkets, pharmacies, and public transport on March 18. 
Slovakia followed suit on March 25, and four days later, Bosnia and Herzegovina made it mandatory for its citizens to wear a face mask or a cloth covering their mouth and nose while walking in the streets or outside their homes.
The WHO, which had earlier also advocated against wearing masks in public unless people were sick with Covid-19, reversed its advice on April 3.
Singapore did likewise the same day, with the Government no longer discouraging people from wearing masks even if they are not showing symptoms of sickness.
Prime Minister Lee Hsien Loong said: "We also did not have community spread in Singapore (previously), so it was very unlikely for you to run into anyone with Covid-19 on the street, much less be infected by them. Nevertheless, the Government gave each household four surgical masks, to use in case you get sick and to give people peace of mind."
But the situation was changing, PM Lee added.
From April 14, it became mandatory to put on a face mask when heading out of home.
Dr Michael Ryan, executive director of the WHO's health emergencies programme, had said: "We can certainly see circumstances on which the use of masks, both home-made and cloth masks, at the community level may help with an overall comprehensive response to this disease."
Speaking to TODAY, Associate Professor Richard Sugrue, a virologist from the School of Biological Sciences at Nanyang Technological University (NTU), noted that face masks serve as a "cue for the sub-consciousness of citizens" to remind everyone to behave appropriately during the Covid-19 outbreak.
Masks also effectively contain contaminated mucus to the individual when sneezing, he said. 
"The virus appears to be transmitted mainly by hand contact with contaminated surfaces, and then the contaminated hand is then placed in the mouth. There is also some evidence that the virus may also be transmitted via the fecal-oral route. It is therefore logical that increased personal hygiene would be a simple strategy to block most virus transmission in the population," he added. 
Responding to a question about the reversal in mask policy, Mr Wong said on April 14 that the updated mask advisory was based on the latest findings, medical advice and scientific evidence, including proof of pre-symptomatic spread of the virus.
This includes a paper co-authored by Associate Professor Vernon Lee, director of communicable diseases at the Ministry of Health (MOH), which found that at least 10 patients in Singapore were infected by people who did not have symptoms.
Given the likelihood of more undetected cases in the community, the Government then required people to don masks when going outdoors as an "extra precaution worth taking", said Mr Wong.
Experts said it would be impossible to tell if having a mask-wearing requirement would have made a tangible difference in the number of cases before April 3.
Said Assoc Prof Tan: "In an ideal world where masks were available in abundance, a precautionary approach would be to wear masks, since some barrier is better than no barrier."
Dr Leong said the wearing of masks "may have made a difference, but not by very much". 
"If you look at all the best evidence in handling outbreaks, the most effective measures are: Search, isolate and quarantine, followed by physical distancing, then handwashing, and finally the use of surgical masks, in that order," he added. 
"Our mistake is this: Our people did not do sufficient distancing and it is still inadequate."
THE SECOND PHASE
Travel restrictions and the return of overseas Singaporeans
For a time until the first week of March, the measures appeared to be working for Singapore, with the virus appearing at one point to taper off after a peak of nine new cases on Feb 14. 
The concern at the time was the outbreaks in church clusters, while the number of imported cases were seemingly contained temporarily after Singapore's decision to restrict travellers from Hubei province on Jan 29 and the rest of mainland China on Feb 1.
But there was also a growing fear then that Covid-19 would become a worldwide phenomenon, as it turned out to be eventually. 
"It is starting to look like a global pandemic everywhere in the world," said Mr Wong during a task force press conference on March 6.
Days after the press conference, the number of new imported cases crept up — eventually comprising nearly 80 per cent of all new daily cases by the end of March.
As the pandemic began to spread around the world, some experts believe that Singapore could have imposed travel restrictions on affected countries at an earlier time. 
SMU's Assoc Prof Tan said: "While Singapore was one of the first countries to impose entry restrictions on those with a travel history in China… the entry restrictions could have been expanded to cover (other countries) sooner rather than later."
When Singapore imposed a travel ban on mainland China on Feb 1, there were 12,000 infections there, noted Mr Tomas Pueyo, a Silicon Valley consultant who writes data-driven articles on how governments are dealing with Covid-19.
The ban was extended to South Korea, Iran, and northern Italy on March 4, and to the whole of Italy, France, Spain and Germany on March 16. By then, there were over 50,000 reported cases in these countries combined.
"This delay in action caused a severe seeding of new cases… Within a week, the number of imported cases fell to zero, but it was too late. These cases were enough to seed the local transmission that exploded over the following weeks. If (Singapore) had closed their borders around March 10, it is likely that this (ongoing) outbreak wouldn't have happened — or wouldn't have been as bad," he added on his website. 
On March 17, the authorities also called for the return of all Singaporeans who were studying overseas, and they would have to serve a two-week stay-home notice (SHN) upon their return.
"We are now paying a price for that call, (because) we underestimated the (coronavirus) and used a Sars lens," Temasek Holdings chief executive Ho Ching wrote in a Facebook post last week. 
She added: "We did take the precaution of home quarantine notices for returnees. And only later did we require returnees, some at first and now all, to (be quarantined in hotels) away from their own families. This means seepages of infection into our broader community."
On March 25, the authorities made it mandatory for returning Singaporeans from the United States and the United Kingdom to serve their SHNs at dedicated facilities such as hotels, with dedicated transport to ferry them from the airport. This was later expanded to all countries on April 9.
With the benefit of hindsight, this strategy could have been better implemented, said Dr Leong.
"We gave too much credit to individuals that they will stay at home and serve their home stay correctly. All this is in retrospect and with 20/20 vision, because we know now that they may be mildly asymptomatic but are infectious," he said.
Nevertheless, Assoc Prof Sugrue said it is difficult to pinpoint the dynamics of the ongoing outbreak to asymptomatic transmission.
"The significance of asymptomatic infection in virus transmission is still in question.  Pre-symptomatic spread of infection may be more of an issue," he said.
Social responsibility and business continuity
Experts pointed out that despite the risk assessment level being raised to Dorscon (disease outbreak response system condition) Orange on Feb 7 and repeated urging by the authorities at the time, social responsibility was notably lacking even as the virus continued to rage around the world.
There were warning signs of viral spread due to socialising  — a cluster arising from a private dinner function organised by a music teacher in Joy Garden restaurant at Safra Jurong on Feb 15; as well as the cluster at Hero's, a sports bar in Boat Quay.
On March 17, the principal of the PAP Community Foundation preschool at Fengshan had gone to work while symptomatic, leading to a new cluster of cases at the preschool. 
These cases occurred before stricter safe-distancing measures that carry severe penalties for non-compliance were put in place on March 26. 
Beyond individuals, some businesses also appeared to be ill-prepared for a pandemic, as evident by the high number of inquiries on business continuity when the circuit breaker measures were announced on April 3, added Dr Leong.
Dr Leong said he had observed several examples where cross-infection occurred because team segregation had not been implemented, such as at construction sites and at certain food and beverage companies.
Last week, under the advice of MOH, McDonald's closed its outlets islandwide after several staff across different outlets had tested positive for the virus. Before the cases emerged, the fast food company had moved its staff around the various branches during the ongoing circuit breaker period to meet manpower needs of branches that relied on workers affected by Malaysia's movement control order. 
Likewise, the explosion of infections at foreign worker dormitories could have originated from a lack of segregation or social distancing in the construction sector. 
Epidemiological findings had found evidence of infected dormitory residents who were linked through common work sites, while workers from various dormitories also continued to gather during their rest days to socialise and shop.
Dr Leong added that in hindsight, if more businesses had put in place alternative work arrangement policies prior to the outbreak, people would not feel the need to come to the workplace if they feel mildly sick.
But for some, such plans are easier said than done. 
Said Prof Quah: "Yes, a work culture continued to make some go to work still even if they felt unwell. But for some parts of our society, absenting yourself from work is neither an option nor cultural indulgence. You don't show up? You don't get paid, or you face heightened risk of losing your job."
Still, such cultural practices provided the physical conditions for the community spread of the disease, Dr Car said.
"We all need to calibrate our behaviours and attitudes in relation to how we view work and ill health and disease… We must see concrete actions such as staying at home when unwell as a social good that protects loved ones, colleagues, society and the economy."
THE THIRD PHASE
Outbreak in foreign worker dorms
By the time April arrived, the current virulent spread among the migrant worker population residing in purpose-built dormitories had already begun, unbeknownst to Singapore.
The first two clusters at the migrant worker dormitories — S11 Dormitory and Westlite Toh Guan Dormitory — had been detected on March 30 and 31 respectively. 
Subsequently, the cases in multiple dormitories were preliminarily linked by the authorities to the cluster at Mustafa Centre and the Project Glory construction site, which were identified on April 2 and 3 respectively.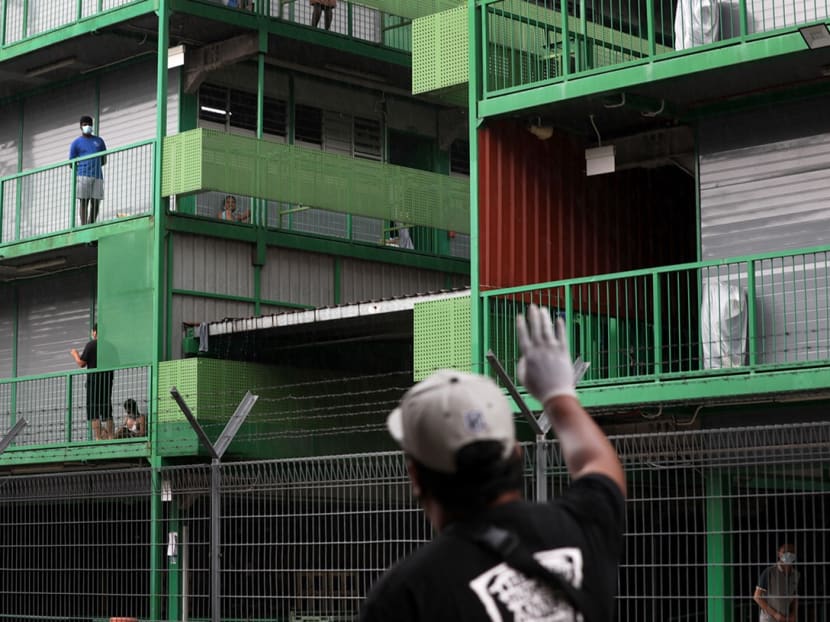 It is still not known what was the index case that sparked the dormitory outbreaks, where more than 9,000 migrant workers have tested positive for the virus across all dormitories so far.
However, based on an analysis of the cases to date, there is a one- to two-week time lag in general between the point of transmission and the day that the first case in a cluster is identified. 
This is likely due to the five- to eight-day estimated incubation period for the virus when the infected person is not showing signs of symptoms, but may still be infectious.
What this means is that the virus was likely to have been circulating among migrant workers in the second half of March, at a time when safe-distancing measures were being ramped up amid a rise in the number of imported cases.
Experts said the lengthy lag time between transmission and detection of Covid-19 cases calls for preemptive, rather than reactive, action. 
The first cases of infection among migrant workers had occurred in February at Leo Dormitory and at a worksite in Seletar. However, these cases were quickly controlled and the virus did not seem to have spread further.
Speaking at a task force press conference on April 14, Manpower Minister Josephine Teo said that since the start of the Covid-19 outbreak in January, the authorities had progressively limited the inflow of workers to Singapore to minimise the risk of imported cases and reached out to dormitory operators to be more vigilant.
The Government took more active steps after some dormitories were gazetted as isolation areas on April 5, effectively placing all migrant workers residing in these dorms on lockdown. 
Following the setting up of a new inter-agency task force on April 7, medical and welfare support flowed directly from the state, active testing for Covid-19 began, and a strategy to reduce crowding in dormitories was put in place.
"We cannot rely solely on dormitory operators anymore, given the current situation," Mr Wong told a press conference on April 9.
Could the authorities have taken more decisive action earlier? In a recent interview with the BBC, Mrs Teo said: "Yes, we took some safe distancing measures within the dormitories, and if we were able to rewind the clock, one could say that these safe distancing measures needed to go much further."
She added: "We are not perfect, but we do what we can." 
SMU's Assoc Prof Tan reiterated that more should have been done for migrant workers earlier on.
"The red flags were all there in the dormitories… It's hard to explain why the authorities did not up the ante in terms of infection controls at the dorms. Perhaps there was a policy blindspot with the focus being on Singaporeans."
Assoc Prof Tan, a former Nominated Member of Parliament, noted that earlier on, the understanding of vulnerable groups was limited to the elderly Singaporeans and the school-going population.
"The truth of the matter is that in public health, the migrant workers are very much a part of the community, and the early vigilance against community spread did not embrace the foreign workers."
But other experts said that without the benefit of hindsight, the answer to whether the Government should have stepped in sooner is not clear-cut.
Said Assoc Prof Sugrue: "(This is) a very difficult question to answer. Mild infections are difficult to identify, while large numbers of (migrant workers) live in the dorms and it is assumed that there is close person-to-person contact on a daily basis. 
"So in my opinion it would be inevitable that this close contact would facilitate disease spread within the dorm community once one or more individuals were infected."
Given this inevitability, an early solution to the migrant worker outbreak before April is certain to be a difficult one that would be hard to justify, said Dr Leong.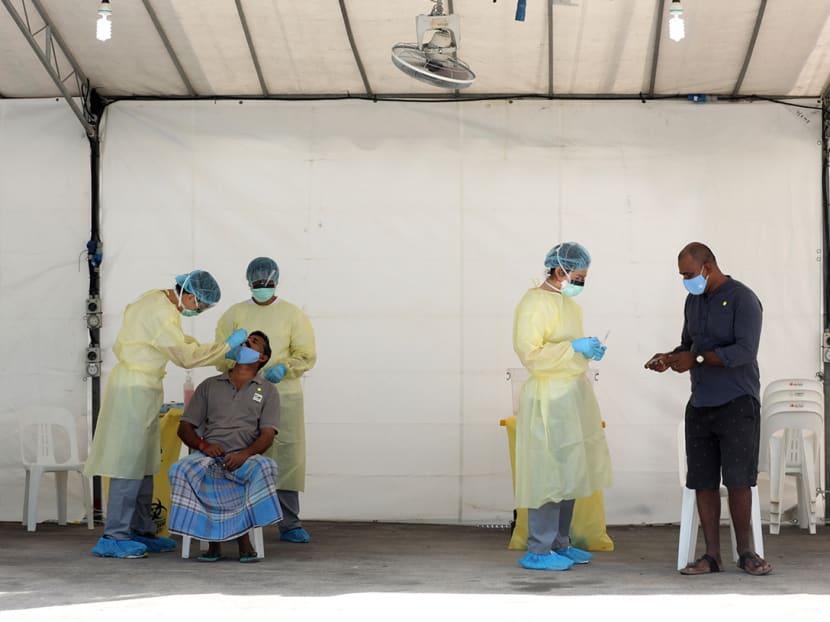 The foolproof method would have to be a lockdown of all workers at an early stage, such as by forbidding them from leaving their rooms unless during scheduled times, similar to the drastic actions that the authorities are taking now. 
But without the context of active viral spread among migrant workers or a circuit breaker in place, Dr Leong said such a measure will be construed as "bitterly wicked".
On April 21, Mrs Teo said in response to a Financial Times reporter that the issue of not moving workers out of their dormitories earlier was not a matter of cost. 
Rather, it was only possible in the context of wider measures to break the transmission, such as the current circuit breaker measures where all non-essential workplaces, including construction sites, are closed.
Reiterating the various measures which the Ministry of Manpower had taken since the start of the outbreak, Mrs Teo said the Government had reached out to dormitory operators since January to urge them to improve hygiene standards, among other moves.
She said: "We are now asking the workers not to go to work. So from the workers' standpoint, this is a question of livelihood.
"You have to do this in the context of a circuit breaker, where all work mostly has come to a stop… So it's not just a question of cost. It is also a question of what is necessary to break the transmission."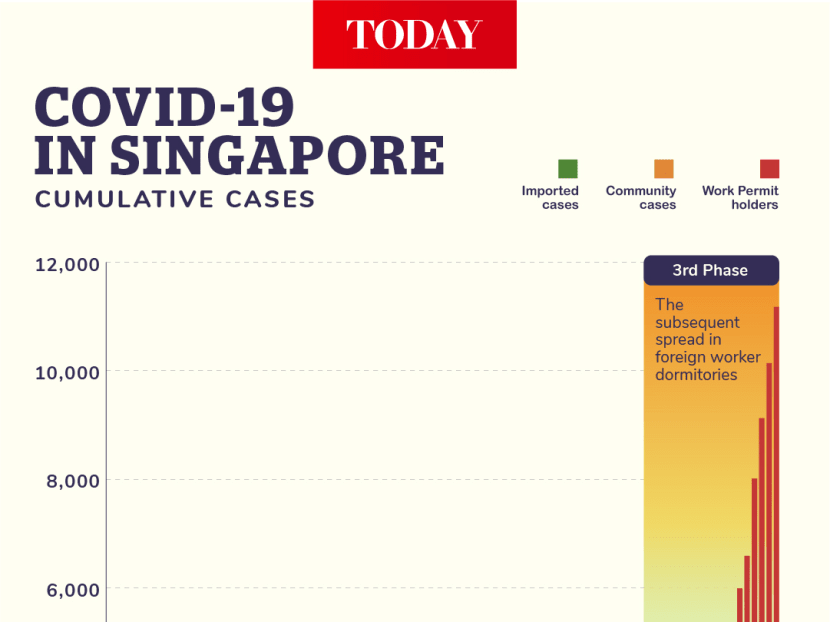 Timing the circuit-breaker
On April 3, PM Lee went on national television to announce a four-week-long circuit breaker as a preemptive move to reduce the risk of Covid-19 pushing Singapore "over the edge" and gradually ease the crop of new cases.
Several commentators have questioned why this move was not taken earlier, which would have allowed the authorities to act more decisively at worker dormitories.
Assoc Prof Tan said Singapore "waited too long" for the circuit breaker to happen, and that the four-day lead time, before the measures kicked in on April 7, was excessive.
"In a public health crisis… (the Government) just has to be steadfast and resolute and not fear that people will be upset. The reality is that people will be upset no matter what form the circuit breaker takes," he said.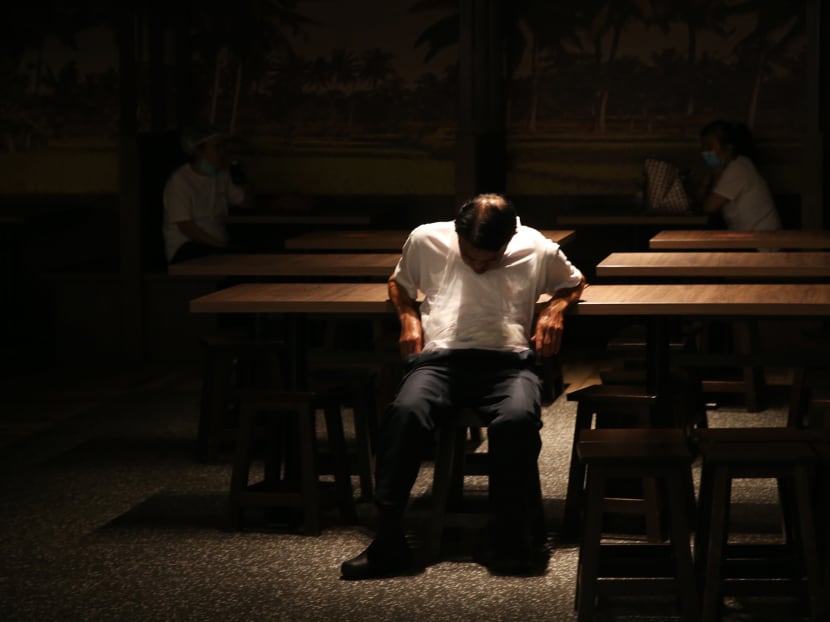 When asked on April 3 whether the circuit breaker could have occurred sooner, Mr Wong reiterated that it all came down to a "judgement call" based on the global and domestic situation.
"Certainly, we could have done this very much earlier but there is also a concern from public health experts, looking at all of these safe distancing measures that we are referring to, if you were to put them in place too early, there may well be fatigue," he said.
But Assoc Prof Tan had a different take on compliance with circuit breaker measures. He argued that calling it a "lockdown" would carry the connotation that the public health threat is severe.
"The light-touch messaging instead provided a false sense of security, best manifested in how 'circuit-breaker' measures were not taken seriously," he said. 
Others disagreed, stating that the judgement call on the timing of the circuit breaker was correct since it occurred in a matter of days after the dormitory clusters were detected, and after incremental safe-distancing measures were put in place. 
The circuit breaker was also called before Singapore's healthcare, lab testing and contact tracing capacities reached the point of being overwhelmed, a scenario that other countries which have instituted lockdowns cannot claim to enjoy, they said.
Said Dr Car: "I stand by the Government's decision to make the judgement call to have the circuit breaker at that point in time. There was sufficient information that it was timely to call on the circuit breaker measures."
The use of the term circuit-breaker as opposed to a lockdown is also more indicative of the actual situation in Singapore, he added.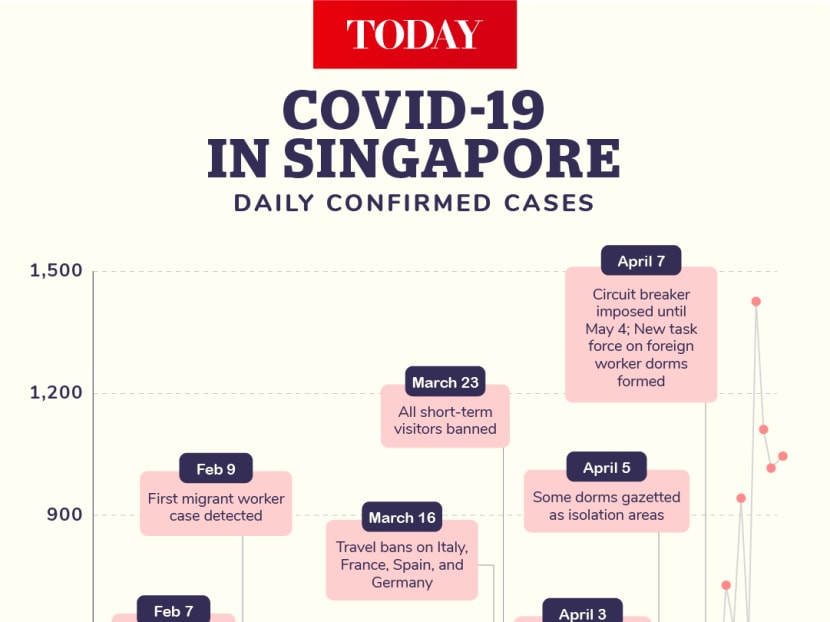 'SLEDGEHAMMER VS SCALPEL'
Addressing criticism that the Government did not respond quickly enough to tackle Covid-19, IPS' Dr Koh urged people to not dismiss all the efforts that the city-state had done prior to the circuit breaker, given that those measures bought precious preparation time. 
Schools, for example, could not be shut down without having a mechanism in place to allow students to spend their time meaningfully at home. Migrant workers cannot be made to stay-in-place without addressing their concerns over work. 
"We had flattened the curve for a very long time so that these things can be put in place," said Dr Koh.
The question that governments face in the light of the pandemic is whether to take a "sledgehammer" approach by imposing lockdowns, or a "scalpel" strategy to take calibrated measures based on the facts known at the time, she said.
Prof Quah said that every government that is looking sensibly at lockdown policies amid Covid-19 is weighing the costs to economic activity and livelihoods against the effect of reducing new infections.
"Remember, while a complete 100 per cent perfect lockdown might quell transmission, when the economy tumbles as a result, it is the poor and vulnerable who will take the economic pain," he said. 
And while it is hard to argue against "stronger, more decisive action" during a pandemic not just in foreign worker dormitories in Singapore, but also in places in other countries where marginalised groups live in, policymakers need to consider the trade-offs, he added. 
"Should conditions be improved in foreign worker dormitories, favelas, slums and shanty towns, ghettos, and the poor in public housing across the world? Sure. But that's also a different question, and it's too easy to conflate one's feelings of social justice with one's judgement of what is right in a pandemic."