The Big Read: Road wars — will the conflict between drivers and cyclists ever end?
SINGAPORE — Retiree Ng Choon Peng cycles almost daily, sometimes for as long as 80km to 100km at a time from his home in Jurong East to places as far as Seletar and Changi.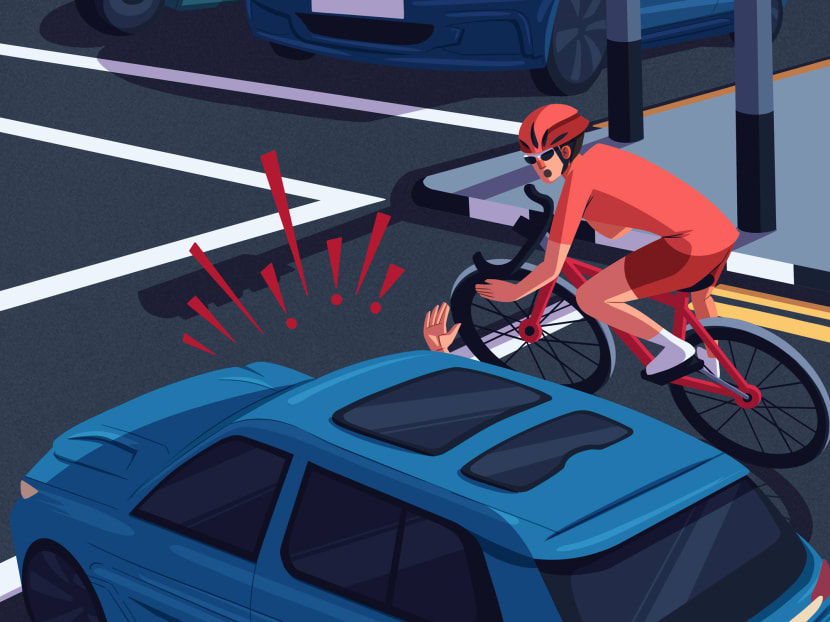 Over the years, many videos of accidents between cyclists and motorists have gone viral on social media
Discussions about such incidents have been heated, with both sides often sticking to their guns till the end
Cyclists feel like they are the more vulnerable group, while motorists think that cyclists often get away with errant riding
There are rules and guidelines in place to guard against errant cyclists, but more needs to be done, experts say
Apart from more rules and better infrastructure, basic understanding of road safety is the key to minimising accidents, they add
SINGAPORE — Retiree Ng Choon Peng cycles almost daily, sometimes for as long as 80km to 100km at a time from his home in Jurong East to places as far as Seletar and Changi.
Though there are cycling paths and park connectors along the way, the 65-year-old prefers the roads.
"I will still use the roads to cycle, because some pedestrians tend to block the paths, the paths are not seamless and they are sometimes too narrow," he said.
Similar sentiments were echoed by 44-year-old Charles Tay, who cycles twice a week and uses the roads on his longer rides.
The speed limit on the park connectors is the main reason why he prefers cycling on roads. On park connectors, cyclists can go at a maximum of 25 kmh. When Mr Tay cycles in a group on the roads, they can go up to 40kmh.
Others who cycle mainly on roads also noted that park connectors and cycling path networks have ground markings that make it slippery for cyclists when it rains, and that some have uneven or cracked surfaces which have resulted in falls.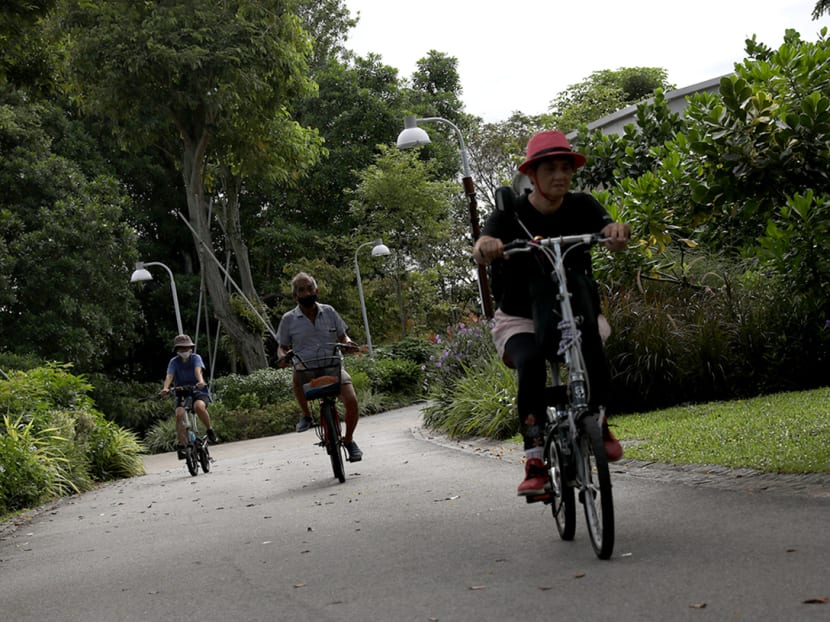 But taking the road is not a breeze either for cyclists since it means interacting with motorists — which creates its own set of problems given that there is no love lost between the two groups when it comes to road sharing.
Some drivers told TODAY that they have had bad experiences with cyclists who do not follow traffic rules applicable to them, adding that the latter often get away with reckless behaviour.
While most cyclists interviewed said they practise safe cycling, some also admitted that they do not stick to the rules all the time, such as ignoring red lights, or filtering over to the right-most lane when executing a right turn.
But the cyclists also bemoaned that some motorists tend to be unnecessarily aggressive towards them, intentionally driving too close and not slowing down when overtaking. Some cyclists have even sworn off the roads after several unpleasant encounters.
Amid the Covid-19 pandemic and a ban on personal mobility devices (PMDs) on footpaths, more Singaporeans have been taking up cycling, going by the rise in sales of personal bicycles and an increase in ridership reported by bike-sharing companies.
In tandem, there have been more complaints about bad drivers and errant cyclists making their rounds on social media, along with a flurry of letters to TODAY.
For example, a recent video of a cyclist crashing into the back of a car at Yishun Dam has been widely shared on Facebook pages dedicated to road accidents, with some people slamming the cyclist for being irresponsible.
Nevertheless, the conflict between drivers and cyclists is a perennial issue, with incidents flaring up from time to time. Over the years, videos or pictures of similar road incidents have sparked heated debates online, with motorists and cyclists offering contrasting points of view. Some have even called for cyclists to be banned from riding on the roads.
For instance, in 2018, a video of a lorry driver swerving into a cyclist who had intentionally struck the lorry's side view mirror went viral.
When the lorry was impounded, a petition was set up online urging the traffic police to return the lorry to the driver.
The driver was subsequently sentenced to seven weeks' jail, after he was convicted of causing hurt to the cyclist in a rash act endangering human life, and failing to file a police report within 24 hours of the accident. Separately, the cyclist was fined S$2,800 for his role in the incident, after pleading guilty to two charges of committing mischief and not cycling in an orderly and careful manner.
In recent weeks, several readers had weighed in on the subject in letters to TODAY, with one driver suggesting that cyclists take the Highway Code, and a cyclist urging motorists to slow down at road crossings.
WHAT CYCLISTS SAY 
While Mr Tay the cyclist said Singaporean motorists are "generally reasonable", he recalled an incident where a vehicle intentionally veered close to him and a friend.
"The road was empty, and yet the lorry wanted to go close to me and my friend," said the man who works in education. "Honestly I don't know why, there have been a few such instances."
Mr Rosli, a lecturer at a private institution who only goes by one name, had similar experiences with heavy vehicles. In one incident five years ago, a lorry in Bukit Gombak almost knocked into him while attempting to make a left turn.
That episode led the 57-year-old to stop cycling on the roads altogether. These days, he only cycles at a slower speed at the park connectors, but wishes that there are more infrastructural improvements, such as cycling lanes on roads.
"When you don't have a specific path for cyclists, it's going to be dangerous, because bicycles are slow and when you share with heavy vehicles, they are big and they are fast."
Most cyclists who continue to ride on the roads acknowledged that safety is a personal responsibility, and they are fully aware that accidents can happen anytime.
Other than having the right equipment, such as always wearing a helmet and donning bright clothing, route planning is also important, said some cyclists.
"Visualise the route and expected traffic conditions before going and stay alert on the road — no phone, no music," said Mr Martyn Tan, 45. He added that he also avoids riding on busy roads during peak hours, and steers clear of industrial areas where heavy vehicles may be present.
"The key is to know what to expect," the business owner added.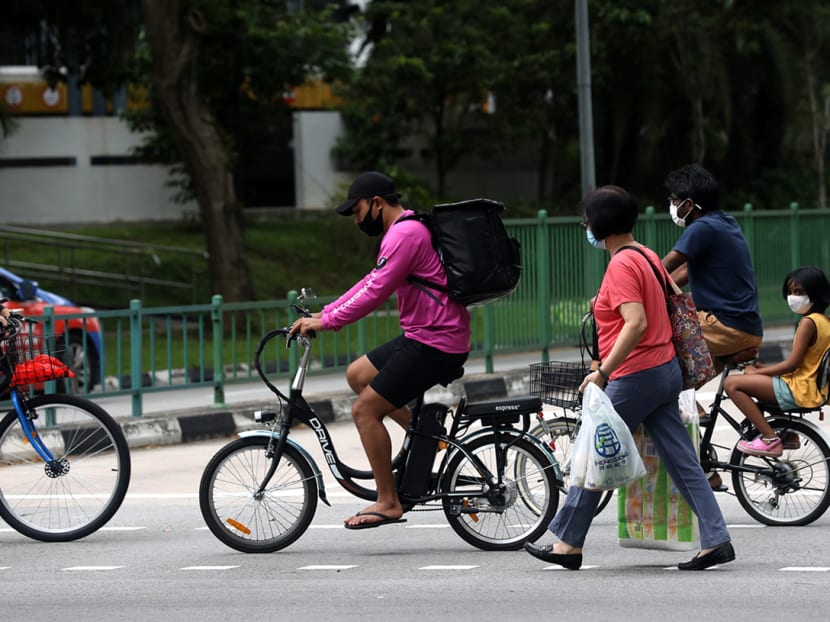 However, even when they follow all the rules and take ample precautions, some cyclists said they can still sense the animosity on the part of motorists when they are on the road.
Road cyclist Dexter Tan, 47, said that the antagonistic attitude towards cyclists is often exacerbated by social media posts.
"Some drivers think they need to punish or bully cyclists for reasons unknown," said the regional sales head. "I drive too, but I don't see the point of doing such things to cyclists, and hate messages promoted by (traffic accident) Facebook pages don't help."
But as much as they may chide motorists for being inconsiderate or aggressive, some cyclists have at the same time admitted that they do not always follow the traffic rules or guidelines.
One cyclist who delivers food around Tampines admits that he sometimes beats the red light when he does his deliveries.
"But you have to make sure that you're really safe," he said. "For example, if it's in the middle of the night, and there's no car, I won't just stop there alone waiting for the traffic light when both sides are clear for me."
Another cyclist said that although the guidelines state that cyclists must keep to the left edge of the road as far as possible, he will sometimes veer to the right side of the road when he needs to make a right turn.
"I will have to go all the way to the right and keep to the turning lane, but I won't purposely ride in the centre of the road as much as I can."
For cyclists who prefer to give motorists a wide berth by sticking to park connectors and footpaths, their journey is not without bumps either.
Although they no longer have to compete with PMD riders for space on these paths since the latter have been banned from footpaths, some cyclists have to contend with the blasé attitude of pedestrians.
Mr Lee Hong Aik, who delivers food on his bicycle, said that he often encounters pedestrians who turn a deaf ear to his bicycle bell, even when they happen to be walking on bicycle paths.
"It takes two hands to clap… if everyone chooses to walk on the cycling paths, then naturally cyclists will sometimes ride on the footpaths," said the 42-year-old.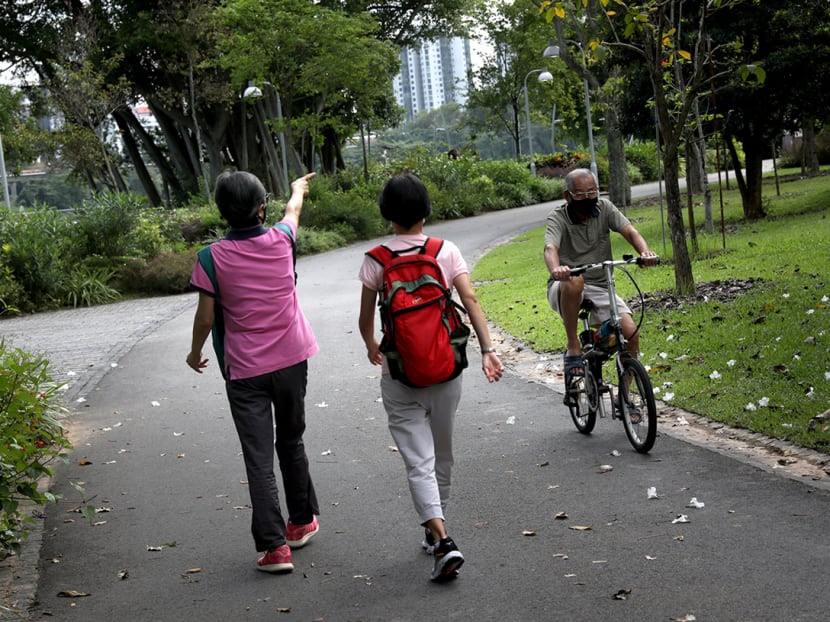 But some pedestrians whom TODAY spoke to had their own grievances to share — namely the speed at which cyclists travel, even on footpaths.
Beauty salon owner Lee Peng, a Yishun resident, said that he has a close brush with cyclists at least once a month while walking on the footpaths, and hopes for more stringent enforcement for cyclists who ride over the speed limit of 10kmh.
"What can pedestrians do if they suddenly come from behind? We don't have eyes at the back of our head," the 75-year-old said.
WHAT MOTORISTS SAY
Following a bad experience with a cyclist recently, sales specialist Jeffrey Sin tends to get impatient and frustrated whenever he has to overtake a cyclist on the road.
In the encounter which happened last month, the 41-year-old had overtaken the cyclist before slowing down in order to make a left turn, but looking at his rear view mirror he saw that the cyclist had made a rude hand gesture at him. The cyclist then followed Mr Sin and asked him to get out of the car, after which both men got into a heated argument before going their separate ways.
"I told him, 'shouldn't a cyclist stop and brake like a normal road user? Just because you're riding on the road it doesn't give you the right not to stop'," he said.
"I think cyclists do not practise defensive riding (like drivers do); we just slow down and let other cars pass through, but it doesn't seem to work that way with cyclists," he added.
Agreeing, a manager in the automotive industry, who wanted to be known only as Norman, said that in the event of an accident between a cyclist and a motorist, the former seems to be the less accountable party.
"In any situation, it's the qualified road user that gets the blame most of the time," said the 30-year-old. "If a car knocks down a cyclist, the car driver loses. If a cyclist knocks (into) a car, its driver cannot do anything but pay for his own repairs through his own pocket or insurance."
He added: "I don't think there are many people willing to go through a civil suit just to get back at the cyclist, hence the cyclist is seemingly untouchable."
To make cyclists accountable for breaking traffic rules, Mr Sin said that there should be a registration process for cyclists who choose to ride on the roads, so that they are aware of the traffic rules. There should also be regulations on the hours that bicycles can ride on certain busy roads, he added.
The rules should also be in black and white, so that there is no room for ambiguity. Right now, it seems to be "the cyclists' own prerogative" to be a gracious rider, he said.
"There are rules saying that cyclists have to keep to the left, but how much left? First lane? Second lane? This gives cyclists the impression that they have the right, and if they see some motorists have endangered them, they will get frustrated and will scold the driver," he said.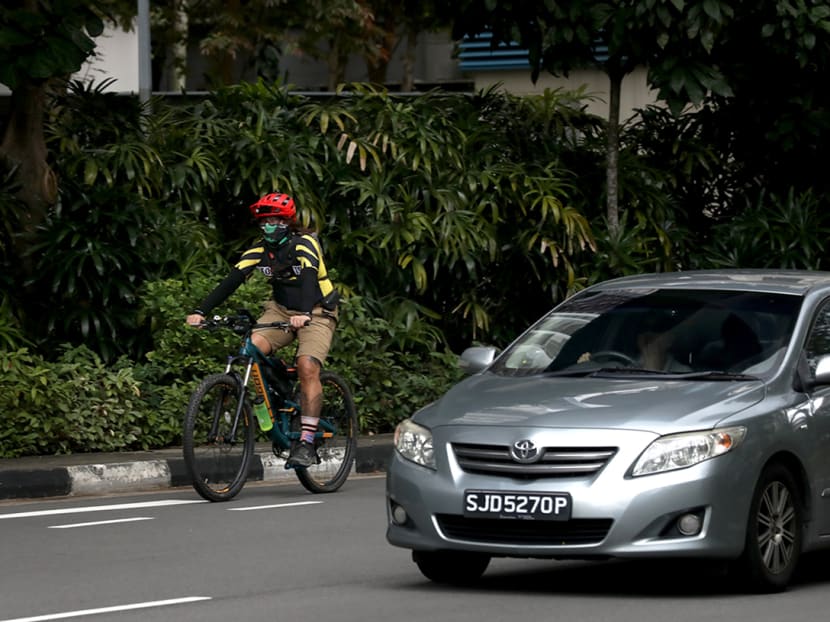 RULES, GUIDELINES FOR CYCLISTS ON ROADS
According to the Land Transport Authority website, those who use bicycles or power-assisted bicycles (PABs) on roads must observe these rules: 
Obey all traffic signals and travel in the same direction as the flow of traffic.

Wear a helmet when cycling on roads

Cycle in a single file on single-lane roads and during bus lane operational hours.

Switch on the front white and rear red light in the dark

Do not use a mobile communication device while riding

Those who are below 16 may not ride — or be carried as a passenger — on PABs on roads

Do not cycle on expressways and in road tunnels
The authorities had raised the fines for cycling offences in 2019, from S$20 to S$75.
There are also guidelines for cycling, which cyclists and PAB riders are "encouraged to adopt", the LTA website said. These include:
Always riding as close as practicable to the left-hand edge of roads, and allow traffic to overtake the cyclist safely

Keeping to a straight course, do not weave through traffic and avoid sudden swerves.

Always using bicycle lanes when available

Keeping a safe distance behind moving vehicles and not holding on to the back or side of motor vehicles and maintaining awareness of traffic when riding

No squeezing between the kerb and a bus that has stopped at a bus stop, or a turning vehicle and a kerb

Slowing down and looking out for other road users when approaching bends, junctions, bus stops and pedestrian crossings or when passing a parked car
Under the Road Traffic Act, the police will investigate if reckless cyclists endanger pedestrians or other road users, and physical injury is involved, the Ministry of Transport (MOT) said on its website.
First-time offenders may be fined up to S$1,000 or jailed up to three months for riding in a disorderly manner and without due regard for the safety of others. Those who commit a second or subsequent offence may be fined S$2,000 or jailed up to six months.
GREATER ENFORCEMENT, TOUGHER LAWS NEEDED?
In a Facebook post in January last year, LTA said there were 417 road accidents involving cyclists and PAB users from January to November 2019, down from 465 in the same period in 2018. This works out to more than one accident a day, on average, in 2018 and 2019. The statistics for 2020 have not yet been released.
Responding to queries from TODAY, LTA and the Singapore Police Force said in a joint statement that they adopt a "combination of regulations, enforcement and public education to keep roads and public paths safe for all users". 
"The authorities patrol the roads daily to keep the roads safe and conduct enforcement against errant road users including cyclists," they added. "We have taken errant cyclists to task for flouting these rules, and for committing other rash and dangerous acts." 
Transport economist Walter Theseira said that whether enforcement against errant cyclists here should be enhanced must be determined by their safety record. However, such data might not be recorded accurately, unlike for motor accidents.
"Many motor vehicle infringements are captured because there is enforcement dedicated towards it — for example, red-light cameras — but there is no infrastructure to capture cycling infringements," said the associate professor from the Singapore University of Social Sciences.
While enforcement data may not be reliable, National University of Singapore transport infrastructure expert Raymond Ong said that enforcement will be necessary to protect the vulnerable, including pedestrians.
He added: "However, we have to think about passive enforcement using technology (such as) video cameras with imaging and facial recognition technologies to protect the vulnerable especially in grey areas, where it is simply not possible to deploy manual enforcement, which is time consuming and costly."
Then, there is also the question of fairness, a "major reason" why motorists may be unhappy, as the perception is that cyclists are permitted to routinely infringe road rules.
Dr Theseira said: "Whether this is true, the perception that cyclists are allowed to operate with a different set of rules from motorists is a barrier to greater acceptance (of road sharing) by motorists."
Enforcement could be looked into, but banning cyclists on roads is not a viable option, said Dr Theseira.
"Many of our roads, much of the time, have conditions suitable for experienced cyclists to coexist with motorists without significant disruption," he said.
He added that a road cycling ban can typically only be justified on the grounds of safety or traffic flow; such as when the expected speed difference between cyclists and motorists is too high, a reason why cycling is banned on expressways.
Banning cycling on roads will lead to disamenities for cyclists. For example, cyclists in private housing estates will have no alternative routes, as pedestrian pathways in those estates are frequently interrupted.
The issue of improving cycling infrastructure, raised by some cyclists, is also one that Singapore has to deal with.
For instance, some cyclists have cited their confusion over a bridge over Braddell Road that allows cycling on one side, but not the other.
Dr Theseira said other countries have introduced various types of cycling lanes, ranging from on-road cycling lanes in many cities in the United States, to off-road or protected separated cycling lanes which are common in European countries.
These off-road cycling lanes can also be found in some major Chinese cities.
"In general, having an off-road or dedicated cycling lane will be the most effective in encouraging cycle commuting and travel because it eliminates the risk of dangerous bicycle-motor vehicle conflict," he said.
However, Dr Theseira noted that this also requires the most land use, since "you have to provide for high-speed bicycle travel as well as pedestrian travel".
Singapore's main concern is land constraints, he said, and improving cycling infrastructure requires reclaiming a road lane, or extensively rebuilding roadside paths.
"The existing road reserve may not be sufficient to build such a cycling lane."
Agreeing, Dr Ong said that Singapore is different from other countries in terms of public transport ridership, private transport mode choice, land use policy and sidewalk ownership, among other factors.
"As such, there is no "one-size-fit-all" approach for Singapore to follow suit," he stressed. 
Still, the authorities are aiming to build more than 1,300km of cycling paths by 2030 as part of a plan to promote cycling as a convenient transport option for Singaporeans and make the island car-lite.
Even with the expansion of cycling paths, Dr Theseira said that many cyclists would continue to ride on the roads, just as drivers would prefer to use an expressway.
"If you were a motorist, would you use a slow local road that required you to give way frequently, drive around obstacles, and so on, or would you use an expressway? The answer is obvious," he said.
He added that Singapore's road infrastructure had evolved over the years into "different types of roads purposely designed to accommodate different types and speeds of traffic flows".
"Yet we expect that the cycling infrastructure will magically fit all types of cyclists and active mobility users," said Dr Theseira. "We may need some time to work out more efficient arrangements, and we may have to actively discourage pedestrians and slower traffic from using cycling paths, just as we don't think pedestrians should walk on the road if there is an alternative."
'NOT AN INFRASTRUCTURAL ISSUE' BUT ABOUT MINDSETS, BEHAVIOURS
While cyclists have for years been pining for better infrastructure, and motorists have been vocal about increasing enforcement on cyclists, Mr Steven Lim, president of the Safe Cycling Task Force, said that these measures will be redundant if both parties continue using the roads in a selfish manner.
For example, he said that even with more cycling lanes, some cyclists are still choosing to use the roads.
"There's an on-road bike lane at Tanah Merah, but still we are seeing people not riding on the bike lane but on the vehicle lane… it's not an infrastructure issue but a behaviour issue," said Mr Lim.
"The bike lane is a little bit dirty with sand and gravel, so they go onto the car lane, without thinking how it will affect the driver."
Mr Lim, who is also a car dealer, reiterated that cyclists and motorists alike should adhere to the rules and at the same time, be more considerate to each other.
For instance, while cyclists are allowed to cycle abreast on roads two lanes or wider, they should have the common sense to ride in a single file when traffic is heavy.
Likewise, motorists sometimes feel it is not necessary to give cyclists at least 1.5m of space when overtaking them, as it is a guideline and not a rule.
"Road safety is a shared responsibility… to begin with, we follow the rules, (but) apart from the rules, it is about being considerate," he said.
The road to a safer ride could begin with education, the experts said.
To complement their regulatory efforts, LTA and the police said they conduct public educational campaigns, community and school outreach to raise awareness of safe riding.   
Cyclists and PAB riders should also familiarise themselves with the Highway Code and on-road cycling rules, they added. 
In a letter to TODAY, one reader suggested that to improve road safety, it should be compulsory for cyclists to take the Highway Code.
Agreeing, transport expert Tham Chen Munn said that better education on road safety is needed, not just for cyclists but motorists as well.
"I think all parties should take the Highway Code with regards to cycling, so it will be mutual and everybody understands each other," said Mr Tham, who is also in business development. 
He proposed that those going for driving tests should also be subjected to a "cycling component", where they learn how to deal with cyclists on the road.
"It's not really a 'cycling' problem per se, but down to a person's attitude towards safety for himself and towards others."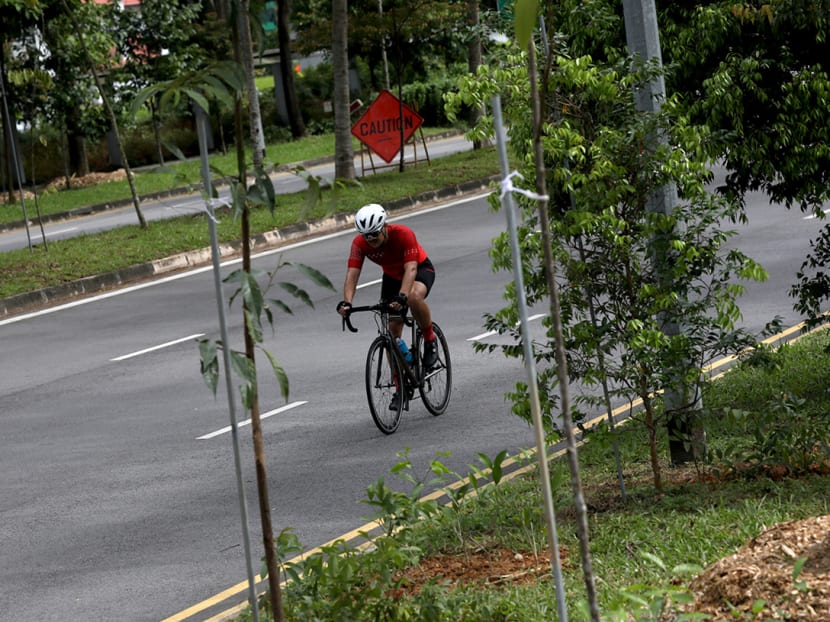 Agreeing, Mr Lim added that the widespread use of social media exacerbates feelings of hatred and ill-will between parties, when viral clips of errant cyclists are regularly uploaded online.
Cyclists and drivers both do this, instead of reporting the incident to the authorities, he said, and harsh words are often exchanged between both parties.
"It becomes a vicious circle, nothing gets sorted out, and nothing changes," he said. "It just breeds more hatred, and creates more divisions."