The Big Read in short: Doing good and making money while at it
SINGAPORE —  When it comes to business, "doing good" and "pursuing profits" are often deemed as mutually exclusive goals.
This article was written in partnership with Enterprise Singapore. 
Each week, TODAY's long-running Big Read series delves into the trends and issues that matter. This week, we look at the quest of Singapore startups seeking to do good by solving the world's most urgent problems, while being profitable at the same time. This is a shortened version of the full feature,​ which can be found here.
Issues such as global warming, disaster relief, as well as the search for sustainable food and energy sources have garnered more attention than ever before
Global demand for innovations to address these problems has grown among governments, companies as well as consumers
This is especially so in the wake of the Covid-19 upheaval, with societies confronted with the potential harms a crisis can cause
In light of these trends, Singapore startups have stepped up efforts to create solutions to some of the global maladies
SINGAPORE —  When it comes to business, "doing good" and "pursuing profits"  are sometimes deemed as mutually exclusive goals.
But as global warming, disaster relief, the search for sustainable food and energy sources, and Covid-19 emerge as pressing issues in recent years — along with growing consumer activism — such conventional wisdom is getting a rethink.
With the world seeing an increase in demand for business innovations that serve a social or environmental good, a growing number of businesses are finding it mission possible to pursue profit in tandem with purpose. 
According to an article published on the World Economic Forum website last year, the coronavirus outbreak serves as a stark reminder of the potential for a crisis to "alter human existence". 
And it is not just consumers who are driving this change by demanding more "innovations for good": Governments around the world are also starting to put in place regulations in the environmental, social, and governance spheres that make these innovations all the more relevant.
 
TODAY gets up close with three startups and their founders, each of whom has made a foray into this emerging "doing good" market, and whose products have gained traction both in Singapore and overseas.
PROVIDING SOLUTIONS TO A 'TRILLION-DOLLAR PROBLEM'
Dr Viknish Krishnan-Kutty has long stopped eating meat, ever since he was exposed to the ethics of meat consumption as a teenager.
"When I was 17 or 18, I understood how the meat we eat came to us, that time I wasn't so much aware of the environmental (damage), more from the animal cruelty perspective," he said. 
Little did he know that decades later, he would be the founder of a startup which developed a solution to accelerate the production of lab-grown meat. 
Dr Viknish, now 42, was a research fellow at the Agency for Science, Technology and Research in 2012, when he developed a thin "coating" to allow animal cells to attach themselves to, and grow at a quicker rate.
He then joined the National University of Singapore (NUS) in 2016 as a research scientist to continue developing this coating to better apply it to biology. 
It was around his time in NUS that the international buzz over cultured meat or cultivated meat started. 
Cultivated meat is real meat grown directly from cells taken from animals without having to kill them.  
While he had been earning a stable salary at NUS, he found that the impact he would make as an academic may not be as meaningful as bringing his research and product straight to the market. 
 
Thus, he decided to take the leap and start his own company, Cellivate Technologies, in 2019 to further develop and sell the coating technology and other innovations to companies, locally and abroad, to help speed the production of cultivated meat. 
Apart from the prospect of more ethical meat consumption from lab-grown meat, Dr Viknish added that the technology seeks to solve a "trillion-dollar problem" of increasing food production while also protecting the environment from harmful greenhouse gases that contribute to global warming, such as methane, that are emitted when rearing livestock. 
Although the future held much promise when the firm was set up, Covid-19's arrival in early 2020 threw a spanner in the works.
Business deals stalled in the first months of the pandemic, but the firm was able to start raising funds in April last year, thus allowing it to continue its research and development to improve its product. While it was just Dr Viknish helming the company at the start, the firm now has 12 staff members.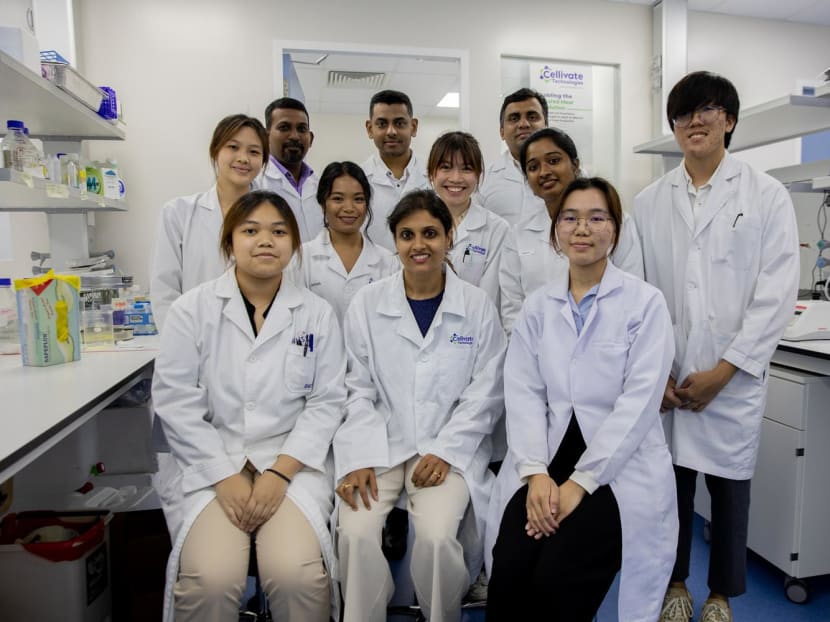 Dr Viknish said that Enterprise Singapore (EnterpriseSG), a statutory board which supports the development of Singapore small and medium enterprises, had also helped him to link up with companies around the world, and that gave his firm a "good idea of the market research that is needed". 
It was in 2020 that companies from all over the world began making enquiries about his products. A year later, his firm began launching product pilots. 
He added that while his company's solutions have not led to any meat products being produced yet as the science is still developing, his firm has made headway in discussions with meat cultivating firms locally as well as overseas in Australia and South Africa. 
However, the challenges of running a new company that seeks to find novel solutions to age-old problems are manifold.
For one, Dr Viknish said that startups such as his that seek to disrupt industries are unlikely to be profitable in the short run. 
Another hurdle is scale — cultivated meat production is still done on a small scale, which means that typically, 1kg of cultivated meat can cost consumers anywhere between US$100 and US$1,000. 
"The goal of the industry is to get 1kg of meat to cost US$10," he said. 
However, Dr Viknish has been able to keep the company going by getting investments from companies which see potential in his product. So far, he has received about US$600,000 (S$850,000) in investments.
"The reason why investors are interested in this and why we also invest all our time and resources into this is because we see that we are in a unique position where we are able to change the world," he said. 
Indeed, the firm is fast growing. While his investors valued the firm just US$3 million last year in April, they now value it four times more — at US$12 million. 
Dr Viknish expects the firm to break even by the end of next year. 
"Once we get enough traction… then I think the financial returns will definitely be there, as there is a need in the world for these things, but it will take a little bit more time." 
'HUMANITARIAN SUITCASE' THAT PRODUCES 3,000L OF DRINKING WATER IN 6 HOURS 
For over two decades, Mr Bashir Ahmad was a public servant — first working with the then-Public Utilities Board for 10 years, where he would become a senior engineer involved in developing Singapore's sewage system.
From 1999 till 2010, he was with the National Environment Agency (NEA), rising the ranks to become its deputy director. 
However, Mr Bashir, 57, said that despite the comfortable salary and senior position at NEA, he found himself doing mainly administrative work and missing his days as an engineer working on the ground and getting his hands dirty. 
He thus decided to move into the private sector, joining a Danish water treatment firm. There, he was introduced to ceramic membrane technology, which is able to filter out impurities from water through pores in the material without having to replace the membrane itself. 
He spent five years with the firm before deciding in 2015 to start his own company, Liquinex, which specialises in water purification solutions. 
But his wife, along with their two twin children who were taking their 'A' Level exams at that time, thought that he was taking a big risk with such a radical career move. 
"It was quite a big decision at that time, and my family was quite nervous about the whole episode," he said.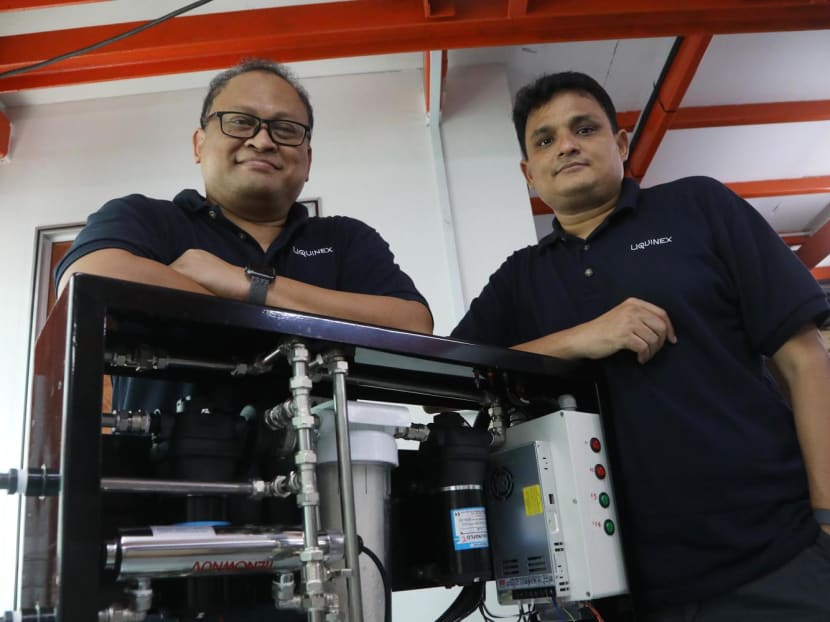 As the founder of a startup, Mr Bashir had to take a 50 per cent pay cut from the salary he was getting as NEA's deputy director.
"It was a strain, because I was the sole breadwinner and my wife is a homemaker, so it was a difficult period, but we got through it," he said.  
Using the ceramic membrane technology in partnership with his former employer, Mr Bashir's firm developed several products such as a "humanitarian suitcase", which is a 30kg case that can be checked in on a plane.
The case is packed with components for a water purification system, such as a ceramic membrane filter, a UV disinfection system and an electric pump.
The compact water purification system can be deployed at locations where natural disasters such as floods or earthquakes occur. All it requires is flood or river water that can be pumped with the help of a car battery, which is available in most places.
The "humanitarian suitcase" can produce about 3,000 litres of clean drinking water in six hours, which can sustain about 300 people. This is a far better yield than the traditional hand pump, which produces only about 4 litres of water for every 10 manual pumps. 
However, Liquinex did not stop there, said Mr Bashir. It has expanded its suite of products to help companies reduce their environmental pollution by purifying their waste products. 
For example, one waste management company in Singapore is using Liquinex's water purification system to treat oily and toxic wastewater, so that the water that is eventually released into the environment is clean and within the Government's guidelines. 
Mr Bashir said that the increased focus on environmentally sustainable corporate practices has made his firm's solutions all the more relevant today. 
This means that Liquinex's products, which help to reduce toxic pollutants in the environment, will be in even higher demand, he added.
Over the years, EnterpriseSG has helped Liquinex to expand abroad, by linking the firm up with companies in countries such as India, Vietnam, those in the Middle East and even as far away as Turkey and Germany. 
Mr Bashir said that while his company was making a 10 to 15 per cent profit margin in 2019, the Covid-19 pandemic in the subsequent years affected sales both locally and overseas and caused his firm to be in the red.
He said that following the easing of Covid-19 curbs and the reopening of international borders in the past year, there has been a boom in business again. The company is now at break-even and is "heading towards profitability" in the next few months, pending several big projects with foreign firms where the paperwork is being finalised.  
As for his family, their initial fears have all evaporated. "(My wife) has been my cheerleader, she is very proud now and without her support, I wouldn't have done this," said Mr Bashir. 
PAINT THAT CLEANS THE AIR
Mr Lester Leong, 29, had tasted failure in his university days when two tech companies which he started did not take off. 
He had found that while tech was an emerging field, it was difficult to break into the industry because of the high cash-burn needed to get people to pick up his product — money which he did not have as a university student. 
When he was about to graduate from university in 2017 with a degree in business administration and finance, he landed himself a job after an internship stint with an investment bank that paid a five-figure salary. 
But Mr Leong decided to give it all up to chase his dream for the third time, by embarking on a startup whose main product is an air purifying interior paint — an idea that he thought of during a university assignment. 
"For investment banking… you work so hard, you barely get to see the sunlight," he said. "I thought at that point in time that if you're (willing to) work so hard for somebody else, why not work for yourself?" 
When he told his mother about his plan to embark on a third startup, Mr Leong said she cried — but they were not tears of joy. "My mum says she will give me six months to try, and if it doesn't work out, I have to go back to investment banking," he said.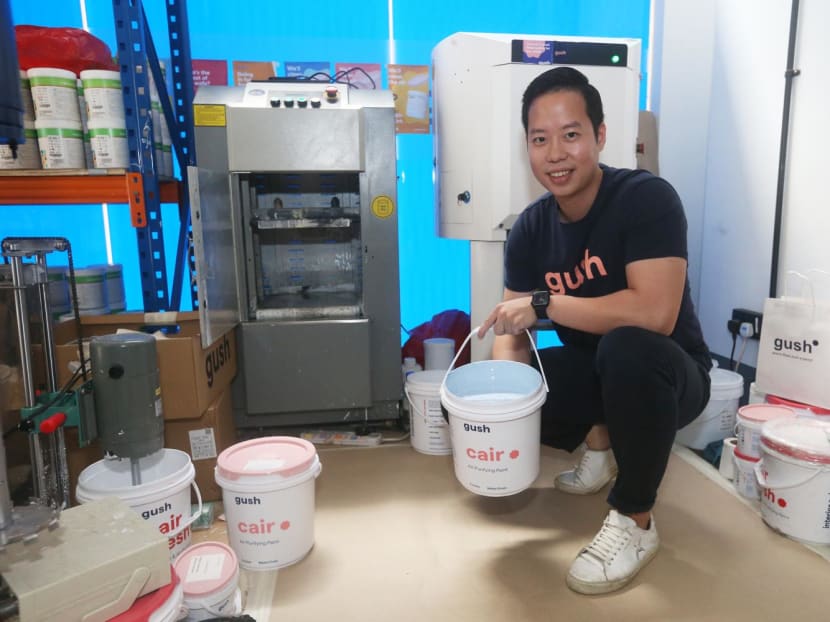 Mr Leong's startup, Gush, produces both sustainable paints and advanced building materials. 
The paint, which is the main product, is formulated to purify the air, eliminate 99.9 per cent of bacteria, regulate humidity and prevent mould, he said. 
The paint is also free of volatile organic compounds (VOCs), which can be found in many products used to build and maintain homes that can be harmful to health when inhaled.
"What we did was develop this paint that not only does not emit toxic emissions, but is also able to break down VOCs," said Mr Leong. 
This occurs through a chemical reaction that occurs on the paint surface, which breaks down any pollutants in the air into harmless byproducts. 
The business idea soon caught the attention of his co-founders: Mr Paul Lim, a venture builder and startup mentor; and Mr Benny Jiao, who has a material and chemical science background and is now Gush's chief operating officer.
With their help, Mr Leong was able to further develop his product, and the first "turning point" was securing a S$3 million investment from real estate firm City Developments Limited (CDL) in 2019. 
This meant that some of CDL's residential developments, such as Haus on Handy located at Dhoby Ghaut, were painted using Gush's products. 
Mr Lim, 51, said that getting the funding was crucial, because it allowed Gush's products to be proven in the market, thus attracting more buyers. 
While the company is fast approaching profitability, which it expects to achieve in the next 12 months, it is not resting on its laurels, investing 10 to 15 per cent of its revenue into R&D. 
For instance, it has developed an anti-thermal "cooler film" for windows, to reduce the amount of heat entering a building by blocking out ultra-violet and infra-red rays, which reduces energy consumption from air-conditioners by 14.5 per cent.
Gush has also developed an anti-thermal exterior paint for buildings, that can reject up to 87.5 per cent of solar energy. 
And while it has become a recognisable brand in Singapore, Gush's longer-term goal is to expand overseas, said Mr Leong.
The company has made several sales to overseas consumers and companies, with its two biggest markets being the United States and China. 
Like Cellivate Technologies and Liquinex, the founders of Gush said that EnterpriseSG has helped in linking them up with overseas investors and customers and providing them with grants. More importantly, the agency has also created "movements" for businesses like theirs to thrive. 
"EnterpriseSG doesn't just do grants or linking up, they also try to capitalise on (sustainability) movements like this, by creating consortiums to improve the attractiveness of local products to overseas markets," said Mr Leong.