The Big Read in short: Electric vehicles — is the long-awaited future finally here?
Each week, TODAY's long-running Big Read series delves into the trends and issues that matter. This week, we look at what led to a shift in Singapore's approach towards electric vehicle adoption and how feasible is its target of phasing out all petrol and diesel cars by 2040. This is a shortened version of the full feature.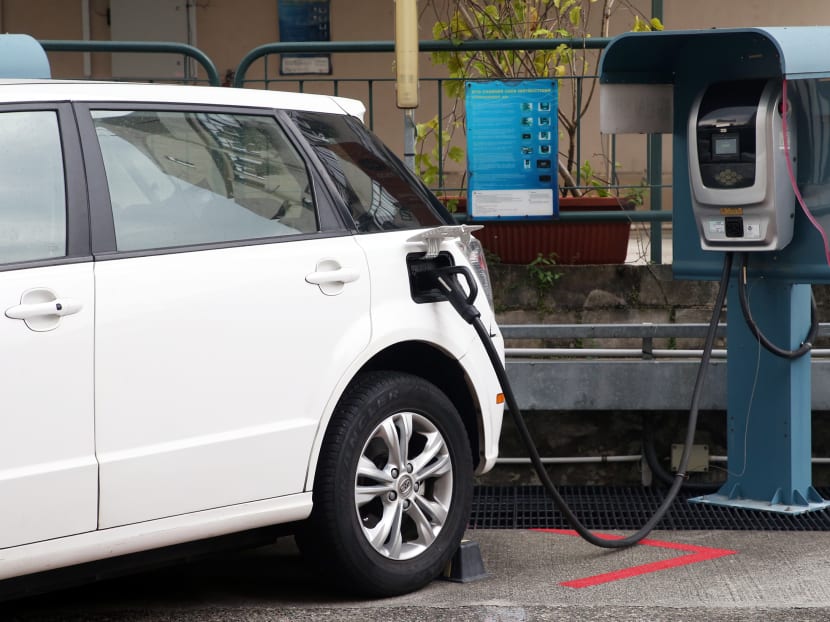 Each week, TODAY's long-running Big Read series delves into the trends and issues that matter. This week, we look at what led to a shift in Singapore's approach to electric vehicle adoption and how feasible is its target of phasing out all petrol and diesel cars by 2040. This is a shortened version of the full feature,​ which can be found here.
The Government's earlier start-stop approach to electric vehicle (EV) adoption for more than a decade had left some industry players, prospective buyers wondering about its future here 
As recently as August 2019, then Environment and Water Resources Minister Masagos Zulkifli had questioned the feasibility of EVs, saying the Government has no solution on charging point deployment
Now, even as Singapore pursues a "car-lite" policy, it is going full steam ahead with plans for 60,000 charging lots by 2030 and phasing out petrol, diesel cars by 2040
Experts say the moves could stem from a faster-than-expected fall in EV battery cost and intelligent charging solutions that can reduce the vehicles' impact on the power grid
SINGAPORE — Electric vehicles (EVs) have emerged as the darling of green transportation around the world and been touted as transportation's answer to reducing climate change emissions.
It was only in recent years, however, that strides have been made in design issues that had previously rendered EVs impractical for mass commercialisation.
For more than a decade, the Government had been adopting a start-stop approach to the mass adoption of electromobility here — leaving prospective EV buyers and industry players unsure as to whether EVs have a future in Singapore.
As early as in 2009, the Government had convened a task force involving eight government agencies to study the deployment and proliferation of EVs in Singapore amid a flurry of activity among industry players, including a number of local start-ups, vying for a piece of the pie.
But as it turned out, some of these entrepreneurs were ahead of their time. Their ventures did not take off.
It was only in February last year that Singapore announced that it would be — in the words of Deputy Prime Minister Heng Swee Keat as he unveiled the 2020 Budget — "placing a significant bet on EVs and leaning policy in that direction because it is the most promising (cleaner vehicle) technology".
Mr Heng said the country would roll out 28,000 charging points at public car parks islandwide by 2030, with an eye to phasing out all petrol and diesel cars by 2040.
He also announced an EV early adoption incentive to narrow the upfront cost difference between an EV and an equivalent internal combustion engine (ICE) vehicle by up to S$20,000.
The push towards EVs has gathered speed since then, with the unveiling of the Singapore Green Plan 2030 on Feb 10 this year, which sets new goals for all car registrations to be cleaner-energy models from 2030, and 60,000 charging points to be built by the same year — more than double the original target.
Presenting Budget 2021 on Feb 16, Mr Heng, who is also the Finance Minister, announced that the Government will further waive the minimum Additional Registration Fee of S$5,000 for EVs, and commit S$30 million over the next five years for EV-related initiatives, such as measures to improve charging provision at private premises.
The slew of EV-friendly measures stands in stark contrast to claims made by Tesla Chief Executive Officer Elon Musk not too long ago. In a May 2018 tweet, he had criticised the Singapore Government for being unsupportive of EVs. And in January 2019, he said the country "has been unwelcome" to the electric car giant.
Mr Masagos Zulkifli, then Environment and Water Resources Minister, famously hit back in an interview with international news agency Bloomberg in August 2019, saying that Tesla's EVs are about "lifestyle", not climate.
"We are not interested in a lifestyle. We are interested in proper solutions that will address climate problems," Mr Masagos had said then, as he pointed out that it would be difficult to develop enough charging stations with 85 per cent of Singapore's population living in HDB flats.
The minister also said then that hydrogen fuel cell technology was a better long-term solution than EVs, partly due to the carbon footprint from mining the metals needed to produce car batteries and the issues related to their eventual disposal.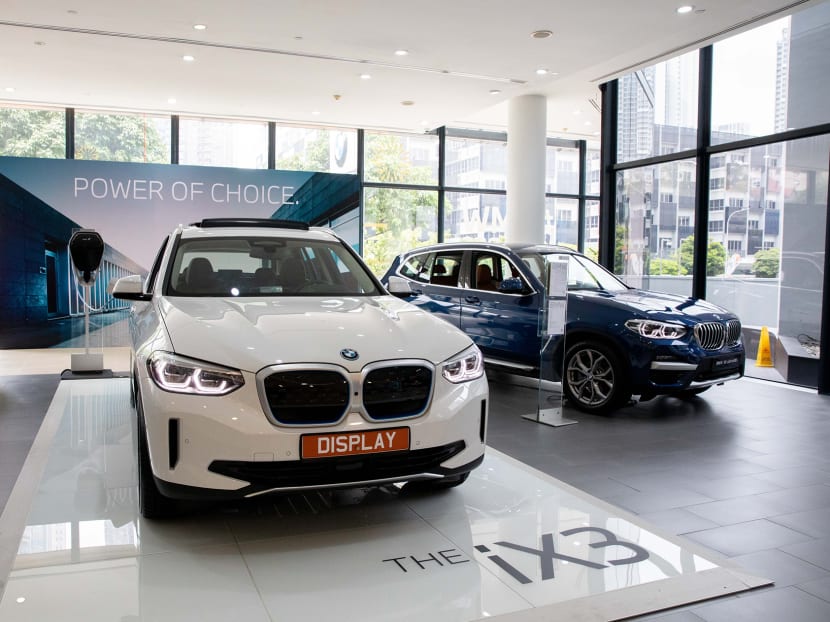 ADVANCEMENTS IN BATTERY TECH THE KEY   
The case for EVs had only strengthened over the past decade, and there was never the sense that EVs would die a natural death, said Mr Terence Siew, president of the Electric Vehicle Association of Singapore, who was involved in EV charging product development for 10 years.
He said: "The only way where EVs would fail is when people don't see a need to switch over. But in the automotive world, the EV happened to lie at the heart of four megatrends – efficiency, connectivity, autonomous driving, shared mobility."
So why is Singapore betting big on electric vehicles only now? What is the impetus for kicking its electrification plans into high gear?
Cost is one factor, with energy and transport experts pointing out that the cost of batteries has been falling rapidly to a point where mass market EVs will be competitive with ICE vehicles without subsidy.
Professor Subodh Mhaisalkar, executive director of the Energy Research Institute (ERI@N) at Nanyang Technological University (NTU), said that the tipping point would be when a car battery costs under US$5,000 (S$6,587) to US$10,000 (S$13,173) per vehicle.
And it is already forecast to happen by 2025, so the accompanying infrastructure for EV charging will need to keep up, he said.
Dr Walter Theseira, associate professor of economics at the Singapore University of Social Sciences (SUSS), observed that the cost of lithium-ion batteries for EVs has fallen way below what was projected in Singapore's electromobility road map, which was published in 2016.
Referring to the road map, developed by ERI@N on LTA's lead to guide the formulation of EV policies and its related infrastructure plans, he said that it projected the cost of batteries to fall to about US$300 per kilowatt-hour (kWh) last year.
But current estimates suggest battery prices may fall to around US$100 per kWh in the next few years, noted Dr Theseira, who heads the Master of Management (Urban Transportation) Programme at SUSS.
Bloomberg reported last December that the average price per kWh was at US$137 (S$182), he noted. In 2011, the cost of an automotive lithium-ion battery pack was about S$1,240 per kWh.
As for hydrogen fuel cell technology, Professor Chan Siew Hwa, who leads hydrogen and fuel cell research at NTU, said the technology is currently more suitable for heavy duty vehicles such as trucks, aircrafts and ship propulsions, which would require longer range and fast refuelling times.
Limitations for mass commercialisation of hydrogen fuel cells as a source of power for vehicles include the lack of supporting infrastructure and supply of "green" hydrogen (which is produced using renewable energy sources such as wind or solar power).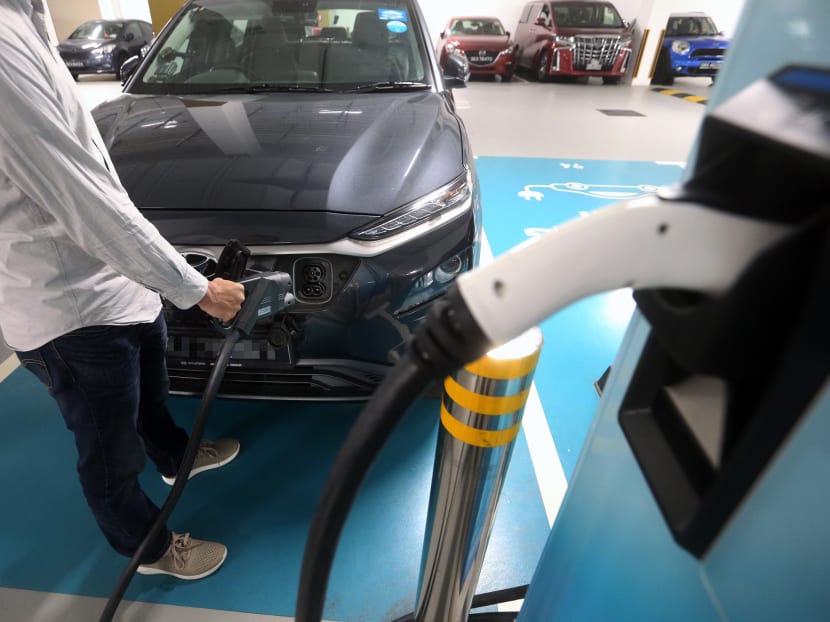 EMERGENCE OF SMART CHARGING TECHNOLOGIES
As most EVs are sold with the assumption that the owner will have access to a dedicated charging point at home or work, the drive to promote such cars faces another speed bump: How to adapt public car parks in Singapore, where most of its people live in flats, without overtaxing its electrical grid?
Intelligent charging systems — which are already in existence — can offer a way out, said Dr Sanjay Kuttan, council member and chair of the sustainable infrastructure committee at the Sustainable Energy Association of Singapore.
"One solution is to use smart technology that allows 20 cars to be charged overnight but in batches of four at a time before it alternates to another four, and cycle the way through the night especially if the cars are going to be there till morning," he said.
Ms Sylvie Ouziel, the international president for technology solutions provider Envision Digital, told TODAY that her firm has been working on solving the issue of how car drivers can "naturally" charge where they work or live without having to look for a fast-charging spot.
Most cars sit idle 95 per cent of the time and do not require fast-charging, which creates congestion points for the grid and damages battery health, she said.
Thus, a solution lies in orchestrating artificial intelligence of things to create "digital virtual electric grid expansion".
The virtual expansion can be done, for example, by sequencing which car to charge based on driving range needs, expected or declared time of departure and the current state of charge of the battery, she said.
The buffering of electricity — which can be done by tapping vehicle-to-grid solutions that use car batteries to reinject electricity into the network during times of peak demand or solar energy — can complement this system, she said.
The vehicle-to-grid solution could find its way to Singapore sooner than later as SP Group, which aims to build the largest public EV charging network here, is already piloting it.
CAN S'PORE MEET ITS TARGETS?
Going by the scenarios envisaged by the ERI@N's electromobility road map, Singapore's move to ramp up charging infrastructure to 60,000 charging points by 2030 could mean that Singapore is gearing up for a "high" electrification target, said Prof Subodh.
The target set in the road map is for full EVs to make up 50 per cent of private vehicles, 60 per cent of taxis, 100 per cent of public buses, 50 per cent of private buses, 50 per cent of freight vehicles, 70 per cent of motorcycles and scooters, and 100 per cent of car-sharing vehicles by 2050.
But just how realistic is the goal to roll out 60,000 charging points in less than a decade?
When asked about this by the media on Feb 11, Transport Minister Ong Ye Kung said 60,000 is "very achievable" and there is a good chance that it can even be higher, as the number does not fully take into account those to be built at private premises.
"Technology is moving so fast," he added.
Experts and charging infrastructure providers said the most urgent piece in the EV puzzle that has to be put in place would be the upgrading of power at the distribution point level.
TODAY understands that should there be a need to add more transmission cables, the infrastructure is already there as S$2.4 billion was invested to build a 40km network of underground cable tunnel system — one of the deepest in the world at 20 storeys underground.
SP Group had said when it was completed in 2017 that parts of the existing power grid, which runs 3m underground, would be shifted to the deep tunnels progressively from end-2018 till 2022.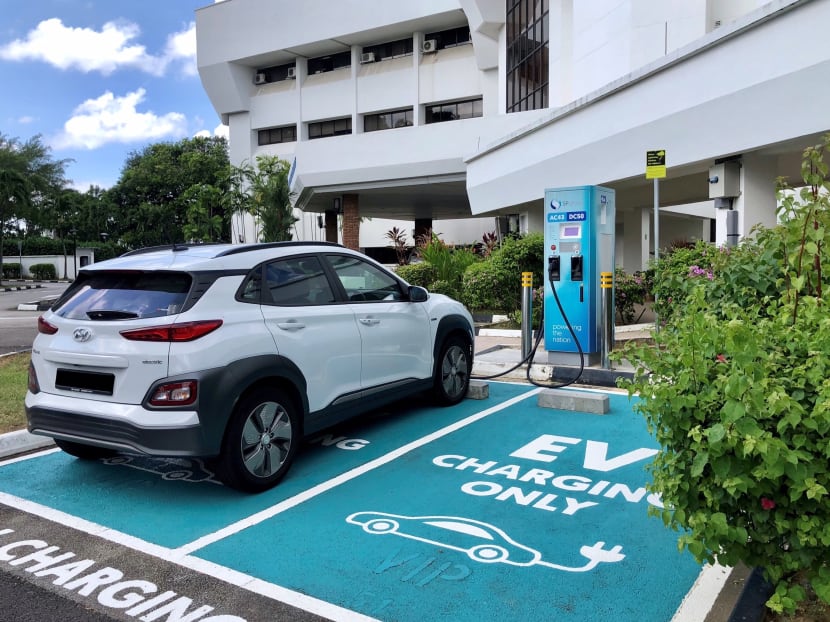 But Prof Subodh said there shouldn't be a need for more transmission cables in the short run. The upgrading of surface-level infrastructure, such as substations and transformers, would be sufficient.
"We have the most stable grid in the world. For the most part, we have installed more capacity than what is needed," he said.
The upgrading works could be planned with the renewal of electrical substations, which sometimes have lifetimes of about 30 years, and it could also be combined with other efforts such as the estate upgrading and the installation of additional solar panels, he said.
CHARGING AT HDB CAR PARKS
In imagining the future HDB car park, experts noted that car manufacturers may be tempted to build smaller battery capacity EVs for a mass market budget, since high capacity EVs with ranges exceeding 400km are much more expensive due to battery costs.
Dr Theseira said that if this happens, it "won't make sense at all" even if 10 per cent of the parking lots are installed with chargers, as the smaller capacity EVs' usage model would require daily charging.
"In these cases, you'll have a pretty unpleasant game of musical chairs every evening as owners shuffle their cars around," he said. This is because he expects charging points at HDB and condos to be unused during the daytime, and over-utilised at night on a typical workday.
"I don't actually think we have seriously considered the huge difference to infrastructure and quality of life that higher battery range would make in Singapore, even though daily driving distances are short."
The Government will be collecting data, such as charging durations and state-of-charge at the start and end of each session, according to documents of its first tender to build more than 600 EV charging points at over 200 public car parks by the third quarter of 2022.
The tender, which was called in November last year and will be open till March 12, will also track energy consumption patterns, such as the peak arrival and departure times and the grid impact during different times of the day.
Some 390 of these chargers will be 7kW AC ones, to be built across 130 HDB car parks.
The rest — to be built at industrial estates, public parks and community centres — will support 22kW AC charging at the minimum, and come with two to four charge points at each location.
Even as Singapore incentivises the adoption of EVs, industry players recognised that there is still a need to balance enthusiasm for these cleaner vehicles with the Government's car-lite policy, where heavy investment on public transport is coupled with a zero-growth target for private vehicles.
Mr Clarence Tan, the founder of the now-defunct The Green Car Company which had plans to
Manufacture 2,500 two-seater EVs a year, believes that when EVs become mainstream, they will "just be as expensive as any other car on the road".
"The bottomline is, (the policymakers) don't want you to own any cars, regardless of how it is powered," he added.