The Big Read in short: Govt can't keep extending lifelines to struggling firms. What happens when it stops?
Each week, TODAY's long-running Big Read series delves into trends and issues that matter. This week, we look at the potential problems posed by "zombie companies" amid efforts by governments around the world to support businesses hit by the pandemic. This is a shortened version of the full feature.
Each week, TODAY's long-running Big Read series delves into trends and issues that matter. This week, we look at the potential problems posed by "zombie companies" amid efforts by governments around the world to support businesses hit by the pandemic. This is a shortened version of the full feature, which can be found here.
Many business owners said they have managed to hold on thus far due to various govt help schemes
But they may have to shut after the support measures end by the end of this year
Globally, alarm bells are being raised over the rise of 'zombie companies' in a Covid-19 world
These are firms kept alive only by bank loans in a low interest rate environment or govt lifelines 
Experts said the number of such firms is unlikely to be high in Singapore due to various factors
SINGAPORE — More than a month has passed since Singapore entered the second phase of its circuit breaker exit, but business has barely picked up at Mr Wong Yuen Lik's two retail stores at Capitol Singapore and Velocity@Novena Square.
For the month of June, he only raked in less than S$10,000 in combined sales, compared with S$80,000 in the same period last year. His shops mainly sell winter and outdoor adventure apparel, which has seen plummeting demand as international travel grinds to a near halt due to the Covid-19 pandemic.
Despite getting four months of mandated rental waiver and wage subsidies for his staff through the Job Support Scheme (JSS), Mr Wong said he is still losing money and has had to cut the salaries of his nine employees in July. 
With several Government support measures due to expire soon, Mr Wong is bracing himself for more bleak times ahead. 
"If landlords start chasing for rent, we definitely cannot survive… I will see how much I bleed, if I need to shut, I have to shut," said Mr Wong, who is the director of his two shops Icebreaker and X-Boundaries. 
Mr Adam Esoof Piperdy, chief executive officer and founder or events company Unearthed Productions, is in a similar predicament. 
With large-scale events cancelled since March to curb the coronavirus' spread, he has pivoted his company's business model to focus on holding virtual events. But he said that it is a gamble as the industry is still finding its footing in this "uncharted territory". 
Mr Piperdy said that he will only know whether the new model is sustainable in five to six months, as that is when the wage subsidies, rental waivers and loan payment deferment which he has been receiving will end. 
"When all (the support measures stop) at the end of the year, that's when s*** will hit the fan and that's when we need to decide (whether it is worth continuing to run the business)... I think everybody is living on borrowed time right now," he said. 
Besides Mr Wong and Mr Piperdy, small and medium enterprise (SME) owners in other sectors whom TODAY spoke to also painted a similarly grim outlook for the future.
Several said they have managed to hold on thus far due to various government help schemes, but may have to make the heart-wrenching decision to put up the shutters if business still remains sluggish after the support measures end. 
And that deadline is looming, with several of these lifelines set to expire some time in the next few months. The rental waiver, for example, ended in July and the JSS subsidies will cease this month, with companies receiving the payout in October.  
Keeping companies afloat through various support schemes has been the leitmotif of governments' response to the coronavirus-induced economic distress globally, and Singapore is no exception.
However, such official assistance has also led experts around the world to caution against the danger of using taxpayers' money to prop up struggling firms, especially "zombie companies" which were already heavily in debt and having problems staying afloat even before Covid-19 struck.
WHAT ARE ZOMBIE COMPANIES? 
Generally applies to businesses that are unable to earn enough profits to cover their debt-servicing costs

Used to refer to failing Japanese companies kept alive by credit from banks 

More zombie companies have appeared in the Eurozone economies and the United States long before the Covid-19 outbreak 

Facilitated by the low interest rate environment globally after the 2008/2009 financial crisis

Experts warn there may be more "zombie companies" with Government injecting cash into pandemic-stricken economies
WHAT PROBLEMS CAN THEY POSE? 
Waste of precious resources 

Drag productivity growth

Hinder the reallocation of labour and skills to more productive parts of the economy
In Australia, the Treasury Department's recent review of one of its Covid-19 support measures, known as the Jobkeeper wage subsidy, found that "perverse incentives" were created through the scheme and the problem would intensify when the economy recovers, reported the Sydney Morning Herald in July.
"It distorts wage relativities between lower and higher-paid jobs, it dampens incentives to work, it hampers labour  mobility and the reallocation of workers to more productive roles, and it keeps businesses afloat that would not be viable without ongoing support," the Treasury found.
THE S'PORE SITUATION 
Since Covid-19 first surfaced in Singapore in late January, the Government has pumped in nearly S$100 billion, via four Budgets, to prevent mass business closures and retrenchments in an economy battered by plunging overseas demand, disruption to the supply chains, and restrictions on international travel. 
However, while the problem of zombie companies has plagued several countries, experts told TODAY that it is unlikely to become prevalent in Singapore due to various factors. The number of such companies is unlikely to be high here, though there are no statistics available, they reiterated.
"The focus (of the support measures) is not to keep unviable companies alive. We don't have a serious case of zombie companies. But of course this is a concern. It raises the concern of whether resources could be put to better use," said Mr Irvin Seah, senior economist at DBS Bank. 
Associate Professor Lawrence Loh, director of the Centre for Governance, Institutions and Organisations at the National University of Singapore (NUS) Business School, said there is a need to distinguish between good and bad zombies. 
"Even if you are a zombie, you can be a temporary zombie, you can be resurrected when the situation improves. You are a viable company, you are just hit temporarily by Covid-19. When some normalcy returns, you can come back to life in a viable form," he said. 
"The tension is how do we actually identify these problematic zombies." 
While resources should ideally be used as efficiently as possible, instituting too many requirements in a bid to prevent unviable companies from getting help would inevitably lead to some "good zombies" slipping through the cracks, said experts.  
In Singapore, experts said these factors help to prevent a proliferation of zombie companies:
The relative ease in setting up and shutting down businesses here

The Government's prudent nature when doling out financial assistance

The way the support measures have been designed
In fact, with most of the government support set to expire by the end of this year, experts said the number of business closures and retrenchment will continue to go up through the year and into 2021, though it will be spread out over a few months.
Several business owners TODAY spoke to are considering the very real possibility of closing shop at the end of this year if things do not look up. 
Mr Joshua Lin, founder of Cultures Specialty Coffee, a cafe in Marina Bay, said his sales have nosedived by at least 70 per cent. With remote working as the default arrangement now, the Central Business District (CBD) has become a ghost town, he added. 
Though he has not paid rent for four months and receives wage subsidies from the Government, Mr Lin said that he is still making losses every day. 
"If I were to fork out money from my own pocket to continue to pump into the business just to stay open and make losses every day, it doesn't make business sense," he said.
WORKERS' WELFARE A KEY CONSIDERATION: GOVT
Responding to TODAY's queries, a spokesperson from the Ministry of Finance said it was "too early" to label affected companies as zombie firms given how uncertain the economic situation is. 
"Our support measures are thus intended to preserve capabilities and give companies the best chance of emerging stronger during the eventual economic recovery," said the spokesperson. 
A spokesperson from the Ministry of Trade and Industry (MTI) said that the Covid-19 pandemic has affected all sectors, though more more than others. Hence, the Government has implemented "broad-based measures" to cushion the shock to businesses and workers. 
In view of the need for businesses to adapt, the MTI spokesperson said it has enhanced support for companies to transform their business and retrain their workers so that they can stay relevant and competitive. 
WHEN AND HOW SHOULD LIFELINES BE CUT? 
Nevertheless, the Government cannot extend lifelines indefinitely, experts stressed.
However, they cautioned that the sudden withdrawal would give rise to a "cliff effect" where companies have to start bearing their full costs overnight. Policymakers need to prevent that in the way they design how support measures would be weaned off. 
The key is timing, the experts noted. The Government should only begin to gradually unwind support when growth starts picking up. Following which, assistance should be extended only to sectors worst hit by the crisis, they added.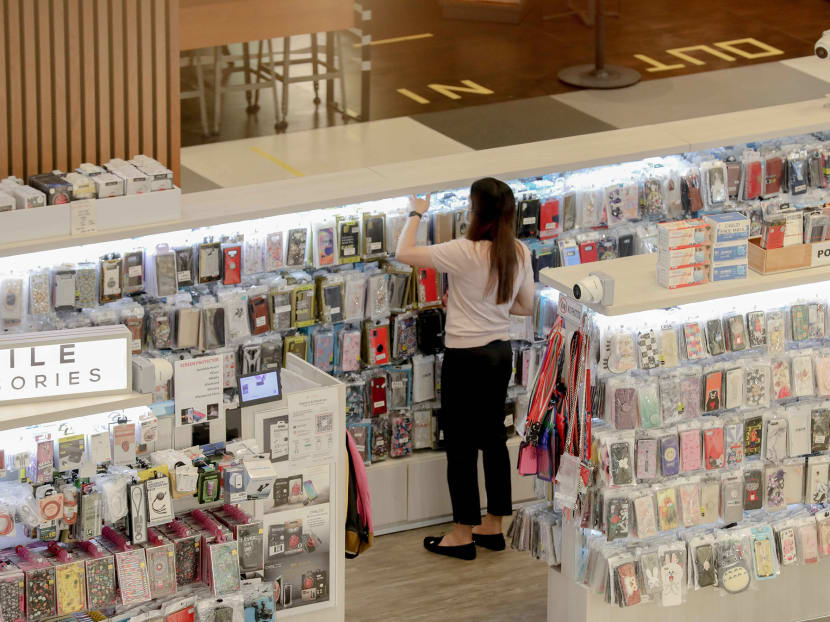 In response to TODAY's queries, the National Trades Union Congress (NTUC) has urged the Government to consider extending the JSS beyond August. 
In the meantime, human resources experts said that workers in zombie companies should keep an open mind to reskill themselves and be on the lookout for available opportunities in the job market.  
Mr David Ang, director of corporate services at Human Capital Singapore, also said that employers should be open with their staff about the difficulties they are facing, and share the thinking behind any decisions to cut staff, given how the uncertain economic situation has caused high levels of mental stress. 
The anxiety over what lies ahead was palpable among the several business owners TODAY spoke to. 
However, they also said they were trying their very best to hold on, with some starting to transform their business to cater to the needs arising from the pandemic.
Mr Wong, the winter and outdoor adventure apparel retailer, has started selling protective personal equipment to the healthcare sector. "I have a positive mind. It is tough but we're going ahead," he said. 
Still, many are circumspect about the situation and braced for the worst: All their efforts in building up their business over the last few years may come to naught due to the unprecedented pandemic.   
"This is something that all business owners need to be prepared for. Financially as well mentally. I think the mental part is the most difficult. Because you're giving up your baby you have spent the last 15 years growing," said Mr Piperdy.
Indeed, many SME owners are facing the fight of their lives to keep their business afloat.  
And DBS' Mr Seah noted: "The need to buffer the economy from the impact of the pandemic far outweighs the unintended outcome of keeping unviable companies afloat."