The Big Read in short: Making shopping fun the next big thing in e-commerce
Each week, TODAY's long-running Big Read series delves into the trends and issues that matter. This week, we look at the developments in e-commerce amid the pandemic boom. This is a shortened version of the full feature.
Each week, TODAY's long-running Big Read series delves into the trends and issues that matter. This week, we look at the developments in e-commerce amid the pandemic boom. This is a shortened version of the full feature,​ which can be found here.
Live stream commerce has taken off in Singapore over the last two years as retailers found ways to overcome challenges brought about by the Covid-19 pandemic
However, an expert said this does not mean that live streaming will disrupt online marketplaces
Online marketplaces are still growing amid the wider e-commerce boom
Some retailers are also using augmented reality to make their online stores more interactive, in a bid to simulate offline shopping
However, retailers say digitalisation is tough and they have had to overcome many challenges along the way 
SINGAPORE — Ms Nur Rahmah Jaafar was among the rare breed of millennials who do not like shopping online, preferring instead the experience of being able to touch and feel the items while browsing in a physical store.
But all that changed when the Covid-19 pandemic hit.
The 29-year-old school counsellor now regularly shops online for clothes for herself and her son.
But instead of turning to the usual suspects — online marketplaces such as Lazada, Shopee or Qoo10 — she buys the clothes through live stream sessions on Instagram (IG).
"The thing that comes close to an interaction is an IG live. You have the model modelling (the clothes) for you. It's as close as you can get to real life," said Ms Nur Rahmah, who shops about once or twice a month through these live stream sessions.
"You get addicted to it… Some IG live (stream sessions) can be very competitive. You have to bid for the product and fastest fingers first. There is that thrill that comes with it," she said.
As online shopping continues its upward trajectory — fuelled further by an unprecedented health crisis that has confined people indoors — "retailtainment" such as live stream, which offers a mix of retail and entertainment, has become yet another important tool for sellers to peddle their wares in cyberspace.
After all, merely opening an online store or establishing a presence on a marketplace is no longer enough these days for retailers eager to have a slice of the burgeoning e-commerce pie. The trick to staying ahead of competitors now involves harnessing the latest technology such as augmented reality and using an omni-channel approach to enhance the shopping experience.
While not exactly new, live stream commerce really took off in Singapore over the last two years, as pandemic-related measures — from a two-month partial lockdown to on-off restrictions on dining and various limits on sizes of social gatherings — meant that many retailers could no longer rely on foot traffic alone.
According to another report by artificial intelligence solutions firm iKala last month, sales from live stream commerce in Singapore jumped 29 per cent in the first half of this year, compared with the same period a year ago. The revenue for each order leapt 89 per cent.
Several brick-and-mortar retailers told TODAY that they have turned to live streams, on top of opening an online store, as a means of overcoming pandemic-induced challenges.
Small online retailers, as well as big brands have also started riding this wave, with several engaging the services of a live streaming company started by celebrities Pornsak Prajakwit and Michelle Chia, along with celebrity hairstylist Addy Lee.
'RETAILTAINMENT' TO THE FORE
After 14 months in operation, their startup called Mdada would likely be raking in at least S$4 million worth of revenue in just two months — October and November, Pornsak told TODAY.
While Mdada partnered with local retailers when it first started out, selling everything from food to slimming packages, the company has now started venturing overseas and are working with overseas brands to sell their products on location to live stream viewers in Singapore.
This partnership also includes Mdada having a team of people to process the payments and work with logistics partners to deliver the items to consumers. His company would get at least a 20 per cent cut of the sales, said Pornsak.
"We try to create this sense of urgency… It's very immersive. This means that you get to keep viewers on your platform longer," Pornsak said.
Online crystal seller Catherine Lam does not have a whole team of staff helping her with her live streams. But the founder of The Alchemy Philosophy has also found success through this mode of selling.
She used to see sales of not more than S$100 per week while selling her crystal jewellery on online marketplace Etsy or through direct queries on Instagram.
The figure has jumped to between S$2,000 and S$3,000 a week after she started selling them on Instagram live.
For Ms Priscilla Ng — who had a first-mover advantage in this space, given that she already started selling bags on Facebook live in 2019 — the influx of sellers has prompted her to rethink her strategy to stand out amid the competition.
"Overnight, suddenly everybody wanted to sell handbags. People are just buying from Taobao and opening a live session to sell bags. I don't want to be caught selling the same bags… Covid forced us to really think of how to keep the customer, " said Ms Ng, who co-founded a Closet Full of Bags with her sister.
To differentiate their offerings, the Ng sisters took a diploma course on bags, and started designing their own bags instead of just reselling stock from an overseas supplier to local consumers.
They would also have special launches of mystery bags during their live streaming sessions to entice viewers to come and watch. Ms Ng would also sometimes play games with her audience or open bids for certain bags.
Live streaming has, in fact, addressed one long-standing issue with traditional e-commerce: That customers are not able to have a good look at the product or have any personal interaction.
"All these things can be resolved in live streaming. There is a real person explaining to you, answering your questions in real time. It brings experience to online shopping," said Mr Ivan Zhou, the Asia-Pacific general manager for retail marketing technology firm Techsun.
However, Professor Kapil Tuli, director of the Retail Centre of Excellence at the Singapore Management University, said it still remains to be seen whether such a form of online selling is sustainable in Singapore, as its current boom could be more due to its novelty factor.
HOW ONLINE MARKETPLACES ARE REACTING
The growing popularity and profitability of live stream selling has led some online marketplaces — which themselves were hailed as disruptors to the retail landscape not too long ago — to start their own live stream channels.
Zalora launched a live stream feature on its mobile application in June, while Qoo19 started its first live stream in April.
In response to TODAY's queries, a Qoo10 spokesperson said that it is not able to offer figures on viewership change given that the live stream feature has been running for only a few months, but added that viewership change has grown steadily to between 5,000 and 10,000 for some of its event shows.
Shopee had launched its livestream feature earlier in June 2019. According to its chief commercial officer Zhou Junjie, viewership grew 2.5 times in 2021 compared to last year across Southeast Asia and Taiwan.
At the recent 11.11 sales campaign, a total of 300,000 hours of live streams were watched on Shopee's platform across the campaign period. 
With live stream commerce expected to grow further, has this mode of selling disrupted these large online retailers, just like they themselves had been game changers a few years ago?
Prof Tuli did not think so.
"It will be a nice part of the overall online spectrum. There is live streaming, there is social commerce, there is e-commerce, there is mobile commerce. It's a very rich, diverse landscape," said Prof Tuli.
THE OMNICHANNEL MANTRA
Whether it's getting themselves on online marketplaces, embarking on live streaming or incorporating "click and collect" services at their physical stores, some retailers have opted to put themselves on as many channels as possible.
And they recognise the need to integrate their various systems so that customers could have a seamless shopping experience.
Such an approach — known as omni-channel retail— first emerged when the brick-and-mortar retail landscape was in an earlier phase of disruption.
Brick-and-mortar watch retailer Cocomi had also gotten itself onto online marketplaces after the pandemic hit early last year and also embarked on livestream early this year.
This is on top of having its own online store before the pandemic. And these strategies seem to have borne fruit, with Cocomi's revenue tripling thus far in 2021, compared to the same period last year, said its managing director Ivy Teo.
She added that e-commerce sales make up half of the firm's total sales, up from a mere 10 per cent previously.
While digitalising and adopting an omni-channel approach is key, Prof Tuli said that retailers should not be looking to hop onto every channel available and maximising its use as a strategy.
What's more important is to know who their target audience is and how they are shopping.
"If the customer is on Telegram (messaging app), why are you on Instagram? Do you even know where your customers are?" he said.
RETAIL INNOVATION
Beyond just opening an online store or live streaming, retailers are also innovating in other ways.
For example, skincare brand Kiehl's just launched its first 3D virtual store last month, whereby its physical store is being simulated using augmented reality.
Online users can also upload their photos onto the virtual store, and a diagnostic tool using artificial intelligence (AI) will analyse the user's skin concerns and how it can be improved.
Ms Rameet Kaur, the general manager of L'Oreal Luxe in Singapore, which owns the Kiehl's brand, said that the aim is to translate the interaction available in a physical store to the virtual world.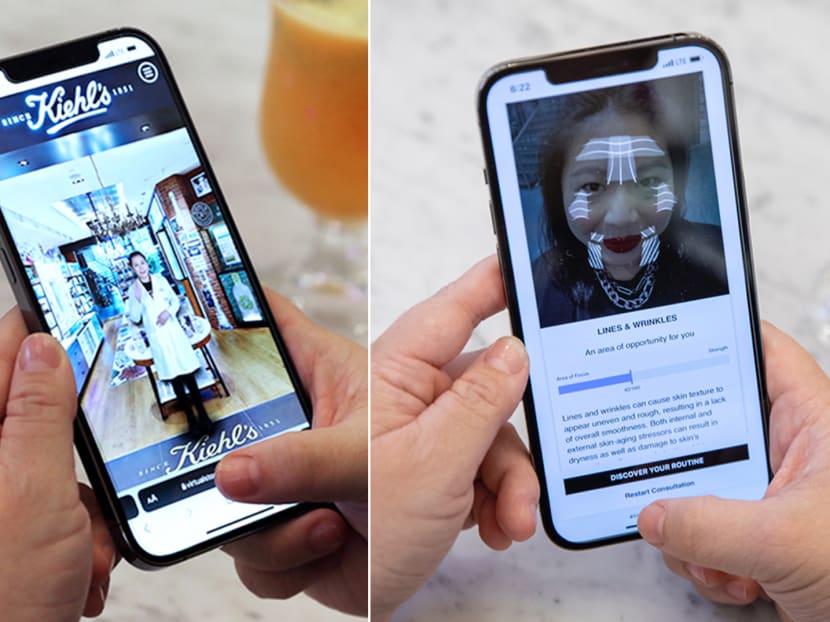 Departmental store BHG is also looking to incorporate interactive elements in its online store to be launched in the next few months, said Mr Jheeva Subramanian, chief financial officer of the departmental store.
For example, it is looking to have a feature beyond a simple chatbot that allows customers to interact and ask questions while shopping on its website. One example is letting visitors have a FaceTime chat with a beauty advisor on the shop floor, he said.
DIGITALISATION NOT THE PANACEA
While many retailers do see the need to pivot online, some told TODAY the going has been tough for them, with some either seeing mixed or little results.
When Ms Edna Ng, general manager of watch retailer All Watches, finally got the go-ahead from her brand partners to digitalise and sell their products online, she thought she could "happily do that".
But Ms Ng was in for a shock when she realised that the competition online is much more intense, including against overseas sellers that have a price advantage.
"It's not as straightforward as we thought. Yes, we know we have to do e-commerce. But it's difficult. Until today, it hasn't really taken off for us," she said.
After partnering with online marketplaces as well as having their own online shop, e-commerce sales still only make up at most 5 per cent of her total sales.
Ms Ng also attempted to sell via live stream but that did not translate to additional sales.
Ms Lisa Chong, founder of maternity apparel Stillen Maternity, participated in a few government programmes that helped small and medium-sized retailers get on online marketplaces by giving them financial grants to hire solutions providers.
There was a steep learning curve as she had to figure out how to stand out amid the deluge of retailers that jumped online, work with third-party logistics and do cross-border sales.
"It is a lot to grapple with. You need to look at new products, new knowledge, you need to do market research. We are just a very, very small set-up. It's not necessarily easy for us."
Although her online move yielded some results, that is only after factoring in the government grants.
Without financial support, the improvement in sales has not been enough to offset the costs that come with hiring solutions providers, she said.
"Without government help, we are barely profiting," she said.
Despite the challenges, retailers know that clinging to the status quo is not an option.
Prof Tuli said it is important to not think of digitalisation in binary terms.
"We tend to assume that it's either you digitalise or you don't. That's not the case… It is a continuum… It doesn't mean you start becoming like Amazon," he said.
Even the complexity of live stream commerce can vary among different retailers, said Prof Tuli. A retailer can choose a more bare-bones approach where the medium is used just to talk about the product and viewers buy it through either its online or physical store.
This would be at a much lower cost than compared with live streams that integrate payment solutions which allow customers to buy on the spot.
How much retailers should digitalise really depends on their products and business model. It would not make sense for a mom-and-pop shop under a public housing block with only two staff to open an e-commerce platform, said Mr Ivan Zhou from Techsun.
However, they can take baby steps, for example, by setting up a WhatsApp group with other dwellers in the housing estate and engaging them, he said.
Digitalisation, while critical, should not be seen as a silver bullet that will solve all the problems for retailers, said Prof Tuli. 
Ultimately, having unique products and good customer service is still key, noted Prof Tuli.