The Big Read in short: Preservation vs development — time for a new take on an old debate?
Each week, TODAY's long-running Big Read series delves into the trends and issues that matter. This week, we examine the increasing public clamour for conserving or preserving green spaces and the trade-offs involved. This is a shortened version of the full feature.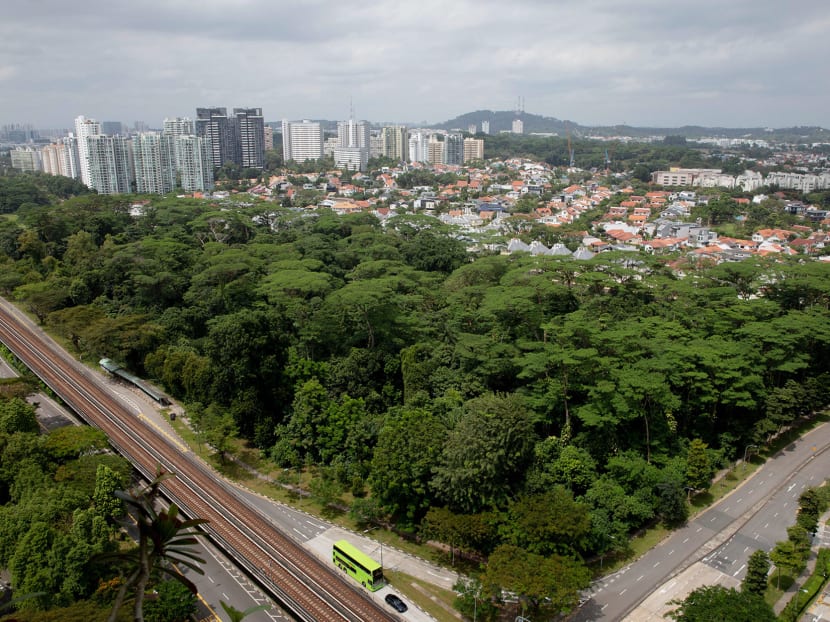 Each week, TODAY's long-running Big Read series delves into the trends and issues that matter. This week, we examine the increasing public clamour for conserving or preserving green spaces and the trade-offs involved. This is a shortened version of the full feature,​ which can be found here.
Calls to preserve Singapore's natural greenery have been growing among the public, with the issue set to be discussed in Parliament next week
Nature groups say that since the Bukit Brown saga about a decade ago, the Govt has taken pains to deepen its engagement with them
But the groups added that these conversations need to move beyond the narrative of prioritising development first
Some young S'poreans interviewed say they are committed to safekeeping green spaces for future generations
SINGAPORE — When Bukit Batok resident Jimmy Tan found out in July last year that there were plans to develop parts of the Bukit Batok Hillside Park area to make way for new flats, he launched an online petition calling for the entire area to remain untouched.
The 48-year-old was worried that its development would take down the "last stronghold" for biodiversity in the western area.
His petition on Change.org garnered over 13,000 signatures, exceeding his expectations.
Since then, a flurry of other petitions have followed from other Singaporeans calling for the Government to conserve or preserve Clementi Forest and Dover Forest.
The public calls have also found their way into the august chamber, with Members of Parliament (MPs) raising the issue recently.
The latest in line is Holland-Bukit Timah Group Representation Constituency (GRC) MP Christopher de Souza who will speak on the preservation of Dover Forest, which is in his Ulu Pandan ward, in an adjournment motion filed for the Parliament sitting on Monday (Feb 1).
When contacted, Mr de Souza referred TODAY to his Facebook post on Jan 18, in which he said he will raise possible alternative sites for housing in Dover, and speak about preserving natural and sustainable spaces in his Ulu Pandan ward during his speech in Parliament.
"I support housing and redevelopment. But, I also cherish greenery and the serenity it offers people and wildlife," he added.
Clementi and Dover forests are both located within Mr de Souza's GRC. 
His adjournment motion will be heard alongside the very first motion on climate change, filed by MPs from the Government Parliamentary Committee for sustainability and the environment.
Against the backdrop of growing environmental consciousness around the world, TODAY looks at the increasing clamour among Singaporeans to protect their green spaces and whether a fresh approach, where conservation or preservation is put at the front and centre of future development projects, is possible in a country with limited land.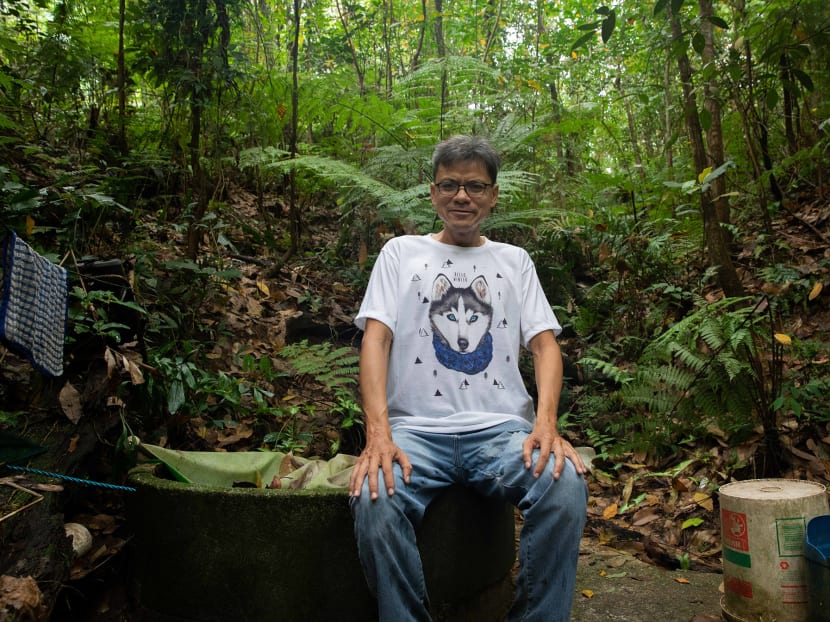 GREATER INTEREST IN PRESERVATION THANKS TO COVID-19?
Observers noted that the Covid-19 pandemic over the past year has led to an "all-time high" interest in conservation and preservation efforts in Singapore.
Unable to travel, Singaporeans have now turned to hiking to pass their time. The exploration of their own backyards has also led to a greater appreciation of the concrete jungle's remaining green areas, they noted.
"I think the general public is more appreciative of wild greenery rather than a manicured park. Bashing through some wild areas gives you a different feel from walking along a park connector," said Mr Leong Kwok Peng, who chairs the Nature Society's conservation committee.
Moreover, scenic pictures uploaded on social media, such as the viral photo of Clementi Forest posted by nature enthusiast Brice Li last year, have also opened up Singaporeans' eyes to the greenery in their own backyard.
As such, there is a growing concern among Singaporeans that such experiences, which are scarce here, may be gone once forests are developed, noted Mr Leong, 64. He added that this has spurred more individuals to press for the conservation or preservation of green spaces, independent of similar efforts undertaken by nature groups all these years.
The ground sentiment has, in turn, led to MPs raising the issue in Parliament.
Dr Tan Wu Meng, MP for Jurong GRC, said that although Clementi Forest is not within his constituency, he was prompted to raise the issue in Parliament after many of his residents brought it to his attention.
"It was a real mix of views but amid the diversity of views, there was this sense of interest in the issues and I thought I'd give a sense or voice (in Parliament) about what my residents were talking about," said Dr Tan.
EVOLUTION OF GOVT ENGAGEMENT
While they still do not see eye-to-eye on various issues, the Government's consultation process with environmentalists has improved in the last two decades, the latter told TODAY.
Dr Ho Hua Chew, the vice-president of Nature Society, cited the saga surrounding the redevelopment of Bukit Brown cemetery as the episode which paved the way for better engagement between the Government and nature groups.
In 2011, the Government announced that it would run an eight-lane road through the cemetery, which the Nature Society had identified for conservation since 1990 due to its biodiversity.
However, a meeting between then Minister of State for National Development Tan Chuan-Jin and nature and heritage groups ended on a sour note in March 2012 when the authorities said they had no intention to revise the plan.
But since then, engagement between Government and nature groups have deepened, with nature groups pointing to recent discussions over the Cross Island MRT Line as an example.
Unlike previous projects, nature groups were involved in consultations for the line even before the Environmental Impact Assessment (EIA) was conducted, said Mr N Sivasothi of NUS Toddycats, a volunteer group with the Lee Kong Chian Natural History Museum at the National University of Singapore (NUS).
Dr Vilma D'Rozario, director of Singapore Wildcat Action Group (Swag), said that the consultations also allowed nature groups to mitigate a lot of the environmental impact brought on by the final decision to route the line under the Central Catchment Nature Reserve.
However, nature groups said there was still room for the Government to bring them into discussions earlier.
Dr D'Rozario suggested that nature groups be involved as early as the Master Plan stage to help nature groups understand the constraints involved in policy-making and help to co-develop solutions.
The Master Plan is a land use plan guiding Singapore's development over the next 10 to 15 years.
ARE WE READY FOR THE TRADE-OFFS?
While deeper engagement with the Government is welcomed, environmentalists told TODAY that it is also time to relook Singapore's approach to development as a whole.
Marine conservationist Kathy Xu, 38, said that even as the Government continues to prioritise development, the country will eventually have to face up to its consequences, such as losing habitats and rising sea levels.
"We as a nation chose to say that development is necessary, and we bear the consequences of what will happen to us in the coming years. There are only so many times we can talk about it and not do anything about it," she said.
Dr Andie Ang, a 36-year-old research scientist at Wildlife Reserves Singapore Conservation Fund, said that with wild habitats such as forests already in a state of imbalance, there needs to be a discussion on how much forest cover the country wants to retain.
However, policy experts said that any form of development will entail hard trade-offs.
While the Government has tried to intentionally incorporate green and natural spaces into new housing and urban developments, it may not always be possible to leave secondary forests untouched, said Dr Woo Jun Jie, a senior research fellow at NUS' Institute of Policy Studies.
This is especially so given the high demand for public housing in Singapore, as can be seen by Build-To-Order flat launches which continue to be oversubscribed, said Dr Woo.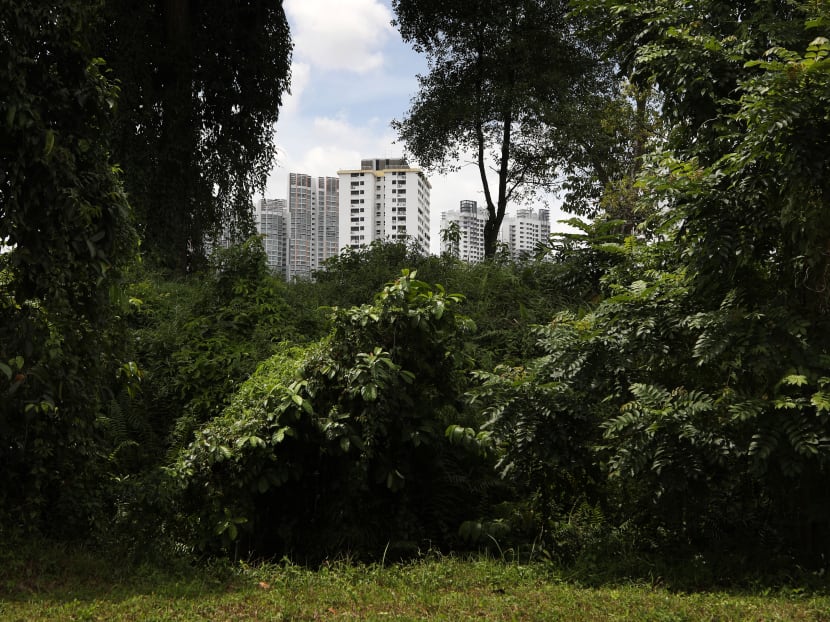 In dealing with the space crunch, environmentalists suggested the Government turn to alternative sites such as vacant schools or tap technology to allow for taller buildings on smaller plots of land instead.
However, policy experts said that it is not as simple as building houses at another spot. Urban planning involves considering housing estates' proximity to basic amenities, transport connectivity, as well as their population density.
SAFEGUARDING LAND FOR FUTURE GENERATIONS
Ahead of the adjournment motion over Dover Forest's status in Parliament next week, the Government has already signalled that it will listen carefully to the views of the public before making a final decision on the site.
In a Facebook post following a visit to Dover Forest with several groups earlier this week, National Development Minister Desmond Lee said that the Government will not "rush" into a decision and will consider possible plans for the site.
Dr D'Rozario is optimistic that the Government is prepared to change its stance if there is a strong case for conservation or preservation.
She pointed to the Government's efforts to protect mature secondary forests — such as the Rifle Range Nature Park and the Dairy Farm Nature Park — around core primary forests.
Meanwhile, environmentalists are hoping that the general public's clamour for conservation or preservation is not just a passing fad.
"Now with social media, people's attention span is really short. I'm afraid they will forget about this Clementi Forest and Dover Forest thing," said Ms Xu. Once travel restrictions are lifted and Singaporeans start flocking overseas again, the public may no longer be in the "long-haul fight", she added.
Some young Singaporeans whom TODAY spoke to said they are well aware of the long-term implications of deforestation and climate change.
Mr Yeo Wei Jiang, an undergraduate from the Singapore University of Social Sciences, said that preserving the natural environment should be Singapore's "top priority".
"I am willing to commit to it even if it means waiting longer for a BTO, living in a more inconvenient area or paying a higher price," said the 24-year-old.
For young environmentalist Mr Karl Png, 23, who had discussed Dover Forest's status with Mr Lee on Thursday, it is "quite frightening" to envision a Singapore obsessed with urban productivity and unable to see the benefits and value of nature.
"If we can't see the trade-offs by cutting down more forests, future generations may not be able to appreciate nature and eventually lead to our self-demise when we cut the last tree down," he said.