The Big Read in short: The pressures and temptations that S'pore athletes face
SINGAPORE — In the months after former national swimmer Tao Li sprinted her way to a fifth place finish in the 100m butterfly event at the 2008 Beijing Olympics, the expectations for her to deliver a medal at her next outing weighed on her mind.
Each week, TODAY's long-running Big Read series delves into the trends and issues that matter. This week, we look at the types of pressures and temptations Singapore's national athletes face, and what needs to be done to help them perform at their best. This is a shortened version of the full feature, which can be found here.
Sportspeople face all kinds of pressures, both in and out of their sport
This has come under the spotlight after recent news of Olympic swimming champion Joseph Schooling and national swimmer Amanda Lim having used cannabis previously
Already pursuing a path less travelled, they are forced to make sacrifices to their personal lives and careers while chasing their sporting dreams
And the scrutiny is even worse for athletes who have already gained some success in their sport, with the public quick to criticise their every move
Ultimately, a shift in culture is due, where athletes should be appreciated for their efforts and perseverance, rather than their medals
SINGAPORE — In the months after former national swimmer Tao Li sprinted her way to a fifth place finish in the 100m butterfly event at the 2008 Beijing Olympics, the expectations for her to deliver a medal at her next outing weighed on her mind.
She is still the first and only Singaporean female swimmer to make it into the finals of a swimming event at the Olympics thus far.
And being only 18 at that time, there were hopes that she could achieve a medal in the 2012 London edition of the Games,  when she had matured further as an athlete. 
However, the 32-year-old told TODAY that the expectations and pressures of reaching the top became too much for her.  
"Once you reach the top, many things can distract you, and then you're not focusing as much anymore, and you don't want to take that much pain anymore, you don't want to train that hard anymore, and then things will just change, immediately," she said.
"If over the course of one year, you're still out of the top eight (swimmers) in the world, then that's it. You won't just get back to where you should be anymore."
Sure enough, the years between the two Olympics were turbulent for her, with several coaching disruptions and a dip in form. 
Though she improved her pool timings before the 2012 Games, it could only guarantee her a 10th place finish in the 100m butterfly, which did not earn her a spot in the finals. 
But to Tao, what matters is that she had tried her best. 
"Everyone's perspective is different… some fans will say that national swimmers should try to break the world record, but the swimmer might think that this is their best (effort) already," she said.
"Both parties are not wrong — the swimmer represents themselves, but the public wants some more, and that's fair." 
While Tao, who now runs her own swimming academy, has made peace with the ups and downs of her sporting career, the same pressures that she had faced continue to hound the current crop of active sportsmen and sportswomen in Singapore.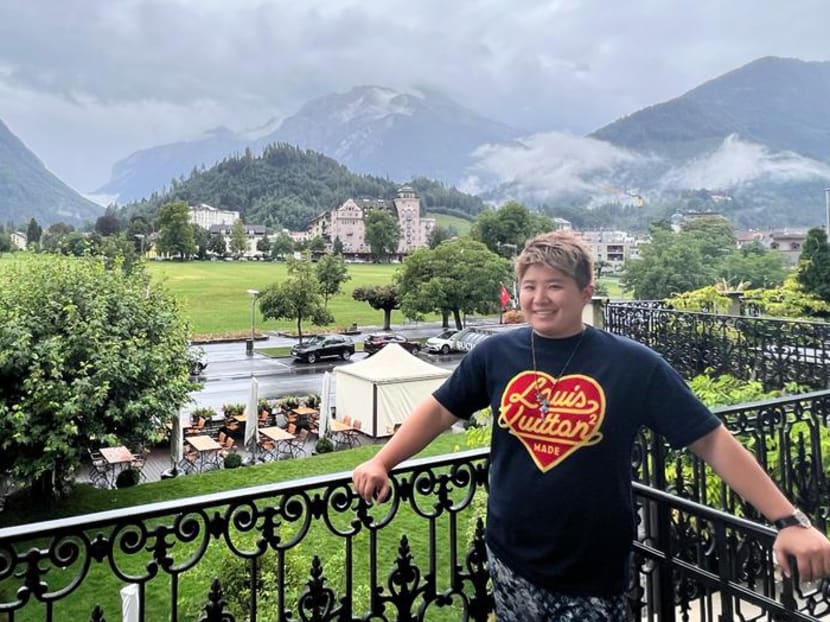 One example is national rower Joan Poh, who had to contend with her own perceived failure during the 2020 Tokyo Olympic Games, which was only held last year due to the Covid-19 pandemic. 
The 31-year-old had been an inspirational figure — both locally and internationally — during the sporting extravaganza, having juggled her training for the Olympics with her job as a nurse at the height of the pandemic. 
Poh said that given the upheaval caused by the pandemic, even qualifying and making it to the start line at the Olympics was "a feat on its own". 
During the Games, she was placed 28 out of 32 competitors in the women's single sculls competition — which left her feeling discouraged. 
"That is not winning, so I naturally came back and felt this sense that my outing to Tokyo was a failure," she said. 
It was only during the National Day Rally last year, when Prime Minister Lee Hsien Loong lauded Poh's feat as embodying "the best of being Singaporean", that she began to see her efforts in a different light. 
"When the Prime Minister called what I was doing the Singapore spirit, and something we can celebrate, it actually lifted my spirit.
"At this point, we don't celebrate hard work, we work so hard, but then (it's as if) when we don't have a medal, we don't deserve celebration," Poh said.
The various pressures faced by athletes — both in and out of the sporting arena — have come to the fore once again following the recent case of drug use by Olympic champion Joseph Schooling and national swimmer Amanda Lim.  
The 27-year-old Schooling said in a public apology that he had given in to "a moment of weakness after going through a very tough period of my life". The swimmer lost his father Colin, who had played a key role in his success, to cancer in November last year. 
In her own apology, Lim, 29, said her swimming career has been filled with "many ups and downs" over the past 10 years, and that she has "always strived to be better in and out of the pool".  
While some may argue that the pressures faced by Singapore's national athletes are part and parcel of being in their chosen field, and it is up to them to find ways to cope with the stress, the fact remains that unlike most working adults, there are only so many ways a sportsperson can unwind and de-stress, veteran sportspeople told TODAY.
Other than the obvious no-nos such as the consumption of illegal substances, even simple pleasures like an alcoholic drink or a late night supper may seem sacrilegious for these athletes, since they are also expected to keep their bodies in tip-top condition for their competitions. 
And the scrutiny is even worse for athletes who have already gained some success in their sport, said the veteran athletes. 
The pressure for them to stay on the straight and narrow, while continuing to produce sterling results, can often be too much for them to handle. 
Amid the intense scrutiny faced by Schooling and Lim on a personal level, a bigger question has also arisen from the saga:
Is Singapore capable of ever producing a serial world beater who can bring home multiple world titles — given that the creme de la creme in the sporting fraternity are often find it hard to stay at the top, with the pressure to perform in the next major games only mounting in the wake of their initial achievements?
For instance, Schooling himself and 2021 Badminton World Champion Loh Kean Yew — Singapore's two most high-profile sportsmen in recent years — have yet to match their career-defining achievements or even come close since then. 
THE PRESSURES ATHLETES FACE 
In the world of elite sports, the pressures that athletes face creep in long before they dance under the lights. And on the big day, the competition itself is a stressful experience — but the pressure is often due to extrinsic factors.
Former national sailor and Asian Games gold medallist Benedict Tan said the fact that many of these top athletes receive public funding only adds to the pressure on competition day. 
The Sport Excellence Scholarship (spexScholarship) by national sports governing body Sport Singapore, for example, provides financial support for high-performance athletes, as well as more opportunities to train and compete at major games, among other benefits. 
"If (the athlete) is very conscientious, he will be under more pressure, as he feels that he has to perform well to justify the public funding," said Dr Tan, 54, who was also Singapore's chef de mission to the Tokyo Olympics. 
"If you feel that your funding level is not commensurate with your performance… then there's that added 'guilty' feeling which makes you want to perform harder, want to try harder and, of course, that puts more pressure on you." 
And while most athletes who do not make it to the top of their sport remain relatively anonymous to the public, a whole new dimension of pressure sets in the moment they prove themselves on the world stage. 
Take it from Schooling's former coach, Sergio Lopez. Speaking to TODAY from the United states where he lives and coaches, the former head coach of Singapore's national swimming team said that with success in the sporting arena comes the loss in an athletes' "sense of self". 
"Winning an Olympic medal (means) you start being in the public image, and people start looking up to you as an example, and you lose ownership of who you are," said the 54-year-old, who had coached Schooling for five years leading up to his Olympic triumph, and again in 2020 to prepare for the Tokyo Games.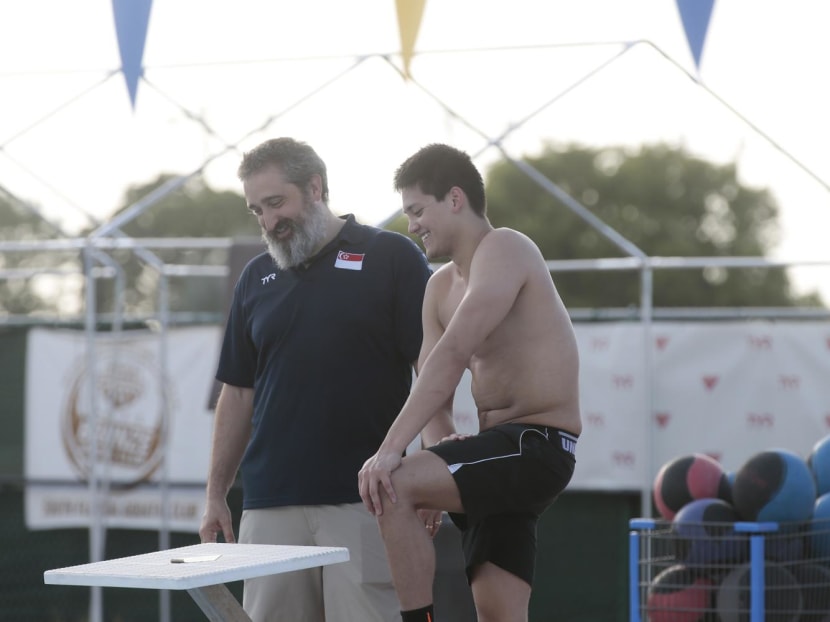 Lopez, who is presently the head coach of Swimming and Diving at Virginia Tech University, said that when Schooling first announced as a child that his dream was to beat American swim legend Michael Phelps, nobody other than his parents believed in him. 
"After the Olympics, everybody came out of the woods saying 'I was part of Joseph's journey', and people only want to see the positives of life… and to have a perfect life, a perfect family… that's a lot of pressure for anybody," he said. 
Indeed, the public interest over Schooling's life and fitness began to mount after his Olympic victory, with questions raised whenever he fell short in subsequent major games.
Even his physical appearance and weight became a talking point during the 2019 SEA Games.
Lopez said: "The biggest pressure is losing ownership of who you are, and having to live your life by everybody else's expectations."  
National athletes also face "Uniquely Singaporean" pressures, like having to keep one eye on their longer-term careers — be it in or outside of their sport.
And this is the key difference between athletes here and some of their  foreign counterparts, said former national diver Jonathan Chan, 25.
His last competition as a national athlete was at the 2021 SEA Games in Vietnam which was held in May this year due to the pandemic. 
"For a lot of other countries, (athletes') priority will be sports, and then school is at the side. But for us, school is always the priority, and sports is more of a co-curricular activity," said the 25-year-old Olympian, who also competed in the Tokyo Games.  
For instance, he said it is not uncommon for student athletes to have their training cut down when they do not perform well at school. 
Chan added that pursuing diving as a sport throughout his university years had come at a huge opportunity cost. 
"In university, the time that I spend doing my sport, other people spend doing internships, and if you go out there and get interviewed for a job, the company will obviously pick the people with more experience in the job, they won't say 'wow, this guy went to major games'.
"They always say do well in sports and you can go far, but it's not (always) true," said Chan. 
Singapore's culture of prioritising academics over sport is also harmful for young athletes, said sports psychologists.
Dr Jay-Lee Nair, psychologist and practice owner of Mental Notes Singapore said a lot of parents are invested in their children's' sporting excellence not because they want their kids to become full-time sportspeople, but because it can help them gain entry to their preferred schools. 
"Singapore is bursting with highly competitive developing athletes and their parents… they see success in sport at the youth level as a valuable addition to their resumes, either for top academic institutions, or as a vehicle for scholarship opportunities for university abroad," she said. 
She added that one accelerator for this trend is the Direct School Admission programme, where students can gain entry into top educational institutes based on their sporting merit. 
This can have a negative outcome for children, who find themselves doing the sport for a very utilitarian purpose, other than pursuing it as a passion. 
"The child might not feel like they have a lot of autonomy… maybe they feel like it's something that is forced upon them and if they don't enjoy the sport, then I think it can be really quite difficult and have a lot of negative consequences," said Dr Jay-Lee.
MANAGING TEMPTATIONS WELL
Veteran athletes said that no matter what the era, there's always the proverbial forbidden fruit somewhere to tempt or distract sportsmen and sportswomen from performing well. 
These can range from gambling, alcohol, and even drugs. Even innocuous deeds to the common man, like playing computer games, spending late nights with friends or a visit to a fast-food restaurant, can be seen as taboos.
Ultimately, it is only human to err, and elite sportspeople cannot be expected to stay away from all of life's temptations during the years they spend training and competing. 
Former national sportsperson Nicholas Fang, who has represented Singapore in both fencing and triathlon said that these sportspeople are in a high-pressure environment, and have fewer outlets than most to de-stress. 
"For normal people, sporting activities can be a relief from the daily grind, but elite athletes don't have this avenue, which might explain why they seek other ways to blow off steam and release stress," he said. 
Ultimately, said Schooling's former coach Lopez, it is unrealistic to expect athletes to not want to do the things that normal people do. 
Lopez, who had won the bronze medal in the 1988 Olympics, returned to his country a hero, having been the first person born and raised in Spain to win an Olympic medal in swimming. 
He had gone to a nightclub to celebrate the achievement, only to have some members of the public came up to him and criticise him for consuming alcohol. 
"I'm not excusing any of that, but I think what people need to understand is that people are people and they go through a lot of things, and they feel very lonely and they make decisions that they shouldn't." 
However, the sportspeople interviewed all agreed that a line has to be drawn with illegal substances, such as recreational or performance enhancing drugs.
When athletes make such grave mistakes, they have to own up to it, because after all, they are still in the public eye and a role model to many. 
"When you break the law, you have to be accountable, and you have to be responsible and you have to be honest with the mistakes that you make," said Lopez. 
CAN SINGAPORE PRODUCE SERIAL WORLD-BEATERS? 
While the world celebrates serial winners — Roger Federer in tennis, Michael Phelps in swimming, Lionel Messi in football, and a select group of others who have gained sporting immortality — can we expect Singapore itself to produce more than one-hit wonders?
The nation has occasionally produced world beaters, such as Schooling, who went on to beat his idol Phelps en route to a gold medal in the 2016 Olympics, and shuttler Loh, who outplayed then world number one Viktor Axelsen to clinch the world championship title last year.
However, such feats have yet to be repeated on the same scale for either of the two athletes, which begs the question: Is it fair for Singaporeans to expect a repeat of world beating performances from our athletes?
The answer, according to veteran athletes, is "no".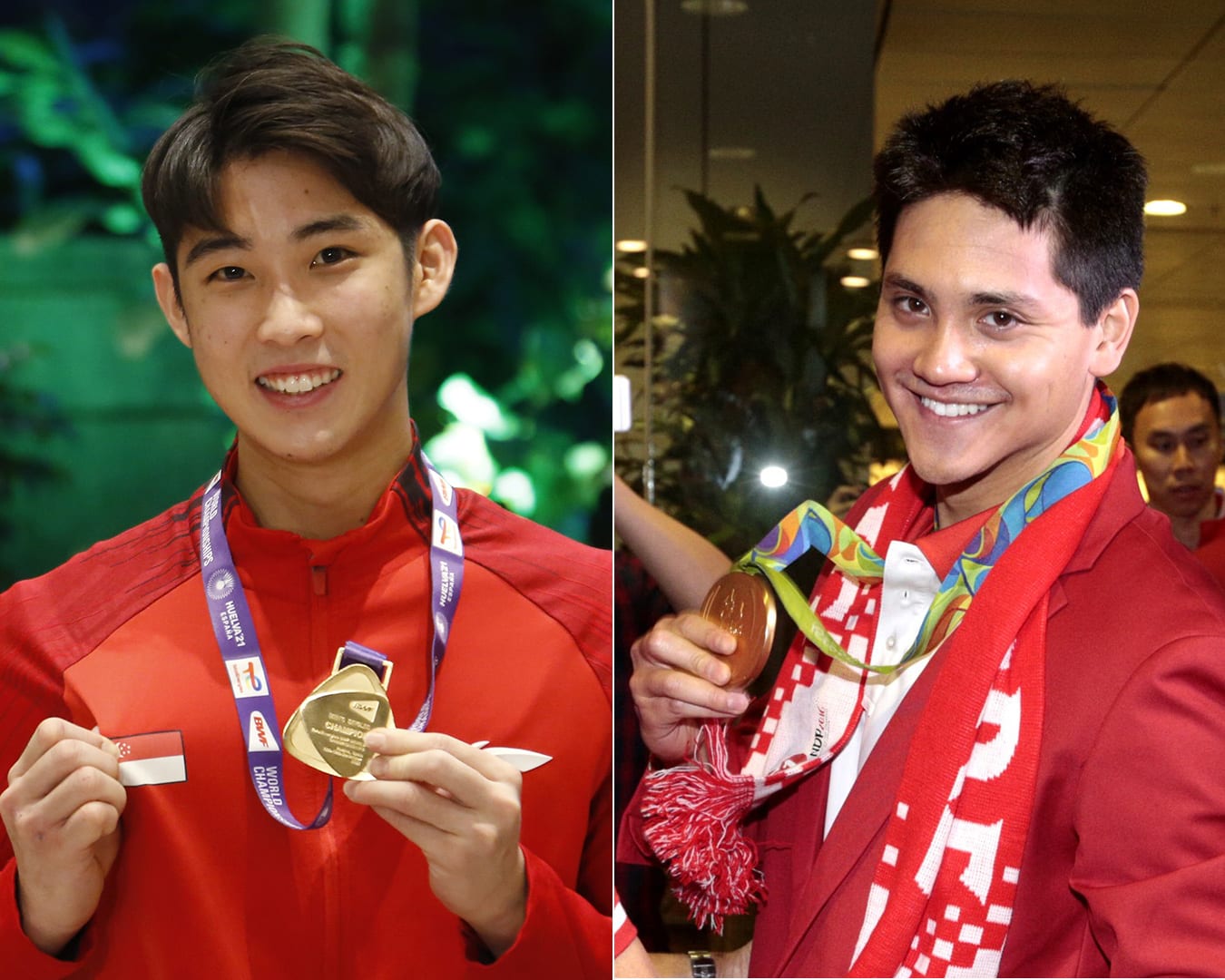 Explaining the difficulty behind such an endeavour, Dr Tan said there is a big difference between the time when an athlete is chasing for the top spot, and when he has reached there and is trying to maintain his dominance.  
"It's not easy to stay at world number one, because … it's easier to be the one chasing," he said. "Once you're at the top and you're the one being chased, your training strategy will have to change." 
Using a business analogy, Dr Tan pointed out that growing a small company often requires a very different set of skills from keeping a big company steady. 
"The skills to stay at the top are much more complex… Most of the time, you practise chasing to reach the top, but how many get to practise staying at the top?" 
Ultimately, it all boils down to the nation's sporting culture, said Schooling's former coach Lopez, echoing the sentiment expressed by other athletes interviewed. 
He gave the example of when he was coaching swimming in Singapore between 2015 and 2016. While he saw many children with the potential to excel in the pool, they were never pushed by their parents to give their all to the sport. 
He added that Schooling's path to success was in contrast to what he had observed in other young swimmers here. 
A confluence of factors — Schooling having the potential to be a world champion, him daring to dream of beating Phelps one day, and most crucially, his parents believing fully in his dreams — was what led to an unlikely Olympic gold for Singapore, said Lopez. 
Whatever the future holds for Singapore's elite sportspeople, Lopez felt that an Olympian like Schooling "doesn't need to win another Olympic medal to be somebody that can change the country, because he has already changed it."
"He has a lot of experience from living abroad, racing, and he can share that with the Singaporean youth, and it's invaluable, you cannot pay for that with money."
"So it's really up to you guys, how you want to appreciate your own."