The Big Read in short: Re-employment a mixed bag for older workers
Each week, TODAY's long-running Big Read series delves into the trends and issues that matter. This week, we examine the impact of re-employment laws — in place since 2012 — on older workers, and their experiences so far. This is a shortened version of the full feature.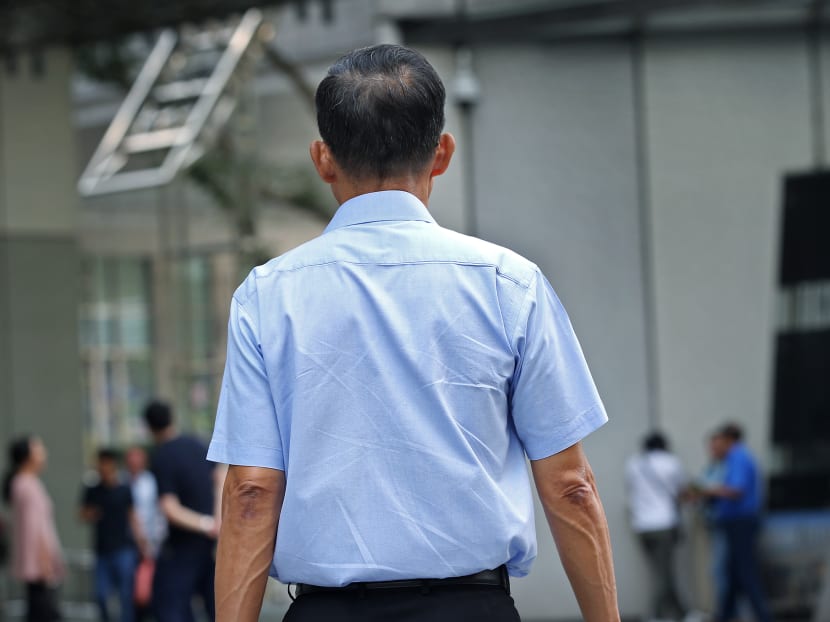 Each week, TODAY's long-running Big Read series delves into the trends and issues that matter. This week, we examine the impact of re-employment laws — in place since 2012 — on older workers, and their experiences so far. This is a shortened version of the full feature, which can be found here.
SINGAPORE — Her work load would remain the same. But as Margaret (not her real name) approached the statutory retirement age of 62 in 2012 — the same year that re-employment laws took effect in Singapore — the then-civil servant had to sign a new one-year contract with her employer. It entailed a pay cut, a downgrading by one job grade, and a S$500 medical claim limit annually.
While she felt that the terms were not well justified, she felt satisfied enough with them to sign the contract, mindful of the horror stories which she had been hearing about re-employment terms being offered to other employees of her age.
Margaret, now 69, said that at that time, she knew of older workers in the public service who had to take a more drastic pay cut after being downgraded by several rungs, and of supervisors having to step down and work under subordinates although they had not expressed any plans for retirement.
Much has changed since in the public service: Since July 1, 2017, wage adjustments were done away with, and the large majority of re-employed public officers received "no pay cut", the Public Service Division (PSD) said in response to TODAY's queries.
Public officers will continue to receive their last drawn salary if they are re-employed at the same grade, and those who are re-employed are also offered the "prevailing leave and medical benefits schemes, which are aligned to market practice", PSD added.
In the private sector, however, some older workers continue to get the short end of the stick.
Take Pamela (not her real name), 67, for example.
Until late 2017, she had worked as a head of department at a local bank.
Strictly speaking, her employer had abided by the Government's re-employment rules, which require organisations to offer re-employment up to a stipulated age to eligible employees who reach their retirement age.
But it was the way she was treated towards the end of her second one-year contract with the bank — she was asked when she would be "calling it a day" — that left a sour taste in her mouth.
While the question was "subtly and politely put across", the "hint was pretty strong", she said. She left the bank as she felt unwanted by her employers. 
For some older workers, subtle discouragement may come in the form of new employment terms.
A 61-year-old working at a multinational manufacturing firm, who declined to be named, told TODAY that despite having worked at the company for more than four decades, the number of days for her annual leave will be halved from 24 days to 12 days — same as what a fresh hire gets — under her new contract which will take effect in a few months when she turns 62. 
Similarly, a 67-year-old who worked in port operations said he was given a S$200 cap for yearly medical claims under his re-employment contract. Previously, there was no such limit as far as he knows.
A WORK IN PROGRESS
These employees were among more than a dozen older workers interviewed by TODAY.
To be sure, the employment rate of older workers has gone up since re-employment laws came into force, based on government data. Still, the experiences of those interviewed suggest that mandating employers to rehire eligible workers once they reach retirement age is a work in progress, and it is more often than not an unpleasant experience for these workers — even though the policies aim to protect them and allow them to continue working if they wish to do so.
This is especially so when the older workers feel that they remain healthy and able to perform at the same — if not higher — levels compared with their younger colleagues.
In this regard, the public sector, as well as a few private sector firms, are leading the way by re-hiring older workers, without any changes to their roles and employment terms including salaries.
But the positive examples are too few and far between, as TODAY's interviews with the older workers show.
Still, experts pointed out the constraints faced by businesses — in particular, the seniority-based wage system that is entrenched in many companies in Singapore.
Workers here expect wages to go up with each passing year, noted Assoc Prof Walter Theseira, a Nominated Member of Parliament (NMP) and economist with the Singapore University of Social Sciences.
As a result, over time, there could be a "mismatch between pay and work output" among older workers, he said.
"At some point, work output may plateau or even fall, but pay keeps going up," he added.
"It is common to paint this as a problem of unfair employers… It is also unfair to younger workers if they produce more output but they are paid much less than a more senior worker," said Assoc Prof Theseira.
But is there scope to finetune the re-employment laws — say, for example, mandating that the terms offered to the older workers must take into account their health and work performance?
It would be unwise to make the laws more rigid, said several MPs who cautioned that doing so could backfire and put businesses off from hiring older workers.
Pasir Ris-Punggol GRC MP Zainal Sapari reiterated that the signing of a new contract during re-employment "gives the flexibility for companies to offer a package that is sustainable for them and at the same time, allow workers to continue".
Businessman Douglas Foo, who is the founder and executive chairman of Sakae Holdings, noted that should the flexibility be taken away from employers, operational costs could rise.
"That makes our country much less attractive for others to come and invest in the backdrop of a tight workforce," said Mr Foo, who is also an NMP.
Singapore's retirement and re-employment ages are back in the spotlight following Prime Minister Lee Hsien Loong's announcement in his National Day Rally speech that the retirement age will be raised to 63 in 2022, and eventually to 65 by 2030.
The re-employment age will be increased from 67 to 68 in 2022, and eventually to 70 by 2030.
The retirement age was last raised in 1999, from 60 to 62. The re-employment age was raised from 65 to 67 in 2017.
With Singaporeans having the world's longest life expectancy in 2017 with an expected lifespan at birth of 84.8 years, the changes are aimed at helping older workers to continue working and to be more financially independent.
HIGHER EMPLOYMENT RATE FOR OLDER WORKERS 
Responding to TODAY's queries, a Ministry of Manpower (MOM) spokesperson said that employers generally "see the value of hiring and retaining older workers", citing the steady increase in the employment rate of older workers over the years: Singapore's employment rate for residents aged 55 to 64 went up from 57 per cent in 2008 to 67 per cent last year. 
In 2018. For those aged 65 and above, the employment rate has increased from 16 per cent to 27 per cent. Compared to 36 OECD (Organisation for Economic Co-operation and Development) countries, Singapore has the 13th highest resident employment rate for the 55 to 64 age group and 4th highest for the 65 and above age group.
Unemployment rate for older workers is also lower than the overall unemployment rate: 3.3 per cent for age 50 and over, compared to 3.9 per cent for overall. "This suggests that older workers who want to continue working are mostly able to find jobs, while those who have left the labour force generally did so voluntarily and were not looking to work," said the MOM spokesperson. 
The spokesperson added that the ministry's data "do not show (that) more employers deliberately terminate their workers before they become eligible for re-employment). 
FIRMS AND WORKERS 'NEED TO BE OPEN WITH EACH OTHER'
TODAY's checks with several employers revealed varying approaches when it comes to their re-employment policies. Despite the negative experiences of some older workers, experts and observers believe that the re-employment and retirement ages are here to stay, and they serve as important safeguards — even though they are not foolproof.
Senior Minister of State Heng Chee How, who is the deputy secretary-general of the National Trades Union Congress, reiterated that without legislation, firms can unilaterally set lower retirement ages.
"For the foreseeable future, the view of the tripartite partners is that having a statutory retirement age remains a valid and significant safeguard," said Mr Heng, stressing that there are avenues for older workers — whether they are union members or not — to lodge complaints against errant employers. 
CIMB Private Banking economist Song Seng Wun felt the key is for employers and older workers to have open communications, even if these entail uncomfortable discussions on changes to wages and job roles.
Such discussions could centre around the contributions that the older worker can continue making, with an eye perhaps on gradually scaling back his or her involvement with the firm.
However, sometimes, "the bosses in charge are afraid and don't know how to approach this… fearful that (they) might offend (the older workers)", Mr Song said.
Citing himself as an example, Mr Song, 59, said he would not mind taking a hefty pay cut if this comes up for discussion with his employers. "(For some people,) it's not really a case of you needing the money, but something to do," he said.
"It is not a right that because I ended up, at 60, with this amount of salary... I am entitled to that forever and even more, just because I am still working," he said.