The Big Read in short: Staying alive in the retail bloodbath
Each week, TODAY's long-running Big Read series delves into the trends and issues that matter. This week, we look at the ailing retail sector at a time when many household names have been forced to bow out or downsize, and what remaining retailers are doing to stay in the game. This is a shortened version of the feature.
Each week, TODAY's long-running Big Read series delves into the trends and issues that matter. This week, we look at the ailing retail sector at a time when many household names have been forced to bow out or downsize, and what remaining retailers are doing to stay in the game. This is a shortened version of the feature, which can be found here.
SINGAPORE — When most brick-and-mortar retailers are trying to digitise their stores and start selling online, homegrown retailer Naiise did the complete opposite. 
Despite starting out as an online-only seller in 2013, the firm soon launched a physical retail store in Jurong two years later, and became one of the few retailers in recent times to move from clicks to bricks.
It paid off: Naiise recorded an average of 20 per cent year-on-year increase in traffic across its five Singapore stores, its founder Dennis Tay told TODAY. This includes its two newly opened shop spaces in Jewel Changi Airport and Paya Lebar Quarter this year.
Regarded as a retail darling in Singapore's crowded scene, the firm also operates the first level of Design Orchard, a showcase mall at the heart of the Orchard Road shopping belt.
This is despite the fact that the retail industry is mired in a decline spanning nine consecutive months as of October, with most categories of retailers seeing a fall in sales takings, based on the latest data from the Department of Statistics. 
While some retailers interviewed enjoyed brisk sales this month amid the festive season, experts told TODAY that from a macro view, the retail sector has in fact been going through a slump for at least three years now.
In recent years, retail household names which downsized their operations include food outlets such as Sakae Sushi; bookstores including MPH and Kinokuniya; furniture retailer Crate & Barrel; travel retailer DFS Group; and a host of departmental stores such as Isetan, Metro, Marks & Spencer, and Mustafa.
Several left the scene completely. American beauty products retailer Crabtree & Evelyn closed all its physical stores in Singapore, British preppy fashion label Jack Wills announced its pullout, and longtime homegrown IT retailer Newstead went into liquidation.
Beauty products chain retailer Sasa and home improvement store Home-fix were the latest to bite the dust.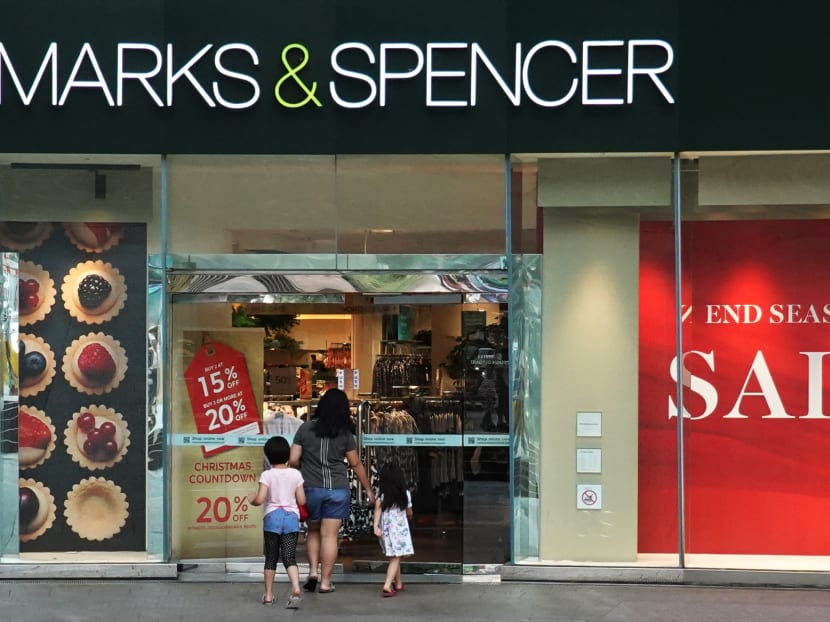 So, what is causing these retailers — which had enjoyed success over the years to become familiar names to Singapore shoppers — to now feel the squeeze? And what is the secret ingredient that allows some, like Naiise, to weather the retail storm?
Unlike what many would think, the answer to both questions is not "e-commerce" alone, several analysts and business leaders told TODAY. Online retail accounted for less than 5 per cent of total sales last year.
But while digital has not yet killed the retail star, there is more that needs to be done for retailers to avoid the chopping block and give customers a reason to come back and spend their money at the shop, they added.
THE RETAIL SLUMP: A PERFECT STORM?
After the last financial crisis in 2009, Singapore's economy and household incomes recovered steadily but retail sales did not keep in step, according to a report by real estate consultancy Edmund Tie & Company. This period coincided with the rise of e-commerce and mobile devices.
However, e-commerce is not solely to blame for the physical retail slump: Online retail accounted for less than 5 per cent of total sales last year.
Experts point to the ongoing weaker domestic and global economy here, which reduces consumer discretionary spending by Singaporeans as well as total receipts generated by tourism.
Mr Alan Cheong, executive director of research and consultancy at Savills Singapore, said the worst performers are those in mainstream retail segments that faced online disruption, such as apparel, department stores, furniture, household appliances, books and gifts.
Mr Cheong added that the rise of budget air travel has also affected the shops here, making cheaper regional cities accessible for tourists and locals as retail alternatives.
Dr Lee Nai Jia, head of research at Knight Frank Singapore said retail sales will likely remain subdued looking ahead, although improvements in the economy may help push up sales.
Higher operating costs are also responsible for the slump, including the perennial issue of labour and rent costs. On the former, good retail service is a strong differentiating factor from e-commerce competitors, said experts.
THE PROBLEM OF RENT
Since the first quarter of 2015, rent had been on a general decline, even though it picked up slightly in recent months, based on data from the Urban Redevelopment Authority. 
Colliers International Singapore's head of research Tricia Song said one key indicator is the occupancy cost ratio for each retailer, which is defined as the ratio of gross rental including service charge, marketing and promotions, to retail sales. Despite lower rents today, sales have also declined, which means that the occupancy cost ratios may not have declined, said Ms Song.
Despite the downbeat trend, Mr Cheong said landlords have continued to increase their rental revenue "by optimising various variables". For example, landlords "chop up" the larger units to smaller sizes to gain from the higher per square foot rent, or convert the spaces to food and beverage uses. This masked the downtrend and created the false belief that the tenants' plight is not the landlord's problem, he said.
Malls here also charge a high base rent with a minimal gross turnover component. The latter would allow for some flexibility in rents depending on the tenants' gross sales. Malls owned by private equity, such as Reits (real estate investment trusts), are generally less able to adjust rents when retailers are undergoing through difficult periods, such as when the economy is bad.
Still, Ms Song said centrally managed malls, including Reits, have an edge over strata-titled malls as they are more capable of organising mall-wide promotional and branding activities. They are also able to curate an optimal mix of tenants to suit the mall's concept.
ALL ABOUT THE LIFESTYLE EXPERIENCE
While some malls have proactively sought to attract footfall and help their tenants tide over the slump, retailers also have to do more to innovate against their competition. Nanyang Business School's Lynda Wee said some lessons can be learnt from the closure of Sasa and Home-fix.
Sasa did not curate its merchandise and experiences to its target customer segment, and the brands it carried were generally lesser known and competed on discounts, which did not stand out from online stores.
Home-fix was also affected by online competition, but it could also have offered offline consultations and advice for do-it-yourself activities, which would "promote a sense of exploration and achievement".
Dr Wee concluded that offline retail needs to rethink their roles since most of the functional, repetitive and transactional activities can be achieved by online retail. "How about increasing the emotive, through engagement and growing the community using high touch methods?"
HOW SOME DO IT
Speaking to TODAY, retailers said a clear trend today is the rise of an experiential and activity-based offline retail model, which is what attracts customers to the physical outlet. To this end, technology may also play a part, they added.
Australian menswear fashion label Benjamin Barker launched multi-label store The Assembly Store in 2014, which carries menswear brands and lifestyle products other than its own, and also serves coffee and food in a cafe next to the store. It also launched its online store in 2015. 
Its chief operating officer Damien Tan said customer experience is the future of how brick-and-mortar retailers will generate revenue. This year, Benjamin Barker managed to increase footfall in its outlets by more than 10 per cent compared with last year. The holiday season in December netted around 10 to 15 per cent higher receipts than the average in previous months. 
Naiise's Mr Tay said the modern-day offline retail experience is one based on customer engagement, rather than transactional one. At its Jewel Changi Airport store, Naiise achieves a retail experience based on engagement through "rotating thematic pop-ups in store, creative sessions, workshop programmes and value-added services like gift wrapping and F&B", which allows Naiise to continue to engage, introduce and cross-sell merchandise to customers.
OTHER FACTORS FOR SUCCESS 
Retailers said any strategy to use technology or branch out into e-commerce should serve to streamline business operations, improve the customer experience, or to open up a new channel for products to be sold.
Such moves do not always work. For example, the move by pet services and products retailer Pet Lovers Centre to introduce vending machines in various parts of Singapore did not pan out well, said its group managing director Ng Whye Hoe. Ultimately, Pet Lovers Centre customers still preferred shopping at its brick-and-mortar stores.
Mr Ng said the firm remains keen on its strategy to sell across all channels -- besides vending machines, it also has an online store and operates a click-and-collect service. This year, it also branched out to sell pet products through the competition, launching Pet Lovers Express, a pop-up concept store within NTUC FairPrice. 
Mr Ng said: "Singapore's retail sales may be heading south at the moment, but experience has shown that sales tends to be resilient, or even push back (against the trend) when it comes to daily necessities like food, and pet food is no exception." It increased its customer receipts by 2.32 per cent between January and November this year, compared with the same period in 2018. 
Home products retailer Iuiga's chief growth officer Jaslyn Chan said it has a strategy of "showrooming", whereby customers can touch and feel products in store and buy them later online. "Showrooming has become increasingly prevalent on higher commitment products that are above a certain price threshold and works especially well with furniture and accompanying furnishings in Iuiga's retail concept," she said.