The Big Read in short: Tackling the growing scourge of cyberbullying
SINGAPORE — Having distanced herself from a close female friend after a falling out, Ms Erin Seah, then 15, thought that she could move on.
Each week, TODAY's long-running Big Read series delves into the trends and issues that matter. This week, we examine the impact and pervasiveness of cyberbullying, and the urgency to do more to address the problem. This is a shortened version of the full feature,​ which can be found here. 
As the lives of children and youths become more intertwined with smart devices and the internet, research suggests that there is a growing risk of them being cyberbullied
Separate studies in the United States and Singapore have found that almost half of the respondents in these countries have experienced some form of cyberbullying or online harm 
Victims of cyberbullying said that beyond the immediate hurt, it has had a long-lasting impact on their mental health due to the effect on their formative years
The Ministry of Education said schools have taken steps to address the situation, with the number of reported cyberbullying incidents remaining "low and stable over the past five years"
Nevertheless, the problem could be underreported as many youths tend to suffer in silence. Experts say that victims should turn to a trusted adult for help, while parents and educators need to take more preemptive measures to protect their children
SINGAPORE — Having distanced herself from a close female friend after a falling out, Ms Erin Seah, then 15, thought that she could move on.
Then one night, her phone buzzed — a mutual friend sent a slew of screenshots from an Instagram post where she was called, among other things, attention-seeking and dumb.
Ms Seah recalled the horror of learning about the post which had vulgarities and veiled threats of violence targeted towards her. Her friend-turned-bully wrote: "I swear… I WILL break my no detention record in school since Secondary 1 for the sake of just one punch to give it to ya."
What started the torrent of online abuse? It was over the same mutual friend that had sent her the screenshots — Ms Seah had rejected his feelings, and her bully took it personally.
"She thought I was taking advantage of him for not reciprocating his feelings, and that I was attention-seeking," Ms Seah recalled of her bully.
Although some six years have passed since the cyberbullying took place, Ms Seah, now 21, told TODAY that she has yet to put the traumatic episode fully behind her.
"I struggle to make friends because I'm more self-conscious and am constantly wondering what they think of me. And while I was confident and outgoing before, I really second-guess myself more often," said Ms Seah, who will be starting her first year at a local university soon.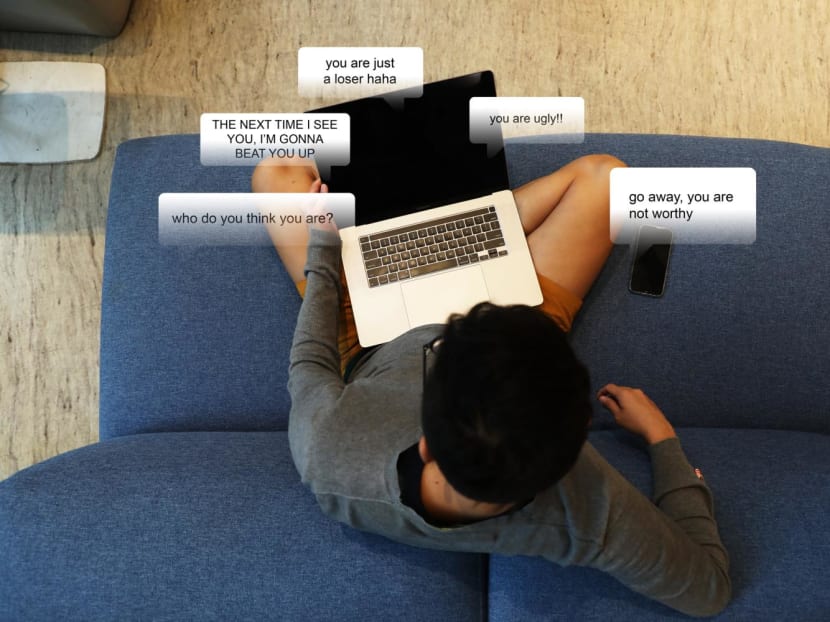 THE BIG PICTURE 
Ms Seah's bad experience is not an anomaly for children and teens around the globe: 
A 2022 study by the Pew Research Center found that nearly half (46 per cent) of United States teens have experienced cyberbullying
The most common form of cyberbullying they faced was offensive name-calling (32 per cent), followed by false rumors (22 per cent) and receiving unwarranted explicit images (17 per cent)
In Singapore, a study by public-private tie-up Sunlight Alliance for Action (AfA) last year found that nearly half of the 1,000 Singaporeans polled had experienced some form of online harm — such as being stalked online and cyberbullied
However, about 43 per cent of them said they would not take action because they believe it would not make a difference
In response to TODAY's queries, the Ministry of Education (MOE) said that the number of reported cyberbullying incidents has "remained low and stable over the past five years". It did not give any figures.
The ministry said it "takes a serious view of any form of bullying, including cyberbullying", and that schools have in place various measures to address this issue.
Nevertheless, the problem could be underreported as many youths tend to suffer in silence.
WHY IT MATTERS
With more children getting hold of digital devices at an ever younger age, the risk of cyberbullying will only grow in the coming years, experts reiterated. 
The lingering aftermath is something experts said require a more in-depth examination in Singapore, given that cyberbullying can be more vicious than its traditional forms: it is often archived on the internet, and has a 24/7 presence in victims' lives.
Professor of Communication and Technology at the Singapore Management University (SMU) Lim Sun Sun said that for youths who are curious about how people perceive them, cyberbullying can have an enduring impact as their bullies' comments can be seen as feedback that is accessible anytime.
Bullies also tend to extend traditional bullying into the online realm, added Prof Lim, who is also the vice president of partnerships and engagement at SMU. For example, mean comments said in person could also be said online.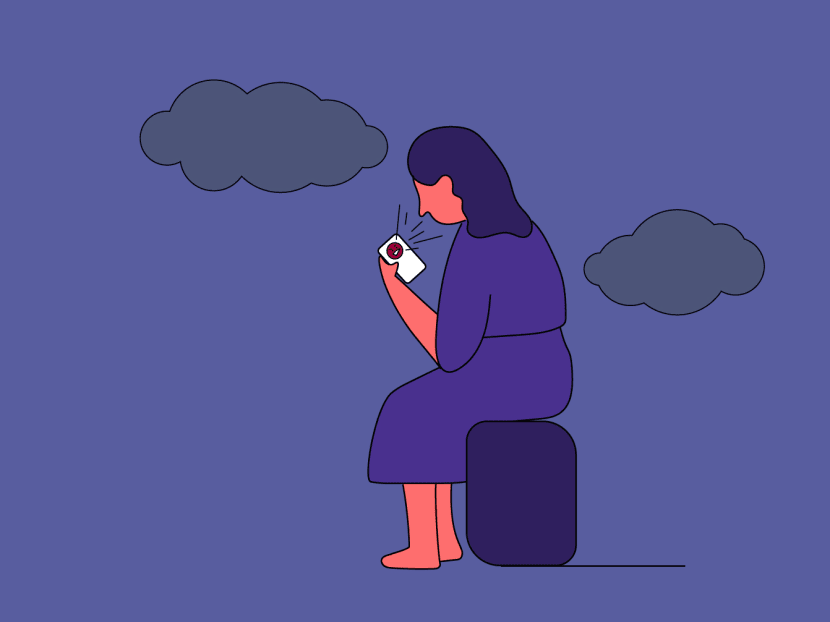 "With many children being online and their network of friends being replicated online, the peer dynamics will also filter from offline to online naturally," she said.
While any form of bullying, including cyberbullying, can inflict trauma on its victims, the impact can be extremely harmful for youths since they are less equipped to handle such emotions, said Mr Asher Low, founder of non-profit Limitless, a non-profit organisation that provides counselling for youth. 
"The internet is a huge part of the lives of the youth who almost live on the internet," he said.
"So when that online space becomes unsafe due to cyberbullying, yet it is a requirement to continue being in these online spaces because all their friends, activities, things they like to do are there, it does impact younger people more."
THE BOTTOM LINE
Parents should teach their children to follow four steps if they are being cyberbullied, said Ms Ann Hui Peng, group lead of children development and director of student service at Singapore Children's Society.
These are:
Stop: Do not respond to the cyberbully, or comment or share the post
Block: Prevent the cyberbully from contacting the victim by blocking
Save: Screenshot a copy of the message or post as evidence
Tell: Report the cyberbullying incident to a trusted adult
Beyond taking action when children are cyberbullied, cybersecurity experts said that parents need to better educate their children on online safety as a preemptive measure. This would also make children comfortable with reporting the cyberbullying, without fear of being punished.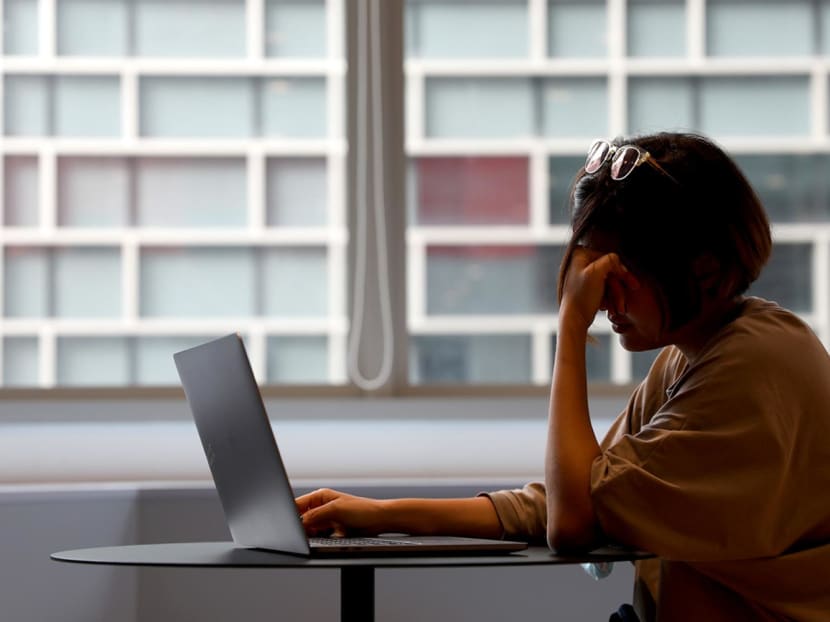 Ms Nina Bual, co-founder of cyber education company Cyberlite Books, said that it is crucial for parents to educate their children from young.
She said: "Parents have to give their children the tools and the thinking skills to know what to do when a cyberbullying scenario occurs. Because the parent will often never be in the room when it occurs, so children should be able to say, 'Okay, I am empowered, and I know what to do.'"
She also emphasised the importance of enabling privacy settings: "If you wouldn't let a stranger into your child's bedroom, why would you let them into your child's phone?"
But what if parents realise their child is a cyberbully?
Like traditional forms of bullying, it is important to address the root cause of the behaviour, said experts. Parents should also explain to their children the impact of their bullying on themselves and their victims.  
WHERE TO GET HELP AND SUPPORT 
Several hotlines for victims of cyberbullying are available. These include:
Tinkle Friend helpline for children aged 7 to 12 at 1800 2744 788, or their online chat at www.tinklefriend.sg
Coalition Against Bullying for Children and Youth's consultation service at www.cabcy.org.sg/e-consultation
Touch Cyber Wellness's TOUCHline at 1800 377 2252
Help123 helpline at 1800 6123 123
Female victims of cyberbullying can also seek help from the newly opened SheCares@SCWO, by calling 8001 01 4616 or texting 6571 4400. The one-stop support centre is jointly run by non-profit SG Her Empowerment and the Singapore Council of Women's Organisation