The Big Read in short: Why the world's top tech firms are converging in S'pore
Each week, TODAY's long-running Big Read series delves into the trends and issues that matter. This week, we examine the influx of giant tech firms into Singapore and its impact on the island's ambition to be the Silicon Valley of the East. This is a shortened version of the full feature.
Each week, TODAY's long-running Big Read series delves into the trends and issues that matter. This week, we examine the influx of giant tech firms into Singapore and its impact on the island's ambition to be the Silicon Valley of the East. This is a shortened version of the full feature,​ which can be found here.
An influx of the world's top tech firms in recent months has refreshed Singapore's hope to become another Silicon Valley
Singapore's strong fundamentals, business-friendly reputation, and its strategic location in the heart of Southeast Asia continue to make the Republic an attractive location for tech companies wanting to break into the region
A key reason why they have come is Singapore's neutrality in the tech conflict between the US and China, which is likely to persist in the new Biden administration
But the current global crunch in tech talent will affect Singapore more because of its size, and could prove an impediment to the Republic's dreams
The inflow of tech multinationals will grant valuable opportunities for homegrown technology firms, but can also hinder their hiring of local talent
SINGAPORE — Just as it took two decades for the Bay Area of San Francisco to become Silicon Valley, and for the Chinese cities of Shenzhen, Beijing and Shanghai to become thriving tech hubs, a similar transformation is underway in Singapore and the Southeast Asia region.
Around 80 of the world's top 100 technology firms have a sizable presence in the tiny island of Singapore. Many of them have been here for some time, including Google, IBM and Microsoft.
Those which have arrived or expanded their investments in recent months are among the fastest-growing firms in the US and China — namely Zoom, Twitter, PayPal, Tencent, Alibaba, and ByteDance.
The influx of the tech firms is part of a bigger wave of investments flowing into the Republic amid the ongoing Covid-19 pandemic. 
Foreign investment into Singapore last year shattered a 12-year record, with businesses committing investments totalling S$17.2 billion that are also expected to produce more than 19,000 jobs here, the Singapore Economic Development Board (EDB) said last month.
EDB executive vice-president Tan Kong Hwee told TODAY: "Despite the uncertain environment, companies from all over the world and across a range of industries continue to grow their operations in Singapore to serve Asia and international markets.
He added that Singapore's strong fundamentals, business-friendly reputation, and its strategic location in the heart of South-east Asia continue to make the Republic an attractive location for tech companies which wish to set up here to tap the opportunities in Asia.
And during unfavourable business conditions and difficult economic environments — the "tech cold war" between the US and China was most cited by experts speaking to TODAY — it's Singapore's strategy of pursuing business openness and innovation that is needed most.
Last year, a KPMG survey of global technology insiders placed Singapore at the top spot of the leading tech innovation hubs outside of San Francisco, beating cities such as London, Tel Aviv, Tokyo, New York and Shanghai, that ranked second to sixth in that order.
Mr Abe Smith, head of international at video-conferencing platform Zoom, told TODAY: "If Singapore is not already the Silicon Valley of Asia, then it definitely is very close to being so."
But unlike the Americans and the Chinese, Singaporeans have no hinterland to tap for talent, and their appetite for bringing in foreigners to bolster industries has a demographic and social limit.
Will it take two decades for Singapore to fulfill its tech ambitions? Perhaps not, as Singapore charts its own path, said some industry watchers.
Mr Li Jianggan, chief executive of venture builder firm Momentum Works, told TODAY: "Singapore is already a cosmopolitan place in terms of tech firms, entrepreneurship and capital. It is unique and does not really need to benchmark itself against Silicon Valley."
S'PORE'S COVID SILVER LINING 
The pandemic may have slowed investor and business expansion momentum around the world, but global technology corporations have been booming in a time when digital interactions have replaced physical ones out of necessity.
One of the latest entrants into Singapore is artificial intelligence firm ByteDance, which owns short video app TikTok.
Last year, reports said the Chinese company plans to pump in billions into its Singapore investments, move out from its current coworking space and into a bigger 60,000 sq ft office in the Central Business District, and recruit hundreds of Singaporeans over the next three years.
Asked why it decided to move here, a ByteDance spokesman said Singapore offers a business friendly environment that enables innovation to flourish.
"It is also geographically well-positioned, making it convenient for outreach to neighbouring markets," said the spokesman.
Alibaba also raised eyebrows last year when it bought 50 per cent of the 50-storey AXA Tower office building in Shenton Way. Alibaba also controls e-commerce platform Lazada.
Its spokesman told TODAY that Southeast Asia is key to its strategy. By 2036, it wants to serve two billion global consumers, enable 10 million businesses to be profitable, and create 100 million jobs worldwide.
"Singapore plays a key role in this plan. It serves as the headquarters for Lazada Group, the international headquarters for Alibaba Cloud, and the rest of the Alibaba ecosystem is also well-represented here," said the company.
In Singapore, the coronavirus has also driven e-commerce growth, even though the overall digital economy that includes digital finance and banking shrank. The e-commerce sector boomed by 87 per cent to hit US$4 billion in gross merchandise value in 2020, based on the findings of Google, Temasek and Bain & Company.
The Alibaba spokesman said: "If anything, the pandemic has proven our commitment to Singapore and the region is meaningful.
Video conferencing platform Zoom, which surged in popularity during the pandemic, has announced its intention to build a research and development centre in Singapore which will hire hundreds of engineering staff, and also double the capacity of its data centre that has been here since 2019.
Zoom's Mr Smith listed three reasons for their move — Singapore's "exceptional" engineering talent base, its pro-business environment, and the fact that the country is already a tech hub.
"The nation also continues to be a favourite staging post for regional headquarters — evident not only by our own movements but by a slew of our peers in tech doing the exact same over the past year, proving that it is a perfect gateway for engaging the wider Asia-Pacific region," he said.
There is one reason for the recent influx of tech firms that these companies are not saying — at least not publicly: The battle of technological supremacy between the US and China.
Amid the ongoing tech war, the standout consideration for a regional base is geopolitical neutrality, said Associate Professor Lawrence Loh from the National University of Singapore Business School.
"Singapore offers a safe bastion that is not encumbered by the fluid nature of developments in the global tech war," said Assoc Prof Loh.
Mr Leon Perera, chief executive officer of Spire Research and Consulting, said: "There are not many strong competing hubs in the region. Hong Kong has faced its fair share of issues. Locations in China, like Shanghai, face restrictions on access to some US social media platforms, which would be a consideration."
Maybank Kim Eng economist Chua Hak Bin added: "Singapore's neutrality in the US-China trade conflict and tech rivalry is drawing in tech multinational companies, including those from China."
The revocation of Hong Kong's special legal and economic status by the US last year has also enhanced Singapore's global hub status because the special administration region is seen as losing its autonomy and independence, added the economist.
Mr Jacob Doo, chief investment officer of Envysion Wealth Management, said that as Singapore's tech scene takes off, high net worth founders may look at their home countries and realise there are problems that will not be resolved anytime soon.
"The pandemic has shown not only the inadequacies of medical facilities in a number of countries, but also the failure to plan and manage this crisis in a holistic way."
WHAT TECH TITANS BRING TO S'PORE
Besides American and Chinese firms, there is also the growing presence in Singapore of tech companies and capital from other parts of the world, such as Japan's Softbank and South Korea's Samsung.
Many Chinese technopreneurs who have decided to "exit" China for various reasons are also investing actively in Singaporean companies directly or through venture capitalist funds, said Mr Li from Momentum Works.
"We have seen Japanese, Russians, Koreans and Germans — the mingling of different capital sources and experiences make Singapore truly an exciting place to be at the moment," said Mr Li.
When tech multinational corporations (MNCs) come here, they bring along capital to invest in Singapore's tech companies as well as experienced professionals that can help local and regional companies grow much faster.
With these factors drawing tech MNCs to Singapore, their concentration could snowball into highly resilient innovation hubs.
This is part of the reason for Silicon Valley's resilience: The density of tech companies became a draw for global talent, who may later on create their own companies within the Valley, thus creating a reinforcing circle of innovation and talent.
If Singapore can achieve a saturation of tech firms here, it will be well-placed to attract technical talent as well, said Professor Boh Wai Fong, deputy dean of Nanyang Business School at the Nanyang Technological University (NTU). 
"Having a saturation of tech firms keeps the field competitive and makes it difficult for any one company to hold a monopoly. It also attracts more tech firms to locate in Singapore," said Prof Boh.
And when international giants establish their footprints here, there are positive ripple effects to Singapore businesses that work with these companies, said EDB's Mr Tan.
EDB emphasised that many technology MNCs have also embarked on training efforts that reach out directly to Singaporeans.
In October last year, Grab and Microsoft partnered to launch three training and development programmes to help Singaporean participants secure IT-related job opportunities. Up to 5,000 Grab drivers and delivery workers as well as 250 university students are expected to benefit from this programme by the end of this year.
Chinese companies are also chipping in. Alibaba based its first joint research institute outside of China with NTU in February 2018 "to explore technology-driven solutions to societal issues in areas such as health, ageing, homes and communities".
Said the Alibaba spokesperson: "Perhaps more importantly, investing in Singapore aligns with our mission 'To Make It Easy to Do Business Anywhere'. Having an established presence here means it's easier for us to help and support local businesses to grow beyond Singapore's shores and especially into the vast China market."
Added EDB's Mr Tan: "With the acceleration of digitalisation due to Covid-19, digital skills will continue to be in demand… These (initiatives) present opportunities for our people to upgrade and keep themselves relevant in a job market that increasingly requires digital skills."
OBSTACLES TO S'PORE'S AMBITIONS
By 2030, there could be a shortage of 4.3 million tech workers worldwide, according to a study by management consulting company Korn Ferry. 
The same 2018 study predicted that the labour shortage for Singapore's financial and business services sector in 2030 could mean an unrealised economic growth of as high as US$29.2 billion.
That potentially represents around 21 per cent of Singapore's projected economy in 2030, the study concluded.
Experts said the tech talent crunch is neither a new issue, nor is it one faced by Singapore alone. But a labour crunch in Singapore could be more severe than other nations due to its size.
Minister-in-charge of the Smart Nation Initiative Vivian Balakrishnan said in June last year that the infocommunications sector, which employed around 200,000 professionals, will need another 60,000 workers by 2023.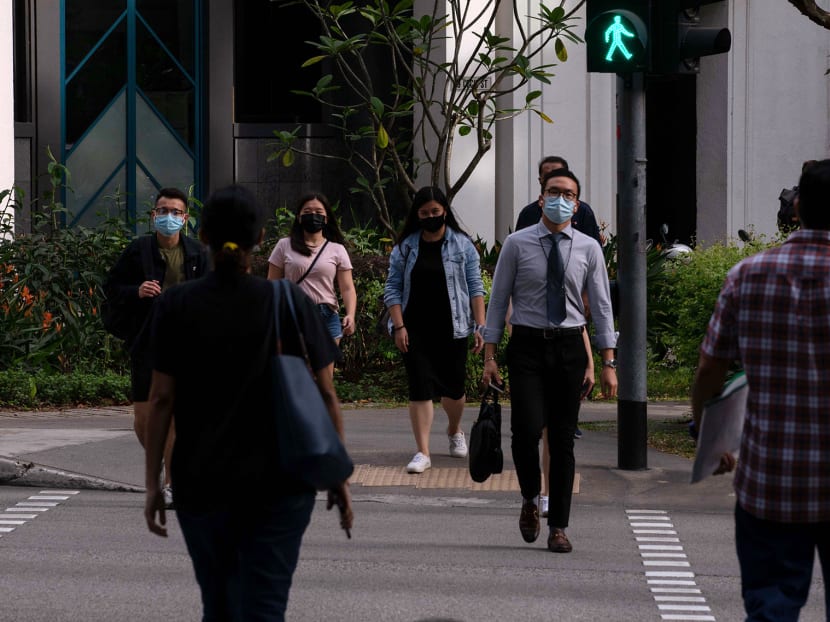 Yet, Singapore's education systems produce only around 2,800 infocomm graduates yearly, said Dr Balakrishnan then.
Mr Li said: "Cities in larger countries like Shanghai, New York or Ho Chi Minh City draw talent from a large hinterland, while Singapore has a limited pool due to its relatively small population, and the demand for top-notch tech talent is very high."
To address a supply gap of tech talent, Singapore's strategy is to buttress its skills training efforts under the SkillsFuture movement as well as to encourage mid-career switches for people willing to enter the tech industry.
But an external supply of talent will still be necessary. To this end, the authorities launched a new type of work pass aimed at attracting the pinnacle of international tech talent. 
Singapore's openness to foreign hires has been an attractive feature for tech MNCs.
"The ability to hire diverse manpower that can support regional operations is also key," said Mr Perera from Spire. "As far as talent is concerned, Singapore has a fairly liberal employment pass regime compared to most other countries in the region."
Nevertheless, there is an increasing concern by foreign businesses that Singapore may become less welcoming to foreign workers, said experts. They pointed to perceptions held by some that certain foreign companies prefer to hire people from their home countries instead of Singaporeans.
To address these concerns, the Government is investigating more cases of discriminatory hiring practices that favour foreign hires unfairly. It suspended 90 employers' work pass privileges as of last August, effectively barring them from hiring new foreigners or renewing work passes. This was an increase from the 35 employers punished for the whole of 2019.
Yet, while the arrival of tech MNCs heralds business opportunities for local firms and enables Singaporeans to pick up valuable tech skills and working experience, experts said that it is inevitable for some local companies to feel the pressure.
A chief source of anxiety for local tech businesses is the competition to hire local talents, since many skilled local undergraduates and even mid-career switchers would want to work for the brand-name companies before considering Singapore start-ups.
The same applies for less well-known MNCs that enter the Singapore market.
Speaking to TODAY, some tech company bosses said it is not unheard of for staff who were working with MNCs on inhouse projects to "jump ship" after the undertaking ends.
Others said they are sometimes unable to hire the right people because they could not match the salaries offered by these MNCs, thus hindering their ability to grow.
One company executive, who spoke to TODAY on condition of anonymity as his tech start-up currently works with MNCs, said that the influx of MNCs will make it difficult for local tech firms to hire, though the manpower situation is not a case of feast or famine.
He said: "Skilled talent is always a scarce resource which we have to compete tooth and nail for, and we are on the back foot (compared with MNCs). But on balance, the business opportunities, exposure to investors and experience gained from working with larger companies is invaluable for us.
"Our route in this competitive tech ecosystem is to become more manpower-lean and to skill-up the staff that we have," he added.
NTU's Prof Boh felt that local entrepreneurs should see the influx of US and China firms "as a way to spruce up the competition and to improve the overall technical capability of the industry".
But while Singapore might be a tech hub in South-east Asia for now, there is still some way to go before it can be considered the Silicon Valley of Asia, she said. 
The main headquarters of these tech firms, or where the core research and development occurs, remain abroad.
"Moreover, Singapore has a few of its own home-grown tech giants, but there are (so) few of them and they pale in comparison to other Asian tech giants like Alibaba and Tencent," said Prof Boh.
"For Singapore to become the Silicon Valley of Asia, we will need to host not only a plethora of tech companies, but the best of the best leaders of the industry that will continue to push the industry to greater heights," she said.