The Big Read in short: Young, single and living away from parents
Each week, TODAY's long-running Big Read series delves into the trends and issues that matter. This week, we look at the growing trend of young, single Singaporeans leaving the nest in search of freedom. This is a shortened version of the full feature.
Each week, TODAY's long-running Big Read series delves into the trends and issues that matter. This week, we look at the growing trend of young, single Singaporeans leaving the nest in search of freedom. This is a shortened version of the full feature,​ which can be found here.
A growing number of young, single Singaporeans are moving out from their parents' home to live on their own  
The trend, which has been accelerating in recent years, appears to have been exacerbated even further by the ongoing pandemic.
Those who have moved out say they wanted independence and privacy
Experts don't expect the trend to disrupt Singapore's home ownership model as it is hard for a renting culture to take root here
They added that while HDB should continue to prioritise providing homes for families, there's scope to better cater to young singles who wish to rent
SINGAPORE — After Mr Bryan Foo graduated from university in 2019, he told his parents that he would leave home in a year's time.
Initially, his parents were not convinced why he needed to move out. But when the Covid-19 pandemic hit — which coincided with the one-year mark he had set — Mr Foo, who is a business consultant, had a convenient reason to persuade his parents.
At home, his parents did not close the doors to the bedrooms because this would block the wind flowing through the five-room flat. So, the doors had to be kept open even when Mr Foo, his mother and his sister, who is still studying, attended meetings and classes over video conferences at home amid the pandemic.
"They recognised that the three of us having meetings (at the same time) was not convenient," said Mr Foo, now 28. "I managed to convince them, and they were understanding enough. They know I need some space to grow and to make decisions in life."
He now rents a four-room flat in Redhill with two friends from university, each paying about S$1,100 every month.
Mr Foo is among a small but growing number of young, single Singaporeans who are setting up homes away from their parents, as traditional values shift and more get married later.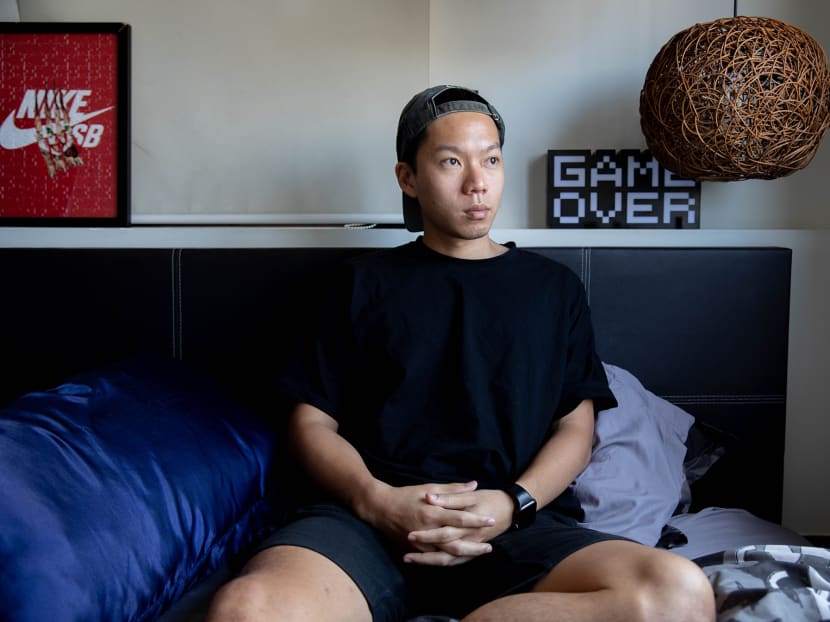 The trend, which has been accelerating in recent years, appears to have been exacerbated even further by the ongoing pandemic.
The pandemic has nudged many millennials to take the plunge and seek more conducive work-from-home environments through alternative living arrangements, among other reasons.
They represent a departure from the typical arrangement where children in Singapore would live in their family home until they get married and become eligible for public housing from the Housing and Development Board (HDB). Singles in Singapore can buy a HDB flat only when they turn 35, and are limited to only smaller units in newer estates when they buy flats that are built and sold at subsidised rates by the Government.
Between 1990 and 2020, the number of Singaporeans and permanent residents under 35 who are either living alone or away from their parents have risen from 33,400 to 51,300, data from the Department of Statistics showed.
The latest figures had more than doubled from 23,700 in 2015, and experienced a particularly large jump from 40,400 in 2019.
A recent survey of about 1,000 Singaporeans by online property portal PropertyGuru found that 77 per cent of its respondents aged 22 to 39 are considering moving out of their parents' homes in the next year, with most of them already saving up to buy a place. The survey was conducted between May and July as part of the firm's half-yearly surveys.
Renting has long been expensive in Singapore and is often avoided by citizens. A three-room HDB flat on the city fringe costs about S$2,800 a month, or more than half of the median salary.
Yet, some property companies have reported a rising share of Singaporeans choosing to rent.
At co-living company Hmlet, the proportion of its tenants who were Singapore residents rose from 10 per cent to nearly 40 per cent since the second half of last year. These local tenants are predominantly aged between 27 and 35.
One reason the share of the locals has increased could be due to pandemic-forced border restrictions for foreigners entering Singapore for work.
But Ms Giselle Makarachvili, Hmlet's chief operating officer, said she has also seen more Singapore residents wanting greater independence and privacy when signing up for co-living.
Property agents have also been receiving more enquiries to rent single-room apartments or co-living arrangements with common areas and toilets, said Mr Alan Cheong, executive director of research and consultancy at real estate consultancy Savills Singapore.
These enquiries were mainly from young and single Singaporeans seeking a more carefree environment, he said.
Some were also couples who are yet to be married but want to live together while waiting for their flats to be completed under the BTO scheme, which for newly launched projects can take up to almost six years amid the Covid-19-related delays.
MAKING THE BIG DECISION
For some single millennials, the decision to move out came after turning 30.
"The number '30' made me gain some clarity about life and you decide to make some changes, '' said digital marketer Zainuddin Zahir, 31, who rents a room in Telok Kurau through Hmlet.
Without the freedoms that often come to be associated with adulthood, living in the family home beyond a certain age is like "a permanent state of being 'children'", said sociologist Chua Beng Huat.
"The reason why grown-ups still live with parents in Singapore is largely a result of public housing policies," added Professor Chua from the National University of Singapore (NUS).
Unmarried adults often much prefer to have a place of their own, he added.
Some, like product designer Lara Loi, 31, plan to continue renting even after turning 35.
To Ms Loi, who rents a place, buying a home means to be tied down for years paying off the mortgage and not having the flexibility to relocate.
Having been on a school exchange programme in the United States, and worked abroad for a short period of time, Ms Loi has always had the idea of leading a nomadic lifestyle, easily able to change careers or relocate elsewhere.
It also made her yearn for independence when she returned to Singapore and prompted her to move out in her late 20s.
"For me, the thought of buying a house scares me a lot," she said.
In Singapore, where home ownership rates are close to 90 per cent, government leaders have lauded the success of the country's housing policies in giving citizens a stake in the country and a substantial asset that grows in value when the country's economy does well.
WITHER HOMEOWNERSHIP MODEL? NOT QUITE
Sociologists and experts TODAY interviewed do not expect the current home ownership model to be disrupted by the growing numbers of Singaporeans turning to the rental market.
Mr Nicholas Mak, head of research and consultancy at real estate firm ERA Realty, added: "I don't think the desire to own a home has changed drastically. That's why people are still rushing to buy BTO flats and HDB resale prices are still rising."
Dr Chua, the sociologist from NUS, noted that even if more singles are renting on their own, they are mainly more affluent individuals who can afford the relatively high rent, who would also not be worried about funding their retirement.
Mr Ong Kah Seng, an independent property analyst, expects the number of young singles renting to continue rising over the coming years, albeit at a slower pace after work-from-home requirements are eased.
This is because these young, single professionals have higher aspirations of living in upmarket condos and central locations, which they can only afford to rent.
ERA Realty's Mr Mak, however, pointed out there was a time a decade ago when there was a significant drop in local unmarried singles under-35 living alone — from 24,900 in 2010 to 9,100 in 2011.
This period was marked by a recovery in the economy and property market after the 2008 global financial crisis. The job market had improved and more foreigners came to Singapore to work, leading to more residential leasing demand. 
"Maybe the local people under 35 years old were crowded out of the market, and they decided that it was too expensive to rent their own place," he said, adding that a similar situation might play out after the pandemic.
While experts previously told TODAY that there was room for housing policy tweaks to ease requirements for singles, especially ones with extenuating circumstances, they were divided on whether government support should be given to singles choosing to rent because of lifestyle choices.
After all, housing policies, such as the restrictions on singles under-35 booking a BTO flat, are often seen as a lever to encourage Singaporeans to marry early and start their own families.
ERA's Mr Mak said that subsidising rent for singles who chose to rent, many of whom are professionals with tertiary education, could risk transferring taxpayers' money into the hands of landlords.
If a large proportion of singles under 35 are choosing to rent, NUS sociologist Tan Ern Ser suggested that the Government, adverse it may be towards renting, could consider building more rental flats to cater to those who choose not to be married, in addition to the rental flats for lower-income families.
With marriage rates on a downtrend, would such policy changes undermine HDB's pro-family policies and lead to people marrying even later?
Mr Cheong thinks that it will be hard to continue swaying those who are delaying marriage or choosing not to be married through such policies. "Social engineering doesn't work anymore in the modern day," he said.
Agreeing, Prof Straughan nevertheless pointed out that it is unlikely for a renting culture to take root in Singapore because the environment here is unlike major global cities where its residents travel from faraway towns and where jobs are transient.
But she noted that given the scarce resources, HDB would have to prioritise providing homes for families over singles.  
ADJUSTING TO LIVING ON THEIR OWN
For those who have moved out of their parents' home to live on their own, trading comfort for independence comes with a price.
Mr Zainuddin, for one, took some time to adjust.
"I wasn't prepared for all the grocery shopping I had to do. I went overboard and spent too much," he said. "Usually when your parents are doing the groceries, you just slot one or two items into the trolley."
In his first month, he raked up a total of S$300 over four weekly trips to the supermarket. When his ingredients started expiring, he knew he had to scale back.
"I took for granted some of these things," he said.
But the biggest struggle for most is the financial strain of having to pay rent when they have yet to establish their career.
The first year of renting was a particularly low period for Ms Loi, the product designer. She became unemployed for four months but had to continue forking out S$1,200 in rent, which at the time was more than a fifth of her previous pay. 
Having chosen to be more independent when she moved out, she did not want to return to her parents for financial help. She stuck to a tight budget and managed to soldier through until she found a new job.
But Ms Loi said the trouble was worth it, for the lifestyle she enjoys and for her mental health.
For some, being away from the family has also helped to strengthen familial ties.
When Madam Rani Suppiah's 26-year-old son moved out to live on his own three months ago, she made him promise to visit her at least once a week.
"When he stayed with me, he hardly talked to me. We just had dinner together and he'd just go to his room," said Mdm Rani, 50, who works in procurement.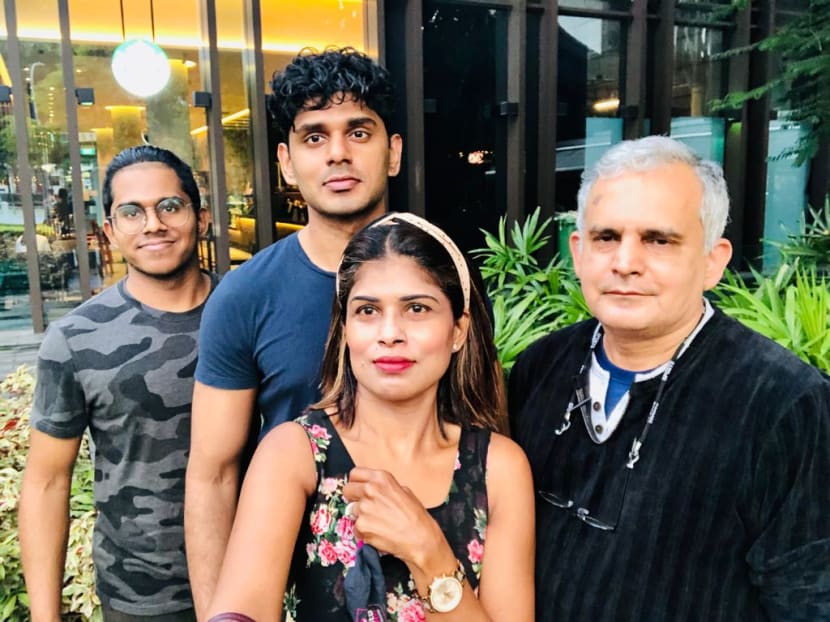 Now that her son is renting a place with three other housemates, he tells her about his life and what he had done over the past week when they meet.
As a parent, Mdm Rani had a hard time adjusting when her son moved out because her younger son had just enlisted for national service at the same time. Curious relatives also began questioning why her son was no longer living at home.
"I told him I will feel lonely and upset that you are leaving but it's okay, you can try… If you don't like living with other people then you can come back anytime you want," she said.  
CORRECTION: An earlier version of the article cited data from the Department of Statistics showing a rising number of single Singaporeans and permanent residents under 35 who are either living alone or away from their parents. This is incorrect. The statistics do not pertain only to singles. They include those who are widowed, divorced, separated or married but not living with their spouse.