The Big Read in short: Youths' changing priorities amid Covid-19 upheaval
Each week, TODAY's long-running Big Read series delves into the trends and issues that matter. This week, we look at how the Covid-19 crisis has forced youths to re-evaluate or reshuffle their priorities in life. This is a shortened version of the full feature.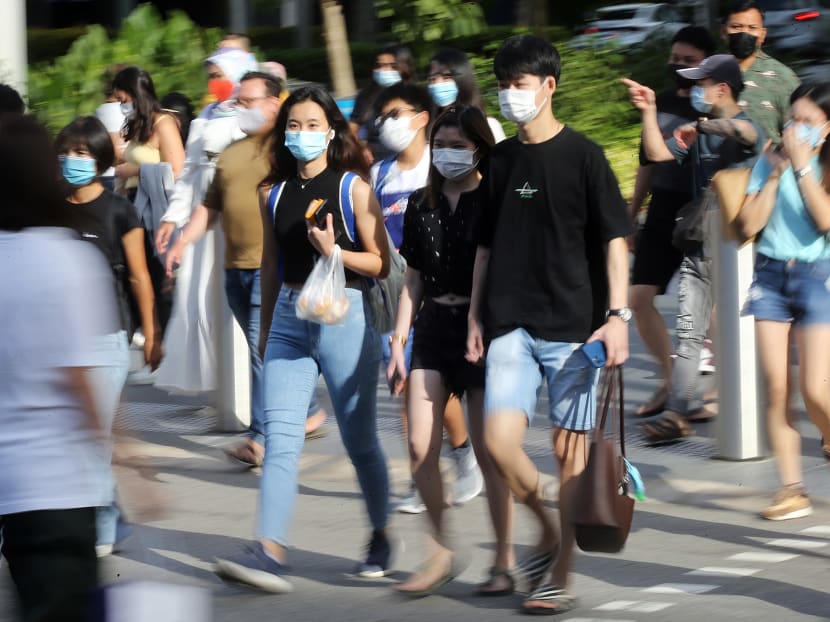 Each week, TODAY's long-running Big Read series delves into the trends and issues that matter. This week, we look at how the Covid-19 crisis has forced youths to re-evaluate or reshuffle their priorities in life. This is a shortened version of the full feature,​ which can be found here.
The Covid-19 pandemic has stretched on long enough for young adults here to reshuffle their priorities
Some see the turbulent times as an opportunity to pursue their passions, while others see the need to be pragmatic and protect their livelihoods
Another group that has anecdotally grown in numbers recently is determined to quickly expand their wealth and retire early
Experts and employers agree that whichever path one chooses has its pros and cons
As employees slowly grow to accept hybrid work and home arrangements, employers should adjust their policies to suit such preferences
SINGAPORE — When the Covid-19 pandemic struck early last year, 29-year-old Fiona Loh found herself working for up to 20 hours a day, juggling her day job as a technology product manager at a bank and baking pastries at home for sale.
Ms Loh, who has a passion for baking, saw a boom in her home-based business when hundreds of orders streamed in during the circuit breaker period from April to June last year and beyond, with the bulk of the demand coming from customers who were working from home.
Ms Loh then had to make a decision — to continue her juggling act, or to turn her side hustle into her main career.
"That was when I took a step back and had to rethink what it was that I really wanted to do."
She then made the calculated risk to turn her baking passion into a full-time career in June last year, and opened Whiskdom, her own bakery.
Ms Loh has not looked back since, with demand for her bakes continuing to stay strong, and she now has four full-time and two part-time employees.
While Ms Loh has taken a leap of faith career-wise, 29-year-old Anthea (not her real name) prefers to play it safe even though she is not happy with her work situation.
While she normally ended work at about 8pm pre-Covid, she found herself staying up to the wee hours working to meet project deadlines during the pandemic, as working from home had blurred the lines between office and rest hours.
However, she stuck it out for over a year — before leaving the company in July this year — for very pragmatic reasons: She needed the money to pay her bills and did not want to dip into her savings.
Anthea is presently working in a contract marketing role at another firm that pays about the same salary but has better working hours. But she no longer enjoys working in the industry, and feels "stuck" in her current role.
"After a while, I feel no purpose in what I am doing," she said.
For yet another millennial, 25-year-old Terence, the pandemic has led him to embrace the "Fire" movement, whose mantra is "financial independence, retire early". Proponents believe that this can be achieved by saving hard, investing well and living frugally from young.
Having graduated from university last year, the bleak economic outlook at that time — as Covid-19 decimated one key industry after another in Singapore and elsewhere — nudged Terence into subscribing to the movement seriously, starting with saving his money.
"There wasn't a major impetus to spend on anything… we couldn't travel, and any plans I had such as graduation trips were out of the window," said Terence, who wanted to be known only by his first name.
When the stock market bottomed out at the height of the pandemic last year, Terence, in line with a key "Fire" tenet, took the opportunity to invest, and has made healthy gains as the economy recovered.  
While Ms Loh, Anthea and Terence have responded differently to the pandemic on the career front, they do have something in common: This once-in-a-generation crisis has forced them to re-evaluate or reshuffle their priorities in life, perhaps much earlier than people of their age were wont to do had Covid-19 not changed the world, literally, as we knew it.
And their respective choices — take a risk to pursue one's passion; stick to a job even if you don't like it for the sake of financial stability; or find ways to enhance one's wealth quickly to make early retirement possible — largely mirror that of other young adults, aged between 20 and 30 years old, interviewed by TODAY recently.
Indeed, based on findings of the inaugural annual TODAY Youth Survey, youths have a different take on what success in life means. No longer is it defined by the 5Cs — cash, car, credit card, condominium and country club membership — that were once deemed as the ultimate Singapore dream by an earlier generation.
The TODAY Youth Survey 2021, which polled 1,066 respondents between the ages of 18 and 35 in early October, found that when asked what was the top indicator of material success, 59 per cent of respondents said it was to have enough money to retire early.
Meanwhile, 52 per cent hoped for passive income from financial investments, and for 48 per cent, the ability to travel twice or more a year.
The survey also asked the youths what were the most important factors in their working lives.
Having good colleagues or bosses, work-life balance and financial rewards were the top three factors mentioned, with almost nine in 10 respondents indicating that these were either "important" or "very important".
In comparison, good advancement prospects and a sense of purpose were the answers given by a slightly smaller proportion of the respondents.
The survey results suggest that a pandemic-forced period of introspection for many young people — arising from social distancing measures which have restricted gathering of friends, and having to work in isolation from home — had given them time and space to think outside of their careers, said some human resources (HR) experts.
"It seems that Covid has made more young people think about what they really want to do in life and in having a more purposeful career… more than just (to focus on) money," said Ms Angela Kuek, director of The Meyer Consulting Group.
FOLLOWING ONE'S HEART
While the pandemic has provided many millennials with an opportunity to follow their passions, the journey comes with its own set of challenges.
For Whiskdom's Ms Loh, she had been getting a "relatively well-paying" salary at her previous job, though she declined to reveal the amount. Starting her own business meant that she is taking home just 20 per cent of her original income.
"I only allowed myself to draw an allowance, and everything else I poured back into growing the brand, be it hiring more people, or expanding into a new space," she said.
But Ms Loh was not one to pursue her passion blindly, without first understanding what she was in for.
To ensure that her business would be viable, she had calculated that excluding revenue from the sales, she could afford the operating costs of her business for two years by just relying on her savings — the timeframe she had given herself to see if she could succeed.
She also has had to tighten her belt and sacrifice her me-time.
For instance, she now works on her business for almost all her waking hours, seven days a week, up from the usual five-day work week. Her social life now consists of her friends visiting her at work.
Amid these sacrifices came a growth in her business. She had first launched a stall at Alexandra Central Mall in June last year, and expanded last month to another stall at Havelock Road.
While Ms Loh is able to make her passion a full-time job, another youth, Mr Thaqif Ismail, has yet to find his.
After graduating from the National University of Singapore with a political science major early last year, he was "rushing to get a job" at a time when companies were shedding or freezing their headcount. 
The 26-year-old's first full-time job was with a media analytics company, which was not his ideal career choice. Instead, Mr Thaqif had set his heart on taking on a more public-facing media role, such as working for international or regional organisations, or a journalism outfit.
After working about one year in the media analytics role, he decided to quit in June and pursue further studies, with an eye to getting his ideal job later. He is currently pursuing a master's degree in Asian studies at the S Rajaratnam School of International Studies at the Nanyang Technological University.
"(A job) is more about just getting by, I need to work in a job that I believe in and I am passionate about, it's something that helps me get up in the morning, and it is a necessity for any future job," said Mr Thaqif.
PRAGMATISM HAS ITS LIMITS
Those who have chosen to hunker down in their less-than-ideal jobs to pay bills are ready to move elsewhere if the opportunity comes along.
Mr Quinn Caleb Lim, who has worked for three years as an IT support engineer, is no stranger to the struggles of trying to be financially stable.
The 26-year-old has been doing odd-jobs, such as retail assistant and hotel housekeeper, since the age of 16 to pay for his education, daily allowance and other expenses.
Despite his working experience, nothing could prepare him for the first few months of the pandemic, when more people were hired in his company and he had to assist them with preparing laptops and other IT equipment.
His workload increased and he found himself staying in the office for two consecutive nights. After that episode, the workload continued to be heavier than usual for the next two months, partly because he had to help with IT issues during his company's transition to working from home.
While his employer actively discouraged working overtime, the increased workload gave Mr Lim little choice for most days during that period, which added to his stress. At that time, he found himself gaining weight and not sleeping well.
"I had changed my perception of what to prioritise in general," said Mr Lim. "Before 2020, I would give it my all at work, but after 2020, I realised that I really need to take care of myself."
Like in Anthea's case, the pandemic-induced toil has dampened his enthusiasm for his job, and has led him to wonder if there are other opportunities out there that would better suit his interests.
While he still does not know what would interest him yet, he said that the pandemic has at least spurred him to think deeply about it.
"If not for Covid, I would be clueless as before, as I did not have much aim and I did not know what I want to do in the near future," he said.
LIFE IN THE FIRE MOVEMENT
For those pursuing the Fire movement, gaining financial independence is not just about saving or making enough money to make early retirement possible. It is also about making a conscious effort to stay debt-free, so that one has the flexibility to make career changes without having to worry about where the money will come from for the next debt payment.
For 30-year-old Chris Chong, he has been subscribing to the Fire movement for about four years since 2017, when it became more popular.
The pandemic has emboldened his drive to pursue the Fire movement, and also encouraged more young people to try out the movement, he said.
"There's definitely a stronger focus on (Fire) as people want to really take charge of their finance so that one day, if they ever get retrenched from their job, there is still hope for them, that they still have other kinds of income sources, and their savings are enough," he added. 
Mr Chong, who is an analyst in the manufacturing industry, aims to gain financial independence by the time he is 35 but has no intentions to fully retire.
Instead, he wants to be a self-employed content creator, and aims to do this by expanding his existing YouTube channel Honey Money SG, which doles out financial advice to young adults.
He envisions himself making enough to pay off his basic expenses, while still receiving passive income from his financial investments.
"My motivation is to be a self-employed person so I don't have to answer to my bosses," he said.
HR EXPERTS, EMPLOYERS WEIGH IN  
While there is no one right approach to career planning amid the pandemic, whichever path a young person prefers to take has its pros and cons, said HR experts and employers.
For people who are passionate about their jobs, they do not usually feel that work is separate from their lives, since they derive direct satisfaction from it, said Ms Kuek from the Meyer Consulting Group.
However, employees with passion do not always stay long in the company, since they are constantly looking to upgrade their skills and learn new things.
Mr Adam Piperdy, founder of events company Unearthed Productions, said that in the creative marketing industry, there are many youths who enter with a "decent amount of passion" but who only stay for two to three years.
While this practice — some call it job-hopping — may have been frowned upon in the past, Mr Piperdy acknowledged that this is a norm among the younger generation.
"We encourage them if they feel they have maxed out their potential in the company and so they should move on," he said. "For employers, we have to be ready for this new workforce."
For those who have prioritised pragmatism above passion in their careers, Mr Tan, the HR practitioner, said that the ability to find work that serves their pragmatic needs differs from case to case.
For instance, a young adult who happens to be a software developer will be in high demand and will continue to receive handsome paychecks during the pandemic tech boom. However, someone who works in the hotel industry may be forced to switch careers in order to remain pragmatic.
Employers say they are trying to help employees who appear to be disgruntled in their jobs to stay motivated.
Mr Kelvyn Chee, managing director of apparel retailer Decks, said that to help some employees stay motivated, Mr Chee said the firm creates "profit-sharing" projects, where employees involved can have a share of the profits.
For instance, when Decks was one of the companies hired by the Temasek Foundation to supply facemasks to Singaporeans, there was a project created to customise some of the masks, and the profits were shared between the mask designers and the salespersons.
For those who subscribe to the Fire movement, experts said that while it is feasible, one should exercise caution to avoid burnout from working too hard at such a young age.
Said Ms Kuek: "There's nothing wrong with finding purpose with what you do and slowly building up your savings," she said. "You don't have to save 70 per cent (of your income) and retire at 40, you can save 30 to 50 per cent and retire at 50 while not being so hard on yourself."