The Big Read: Undervalued and underpaid, Singapore's essential services workers deserve better
SINGAPORE — Mr Ong Swee Teck's work as a garbage truck driver is dirty and demanding. And after 17 years on the job, the 51-year-old typically takes home about S$3,500 a month.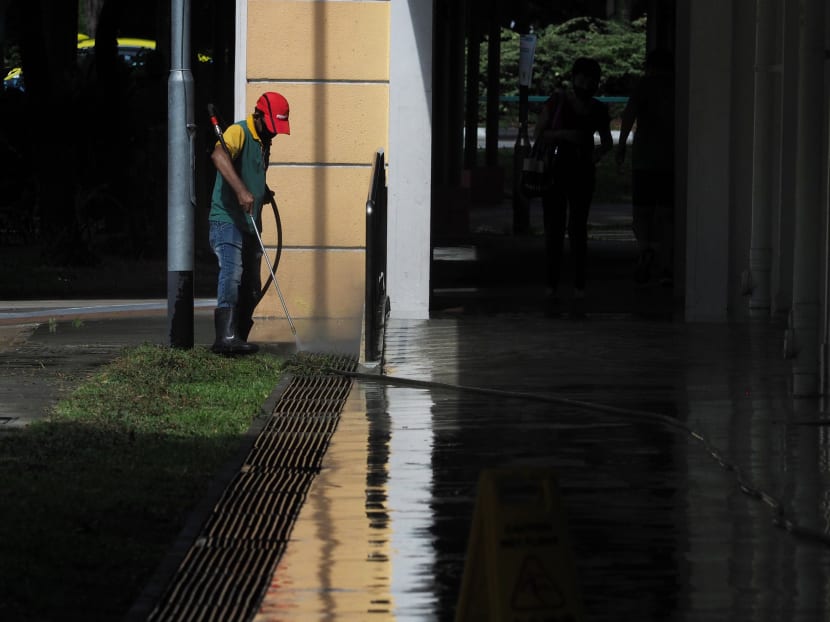 Low economic value which S'pore places on essential services workers needs to change
Biggest problem cited by business owners is the tender process 
Govt needs to take the lead and change its tender processes, says economist 
Others suggest raising in stages foreign worker levy rates for S Pass, Work Permit holders
S'poreans could also try to adjust their expectations in the delivery of these essential services
SINGAPORE — Mr Ong Swee Teck's work as a garbage truck driver is dirty and demanding. And after 17 years on the job, the 51-year-old typically takes home about S$3,500 a month.
Before Covid-19 hit, there would be a handful of months a year where his take-home pay reached S$5,500 to S$6,000 a month due to additional projects which required him to work longer hours. 
But overall, in the last five to six years, his typical take-home monthly salary has increased by an average of about S$100 a year, from S$3,000 to its current level, he told TODAY.
He lamented that he has not been able to grow his savings by much during his working life, as the increments barely cover the rising cost of living. 
Mr Ong's household comprises his 80-year-old mother, his wife and two adult children who are working. His wife is a part-time promoter selling fruit juice and earns around S$1,000 a month when a job is available.
Apart from his modest pay, Mr Ong also has to contend with people shunning him whenever he makes his rounds around Jurong Island collecting food waste — something which still exasperates him even after all these years.
"People will think that the work I do is dirty because I handle food waste. Sometimes when we drive by, people will pinch their noses and walk away… It makes me mad. After all, someone has to do this job," said Mr Ong, who works eight hours a day, six days a week.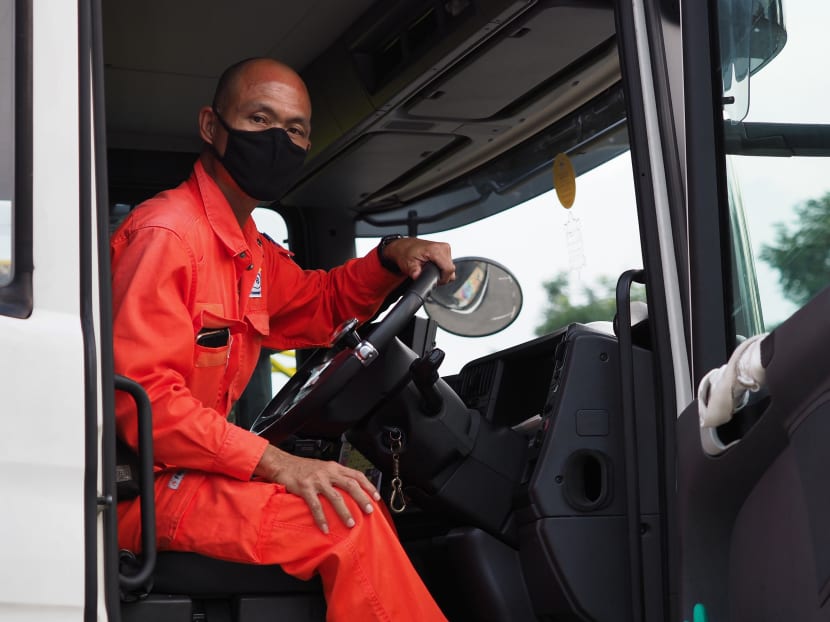 Mr Jerry Goh, a plumber for the past 10 years, has also seen his income stagnate. 
He has not been able to increase the prices for his services, and has seen his income hovering between S$3,000 and S$4,000 every month, despite working up to 12 hours every day.
"If a customer has an issue, it's very easy now. They just WhatsApp six to seven plumbers, then whoever texts back with the lowest quote will be confirmed (for the job)," said the 33-year-old. 
Mr Peter Yeo, a cleaner for the past four years, said he started with a monthly pay of S$1,200. He is currently earning about S$1,300.
"If the pay is higher, I don't mind working more," said the 60-year-old who has been out of work since Singapore introduced the nearly two-month-long circuit breaker on April 7 in an attempt to curb the community spread of the coronavirus.
Essential services workers like Mr Ong, Mr Goh and Mr Yeo are found in a wide range of jobs. One thing they have in common is being long taken for granted, with some earning below the median wage including those in the bottom 20th percentile.
They are now perhaps viewed in a more appreciative light by the general public amid the disruptions caused by the Covid-19 pandemic, and health risks that such workers subject themselves to as they continue in their jobs to keep basic services going. 
Based on the latest available statistics, the nominal median income of Singapore residents on full-time employment stood at S$4,563 last year, including employers' Central Provident Fund (CPF) contributions. 
During last week's parliamentary debate on the Fortitude Budget, the fourth budget for the year to cushion the impact of the Covid-19 crisis, two Members of Parliament — Nominated MP Walter Theseira and Pasir Ris-Punggol GRC MP Zainal Sapari — had called on the Government to restructure the economy in ways that could address the plight of these workers, which include lower wage earners such as cleaners and security officers. 
Speaking in Parliament, Associate Professor Theseira said: 'If we recognise that all work, especially socially essential work, has value, then we need to agree that there is no shame in having Singaporeans take up manual and service jobs."
Noting that these roles are often filled by migrant workers, he added: "The only shame is if we, who have power and influence, fail to ensure that the conditions of work and wages in these service jobs are such that Singaporeans find no dignity in taking them up."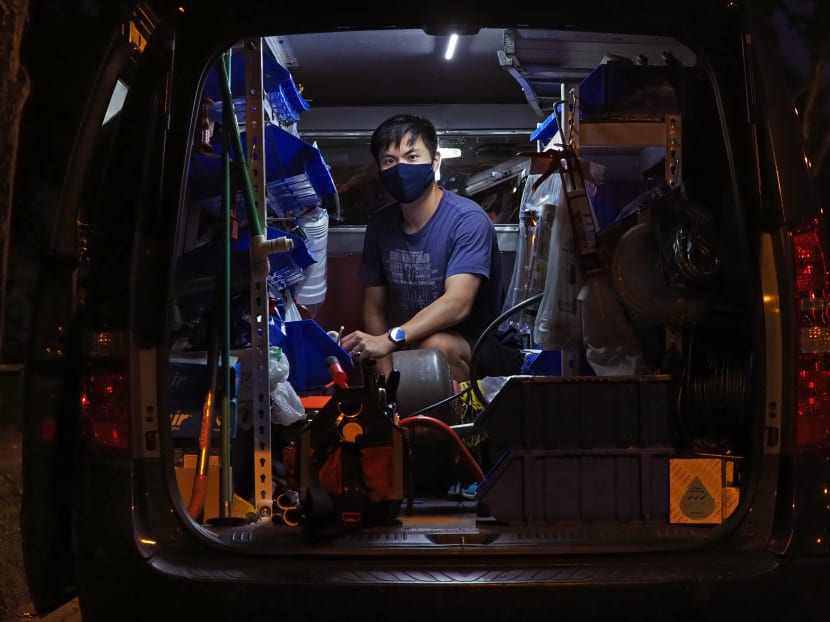 To raise the income of some of these workers, the Government, which has eschewed a minimum wage policy, has implemented a progressive wage model.
Introduced in 2014, the model pegs workers' wages to their skill and experience levels. It is currently mandatory for the cleaning, security and landscaping sectors here, and will soon apply to the lift maintenance industry.
Based on the latest statistics from the Ministry of Manpower (MOM), the real median income of full-time employed residents grew by 2.2 per cent from 2018 to 2019.  
Incomes of low-wage workers — deemed to be those in the bottom 20th percentile — grew at a faster pace (4.4 per cent) than those earning median wages (3.8 per cent) from 2014 to 2019, partly due to the implementation of the progressive wage model.   
Speaking to TODAY, Mr Zainal, who is also the assistant secretary-general of the National Trades Union Congress, said the wages of workers in the cleaning, security and landscaping sectors had increased substantially between 2013 and 2018, by around 30 per cent. 
Nevertheless, he pointed out that the increases were from a very low base. Cleaners' wages are still at the bottom 5th percentile of gross monthly wages among the resident workforce here, he said.
"If we really think that they are essential workers, why are they at the 5th percentile? Shouldn't it be higher? Let's say we peg (their wages) at the 20th percentile, it might take them 17 years (based on their current wage levels) to hit the 20th percentile," he added. 
While the low economic value which Singapore places on essential services workers has been a long-standing issue, it has come to the fore amid the Covid-19 pandemic. 
With the crisis said to offer the chance for societies to reset or rethink their set ways, how can policymakers and the country at large address this issue going forward? Or is Singapore past the point of no return in its reliance on —- or as some would say, addiction with — cheap labour, including the migrant workforce, to do such jobs?
Dr Ong Qiyan, deputy director of research at the National University of Singapore's Social Service Research Centre, noted that some Singaporeans are only realising the importance of these workers now. 
"We realise plants are not pruned as frequently, streets are not cleaned as frequently… The ability to go about your day-to-day activities really depends on the efforts of these individuals," she said. 
THE NEED FOR CHANGE
Singapore's reliance on a large pool of cheap labour, often sourced from overseas, is not a recent phenomenon. 
Since the 1970s, importing foreign labour has been part of a deliberate policy by the Government, according to studies done by Professor Emerita Linda Lim at the University of Michigan and Professor Emeritus Pang Eng Fong at the Singapore Management University. 
While other countries with more restrictive immigration policies started building up capital faster than labour as they got wealthier, which led wages to go up, this was not the case in Singapore as continued access to low-skilled foreign labour prevented wages from rising according to market forces. 
The policy has helped Singapore to achieve high economic growth rates, said analysts. But Prof Lim and Prof Pang said such growth was possible only by adding huge amounts of labour and capital, rather than by increasing productivity. 
"A liberal policy over many decades of importing transient foreign labour from much lower-wage countries allowed the persistence of third world business practices and labour-intensive technologies in what was rapidly becoming a first world country," said Prof Lim and Prof Pang in a joint response to TODAY via email. 
The foreign worker issue was among the hot button issues during the General Election in 2011. Thereafter, the Government has tightened its foreign worker policy via levies and quotas despite the protestations by businesses. 
Based on MOM's 2019 statistics, foreigners — including foreign domestic workers (FDWs) — make up 37.7 per cent Singapore's total workforce, numbering over 1.4 million.  
The proportion has not changed much in the past decade, due in part to the significant increase in the number of FDWs. In less than a decade, the number of FDWs here has spiked about 30 per cent — from about 201,000 in 2010 to about 261,900 as at the end of last year. 
This reliance is a "weakness" in Singapore's economic structure, which has now been highlighted by the high rate of Covid-19 infections among the migrant worker community, said DBS bank senior economist Irvin Seah.  
While some Singaporeans may be able to rationalise the low wages and working conditions of these jobs as an issue that mainly affects migrant workers, the fact is there are other Singaporeans in these professions, and they told TODAY that their wages have not been able to increase much due to the growing number of foreigners joining their trade. 
One major lesson to learn from Covid-19, noted Dr Ong, is that the migrant worker community is very much interconnected with the larger population, both in terms of the importance of the service they provide and the similar challenges they face with other local low-wage essential workers. 
In recent weeks, the call for this "sacred cow" — the addiction to cheap labour — to be slaughtered has moved beyond the confines of academic circles to a wider segment of society. 
Conversations on how Singapore should reduce its reliance on migrant workers — who often make up a large proportion of workers in low-wage essential jobs — have emerged over the last few months as the city-state grapples with the rising infection numbers among its migrant community.
As of Friday (Jun 12), there are 39,850 Covid-19 cases in Singapore, with 94.1 per cent of infections occurring among migrant workers living in dormitories.  
The focus of this national reflection, initially on the squalid conditions of these workers' dormitories, has now turned to whether it is possible to cut down their numbers, and how the wages and the status of their jobs could be improved to attract more Singaporeans to take them up.
Amid the public discussion, the Government has noted that there is a limit to how far the country can go in reducing its reliance on foreign workers. 
"We still need to rely on a significant proportion of our foreign workers to do very difficult jobs which many Singaporeans will not want to do," Deputy Prime Minister Heng Swee Keat said in an interview with CNA last month.
Several trade and industry associations have also spoken out, saying that cutting the number of imported labour would have a negative impact on the economy.
Still, analysts said that beyond the Covid-19 pandemic, the economic model of relying on cheap labour is also not sustainable in the long run.
Pointing to how construction workers back in the 1970s and 1980s were largely sourced from Thailand but they now mainly hail from Bangladesh, Mr Seah said: "We would just keep looking for the next cheaper option. As those countries develop, as their salaries go up, fewer and fewer people over there want to come to Singapore to work in those jobs. So it's not very sustainable."
Singapore needs to position itself where its competitive advantage is not dependent on being able to import large numbers of cheap labour, said Assoc Prof Theseira, an economist at the Singapore University of Social Sciences. 
There is a danger of the Singaporean workforce losing its skills and productive capacity if it continues to rely on foreigners at all levels of the economic chain, he added. 
Changing the economic model will also help the country to build its resilience. 
The nature of essential services jobs is such that it cannot be outsourced and has to be done physically in Singapore, noted Assoc Prof Theseira. Ironically, it is the white-collar professionals who have been working from home during the circuit breaker that can be far more easily replaced as companies realise that these jobs can be performed remotely. 
 
With Singapore reliant on foreigners to perform these tasks — many of them Malaysians who cross the land border daily — a future pandemic causing Malaysia to close its borders again would mean that there may not be enough people here to carry out these essential services. 
That scenario may become a reality in the near future, warned Mr Zainal, who said that foreign workers may not be available if border and travel restrictions remain in place.
"In all services, we need a core group of locals who can perform those jobs. For a resilient society, there must be locals in all aspects," said Dr Ong.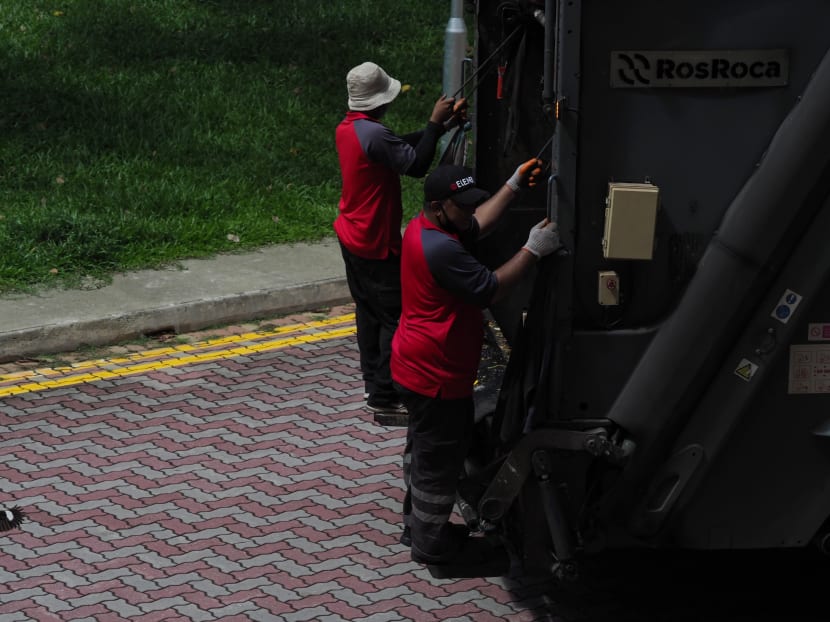 Beyond these pragmatic reasons, Mr Zainal said Singapore should start valuing vocational skills as much as academic intelligence and start shifting away from this long-held perception that manual labour is of a lower value. 
Concurring with Mr Zainal, Dr Ong said there should be space for Singaporeans with other comparative advantages so that they will not be pressured to fit into a mould that is not in sync with their natural abilities. 
"How can we expect all Singaporeans to be just good with our minds and not with our hands?" questioned Dr Ong.
Mr Seah, however, believes that decades of education and economic development has caused such a perception to be too deeply entrenched in Singapore, where it would be too difficult for the society to make a U-turn. 
The only way to get Singaporeans to take up these jobs is to redesign them, he said. 
PERENNIAL DEBATE ON MINIMUM WAGE
The implementation of a nation-wide minimum wage has often been cited as one way for Singapore to increase the pay of workers in the lowest rung of the labour market. 
Proponents of a minimum wage here argue that it helps to narrow the inequality gap and would force companies to innovate to increase their productivity. 
However, there has been a pushback from the Government each time the suggestion is raised due to the risk of such a policy causing Singapore to lose its competitiveness as well as resulting in a rise in unemployment rates among low-wage workers.
Instead, the authorities have championed its progressive wage model as a more sustainable alternative to a minimum wage policy.
Mr Zainal described the model as a "powerful" policy lever but he pointed out that there are still gaps that need to be filled.
For one, under the progressive wage model, the mandated annual wage increment of 3 per cent for workers in these sectors would not be enough to bridge the inequality gap. 
Some workers, especially the older ones, may find it difficult to fulfill the training requirements under the model, he added.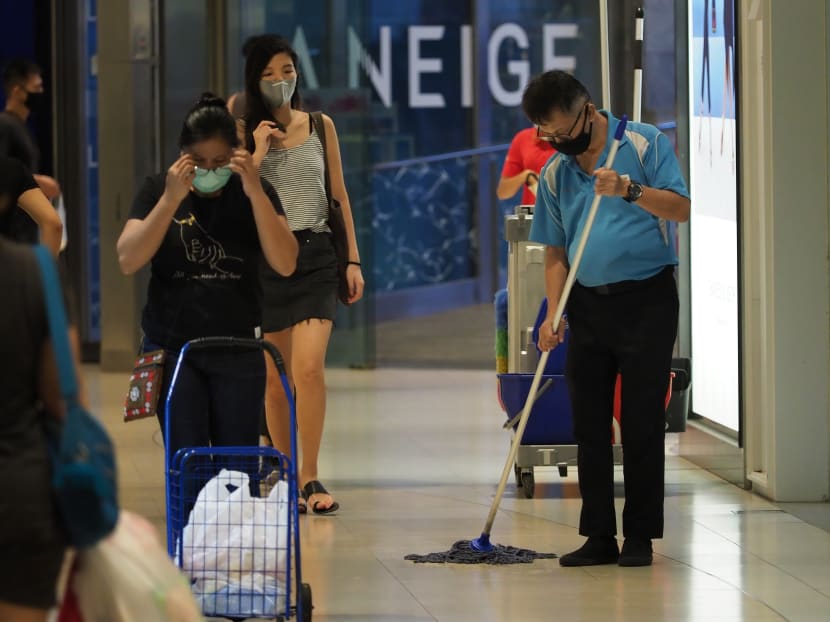 While the labour movement has managed to push for cleaners and landscapers to get a two-week bonus, akin to the 13th month bonus that other professions receive, such a benefit is still absent from the security industry. 
The progressive wage model, in conjunction with the Workfare Income Supplement (WIS) scheme, has made it such that employers can continue to pay the market wage justified by their workers' productivity level while the Government makes up the difference to pay workers a "living wage", said Prof Lim.  
The WIS scheme provides financial assistance for Singaporeans aged 35 years and above earning lower than S$2,300 a month. 
For example, a 55-year-old cleaner earning S$1,236 in basic monthly wage under the progressive wage model will receive S$110 in cash payments and S$165 in CPF top-ups per month, or about S$3,300 per year in total. 
While this scheme encourages older Singaporeans to continually stay employed, Dr Ong suggested increasing the wages of these workers to be on par with how much they are getting with government assistance. 
While the sum of money they get would be the same, Dr Ong said the recognition accorded to these workers and the effect on their morale would be completely different. 
"When it is structured as a form of financial assistance, the dignity of these people is just compromised and hence the jobs themselves don't look like dignified jobs because they need help to feed their families," she said. 
THE NEED TO RAISE PRODUCTIVITY  
To make essential services jobs pay better and become more attractive to Singaporeans, there is a need for companies to increase their productivity through job redesign and more widespread use of technology, said several analysts. 
Besides increasing wages, investing in new technologies can also help improve working conditions and make these jobs, which tend to be manual in nature, less laborious, noted Prof Lim and Prof Pang.
They cited the example of how rubbish collection is a one-man job in the United States, with one driver operating an automated truck. However, in Singapore, it is a three-man operation, where two workers, in addition to the driver, have to pick up the bins and deposit the trash into the truck.
Redesigning tasks to turn cleaners into hygiene specialists, where two workers skilled in operating complex cleaning machines can do the work of six low-skilled labourers, is another example, suggested Mr Seah.
Over the past decade, the Government has constantly urged companies here to innovate and digitalise as it pushes for economic restructuring. 
Mr Seah said the Government has been very supportive in encouraging companies to invest in technology through various policies, to a point where it may be starting to sound like a broken record. 
However, the liberal foreign manpower policy of the past decades has made companies here complacent, with some having the tendency to take the easy way out by hiring foreigners instead of investing in technology, he added.
Hence, the only way companies would be forced to do so is for the Government to restrict the importation of cheap labour, said Prof Lim and Prof Pang.
"If you allow third world wages, you will get third world productivity and working and living conditions," they added.
While the Government has been trying to accomplish this by gradually lowering the proportion of foreigners which companies can employ over the last few years, it often faces huge resistance from the business community.
But with the Covid-19 pandemic disrupting manpower staffing, supply chains and consumer behaviour, the urgency for companies to innovate to a more sustainable business model has
now become apparent, said Mr Seah.
"What would prompt them to change? Pain... This crisis did what many of our policymakers couldn't do for the past 10 years, to drive that change," he said.
However, companies told TODAY that they face genuine challenges in going high-tech. 
Mr Peter Peng, owner of cleaning company Abba Maintenance, noted that there are real limits to technology. 
While automated cleaning machines may be deployed to clean larger areas that are unobstructed, he felt that they are not as effective when cleaning small spaces or when there are obstacles, such as chairs, in the way. 
CHEAP SOURCING 'THE BIGGEST PROBLEM'
But the biggest problem cited by several business owners is the way the tender process is carried out in Singapore.
As tenders are usually awarded to companies with the lowest bid, the system here encourages a "race-to-the-bottom" phenomenon, where companies feel the pressure to put in low bids, and in the process shortchange their workers.
This applies even for some government tender projects, the businesses said. 
On its part, the Government has pledged to move away from "cheap sourcing" to "best sourcing" — after calls by several MPs over the years for it to do so. 
For example, during the Budget debate in 2012, Mr Zainal said the practice had encouraged service providers to lower their prices in order to win the tender. This resulted in the salaries of the low-wage workers being cut, and such "gross injustice and slavery of the poor must stop", he had added.
The Government's procurement portal, Gebiz, states that bids will be evaluated "not only in terms of price, but also whether they have complied to all the requirements of the tender specification, quality of the goods and services, timelines in delivery, reliability and after-sale service".
Mr Andy Seah, the owner of construction waste disposal firm Boon Wee Construction, told TODAY that he had seen tenders awarded solely to the cheapest quotation without any consideration for the means by which the service would be fulfilled.
Once, he lost a tender for a waste disposal project put out by a government agency despite offering what he felt was a competitive price, and found out that the winning bid was half of what he had proposed.
"Generally, if you ask me, they always go for the lowest price and they don't really care how you do it because you bid for the price, contractually you're bound...to oblige by that price," said Mr Andy Seah. 
The mindset of service buyers also impedes these companies from investing in automation.
Despite productivity gains allowing him to halve the number of his cleaning staff required at industrial estates compared to six years ago, Mr Tan Hang Kian, the owner of cleaning firm Clean Solutions, said that the value of contracts secured has actually stagnated or even fallen.
This is because some of his customers will pay for his service based on the number of cleaners he commits to the contract. So the more warm bodies on the ground, the higher the value of the contract. 
"There's no incentive to do more using fewer people, and there's no reason to incentivise workers," he said, adding that the productivity gains have mostly gone towards paying cleaners higher wages as spelt out by the progressive wage model.  
Security companies face the same problem. Mr Toby Koh, managing director of Ademco Security, said that building owners and condominium residents tend to think that they will be safer with warm bodies.
This reluctance to forgo extra manpower for more technological solutions has made the security industry a labour-intensive one, as compared to that of other countries where labour costs are comparatively higher.
Mr Koh noted that certain technological tools, such as intrusion detection systems, access controls as well as well-placed video surveillance equipment, can help security guards do a better job than if they are simply doing patrols around building compounds.
Mr K Sathiamurthy, who has been a security guard for the past 10 years, said that security companies are only interested in maintaining their contracts with building owners, and end up ignoring the welfare of the ground officers in the process. Photo: Raj Nadarajan/TODAY
Another problem, said Mr Zainal, is that the barriers to entry in these sectors are so low that there will always be companies with questionable practices that can come in and undercut their competitors.
He pointed out that service buyers are still quoting the tender prices from five years ago, despite the implementation of the progressive wage model, making it hard for cleaning, security or landscaping companies to provide quality services.
The nature of tender contracts is also one-sided, where service providers are disproportionately burdened to maintain their end of the bargain, he added. 
And the people ultimately hurt by these existing practices are the low-wage essential workers, who are often in the most vulnerable positions. 
Mr K Sathiamurthy, who has been a security guard for the past 10 years, said that security companies are only interested in maintaining their contracts with building owners, and end up ignoring the welfare of the ground officers in the process.
"They get the assignment when they bid low, but they are 'killing' us," said the 65-year-old. 
He recounted an incident where a client complained about him as he could not attend to the request of a VIP, which required him to go against the protocols laid out in the tender  contract.
He was suspended for 10 days, for which he received no compensation.
"Why are the agencies not supporting their own officers who gave their heart and soul to maintain their assignment?" he lamented.
WHAT NEEDS TO BE DONE
As the debate on minimum wage and the long-term challenges to increasing productivity through digitalisation continues, some analysts suggested that Singapore could aim for more reachable targets in its bid to reduce the reliance on cheap foreign workers and increase the wages for the positions they often fill. 
For DBS' Mr Seah, the Government needs to take the lead and change the way tender processes are carried out, so that companies in the private sector would follow suit as well.
"Factors such as the local manpower share, technology and productivity parameters should be given higher weightage and not as it is now, an excessive weightage on costs alone," he said.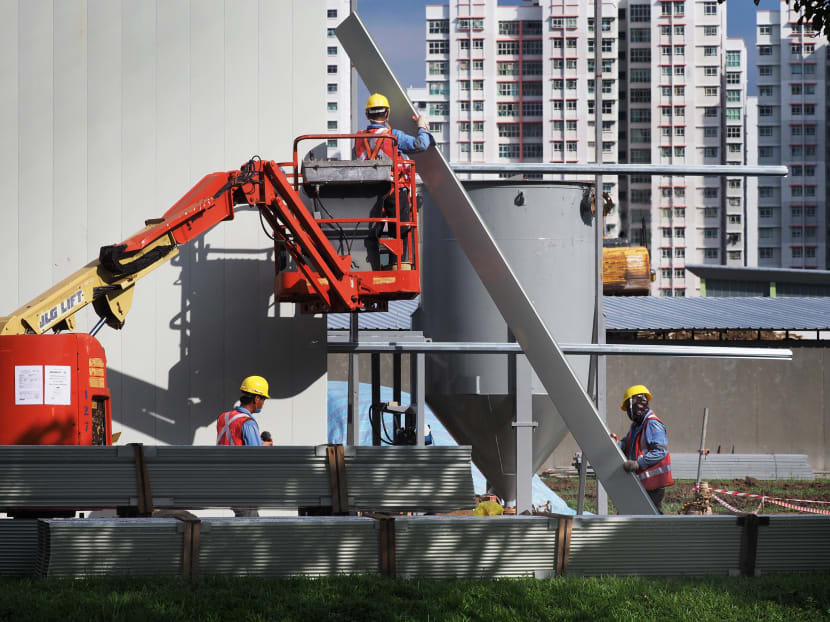 While the Government deserves credit for its economic restructuring efforts, Mr Seah said its policy on tender contracts are actually doing a disfavour to its productivity drive. 
"We need to focus more on local content. This has to become a Singaporean culture, a way of doing things," he added. 
Prof Lim and Prof Pang suggested that foreign worker levy rates for S Pass and Work Permit holders be raised in stages once the economy is in a better condition, when Covid-19 is no longer an immediate threat. 
While introduced initially to discourage companies from hiring foreign workers, they noted that companies have compensated for the increased levy costs by lowering wages.
But this time, the reduced demand for labour due to the Covid-19 pandemic will provide employers with a window to reorganise their manpower needs and train their workers.
Besides government policy, Dr Ong and Assoc Prof Theseira highlighted how Singaporeans could try to adjust their expectations in the delivery of these essential services, which are often available only because of depressed wages.
"For Singaporeans who have travelled to many other developed countries, the standard of cleaning and maintenance we have here is very good. But sometimes you wonder whether it's more than what you are willing to pay for. Because you can afford to have a bit of slack here and there in some areas and life still goes on," said Assoc Prof Theseira.
"Our sense of what is normal in terms of manpower staffing is very, very malleable."
It is ultimately about adapting to certain inconveniences that have been commonplace in other places such as Europe or Australia, like how shops are closed after certain hours, or queues at supermarkets are longer with fewer lanes opened.
For Singaporeans, that could mean not expecting services to be rendered 24/7 or having the streets cleaned and the grass pruned less frequently, said Dr Ong. The less frequent provision of these essential services would ultimately translate to higher wages for these workers, and also a better quality of life.
Dr Ong also cautioned against thinking about Singapore's reliance on low-cost labour in either-or terms. 
The suggested ways in which Singapore can move in this direction should be seen as little steps forward in a long process of calibration.
No one is asking for the transition to happen immediately, for cleaners to be suddenly paid S$5,000 a month or for Singapore to have zero migrant workers, she and Assoc Prof Theseira pointed out.
WILL CONSUMERS HAVE TO PAY MORE?
As the nation ponders over how to reshape the contract with its low-wage workers, one question inevitably arises: Will this translate to higher costs for Singaporeans?
However, analysts pointed out that the cost issue has often been viewed only from the perspective of what consumers have to pay at the point of purchase.
In fact, there are other types of costs that are less visible, which could be avoided if Singapore pays and treats its low-wage workers better, Prof Lim and Prof Pang pointed out. 
For example, it could translate to fewer government handouts meant for subsidising low-income Singaporeans, and paid from tax coffers. This, in turn, could lead to lower taxes and the average consumer may end up actually paying less overall. 
Had there been better working and living conditions for the foreign workers, the costs incurred from having to implement a circuit breaker, due to the rising number of Covid-19 infections in the dormitories, could have been avoided, the two academics said. 
Even from the conventional definition of costs, some analysts noted that if higher productivity could be achieved, higher wages may not necessarily lead to higher costs.
Prof Lim and Prof Pang added that having the Government enforce regulations to ensure that agents and employers are not exploitative, and allowing workers with accumulated skills to settle here permanently, may also help to reduce costs. 
Economics theories aside, Mr Zainal argued that a higher cost of living would be a moral necessity if Singapore were to move forward to become a more equitable society. 
"If you want everything to be cheap, what you are practically doing is asking (these low-wage essential workers) to shoulder the burden. If you want good service, you pay for it.
"If eating at a restaurant is too expensive, then order takeaway and eat at home. If hiring cleaners is too expensive, take ownership of the areas and clean yourself and reduce the number of cleaners required in the estate," he said.
For cleaners such as Mr Yeo, a better deal could mean getting his ideal pay of between S$1,500 and S$1,600 a month. 
It could also mean that Mr Sathiamurthy would be able to get an annual wage increment and 13th-month bonus to help pay for his large medical bills due to his high blood pressure condition, in addition to having a wife and children to support. 
He works 12 hours every day, opting to take a day off only once every three to six months, and earns about S$3,700 a month currently. 
"What is our benefit as front liners? We don't get any increments. We are still (paid) the same. Nothing extra," he said.