The Big Read: Under one roof — the perils and promises of living with strangers as co-tenants in HDB rental flats
SINGAPORE — The tension between Mr Lim and Mr Yap, co-tenants of a flat under a scheme for singles, was apparent during their interview with TODAY.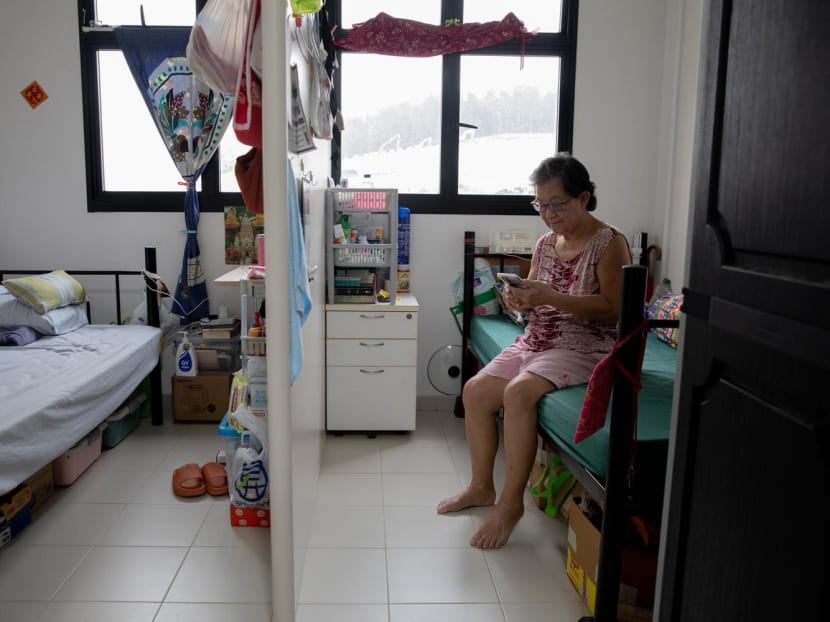 Singles who are strangers have long been assigned to live together as co-tenants in public rental flats under the Joint Singles Scheme
In the last year or so, the Government has announced two new pilots, one for singles to rent HDB flats with other strangers and another where single tenants can rent units on their own
A recent murder case involving two co-tenants however underscores the challenges that may arise from living with strangers 
Tenants who share a HDB rental flat with strangers told TODAY of some disputes they have had with their flatmates, but others also cited positive experiences
Experts interviewed by TODAY said that more can be done to improve existing rental schemes for singles 
SINGAPORE — The tension between Mr Lim and Mr Yap, co-tenants of a flat under a scheme for singles, was apparent during their interview with TODAY.
Mr Yap kept interrupting Mr Lim, sometimes making sarcastic remarks, making the latter hesitant to continue talking.
The interview had to be moved from their flat in Bedok to the void deck, and conducted separately to make it more conducive for the two men — who declined to give their full names — to speak more freely.
Their taut relationship is part of the dynamics of living under one roof with strangers, in their case as co-tenants under the Joint Singles Scheme Operator Run Pilot (JSS-OR).
Another co-tenant under the scheme, Mr Sankili Poothatthan Kalimuthu, had to put up with his flatmate's disruptive behaviour.
"He was always getting drunk and rowdy late at night," said the 50-year-old.
"One night, he invited two of his friends over for drinks and they were really noisy. I told him to control the volume since I had just come back from a day's work and needed the rest, but he scolded me instead."
Tensions between them came to a head when Mr Kalimuthu's flatmate threatened to hurt him, and he eventually requested to be moved out to a different flat.
On a brighter note, a co-tenant under the JSS-OR scheme could be that much-needed helping hand for their single flatmate in times of trouble.
That was the experience of a 50-year-old tenant who wanted to be known only as Mr Vincent. Once, he was so ill with diarrhea that he could not move or go about his daily activities as usual.
His flatmate — who could be inconsiderate at times — was the one who helped him with his daily needs, including preparing his meals, and calling the ambulance when he saw Mr Vincent becoming weaker and could not move.
"I told them I was okay, so I didn't have to go to the hospital. But it was very nice of him to take care of me while I was sick," said Mr Vincent.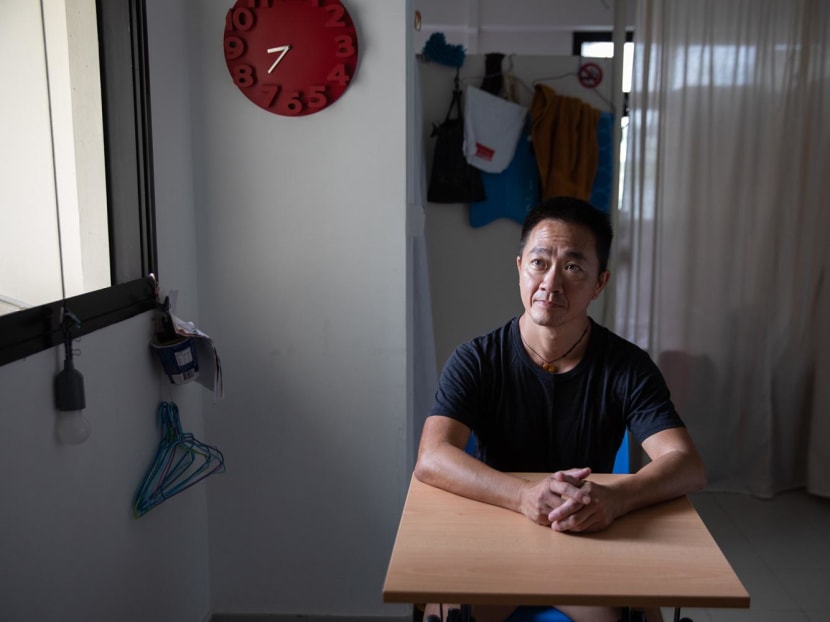 TODAY's interviews with 10 JSS-OR tenants found that while there are indeed instances where the flatmates do not see eye to eye, the majority said they can co-exist and get along. 
To achieve this, the tenants said they have had to "'give and take" often and "close one eye" or tolerate their flatmates' quirks and different lifestyles.
The issue of singles as co-tenants in a flat has come under the spotlight recently, amid the launch of a new scheme and reports of squabbling flatmates.
Two weeks ago, the Housing and Development Board (HDB) announced a new pilot, the Single Room Shared Facilities scheme.
Under the pilot, which offers singles another option apart from the JSS-OTR,  tenants will have their own bedrooms but share facilities with about 20 others. These facilities include toilets, kitchens and laundry and activity rooms.
As lower-income singles ponder which scheme holds better promise for them, one recent incident offers a sobering reminder of the perils that co-tenancy may bring. 
Last week, a 59-year-old man was charged with the murder of his co-tenant in a rental flat at Redhill Close.
Members of Parliament such as Mr Louis Ng of Nee Soon Group Representation Constituency and Mr Lim Biow Chuan of Mountbatten Single Member Constituency had also spoken up in March 2021 on strangers who had to share a "small space" as co-tenants in public rental flats "not getting along" with one another and thus having "frequent quarrels".
They urged HDB to make exceptions to allow singles to rent a flat alone in some cases. 
In response, Minister of State for National Development Muhammad Faishal Ibrahim told the House that flat-sharing allows the Government to help as many who need a public rental flat as possible "within our limited resources". 
To provide more privacy, HDB has been building new one-room rental flats with partitions, including some that have internal doors to separate the sleeping areas.
For older one-room rental flats, HDB will install partitions at the tenants' request.
He also announced that the Government will launch the JSS-OR scheme later that year.
JSS-OR SCHEME TARGETS SINGLES WHO CANNOT FIND FLATMATES
Launched on Dec 17, 2021, the JSS-OR scheme houses two or more lower-income singles in a one or two-room public rental flat, depending on flat size.
Under this scheme, singles can apply for a rental flat without having to find a co-tenant as they will be paired up with other applicants who are strangers.
Pairing up strangers in rental flats is not new.
Though singles who apply under the long-running Joint Single Scheme (JSS) launched in 1990 are encouraged to find co-tenants to rent with, HDB will provide them with viable single co-tenant applicants if they cannot find any. 
The JSS-OR scheme differs from JSS in that it is run by in-site social service operators who regularly organise activities for tenants and mediate between them should issues arise. 
There are two social service operators managing the flats under JSS-OR scheme: New Hope Community Services, which manages a block at Bukit Batok West, and Good News Community Services, which runs the two blocks of flats at Buangkok Crescent and Bedok North Road.
Both the JSS and JSS-OR schemes require tenants to be Singapore citizens and at least 35 years of age.
While the 10 tenants whom TODAY spoke to come from diverse backgrounds, age, gender, and ethnic groups, the majority of them are either lower-income earners or retired. The tenants were interviewed at their flats in either Bedok North or Bukit Batok West.
Despite the challenging experience with his previous co-tenant, Mr Kalimuthu described the JSS-OR scheme as a "good opportunity" which provides him with a proper shelter so that he could focus on improving his finances.
Mr Kalimuthu, who has a wife, a son and a daughter, all of whom live in India, had rented two subsidised public rental flats before moving into a unit under the JSS-OR scheme six months ago.
During the pandemic, he had been laid off as a software engineer, resulting in a loss of steady income. 
To make matters worse, the monthly rent for his rental flat at that time went up from S$100 to S$200, which was more than what he could afford. It left him with no choice but to give up the flat and be homeless. 
Referring to his homeless experience, Mr Kalimuthu said: "One night I was sleeping outside the Fullerton Bay Hotel, the second outside the Marina Bay Sands hotel and the third near the casino at Marina Bay."
On the third night of rough sleeping, four policemen approached him and woke him up to ask about his housing arrangements, and subsequently helped him in finding affordable housing options.
"If anything had happened to me when I was sleeping outside in public, nobody would know. But now in this house, I feel very safe sleeping and it gives me a peace of mind," said Mr Kalimuthu.
Aside from homelessness, other tenants interviewed cited poor financial circumstances and a lack of housing options for joining the scheme.
Mr Vincent, the 50-year-old tenant, said that he had been staying at his parents' flat until they decided to downgrade to a smaller unit.
He applied for the JSS-OR scheme late last year and received approval within two weeks.
He cited cost as the main reason, since he is currently unemployed, after quitting his job as a freelance caregiver due to a back injury. He pays S$90 per month for the flat rental, including utilities. 
For Ms Doreen Chan, her fraught ties with her family led her to apply for the scheme. The 76-year-old telemarketer moved into her JSS-OR unit at Bukit Batok West in September last year. 
"My son kept chasing me out of the house. My family problems were really bad … (it was classified as) a 'critical family case'. So my social worker fought hard for me to get a place under this scheme, even though my income exceeds the cap for rental flats for lower-income singles," said Ms Chan.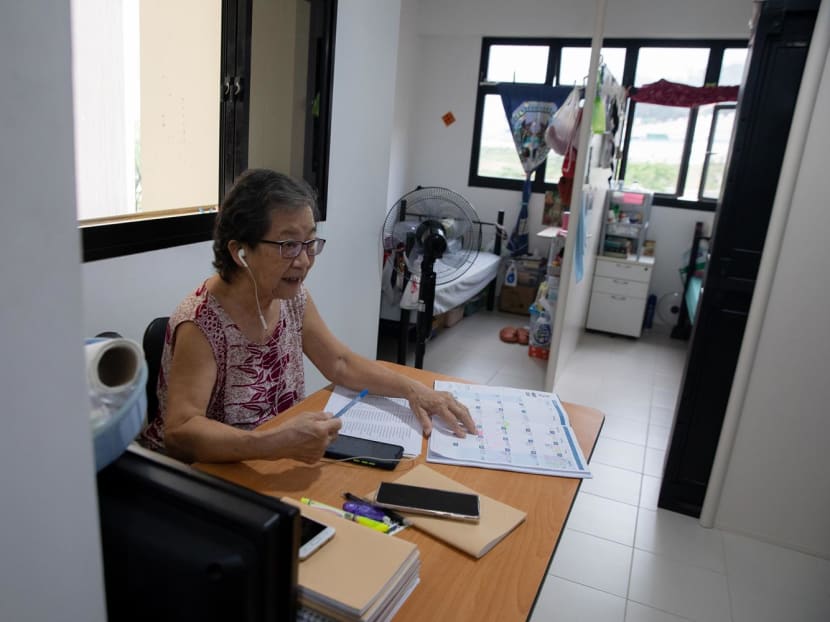 Though most of the tenants under the JSS and JSS-OR schemes earn less than S$1,500 per month, the applicants are not assessed solely based on their incomes, said HDB on its website.
For the aforementioned Mr Lim and two other tenants — who wanted to be known only as Mr Nizam and Ms Rodiah — the JSS-OR scheme is an affordable alternative to the previous flats that they had rented in the open market.
Mr Nizam, a 38-year-old technician and the youngest among the tenants interviewed, said that he had moved out of his parents' place when he was 20. 
Since then, he had been renting in the open market before securing a subsidised rental flat under the JSS-OR scheme in February last year.
His aunt had introduced him to the scheme, which attracted him due to its low rents.
"I pay a monthly rental of S$105.50 now. Last time, I rented a room and it cost me about S$700 to S$800 per month," said Mr Nizam.
His flat comes equipped with some furniture and appliances, including a mini-freezer, washing machine, induction cooker, one foldable table and two plastic chairs, and a wardrobe for each tenant.
Mr Lim had also rented from the open market before his social worker applied the scheme for him, due to his inability to keep up with the monthly S$600 rent after he retired from working as a product designer.
The 65-year-old moved into his current JSS-OR apartment in January this year, and lives with two other flatmates, Mr Yap, the one who is not on the best of terms with Mr Lim, and Mr Wong.
Mr Yap told TODAY that he used to live with his parents until their death.
"I applied for the scheme after my parents passed away. My siblings and I had sold my parents' house and split the money among ourselves.'
The 63-year-old taxi driver said that he applied for the scheme since he considers himself to be a friendly and kind person in general, and would not have problems living with people whom he did not know. 
Aside from the more affordable rent, the fact that a tenant does not have to first find a flatmate is another reason people such as Ms Rodiah opted for the JSS-OR scheme.
After her divorce, her husband received custody rights of their two children, who are now in their 20s, and continued to live in their matrimonial home. 
She then rented a room at her friend's place for several years at a monthly rental of S$600, until the woman decided to sell her home last year.
"I couldn't find a stranger or someone to share a rental flat with, so my social worker introduced me to this scheme. I pay S$146.50 rent every month now," said the 63-year-old who works as a cook.
She currently lives in a unit with two other women co-tenants, one in her 70s and the other in her 90s, and are both not working.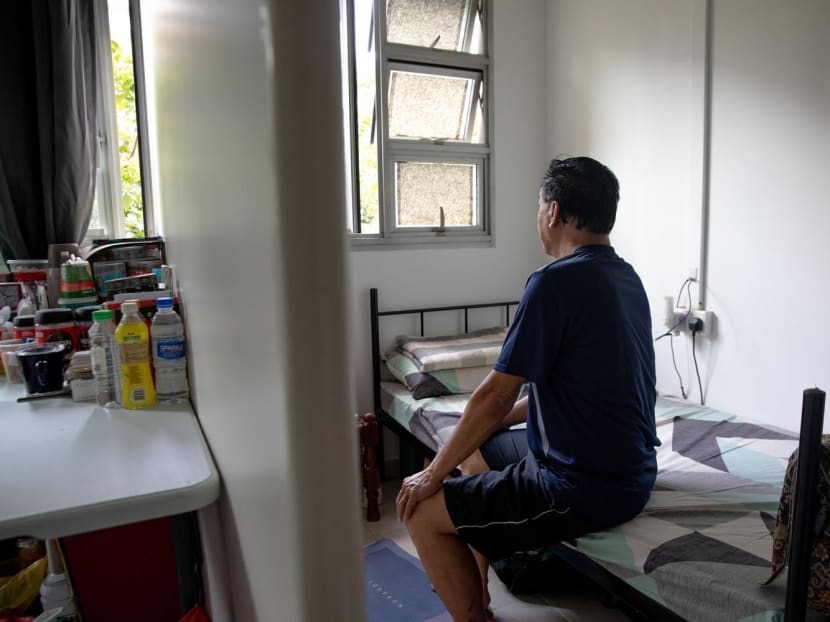 THE BAD AND THE UGLY
The majority of the tenants who spoke to TODAY said that small arguments and disagreements are part and parcel of living with strangers, but some have had it worse than others. 
Mr Kalimuthu said that his sour relationship with his ex-flatmate reached a point of no return when the latter insulted his mother and threatened his life.
"He had gangster connections and when he was drunk, he threatened to gang up against me and beat me up. I was so scared but I didn't want to fight him," said the 50-year-old.
Fearing for his safety, Mr Kalimuthu called the social service operator at his block, who helped him file a police report. 
He was then placed in an interim flat before moving out to a new apartment with a new flatmate. 
Another tenant, Mr Hadi, recalled that his ex-flatmate had problems controlling his bladder, and would wet his bed almost every day.
He said that the smell of urine was so strong that it would irritate his eyes and cause them to water.
The pungent stench of urine was still lingering in his small unit for two when Mr Hadi spoke to TODAY, despite the fact that his co-tenant had moved out about two weeks earlier.
To make matters worse, the co-tenant was dirty, untidy and refused to be considerate, said Mr Hadi.
"He dirtied the kitchen and the toilet but didn't clean, so I cleaned them. I am a clean person by nature so I cannot stand a dirty living environment," said the 62-year-old delivery driver.
He added: "One day, he (flatmate) just snapped at me. He said, 'why do you keep bringing up about me peeing all the time?' So I … didn't bring up the matter anymore."
Mr Hadi said that when he brought the matter up to the social workers operating the rental flats, they tried to advise the co-tenant but it fell on deaf ears.
"The social workers even supplied diapers for my ex-co-tenant but he refused to wear them," he said.
While some tenants request direct intervention from the social service operators and law enforcement, others opt for a softer approach.
Mr Vincent said that he had complained to the operator about his flatmate's refusal to be more considerate and make less noise when he returns home late at night, but requested them to advise the man without mentioning his complaint. 
"My flatmate would slam the door of the flat when he's angry at me. The social workers helped me to talk to him but it didn't really help much in changing his behaviour. But it's good to have them around to talk to him," he said.
All of the tenants said that the response time of the operators is always prompt. 
In response to TODAY's queries, HDB said that this is possible since the operators are stationed on-site. 
"Although disagreements may still occur from time to time among the tenants due to differences in living habits, most of these disputes were resolved amicably.
"In particular, early intervention by the operator helps to prevent the disputes from escalating. If necessary, the operator can also make changes to the flat sharing arrangements," said HDB, which had responded on behalf of the operators. 
Speaking to TODAY, Good News Community Services — which runs the JSS-OR pilot at the Bedok North and Buangkok sites — said that tenants are informed prior to moving in that they will have to raise an issue with the operator if they need help in settling disputes with their co-tenants.
Social workers will then attend to the tenant's feedback by engaging those involved in the dispute, which are commonly about hygiene and cleanliness, use of common areas or items, and noise.
The operator said that the time needed for resolution of the disputes depends on the nature of the disputes.
"Most disputes can be resolved quickly because the social workers are on-site and able to respond quickly to disputes," it added. 
THE SILVER LINING
Despite the dark clouds hovering over some co-tenants' flats, others alluded to the silver lining in the JSS-OR scheme.
A tenant, Mr Tan Feng Ann, told TODAY in Mandarin that the best part about living in a unit under the scheme is having access to an on-site operator.
In case of fights and disagreements, office staff are able to head over quickly to offer assistance, he said, contrasting it with the experience of living in other models of rental housing, where "even if you get beaten to death, nobody knows".
"Now, they know everything," he added.
Residents like Mr Tan, who spoke positively about the scheme, emphasised the need for mutual respect and to "live and let live".
"You should know we're staying in rental housing. This is a shared home, not your own house," he said.
Retiree Mr Teo, 73, lives in a unit under the JSS-OR pilot with two other housemates.
He had been watching videos on his mobile phone, with his earpiece plugged in, when TODAY visited his unit on March 24.
This, in spite of the brand new television sitting in the living room, which was provided by the operator when the tenants moved in.
He tries to use his earpiece while watching videos, when his housemate is also home.
"Wherever there are human interactions, it's about mutually giving in to each other," he told TODAY in Mandarin. If one does so, the experience of living together becomes more pleasant, he said.
"Don't be so picky and calculative over small things," he added, referring to doing household chores and mopping the floor.
Mr Teo had moved in in September last year, a few days apart from his second housemate. Their third housemate moved in two months after. He could not recall encountering much conflict or disagreements with his housemates since they started living together.
Other residents of the JSS-OR scheme also spoke fondly of instances where they were shown kindness and received help from their housemates.
Apart from Mr Vincent, whose housemate took care of him when he was very ill, Mr Yap and Mr Lim had good things to say about their third co-tenant, Mr Wong.
Mr Lim recalled how Mr Wong would often check in with him before leaving the house, to see if the former needed help with buying any items, calling his housemate "very helpful".
Mr Yap also referred to Mr Wong as "very good", sharing how he takes good care of his belongings and space, and does not take or touch Mr Yap's items.
Ultimately, having a shared understanding and consideration for each other is crucial, the tenants said.
"Instead of thinking what their shortcomings are — first ask yourself where your own faults lie," Mr Teo said. If one practises mutual respect and knows how to be content, one will be happy, he added.
When asked if he would consider the new HDB scheme where tenants have their own bedrooms had it been an option available to him last year, he told TODAY that he would still opt for the JSS-OR pilot.
"Even if I had a choice, (I would still choose) the two-person option," he said. 
"Why live alone? If you faint, nobody will know. When there are two of you, you can take care of and look out for each other."
NEW HOUSING SOLUTIONS FOR LOW-INCOME ELDERLY SINGLES
As Singapore ages rapidly, more than 900,000 — or roughly one in four Singapore citizens — will be aged 65 and above by 2030, with an estimated 83,000 seniors expected to be living alone, according to data released by the Ministry of Health in January.
This means that even more lower-income elderly singles will need support with their accommodation needs. 
While experts interviewed by TODAY said that the JSS-OR pilot is a move in the right direction, more could still be done to improve the existing scheme.
"Based on what is currently on offer for the JSS-OR pilot, it is a good starting point," said Associate Professor Kang Soon-Hock, vice-dean and head of Behavioural Science Core at the Singapore University of Social Sciences' (SUSS) School of Humanities and Behavioural Sciences.
"One future direction could examine the option of providing some form of limited home care services to elderly beneficiaries who may have minor difficulty with some activities of daily living, as I do not believe this is being offered currently for the pilot."  
Doing so would allow these elderly beneficiaries to continue living within the community, he added.
Experts also highlighted the advantages of integrating housing for low-income elderly singles into the wider community.
Dr Kelvin Tan, who is head of the Minor in Applied Ageing Studies programme at SUSS' S R Nathan School of Human Development, alluded to the benefits of an integrated and intergenerational assisted living housing model.
Citing the upcoming Harmony Village@Bukit Batok and Queensway Canopy Build-to-Order HDB projects — which will feature Singapore's first community care apartments for seniors — he added that it would be interesting to see such assisted living housing models integrated into mature estates, and to observe how singles in Singapore can be better supported through the introduction of these units.
Associate Professor Laavanya Kathiravelu at the Nanyang Technology University School of Social Sciences referenced overseas models of rent-subsidised or rent-controlled apartments as a way to enable low-income individuals to live in neighbourhoods that have high rentals on the open market, or that are otherwise typically only affordable to high-income working professionals. 
"This also ensures a more diverse neighbourhood, and could prevent the formation of clusters around socio-economic or generational divides," she added.
Furthermore, while the system of matching provided by the operator in the current JSS-OR pilot would help reduce the need for singles to find co-tenants, Assoc Prof Kathiravelu said that a trial period — allowing housemates to live together for a few months — could also be considered.
"If the arrangement is not working for any party, they should be provided an avenue to leave or (be assigned to) a new housemate without penalty."
This could encourage higher take-up rates for the scheme, while also assuring tenants that they would have some choice on who they live with, said Assoc Prof Kathiravelu.
Dr Tan Ern Ser, an associate professor at the National University of Singapore's Department of Sociology, also suggested that it would be ideal if applicants to the scheme are first better matched with one another prior to being housed together.
Beyond ensuring a good match, Dr Tan pointed to the importance of having programmes, as well as public areas and amenities, that encourage social interaction and the forging of stronger friendship ties and mutual support among residents.
"In short, to facilitate good relationships, rather than having to deal with the symptoms of bad relationships," said Dr Tan.
"I think when people form social ties, and build a community, they tend to be more reasonable with one another and observe community norms."