The Big Read in short: The future of work has arrived early — are we ready?
SINGAPORE — Whenever employees at DBS Bank's office in Marina Bay Financial Centre feel like they need to take a break from work, they can head to the 42nd floor of the building, where, tucked in a corner away from plain sight, is a "wellness space".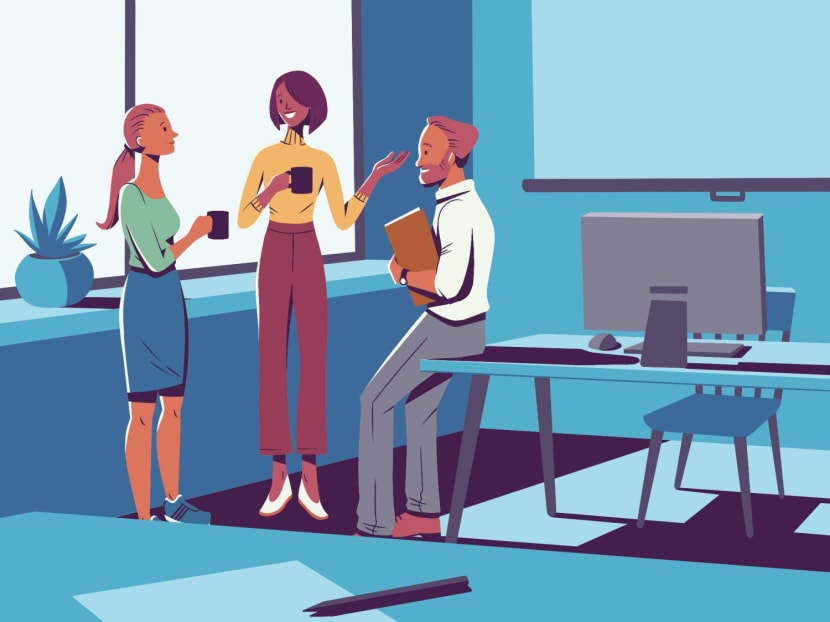 This article was written in partnership with DBS Bank. 
Each week, TODAY's long-running Big Read series delves into the trends and issues that matter. This week, we look at how the future of work has come early and what it entails, as companies and workers adjust to it. This is a shortened version of the full feature,​ which can be found here.
With offices upgrading their spaces to prepare for long-term hybrid work, the future of work appears to have come early 
This is because the pandemic has conditioned people's habits and expectations, and turned hybrid work into the new normal
Offices of the future are space where workers collaborate and socialise, with individual work easily done at home 
However, there are obstacles that need to be overcome. These include how to foster trust between employees and employers, set boundaries between work and home, and build office camaraderie    
HR experts say that these issues need to be tackled, because like it or not, this new mode of work is here to stay
SINGAPORE — Whenever employees at DBS Bank's office in Marina Bay Financial Centre feel like taking a break from work, they can head to the 42nd floor of the building, where, tucked in a corner away from plain sight, is a "wellness space". 
This space — about the size of a badminton court — houses, among other things, sleep pods where workers can take a short nap, a reading corner with relaxing music and yoga mats in front of a window with sweeping views of the city skyline. 
Mr Erwin Chong, Group Head of DBS corporate real estate strategy and administration, told TODAY that this space has been set up in July as an "experiment", in a bid to make the workspace feel more like a home office.
The "wellness space" is to ensure that employees, who may have been used to the creature comforts while working from home at the height of the Covid-19 pandemic, can still enjoy similar conveniences in the office, he said. 
He added that the space will be up until September, after which his team will work on possible improvements.  
With the return-to-office phase continuing apace as Singapore settles into endemicity, offering workers a space that seems a bit like home has taken on a greater significance for companies in recent months. 
Mr Chong said that the space is meant to make DBS employees "feel like wellness is part of the culture, and that breaks (from work) are important".
He added that the space is intentionally situated in an inconspicuous corner so that workers can take their breaks out of their bosses' sight, and hence "without judgment". 
"It's okay (for employees) to take a break … to slip into a different mode to recharge for a while, and then getting back to work," he added. 
DBS is not the only company to have embarked on workspace transformations post-pandemic.
Law firm Dentons Rodyk has revised its office layout to take into account some of the pandemic-induced changes in the legal sector. These include having its lawyers working remotely while Covid-19 was raging, and the emerging practice of virtual court hearings. 
Chief operating officer and senior partner Loh Kia Meng said that the workplace underwent renovations, which were completed this month. The new-look office now has rooms which could screen virtual court hearings. 
"Now you don't have to queue for one hour in court, just to have a 15-minute audience with the judge," said Mr Loh. 
"We needed to have virtual hearing rooms, set up with all the computers…  and it's a new thing that we needed to do."
The changes adopted by these companies reflect a trend of how organisations are redesigning their office spaces to prepare for a future where hybrid work is a permanent fixture. 
This comes as more employees are open to, and at times demanding for more flexible work options, after having seen them working well during the pandemic.
By all accounts, the future of work has arrived early. 
Beyond flexible work arrangements and redesigned office spaces, what does it truly entail, now that Covid-19 has upended traditional work structures and arrangements?
Apart from incentivising employees to return to the workspace, it is also imperative that the mindsets of both employees and employers undergo fundamental changes, said human resource (HR) experts. HR policies may also need to be reexamined. 
When "homeworking" was first forced upon the world after Covid-19 emerged more than two years ago, there was initial pushback from both employees and employers, who had been accustomed with the traditional work-from-office model. 
But expectations of the workplace now could not be more different, with many employees clamouring for hybrid work arrangements — where workers have the flexibility to work from anywhere — to be the new normal. 
Indeed, because of this push towards hybrid work, the office of the future will no longer be seen as a space for day-to-day work, which many have successfully accomplished from their homes. 
In the past, when working from home was a rarity, many offices were designed with the "homogenous" look — with rows of work cubicles and a few meeting rooms.
DBS' Mr Chong said: "The challenge with hybrid (work arrangement) was that there's a differentiation between what you want to do in the office, and what you can do at home." 
Today, those who work from home will not want to return to the office just to fulfill a job role that they can easily do at home. 
"If our workspaces are just lots and lots of desks, when you come back to the office you'll wonder, 'work from home, work from office, what's the difference?'" Mr Chong added. 
Thus, firms such as DBS and Dentons Rodyk have begun to address this issue, by ensuring their workspaces enhance the work experience, to give the office an edge over working from home.
This will incentivise more employees to return to the workspace, they believe.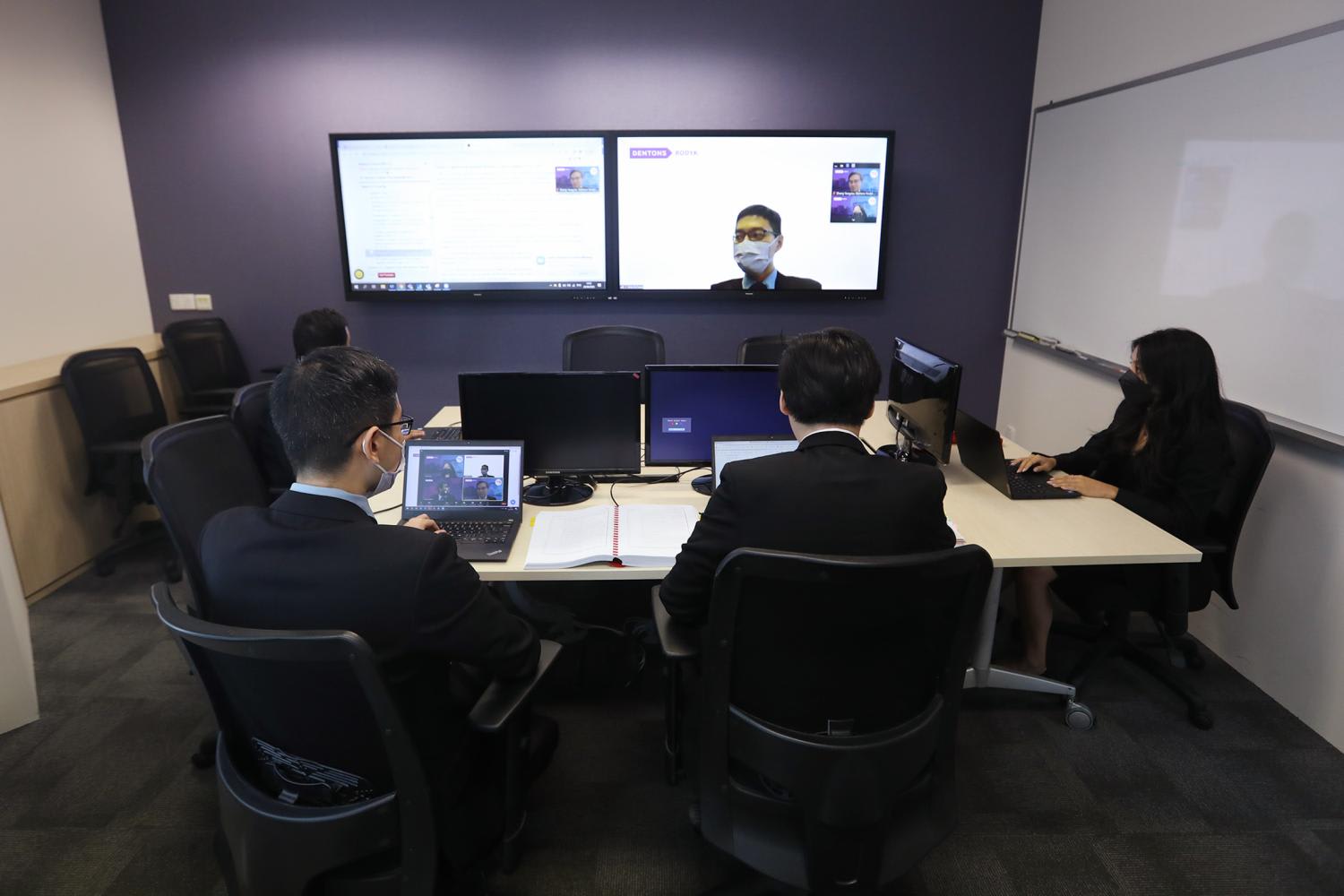 But whatever employers choose to do, one thing seems certain: Hybrid work is here to stay and firms can only ignore it at their own peril.
"I encourage companies not to push back and think that the good old days will come back again," said Ms Carmen Wee, founder and chief executive officer of HR advisory services firm Carmen Wee & Associates. 
"The earlier they accept it, the better, and it is important for them to shift and pivot… to the new work norms."
THE FIRST STEP: A REDESIGNED OFFICE SPACE, NO 'ONE SIZE FITS ALL' 
In the future of work, the office space has to evolve in order to enhance collaboration among the company's employees — something which some employers are now cognisant of. But for DBS, the push to increase interactions in the office took place even before the pandemic.
Since 2016, Mr Chong and his team had already been experimenting with how to make the workspace at DBS one that mirrored a "start-up culture", where employees were interacting more with each other in the flesh. 
He implemented a concept called "JoySpaces". He began experimenting with his own team, where employees worked around a large "dining table" instead of their own individual desks. 
His objective: To reduce the number of emails sent among themselves, and to bring the team closer through collaboration. 
Sure enough, the number of emails sent dropped by 30 to 40 per cent and the interactions between team members increased significantly. 
The success of his experiment inspired Mr Chong to scale the idea of workspace redesign across the rest of the bank. 
"We wanted to give employees in this space a choice of where to sit. The other principle of choice was that I had to create a variety of different spaces, the dining table wasn't enough, I still needed to find a corner for people to have calls," he said. 
"We needed breakaway spaces which allow for discussions which could be noisier, versus spaces which are quiet. We also needed to cater spaces for people to meet in groups of four or five, or just two people or even just for individuals."
Due to the prevalence of hybrid work now, companies have also started to downsize their office spaces.
At Dentons Rodyk, Mr Loh said that its office at UOB Plaza had been pared down from five to three floors as part of its renovations this year. 
"Instead of previously one central office, we have decentralised offices now," said Mr Loh, referring to the home offices of the 450 staff at the firm. 
"Last time, you would own a cubicle, but now that we have gone hybrid, all the spaces are using clean desks, and you share spaces."
He added that the previous workspace could hold up to 450 people. With the current arrangement and a smaller floor space, potentially up to 650 people can make use of the office in split teams.  
Mr Simon Raper, head of workplace strategy for property agent Savills Singapore, said that the office has to be a place where employees want to go, rather than need to go, because "the need is not there anymore" since work from home for prolonged periods has proven to be feasible. 
To draw people back to the office, a company has to sell an "experience" where there is, for instance, better technology or amenities that would make work easier than if it were done at home. 
This could consist of hybrid meeting rooms, sound-cancelling phone booths, or larger work screens. 
"When we talk about flexibility and choice, it's not just about working from home, it's about when you are in the office you have flexibility and choice behind where you work, and what technology you use to enhance what you do," Mr Raper said.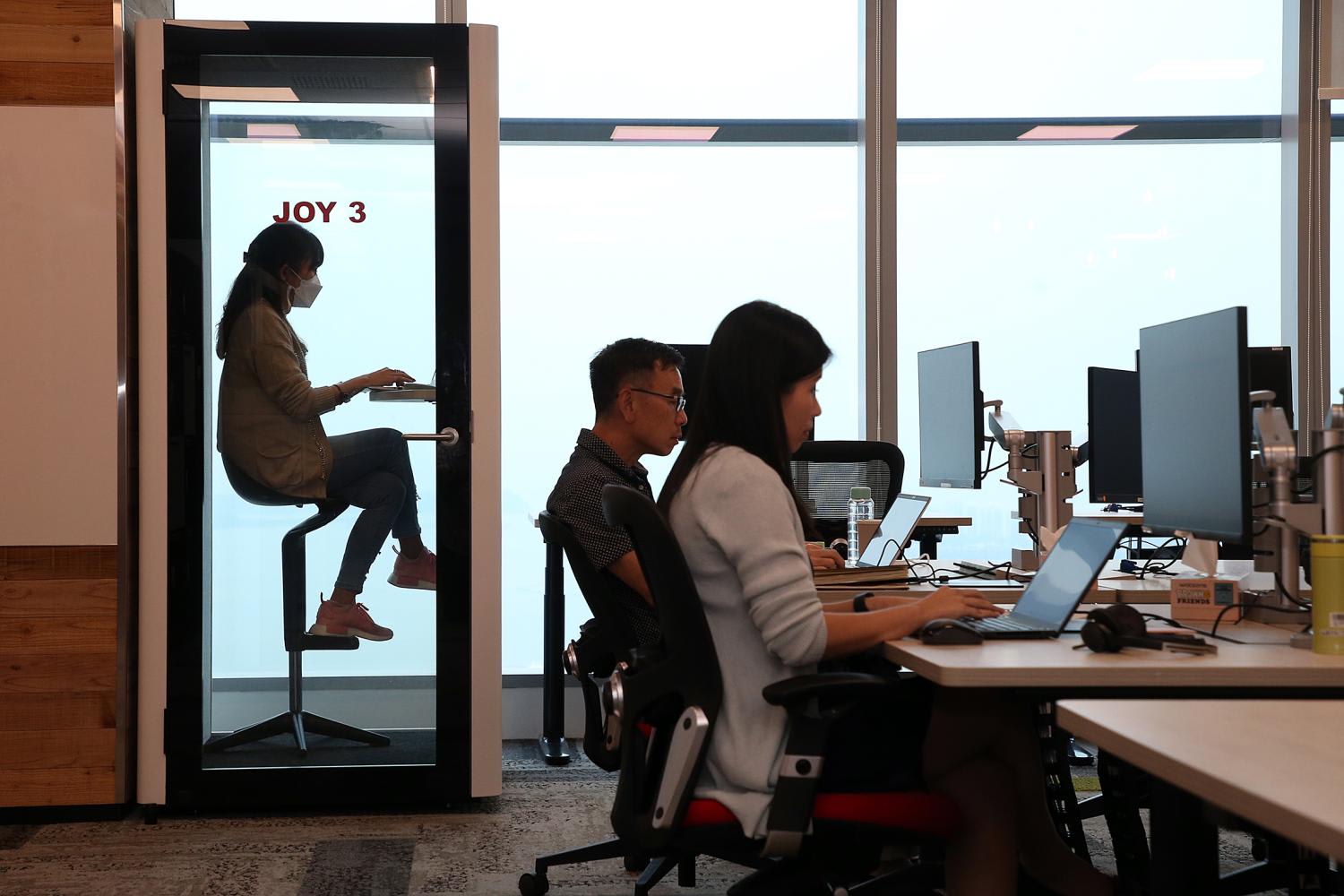 NEW MINDSETS NEEDED: EMPLOYEES, BOSSES HAVE TO MEET IN THE MIDDLE
While the workplace can change its hardware to attract workers back to the office, the future of work will still have to grapple with the fact that bosses and employees will be physically more distant than ever before. 
Hence, the element of trust is crucial for the work relationship to prosper, said the HR experts. 
To build trust, the yardstick for employee performance needs to be shifted, said veteran HR practitioner Adrian Tan.
"Companies have to quantify exactly what is expected of the people to deliver," Mr Tan said.
For instance, bosses can be more outcome-driven, by assessing an employee's performance by the quality of his or her work, rather than the number of hours spent in the office. 
However, as employers learn to adapt to new working styles, employees also need to be realistic with their expectations, and communicate them clearly as well. 
Ms Angela Kuek, the director of HR consultancy The Meyer Consulting Group, said that trust is a two-way street, and the ball cannot just be placed in the employer's court.
She said both employers and employees should treat the idea of trust as a "bank account", where employees need to first prove that they are able to deliver results before asking their employers for benefits such as more days working from home. 
OBSTACLES TO REALISING THE FUTURE OF WORK AND WAYS TO OVERCOME THEM 
As promising as the future of work sounds, and as exciting as it may be for employees looking forward to more flexibility, there are several practical challenges along the way: 
1. Onboarding new hires 
According to Savills' Mr Raper, his interaction with younger, newer employees yielded a surprising insight — some actually preferred to be in the office.
"They are saying that they need to come to the office because we learn by osmosis… (they) learn their craft by listening to what senior (employees) are doing," he said. 
Mr Tan noted that this learning process may not be as simple as just calling a new hire back to the office daily, because other colleagues may still be working from home.
The firm can set aside a budget — such as for team lunches and gatherings — to help new hires to be integrated into the company culture in other ways, he said. 
"Those are benefits that the company should finance because it will encourage behaviour that will ultimately lead to longer retention," he added.  
2. Building company culture and camaraderie
While it is important for a strong company culture to emerge, working virtually has made this harder to achieve, HR experts and employers noted. 
Ultimately, face-to-face bonding helps to foster the strongest relationships, and this has been seen in different contexts outside of the workplace, such as at schools, said Mr Tan.
"When it comes to bonding, there is definitely merit in meeting face-to-face, you can observe body cues, you may, due to peer pressure, pay more attention (during a meeting)," he said. "If you're doing remote work… you probably need more virtual meet-ups to compensate for one physical meet-up."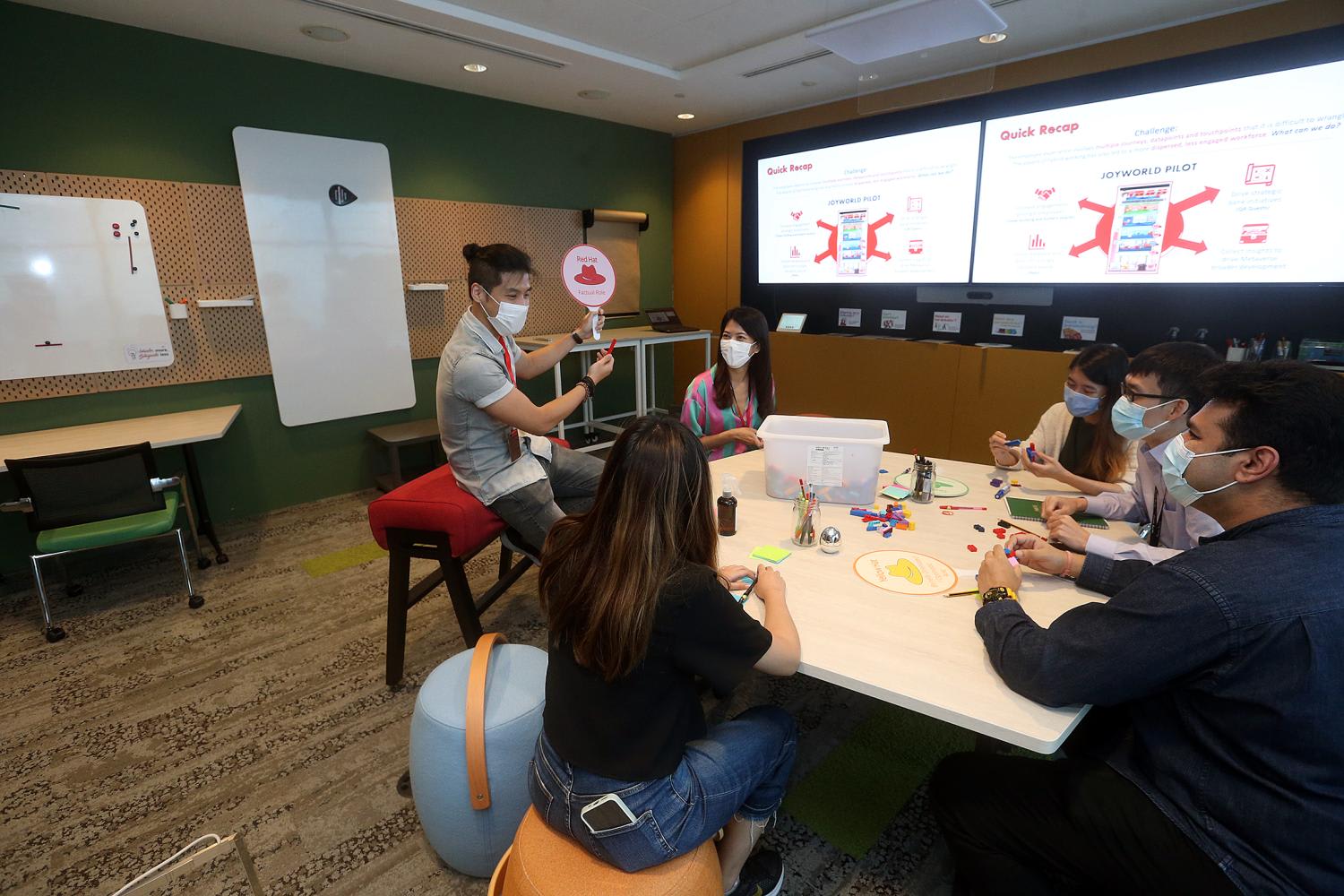 To encourage employees to return to the workplace, some companies have set out to provide benefits such as pantries with free flow drinks and snacks, and even pool tables and gaming consoles for recreation.
While these can help excite employees in the short term, it is not a permanent solution to building a stronger company culture. 
"You can give the best perks and a superficial pantry and office renovation, but if the nature of the work doesn't change, it's not challenging, and there are no opportunities to grow, there is no exposure… employees will make up their minds and leave, it won't take them very long," said Ms Wee. 
3. Setting boundaries between work and home 
With the future of work likely to feature a hybrid arrangement, employers and workers respecting each other's boundaries will be key to a pleasant working environment.
Indeed, the apparent lack of boundaries between work and home had been a recurring complaint of many employees as they worked remotely during the pandemic. Many ended up being overworked as they were afraid to say "no" when asked to do office-related tasks during their personal time. 
What can be done to prevent this blurring of lines from becoming a long-term bugbear of employees? 
Ms Kuek said that it boils down to employees letting their bosses know about the various commitments that they have, rather than depend on the discretion of the employers. 
For instance, if a working mother has a young child she needs to put to bed, she can tell her employer that any urgent matter can be settled either before dinner, or later in the night after the child is already asleep.
"If the boss is infringing (on personal time), then it may be time for a weekly or quarterly catch-up… employees have to take the initiative to talk to the boss about it," she said. 
DBS' efforts to create a future-ready workspace
In 2016, DBS experimented with a new workspace concept called "Joyspaces", which entailed moving away from the traditional homogenous office space filled with cubicles. Instead, the concept featured a variety of spaces which are customised according to the needs of the bank's respective departments. 
For instance, the dining table concept was implemented, said Mr Chong from DBS, which allowed team members to sit close together across the same table. 
Managers and non-managers were not "tethered to a space", hence removing the sense of hierarchy. 
As a result, the number of emails sent within a team went down by 40 per cent. 
There was also a 30 per cent increase in the "perception of collaboration".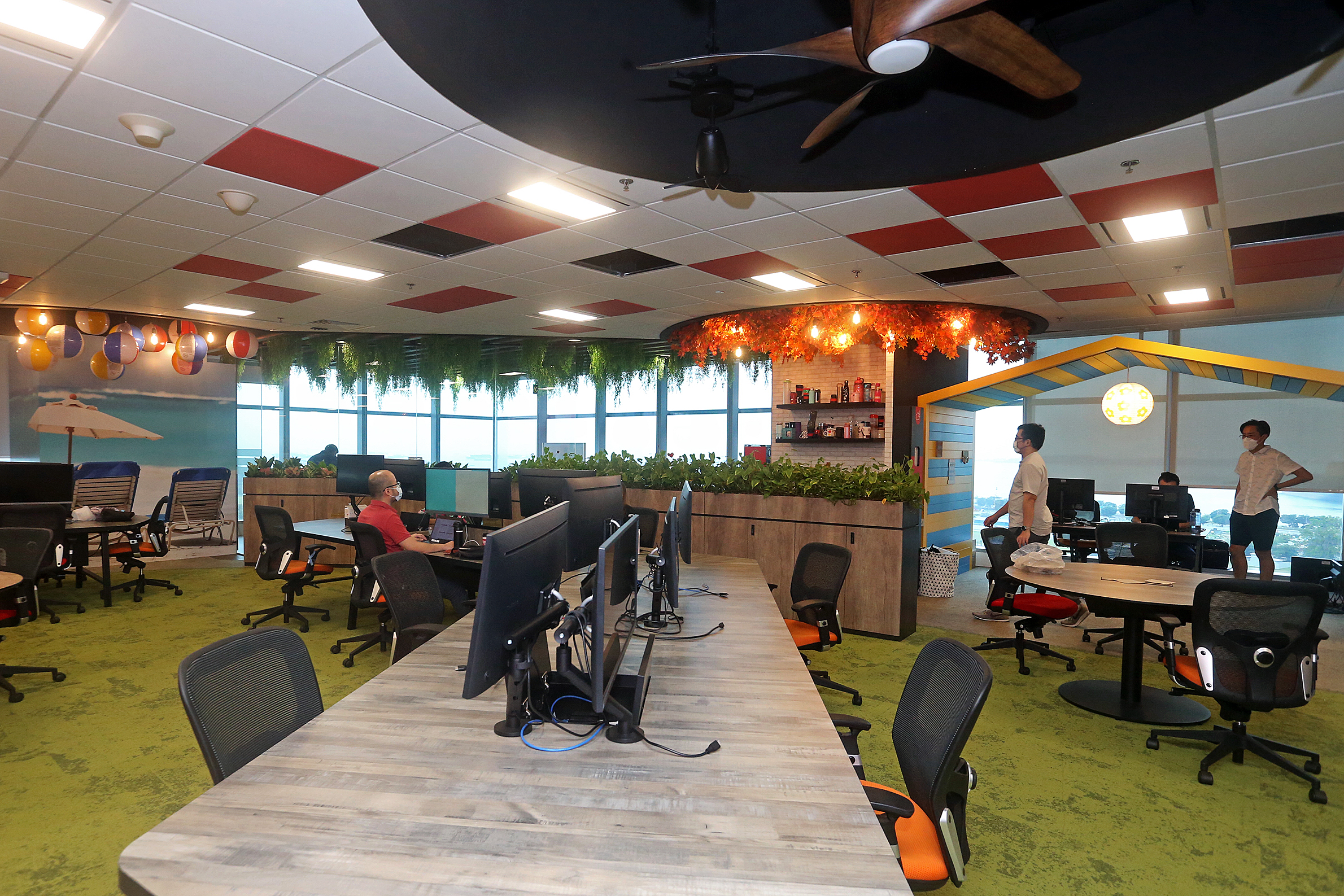 When Covid-19 struck in 2020, DBS started a future of work taskforce to understand the new normal for working. 
The taskforce conducted experiments on remote working with 2,700 staff from late-August to end-October 2020, and found that that 60:40 was the ideal work from office: work from home ratio. 
In an internal survey in July, 92 per cent of DBS employees said they have adapted well to hybrid work, compared with 84 per cent in February, and this trend was similar for employees who joined DBS during the pandemic.
However, while more employees seem to be adapting well to hybrid work, the bank recognised that "continual refinement is important to ensure that our approach considers new needs, mindsets & leverages opportunities specific to hybrid work". 
For instance, DBS removed requirement for new joiners to work 100 per cent from office in the first six months after surveys showed that these hires were just as productive and satisfied with a hybrid work arrangement. 
According to its surveys, DBS also found the top three factors that would impact a company's adaptation to hybrid work: 
1. Technology 
Beyond just setting up robust tech architecture, equipment and cybersecurity, firms should also take into consideration employee experience. For instance, DBS started a delivery system for IT to send over relevant IT equipment to employees working from home to ease any hiccups with technology. 
2.  Manager effectiveness 
Empathy and trust have become even more crucial factors for managers in hybrid work, especially now that managers now share less face-to-face time with their team, said Ms Linda Lee, managing director and regional head for future of work at DBS. 
As hybrid working is new to both employees and managers, DBS has a workshop that managers have to attend to familiarise themselves with new workplace trends and how to manage their teams in a hybrid workspace. 
"(This is) to guide them how to best manage their team in a hybrid setting, as it is totally different from how to manage a team pre-pandemic," she said. 
3. Collaboration
From DBS' surveys, employees agreed that work in office is more effective for collaboration, ideation and building social connections, while deep and focused work is more easily achieved when working from home.
DBS' official guidelines now reflect this preference, stating that work in office is for more collaborative and social agendas, while working from home should be for more individual work. 
"We actually make sure everybody in the meetings come with a concise agenda… and then make sure we have some decisions (made) in the meeting, so that we make the collaborations in the meeting effective," said Ms Lee.