The Big Read: What can make our teachers happier and less overworked? Here's looking at you, parents
SINGAPORE — Every week, Sandra (not her real name) lugs a small-sized suitcase from her workplace back home. She's neither a flight attendant nor a fashion designer — but a teacher bringing back her students' papers for the weekend.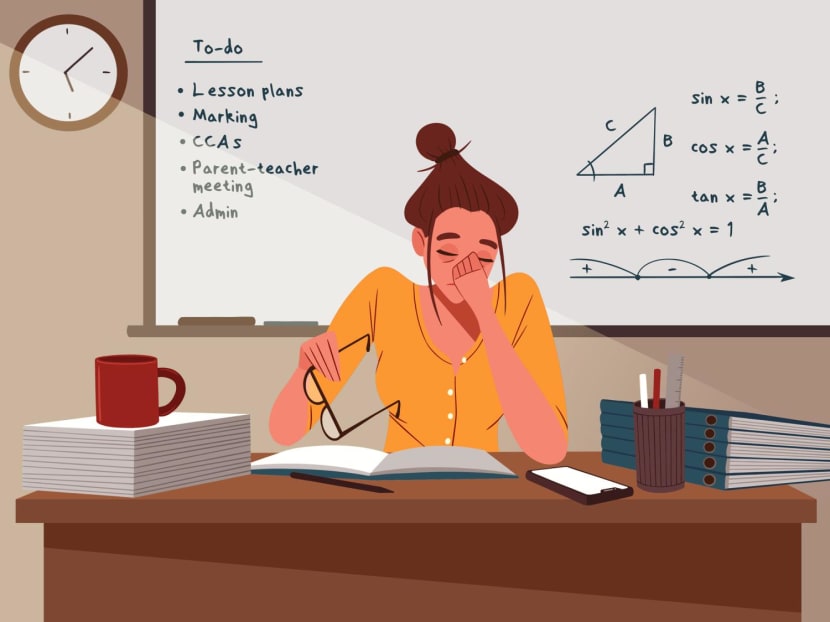 Teachers feeling overworked and burnt out is a perennial issue in Singapore, where there are high public expectations of the role that schools and teachers play in a child's life
Over the years, the MOE has launched a slew of initiatives to better support teachers
Apart from the overall workload, other challenges commonly cited by the teachers interviewed included how they are assessed by their superiors
But the biggest bugbear was dealing with parents — be it in terms of disciplining their child, intervening with how the teachers carry out their lessons, or expecting teachers to be "surrogate parents" or "babysitters" who know the whereabouts of their child and what they are up to after school
This begs the question: What is the role of teachers? 
SINGAPORE — Every week, Sandra (not her real name) lugs a small-sized suitcase from her workplace back home. She's neither a flight attendant nor a fashion designer — but a teacher bringing back her students' papers for the weekend.
"We joke that we're like air stewardesses, bringing our luggage back home after a long flight," said the primary school mother tongue teacher.
"Because there's so much to do in school that isn't part of the classroom curriculum that my students' homework has to be marked on the weekend. It's easier to lug their exercise books than hand carry since there's up to 120 books."
Like the other teachers who spoke to TODAY, Sandra had joined the profession as they see teaching as a noble job, allowing her to shape a future generation.
However, having to spend hours clearing administrative work, planning for co-curricular activities (CCA) and handling parents have tired these teachers out.
All the teachers interviewed spoke on condition of anonymity, as they were not authorised to speak to the media. 
"By the time the day ends and I'm done with meetings, I'll have barely started on marking homework or might be in the midst of preparing for the next class," said Sandra, who has been teaching for four years.
Beyond the heavy workload, secondary school teacher Mandy also struggles to draw the line when it comes to her working hours.
"Sometimes, there are children who need someone to speak to, and it can be a life or death situation. We'll chat into the early hours of the morning, and while draining, I'm glad I can make a difference," said the teacher with 20 years of experience.
"But other times, parents are contacting me over menial things like homework past my work hours, and expect me to respond almost instantly. It does take a toll because the line between my work and my life is blurred, I can't just shut off."
Teachers feeling overworked and facing burn-out is a perennial issue in Singapore, where there are high public expectations of the role that schools and teachers play in a child's life. 
Just last year, a letter to The Straits Times' forum page penned by a husband of a teacher went viral when he called for teachers' workloads to be relooked so his wife could have more time with their family.
"How can we stop teachers from being exhausted and burnt out? They are already entering the school before sunrise and leaving only after sunset. The marking and calls to be answered continue at home," he said.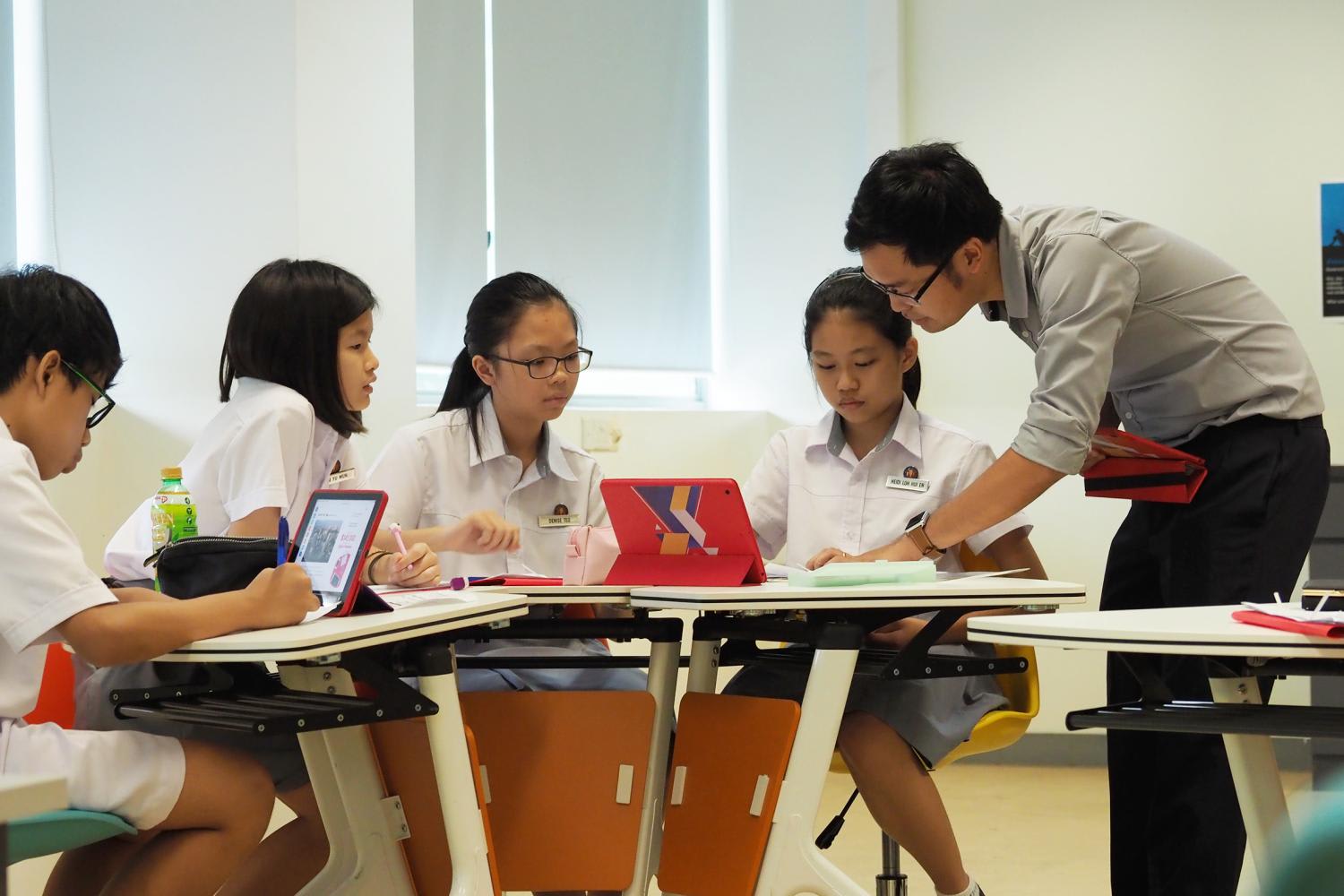 As educators in Singapore marked Teachers' Day on Friday (Sept 2), the perennial issues that teachers face on a daily basis have also come under the spotlight after the Ministry of Education (MOE) recently announced that it would be giving its teachers, allied educators and MOE kindergarten educators a pay increase of between 5 and 10 per cent as part of efforts to "continue to attract and retain good educators".
Barely a week later, the problems teachers face in disciplining students these days also became a talking point after a St Andrew's Secondary School student was caught on video arguing and threatening his teacher with violence. The video first surfaced on Aug 23.
Over the years, the MOE has launched a slew of initiatives to better support teachers — most recently via a teacher-focused version of mental health online portal, Mindline. Still, the educators interviewed believe that more could be done to address the key issue of heavy workload.
One way to do this is to relieve them of some administrative duties and CCAs, so that they can, as Sandra put it, "get back to the core purpose of what a teacher is supposed to do, teach".
In response to TODAY's queries, MOE said that it has taken steps to help lighten teachers' workloads, such as technology to streamline administrative processes and providing additional funding for schools to hire additional staff for administrative duties.
It also has put in place measures to support staff well-being, such as in-house professional counselling services and a "whole-of-government 24/7 counselling hotline" for public officers.
Separately, the Singapore Teachers' Union (STU) also provides a suite of career coaching services, as well as counselling services, to help its members "identify and overcome workplace challenges", said its secretary-general Mike Thiruman,
In all, MOE employs slightly over 32,000 teachers. In response to TODAY's queries on the annual resignation rate over the past five years, the ministry would only say that it has remained "relatively low and stable" at between 2 and 3 per cent "over the last few years". 
Apart from the overall workload, other challenges commonly cited by the teachers interviewed included how they are assessed by their superiors.
But the biggest bugbear was dealing with parents — be it in terms of disciplining their child, intervening with how the teachers carry out their lessons, or expecting teachers to be "surrogate parents" or "babysitters" who know the whereabouts of their child and what they are up to after school.  
Indeed, MOE stressed that its efforts to help teachers must be matched by parents as well.
"Parents play a key role in supporting teachers' well-being, by respecting the personal time and space of our teachers and minimising non-critical communication with their children's teachers outside office hours," the ministry said. 
It added: "Parents and the public can also work closely with teachers to establish positive partnerships and set appropriate expectations on the teachers' responsibilities for our children's development."
TEACHERS BEMOAN PARENTS' INTERFERENCE, 'LACK OF RESPECT'
For Mandy, the work continues long after official school hours, with her phone notifications constantly going off, as students and parents send messages into the wee hours of the night.
"It started during the Covid-19 pandemic, when we had to keep in contact with our students while isolated in our homes. The only way to do so is by having class group chats, and that means giving out my phone number to (all the students)."
She recalled how she would have to call her students when they did not turn up for online lessons, and how some parents would not take responsibility to ensure their children attended classes online even though they were all at home together. 
And with MOE encouraging more blended learning post-pandemic — where students learn through a mix of online and offline activities held in school and at home — STU's Mr Thiruman said parental support would "become even more critical for students to benefit from it".
"Blended learning poses challenges on multiple fronts. It requires more and in-depth preparation and post-lesson monitoring, in addition to requiring new pedagogical approaches," said Mr Thiruman.
Mandy also noted that it's harder to discipline students now, as parents often refuse to take the teacher's side. 
She recalled how she once called up the parents of a student two weeks after he did not hand in his homework. "Instead of chiding their child, they asked why I didn't push (the student) to give his homework and inform them earlier," she said.
She added: "Parents are very permissive and will insist that their child is right over other professional adults in the school, who may be all saying the same thing. It's always the teachers or school's fault... This makes it hard to discipline the students because they don't receive the consequences at home."
A secondary school teacher, who wanted to be known only as Germaine, has been teaching for almost four decades. She lamented how "discipline has dropped tremendously in school" over the years. "It was much easier to discipline the kids in the earlier years," she said. 
Sandra felt that children with overprotective parents are sometimes impossible to discipline.
"For the male students, (my colleagues and I) will say they'll only wake up during their National Service because they won't listen to any of us. And their parents don't have as much of a say there as compared to (in school)," she said.
Some of the teachers interviewed also observed that parents' respect for teachers has diminished over the years and this has also influenced students' attitudes towards them.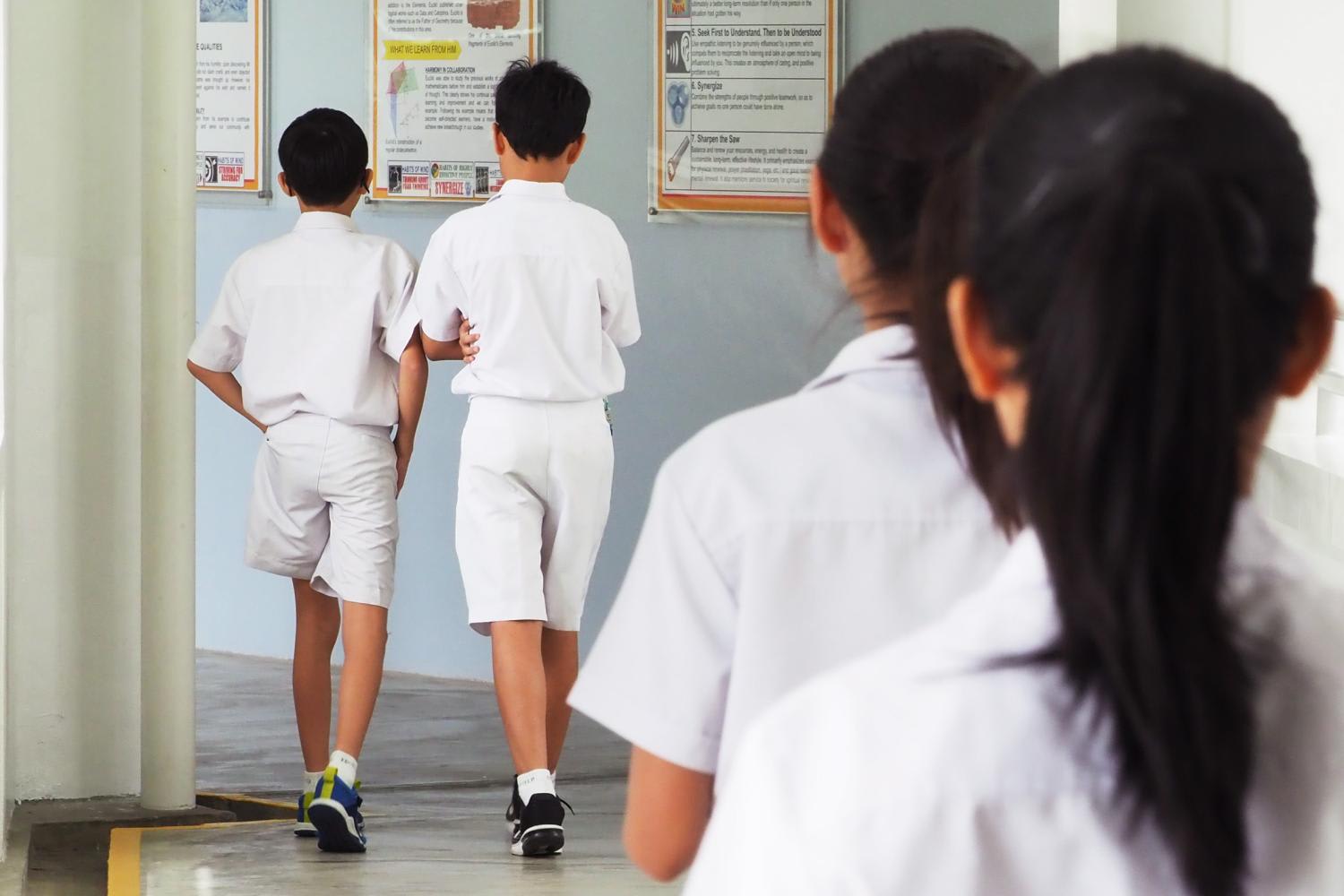 A primary school teacher of 15 years, who wanted to be known only as Mr Ng, said: "When I first started working, there were no parent WhatsApp-group chats where parents can talk about their grievances and make troll remarks. 
"Now, these chat groups, where parents used to share information about their children's academics, are also used to share comments about bad teacher experiences, which parents (then go on to) share with their children, diluting both their respect towards teachers."
He added that the rise of social media use and its growing influence on children — especially in families where parents do not spend enough quality time with their children — has also compounded the situation, with children picking up bad behaviour they see online. 
Acknowledging that issues relating to discipline are often multi-faceted, MOE said that schools, parents and the community must collaborate together to instil the right values and behaviours in students.
To support schools, MOE provides principles and guidelines for schools to formulate their discipline policies and approaches
"When teachers experience incidents of open defiance, they will be supported by their school leaders and the student management team, who will assist to investigate the incident, engage parents of the student and mete out consequences where appropriate," said MOE.
The ministry added that as part of the teacher preparation courses at the National Institute of Education (NIE), teachers are trained in classroom management, including equipping them to manage students who show "disruptive behaviour".
MOE also provides teachers with "professional development support in enhancing teacher-student relationships and counselling skills to nurture a positive classroom culture".
Echoing the sentiment of the teachers who spoke to TODAY, the ministry reiterated parents' important role when it comes to students' behaviour. 
"Even so, effective discipline is only possible with the support of parents, who play a critical role in instilling and reinforcing the right values and behaviour in their children. Schools will continue partnering parents closely to support students holistically," MOE said. 
WHEN TEACHERS ARE EXPECTED TO 'BABYSIT' CHILDREN, COUNSEL PARENTS 
Ironically, even as respect for teachers appears to be declining on the part of parents, their expectations have increased. They want teachers to act as their children's "babysitters", or adopt customised teaching approaches for each child — which translates to even more work for the educators.
A former English and English Literature junior college (JC) teacher, who wished to be known as Ms V Loh, recalled how parents would treat her like a "surrogate parent", asking questions about their children's private lives.
"During a teacher-parent meeting, one parent came up to me and asked if their child was having sex, which shocked me," said the 53-year-old, who quit teaching in 2018 after 25 years due to her health and as her JC was set to be merged. She is now a private tutor.
"How would I know what their child does outside of the classroom? It's crazy," she said. 
Another parent had recorded their teacher-parent meeting before asking her to sign a contract-like document. "I don't know what I was signing, but I did it to please the parent and get them to leave… (His actions) were so passive-aggressive," Ms Loh added.
Some requests which teachers have received from parents include reporting to them when their child leaves school, creating special curriculum to cater to their child, and demanding one-on-one tuition for their child after work hours.
For primary school teacher Mabel, her job scope has even extended to becoming a counsellor for parents.
"Teaching has changed so much since I started in 1996, but mainly because of parents. When MOE started placing more emphasis on parent engagements, we had to deal with some who may carry their own emotional baggage that can stress us out," she said. 
Despite the challenges of dealing with parents, teachers cannot treat it lightly as it can affect their yearly appraisal — however, the extent to which it does is subjective based on their managers, said teachers.
Some parents would compare homework, spelling lists, use of technology in classrooms and more, which forces teachers to do even more for their students to avoid incurring the ire of parents.
Sandra said: "They'll say 'this other teacher did something, why can't you?' and it's hard to say anything in response that will pacify such kiasu parents."
Nevertheless, Ms Loh, the former teacher, noted that parents these days have higher expectations of teachers and are more interested in what their children learn in school because they themselves are more educated, compared with parents in the past. And this was something that she, as a mother herself, can understand, she said. 
"I have two daughters in their 20s, but when they were still in school, sometimes I would look through their English exam papers and write notes to their teachers next to questions which could be worded better or should have their marks relooked," she said. 
Mr Ng noted that some parents would also ask for concessions for their children's marks to raise their grades, to which he would respond by explaining the real world consequences of such mistakes.
"For example, a parent told me that his child was just one degree off in an answer in his maths paper. But I'll explain that one degree can make a difference if that child becomes an engineer, so they understand where we are coming from," he said.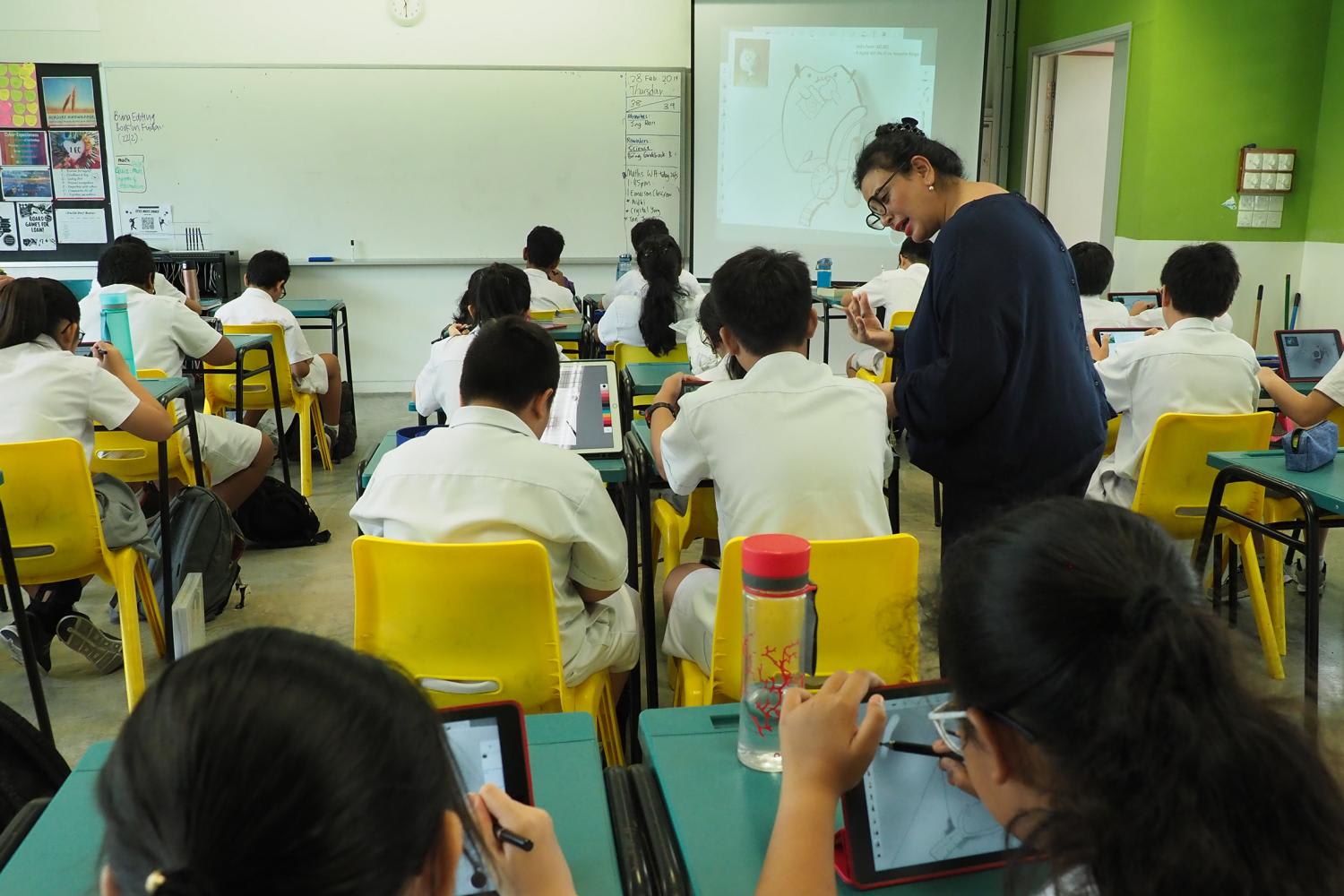 THE END RESULT? PARENTS AS 'CUSTOMERS', RISK-AVERSE TEACHERS
When it comes to their children's education needs, parents often get whatever they demand — simply because teachers don't find it worth their while to risk their reputation by doing otherwise, those interviewed told TODAY.
Likening teachers to service staff, Sandra said: "Parents are like our customers. If we don't make them happy, they'll complain until we have no choice but to do it."
As her school did not offer a subject to students at certain levels, a parent had sent a letter of complaint — forcing teachers in her school to create a year's curriculum for a single child.
"It was exhausting and not necessary in my opinion to cave in, but we had to anyway. There's no point fighting parents because of this," she said, adding that complaints from parents can also impact a teacher's yearly appraisal.
TODAY approached three principals for comments, but they declined to speak as they needed approval from the Ministry to do so.
Germaine, the secondary school teacher, said that when a school receives a complaint, an investigation has to be initiated, despite the possibility that the claim is untrue or inaccurate.
"The way schools interrogate teachers when a complaint is received can be emotionally draining and discouraging for a teacher," she said.
As Mr Ng pointed out, parent chat groups have been used to spread comments about teachers, affecting their reputation.
Other teachers told TODAY that the possibility of rumours being spread about their professional competency hangs like the sword of Damocles over their heads; any mistake can put teachers in the parents' bad books. Hence, pacifying parents are now part of their job scope.
On this issue, the teachers wished that they could get more backing.
Germaine said. "Some teachers have left teaching as they are disillusioned with the lack of support for them (from school authorities) when there is a conflict between a teacher and the parents."
Sandra added: "Sometimes, even if the school management does try to explain to parents why some action can't be taken, parents will complain to (higher ups) and we have no choice but to conform."
For some teachers, the presence of mobile phones in the classroom can also be unnerving.
Ms Loh, the former JC teacher, said her students' phones had made her feel like she was always under surveillance when teaching.
She pointed out: "It's hard to be innovative when teaching in class and to be my authentic self with these students, who are young adults, when a video or photo could send the wrong image to one or two parents when (viewed) out of context."
THE LONGSTANDING ISSUE OF TOO MUCH ADMIN WORK 
For Ms Loh, administrative work would take up most of her day even back when she first started teaching in 1993 — not something she had expected to be saddled with when she joined the profession.
"I remember we were organising for some event in school, so I spent a whole week out of school getting quotes from vendors once classes ended, which was just ridiculous," she said.
"It was taking up time away from my family and myself, so when I had children, I took a six-year childcare break where I just helped with relief teaching before switching to contract teaching."
Contract adjunct teaching allows MOE teachers to take on just part of a teacher's workload, with a salary pro-rated based on the work they take up.
"I didn't need to deal with CCAs and these event planning activities, but I was still handling administrative work like contacting parents, collecting forms and daily attendance for my form class," Ms Loh said.
Some administrative work that teachers must go through weekly, on top of teaching itself, are:
Daily attendance taking, contacting parents when students are absent without reason
Giving out and collating documents such as bursary documents and donation envelopes
Writing reports when students misbehave
Planning for CCA activities, such as sourcing for vendor quotes and preparing CCA materials
Planning for school events
Weekly department meetings
Teachers interviewed estimated that they spend at least four hours a day on administrative duties outside of the classroom and fixed CCA hours, forcing them to prepare teaching materials or mark books outside of their work hours.
And when students act up in class, Mr Ng said it "multiplies, not adds" to teacher's workloads.
"We have to fill up paperwork when taking disciplinary action, speak to their parents and pay special attention to such students," he said.
Sandra added that there is also extra paperwork when referring a child to an allied educator or counsellor for help, and they may need to provide weekly updates on the child's performance in class.
Mabel added that these forms also require "extensive details" like what methods have helped guide the child and what have not.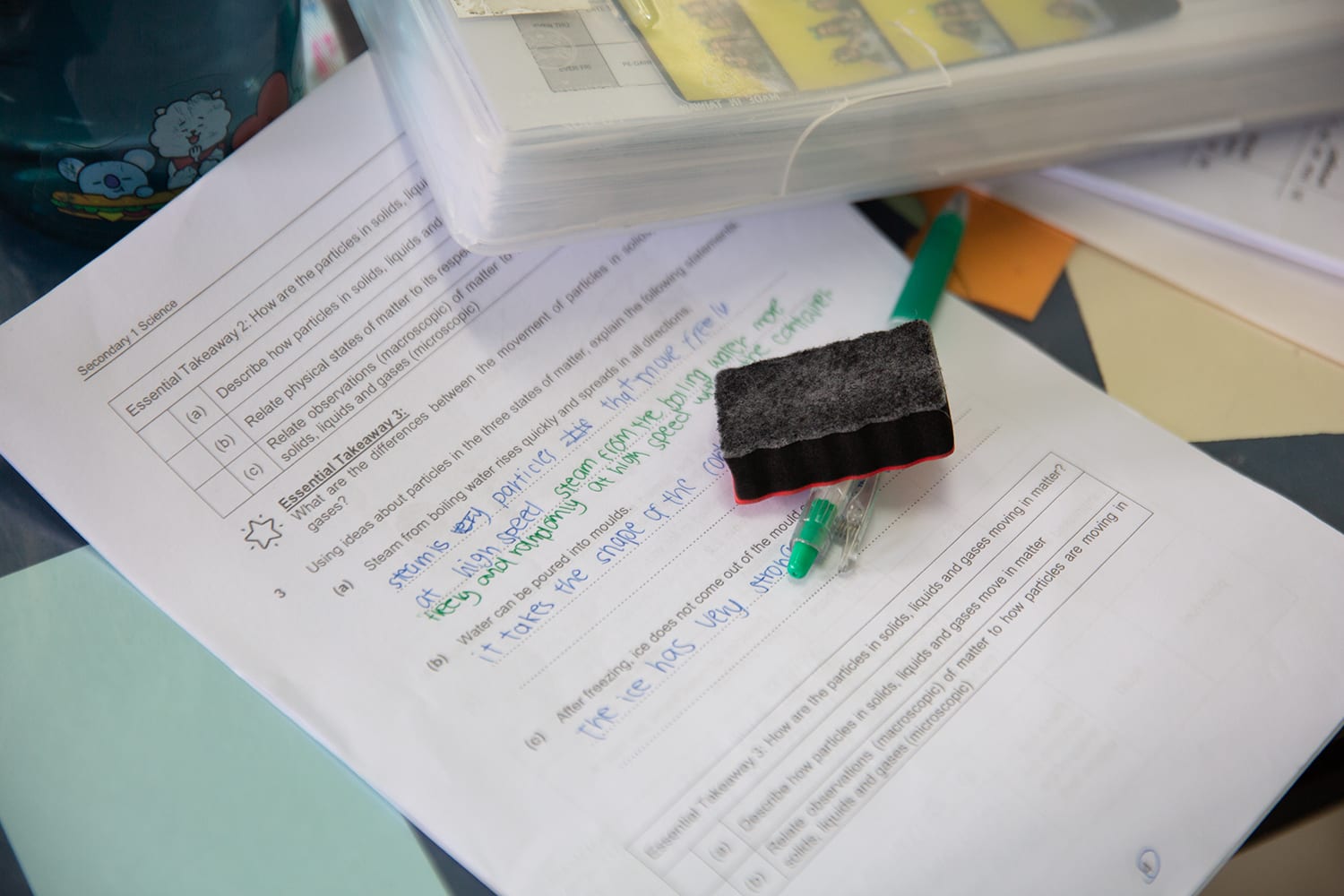 In 2020, at the start of the Covid-19 pandemic, they had the added job of contact tracing, ensuring students turn up for online classes, and trying their best to engage them despite being behind a screen.
With home-based learning as the norm, older teachers said they struggled to adapt to the technology, although younger teachers like Sandra said it was not difficult to adapt.
"It's easier now though, because we have the Student Learning Space (SLS) platform where teachers across the different schools can upload their teaching materials, and access others' materials," said Sandra.
"So we just need to make slight adjustments to fit our classes, which makes it easier to incorporate technology in our classes now, compared to two years ago."
While policies differ among schools as Covid-19 becomes endemic, some will switch classes to home-based learning when more than five students get infected — hence the SLS platform and years of practice have helped make the switch easier.
Addressing the teachers' feedback on workload, MOE noted that teachers have to prepare students for the "complex environment" which the world has become. And this means that teachers have to "dedicate time and effort to develop the requisite competencies" in students to prepare them for the workforce in future. 
To that end, the ministry said it has "strengthened measures and enhanced support for schools to manage teachers' workload, and to support their well-being".
Among other things, it has "calibrated the implementation of initiatives and schools' involvement in headquarter work and pilots".
It added: "Schools have flexibility to pace the implementation of selected initiatives, including deferring implementation if this helps to manage staff workload."
MOE has also provided school leaders with guidelines on managing teachers' workload. These cover areas including assigning teachers to CCAs and school committees and having "protected vacation time" for teachers during school holidays to "ensure that teachers have time to rest and recharge". 
To ease the administrative workload, the ministry also provides "strengthened centralised services" such as support for complex procurement and finance issues.
MOE noted that all schools have an administrative team that helps with administrative and operational functions, and schools are also given additional funding to hire more administrative staff when needed. 
The use of technology is also encouraged to streamline administrative processes, the ministry said. For example, teachers can now monitor and track students' attendance using mobile phones, or collect consent forms and disseminate information to parents via Parents' Gateway, a mobile application.
The ministry reiterated that it "regularly reviews our manpower deployment to ensure that every school is adequately resourced, and will take steps to provide support and to review teacher workload where needed". 
On the issue of staffing, some of the teachers interviewed were also keen on having smaller classroom sizes, in tandem with MOE's move to make mainstream schools more inclusive. 
Mabel said: "Children with special needs may need more help, and we also need to help their classmates understand concepts like special needs. This adds to our workload because we don't have the time to dedicate to all students, and I don't want to fail in teaching my students."
On the benefits of having smaller classrooms, Mr Ng added: "When one or two students don't understand a topic, I can just pause the class and focus on this topic, and not need to leave behind other kids to keep the entire class engaged. With fewer students, they are also easy to connect with."
MOE said it adopts a "needs-based resourcing approach where more teachers are channelled to support smaller class sizes for specific student profiles identified with greater learning needs". These include students who require literacy and numeracy support and those with special educational needs.
The ministry added: "This is a targeted approach that would be more sustainable and cost-effective, compared to an across-the-board reduction in class sizes."
CONCERNS OVER GRADING SYSTEM FOR TEACHERS
For some teachers, the need to pander to parents, avoid student complaints and handle multiple administrative duties stoically is fuelled by the MOE grading system.
The ministry adopts a system of relative ranking, where a teacher's performance is both assessed by his own supervisor, and cross-ranked with his peers by a ranking panel comprising direct and indirect supervisors.
This is also used by the rest of the Civil Service and allows them to "recognise the good work that (the teachers) have done", said MOE. 
Teachers told TODAY that beyond just their students' performances, other factors such as their relationship with parents, administrative duties and leadership roles affect their grades.
Nevertheless, there are mixed views about the grading system.  
A secondary school teacher, who asked to be identified as Jamie, said: "There is workplace politics involved, since allocating leadership events are part of the duties of those ranking us.
"If your supervisors dislike you, it'll be difficult to attain a good grade."
Other teachers also noted that some CCAs are seen as more prestigious than others, such as those that may gain recognition for the school through competitions.
However, Mr Ng believes that the grading system is necessary.
"We need some way to measure how we've contributed to our schools, and if we do away with this system, some teachers may do less than others because there is no incentive," he said, adding that the situation is the same "as with any other job". 
For Mandy, what she would like to see is greater transparency in the system. 
"So some of us are left wondering why we are left behind when others are progressing," she said.
If she could have things her way, Germaine would do away with the grading system entirely. 
Said the veteran teacher: "I want to relive my early days of working together as a school without competing against each other, without being graded, before I retire. We just purely enjoyed teaching our kids."
To ensure teachers are assessed fairly and consistently across schools, MOE said it provides school leaders with performance management guidelines. 
This allows them to "strike an appropriate balance between consistency, while still allowing for some flexibility and discretionary judgement to cater to specific circumstances in each school."
"MOE regularly updates and engages all school leaders on key human resource policies and issues which include performance management policies, good practices and expected standards of performance assessment," the ministry added.
MOE also said that teachers who feel they have been unfairly assessed can raise their concerns to their school leaders, cluster superintendents or the ministry's human resource team.
ADDRESSING THE FUNDAMENTAL QUESTON OF WHAT A TEACHER'S ROLE SHOULD BE 
With teachers being pulled in different directions by the various demands and expectations, it begs the question: What is the role of teachers? 
And this is a question that teachers themselves have difficulty answering. 
Given the amount of time which children spend in school daily, teachers play a big part in their academic, social and emotional growth — serving as role models while teaching them academically.
However, with their job scope growing unabated, the teachers interviewed said that they have had to sacrifice their health — both physical and mental — and time with family to help their students.
When comparing her role as a teacher when she first started 26 years ago, Mabel described the change in job scope as "drastic".
"In the 1990s, parents would not contact us unless there was an urgent matter… It was a respectable job to be a teacher," she said.
"Now, we are expected to do everything while not being appreciated.
Sandra, the mother tongue teacher, hopes that she can be allowed to focus on teaching. 
"The emphasis on ICT (information and communications technology) has really opened up new avenues to keep our students engaged with their studies, but it'll only be possible if we have time to craft and innovate new curriculum, and have enough technological resources so children can access it," she said.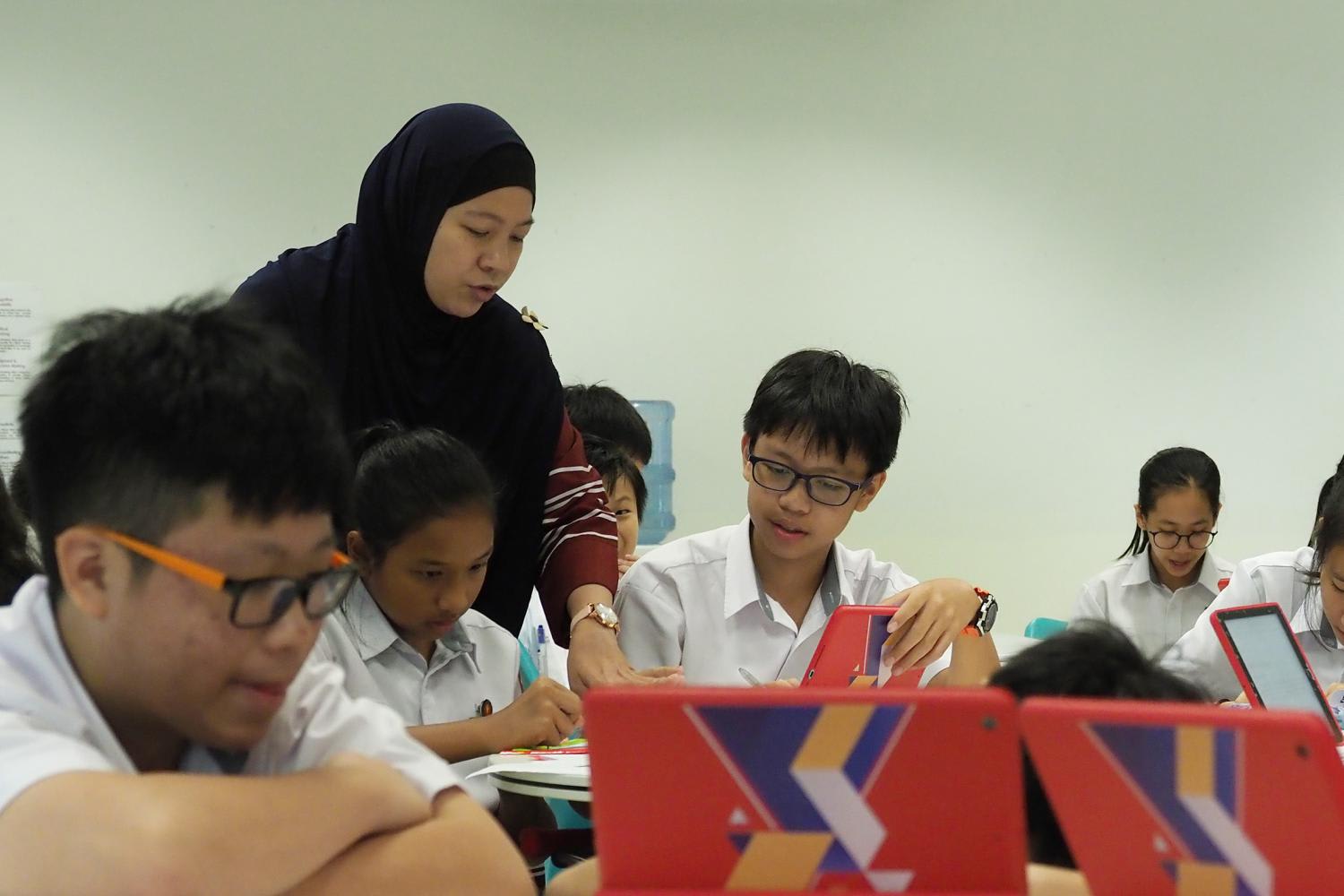 Mr Thiruman, the secretary-general of the teachers' union, noted that as teachers go beyond the call of duty, "it is all the more vital that there is a curtailing of teachers' official duties and expectations".
And in that regard, the school leadership plays an important role. "Collectively, school leadership plays a pivotal role in school culture, work-life harmony, workload, expectations of teachers as well as shielding teachers from abusive parents and students," he said. 
He said that the union collects feedback from teachers regularly through dialogues, surveys and focus group discussions. It also receives daily emails and phone calls from teachers hoping to see improvements to their working conditions.
Ultimately, teachers need more support from school leaders, MOE and parents, he added. 
"To then load them with committee work, non-teaching related duties and meetings as well as constant, non-stop WhatsApp messages from multiple chat groups is unwise and untenable," he stressed. 
While he applauded MOE's moves so far to improve teachers' well-being, he hoped that the ministry would introduce more flexi-work arrangements for teachers, so that they can better juggle their personal and professional lives.
While the teachers interviewed have different ideas on what their role as educators should be, they were clear about what they are not — "babysitters".
Mandy said: "A lot of administrative work is a result of us having to 'cover' ourselves so that the parents have sufficient notice and cannot come back to complain later on. But don't parents have a responsibility to look after their children?
"More understanding from parents would be appreciated… If parents don't help their children at home, we can't change them in school either."
Looking back on her 25-year teaching career, Ms Loh believes her teaching career has been fruitful despite the ups and downs. 
"I'm pretty laid-back, so students found me chill and would share with me their woes as if I'm their counsellor. But considering how almost half of their day was spent in school, I hope I made an impact somewhere," she said.
Likewise, despite their heavy workload and the amount of personal sacrifices their job entails, the current teachers whom TODAY spoke to remain undeterred in doing their best to nurture the future generations — but they certainly can do with some help, not least from parents.