Back to school, but on a different career track
Former teacher Angelia Wong's desire to further her studies led her to a new career path in academia.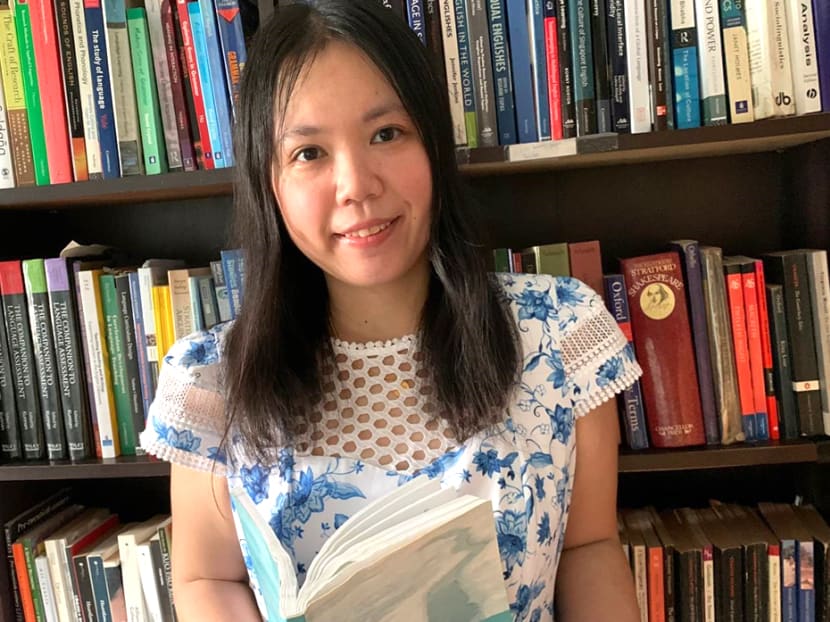 While watching her fourth graduating cohort of students embark on their O-Levels, English teacher Angelia Wong was reminded of her own academic pursuit. It had been years since she graduated from the National Institute of Education, Nanyang Technological University, Singapore (NIE NTU, Singapore).
Motivated by the need to upskill, she decided to return to NIE to pursue a Master of Arts in Applied Linguistics (MAAL).
Said Ms Wong: "I wanted to further hone my craft and stay abreast of the latest pedagogical advancements so as to better serve the needs of my inquisitive students. I chose NIE's MAAL as I'm interested in learning how theoretical knowledge can be effectively applied to teaching English in the classroom."
A TEACHER BECOMES A STUDENT
For Ms Wong, a major benefit of NIE is its supportive learning environment. Knowing that support was easily available allowed her to pursue courses outside of her comfort zone.
"I would sometimes sign up for courses that might be more suited for students with some prior knowledge or prerequisite skills. Thus, it could be challenging as I was learning new concepts or skills from scratch," she explained.
An example of a course she took was Language Testing and Assessment, which involves statistical analysis – something she had little experience in. The in-class activities and assessments allowed her to learn from her classmates, besides seeking help from professors and lecturers.
"They were always keen to share their expertise and deliberate about pedagogical approaches with their students," she said of the faculty. "Lessons were engaging, with room for critical thinking to take place in an unthreatening environment."
The MAAL programme also offered Ms Wong the chance to do her own research. "Students were given a plenitude of opportunities to conduct mini studies on the applicability of imparted pedagogical and theoretical knowledge in Singapore classrooms, or preferred contexts," she said. "These research opportunities served as an impetus for me to eventually apply for the PhD programme offered by NIE."
GAINING IN CONFIDENCE AND MOTIVATION
Ms Wong is now in the midst of her PhD research in language policy and planning. She credits her former PhD supervisor, Assistant Professor Ruanni Tupas, for being a key part of her decision to take up a PhD at NIE.
"Dr Tupas' lessons were interactive and intellectually stimulating. He gave his students free rein to conduct their own research while providing pertinent and thoughtful suggestions to help his students think critically from alternative viewpoints."
While she originally took up the MAAL to upgrade her theoretical knowledge of teaching English, as a PhD candidate, she views her research as being closely interwoven with her original goal.
"I do not perceive theoretical knowledge of teaching practices in the English classroom and language policy and planning to be separate entities. I think that education as well as language policies have an influence on teaching practices," she said.
OPPORTUNITIES TO GO FAR
Another aspect of being at NIE that Angelia relishes is the opportunity to attend and present at international conferences. She is also working on publishing her research, as part of her preparation to pursue an academic career upon graduation.
Said Ms Wong: "Both Dr Tupas and my current supervisor, Associate Professor Viniti Vaish, have painstakingly been guiding me to not just complete my thesis, but to also submit manuscripts to reputable journals since the first day of school."
In future, she hopes to take on a more active role in research, so as to better cater to the needs of Singaporean teachers and students.
"I think there's a need to move away from equating learning with outcomes, by focusing on the learning process as well," she reflected. "If one is able to equate learning as an enjoyable process and inculcate a love for learning, the seeds for lifelong learning would be sown. We would be motivated to learn not just for pragmatic gains but for passion, interest and aspiration."
For information on NIE's Modular Graduate Courses, visit nie.edu.sg/mgc. For information on NTU MiniMasters, visit nie.edu.sg/minimasters. For information on other programmes, visit nie.edu.sg/gpl/hd.