Getting up the digital bandwagon
Organised by North East CDC, GET UP 2019 aims to help residents prepare themselves for the future economy by promoting skills upgrading, career planning and lifelong learning.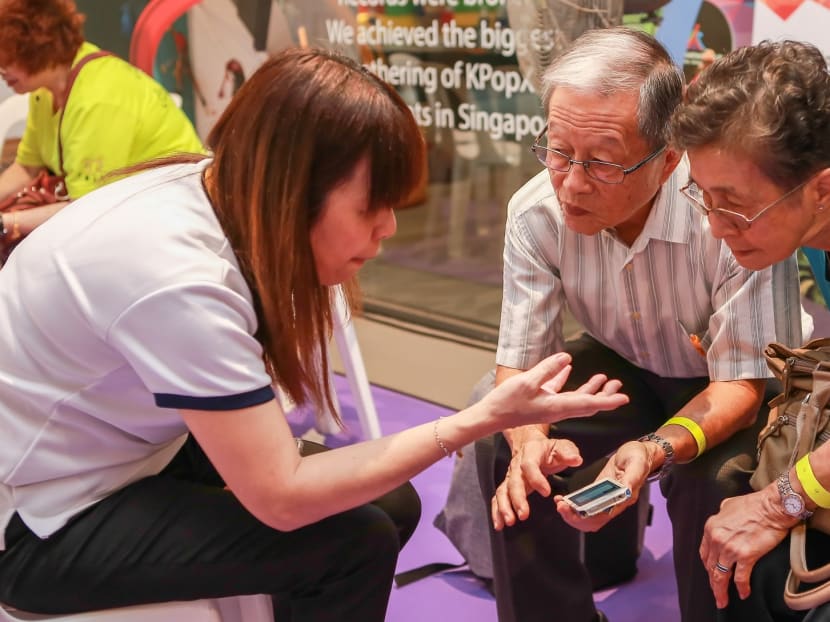 For many jobseekers, submitting resumes online and registering with professional networking sites are the norms when it comes to finding their dream job.
But what happens if a jobseeker does not have a smart device or cannot afford a mobile data plan? Believing that a lack of access to digital technology should not be a barrier to a better future, ex-recruiter Stanley Lim set about creating FindJobs, which he bills as a social enterprise app.
Said Mr Lim: "The FindJobs app harnesses technology to make jobs advertised online available to more people, including those who are not tech-savvy, and blue-collar and elderly workers. Unlike mainstream job apps, FindJobs removes typical barriers such as online registrations, social media account log-ins, online resume submissions and the creation of passwords."
The app replaces these with more user-friendly, accessible features. For instance, it helps users create a CV and translate it into different languages, if needed. It also has other inclusive features, such as the ability to enlarge text and switch on the audio description of jobs.
FindJobs even takes a leaf out of some popular gaming apps like Pokemon Go. Similar to the game, the app lets users scan for nearby jobs. "These features help simplify the job-search process," Mr Lim explained.
DIGITAL ACCESS FOR ALL
FindJobs has also installed Smart Job Kiosks on the premises of partner organisations like e2i career centres and the NECDC Job Placement Centre. The company plans to install nine kiosks across the island by the third quarter of this year, and conduct masterclasses for volunteers and residents on using the kiosks and the FindJobs app.
Mr Lim will be one of the exhibitors at the Lifelong Learning area at GET UP 2019 (Get Equipped to Unleash Potential), which will be held on July 28 at Our Tampines Hub from 10am to 7pm. He and his team will be teaching residents and seniors how to use the app.
Organised by North East CDC, GET UP 2019 aims to help residents prepare themselves for the future economy by promoting skills upgrading, career planning and lifelong learning.
As economies become more digitised and Singapore's efforts towards becoming a Smart Nation gather pace, such initiatives help ensure that Singapore workers do not miss out on opportunities to stay relevant.
CREATING NEW OPPORTUNITIES
PMETs (professionals, managers, executives and technicians) attending GET UP 2019 can also approach the Job Placement Centre (JPC) coaches at the event.
Ms Shoba Raj, a JPC coach from the PMET Resource Centre @Punggol, said that a coach can help them craft their resumes, apply for jobs, learn interview techniques and get a heads-up on which industries are hiring.
While employees may be understandably wary of the changes technological disruption has brought to the workplace, being open to change – and changing mindsets – can lead to new opportunities.
Said Ms Raj: "One of the common challenges we face when advising residents is a resistance to change. We overcome these challenges through coaching, workshops and counselling."
GET UP 2019 is held in support of the six-week long SkillsFuture Festival organised by SkillsFuture Singapore and will focus on both jobs and skills.
The jobs fair will target the logistics, transport, retail and healthcare sectors and feature numerous employers seeking to hire mature workers and mothers who are returning to the workforce. There will also be information on flexible employment opportunities – contract, freelance and full-time – so jobseekers will be familiar with the various options available to them.
The skills fair will feature various SkillsFuture initiatives including the MySkillsFuture portal, and how it supports Singaporeans as they invest in their skills and advance their careers. Other participating booths include training providers and Institutes of Higher Learning as well as other partners providing programmes and services to support individuals in their skills journeys.
Visit cdc.org.sg/northeast/getup to find out more about GET UP 2019.