Supporting Singapore through 60 years of change
Social enterprises such as NTUC Income and NTUC FairPrice have been helping Singaporeans in their everyday lives.
Social enterprises such as NTUC Income and NTUC FairPrice have been helping Singaporeans in their everyday lives.
As a young homemaker in the 70s, Mdm Tan Jee Heng faced a daily dilemma. She needed to buy groceries for the family, but also had young children to care for. Every day, she would wake up at dawn to shop, so that she could make it home before her husband left for work and her kids would not be left alone. A hodgepodge of provision shops were the only places she could get her staples and she had to rush from store to store to get what she needed.
It was also expensive. The 1970s global oil crisis saw grocery prices skyrocketing, and Singaporeans like Mdm Tan struggled to stretch their dollar.
"It was a struggle to cook a simple meal," she recalled. "We were constantly worried about the rising costs of rice and groceries."
The National Trades Union Congress (NTUC) recognised that widespread inflation and profiteering were hitting people hard. Bolstered by the successful launch of insurance co-operative NTUC Income in 1970, NTUC established NTUC Welcome in 1973, the first co-operative supermarket that sold essentials like rice, sugar and cooking oil at reasonable prices, combating unscrupulous traders who hoarded and profiteered.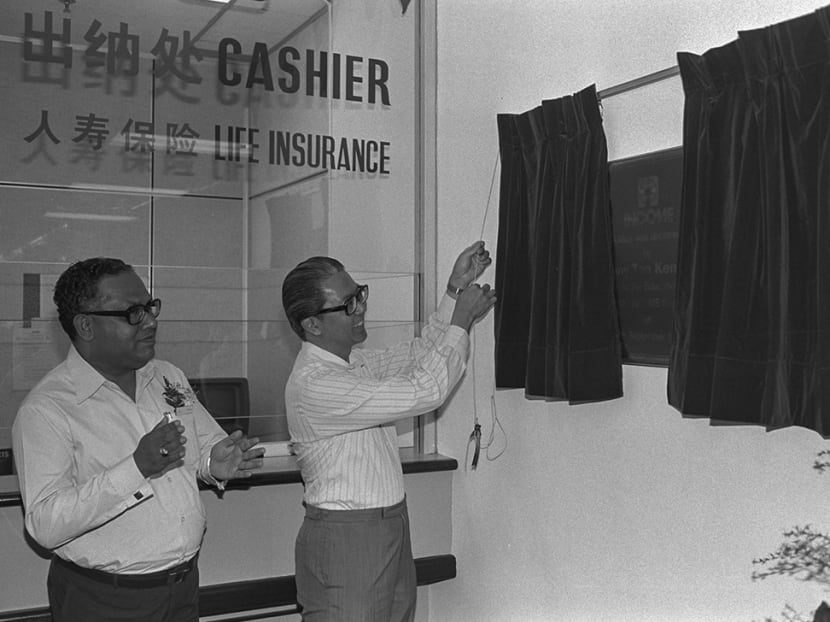 NTUC Welcome – later renamed NTUC FairPrice in 1983 – and NTUC Income marked the start of NTUC's legacy as an organised labour movement that shoulders social responsibility. Today, many Singaporeans depend on NTUC social enterprises to support them in their everyday lives.
LOWERING THE COST OF LIVING
When NTUC was founded in 1961, the economy of the region was, at best, shaky. In the next four years, opposing political forces, numerous workers' strikes and the exit of the British government formed the uncertain backdrop of Singapore's independence in 1965.
Left to stand on its own, Singapore's fledgling economy required a skilled workforce to drive rapid industrialisation and social services to meet the unmet needs of Singaporeans as they navigated a new future.
In 1969, off the back of a trade union seminar on the modernisation of the labour movement, the idea of social enterprises was seeded. The earliest NTUC social enterprises were founded as co-operatives to better provide workers and their families access to affordable products and services.
For Singaporeans like Mdm Tan, NTUC Welcome offered convenience, air-conditioned comfort and peace of mind under one roof. As NTUC Welcome, later NTUC FairPrice, grew its reach, NTUC would go on to find new ways to help Singaporeans lower their cost of living in the face of new economic challenges.
In 1995, the introduction of the Goods and Services Tax (GST) impacted food prices, making dining out more expensive. In that year, NTUC Foodfare was established to moderate and stabilise food prices while providing tasty and healthy meals across the island. In 2019, food court chain Kopitiam joined the NTUC Enterprise group, continuing the work of serving wallet-friendly meals in all corners of Singapore.
When the Asian Financial Crisis hit in 1998, NTUC launched NTUC Link, a loyalty programme that has since grown to become one of Singapore's largest consumer rewards programmes. Its 2.3 million members earn loyalty points that can be redeemed for instant savings when shopping at 1,000 participating partner outlets.
Over 60 years, NTUC's many social enterprises have impacted Singaporeans on the ground. Video: NTUC Enterprise
SECURING WEALTH
Insurance is a cornerstone of accessible wealth planning today, but in Singapore's early years, the working class was largely uninsured. When breadwinners were stricken down, their families were left in dire straits.
Mdm Jean Ang, an NTUC Income financial consultant since the 1980s, recalled how she went door-to-door to educate the average Singaporean on the advantages of being insured. Then, the perception of insurance was that it was only for the rich. "Income's mission was to make insurance affordable for as many workers as possible. We were the first to start with monthly payments," she shared.
NTUC Income was the first social enterprise to be formed under NTUC and it developed schemes to buy insurance for its members with low premiums co-paid by the unions and workers. Today, it remains Singapore's only insurance co-operative offering life, health and general insurance for all life stages and needs.
In step with Singapore's transformation into a first-world economy, financial planning has grown more complex with new products and schemes launched in the market every year. To meet the needs of Singaporeans looking for objective advice from non-commission-motivated financial advisors, NTUC launched MoneyOwl in 2018, a one-stop-service platform that provides impartial financial education and solutions.
SUPPORTING WORKING PARENTS
With a nascent economy, NTUC's focus expanded to meet other challenges of the era. With more women joining the workforce, families needed access to affordable, quality childcare.
After having her first child in the 70s, Mdm Lim B C wanted to keep working to help support her family. Then, domestic helpers were not a norm and childcare centres were scarce. Working mothers like her often relied on grandparents to watch their children, an option she dismissed because of her parents' advanced age.
"When I heard that there was an NTUC childcare centre that could look after my children, I was extremely happy," she said. "The centre was near to our home and every morning at 7am, we would bring the children there before we went to work."
NTUC Childcare, which was where Mdm Lim sent her children, was later renamed to My First Skool and is where her grandchildren now attend, showing the lasting benefits that the enterprise has brought to families through the generations.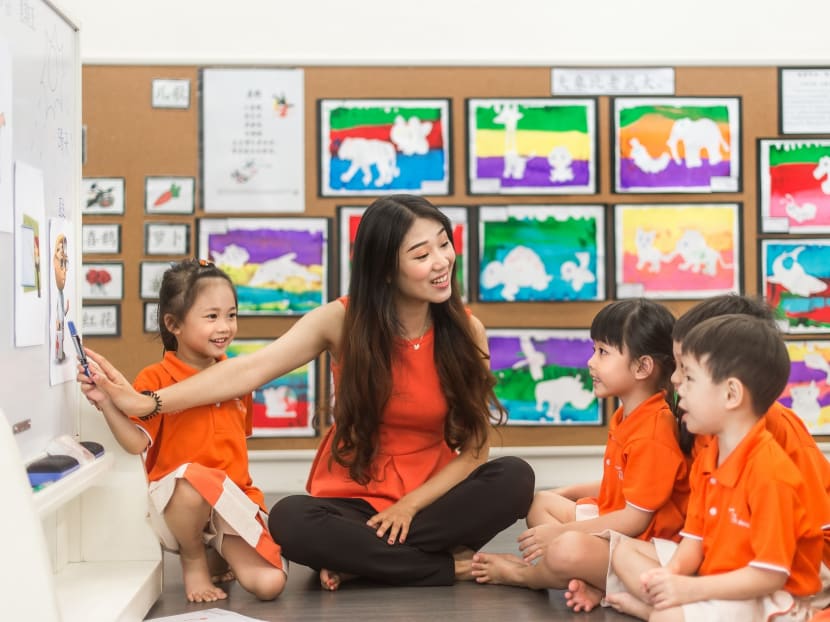 Catering to the broader needs of Singaporean working parents and their families, NTUC went on to launch NTUC LearningHub in 2004, a continuing education and training provider that champions lifelong employability, and NTUC Health in 2014 to provide integrated, quality and affordable healthcare services and eldercare services.
On weekends, families flock to shopping malls, such as AMK Hub and Jurong Point, owned by Mercatus, the real estate subsidiary that brings the NTUC social enterprises' services closer to homes.
Today, there are 10 NTUC social enterprises under the NTUC Enterprise group, namely NTUC FairPrice, NTUC Foodfare, Kopitiam, NTUC Income, NTUC First Campus, NTUC LearningHub, NTUC Health, NTUC Link, Mercatus and MoneyOwl. Each of them was created to address specific concerns that weigh on the minds of Singaporeans, from rising food costs to staying relevant throughout their working lives. Together, they represent NTUC Enterprise's commitment to serving the community and doing good.
In appreciation of all workers and their families, NTUC Enterprise has rolled out S$20 million worth of discounts, special offers and vouchers for NTUC union members across its social enterprises. These deals cover aspects such as insurance, healthcare, education and financial planning, on top of helping to manage the cost of everyday living. 
Learn more about NTUC Enterprise's 60th anniversary deals. Not an NTUC member yet? Sign up now, and receive a complimentary OTO Back Support worth S$238. Terms and conditions apply.