Tailoring a new path as an entrepreneur
Nothing has given Ms Josephine Ho as much job satisfaction as running her own fashion label, which she launched after picking up sewing skills and deciding to strike out on her own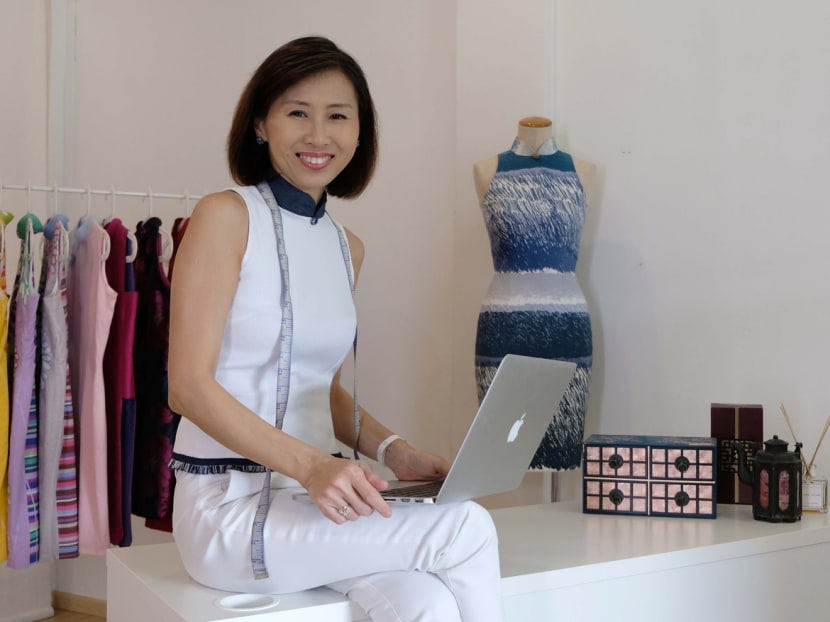 Nothing has given Ms Josephine Ho as much job satisfaction as running her own fashion label, which she launched after picking up sewing skills and deciding to strike out on her own
In addition to the wide-ranging impact that the COVID-19 pandemic has had on jobs and industries, there has been talk about a coming wave of wide-scale resignations driven by changing employee expectations. Also gaining ground is a wider acceptance towards career pivots, as more workers look to upskill or reskill.
As the future of work continues to find its equilibrium, workers can avail themselves of resources put in place to support a spectrum of career goals. For instance, more government assistance has been made available for mid-career job seekers who are looking to switch industries or pick up new skills.
Changing a career trajectory via reskilling can, of course, be an intimidating proposition as it involves a leap into the unknown and more often than not, sacrifices of time, energy and money. Art director-turned-entrepreneur Josephine Ho, 50, shares how learning to sew sparked her foray into the fashion industry with her own cheongsam label, Qiqing Qipao.
MAKING A CAREER TRANSITION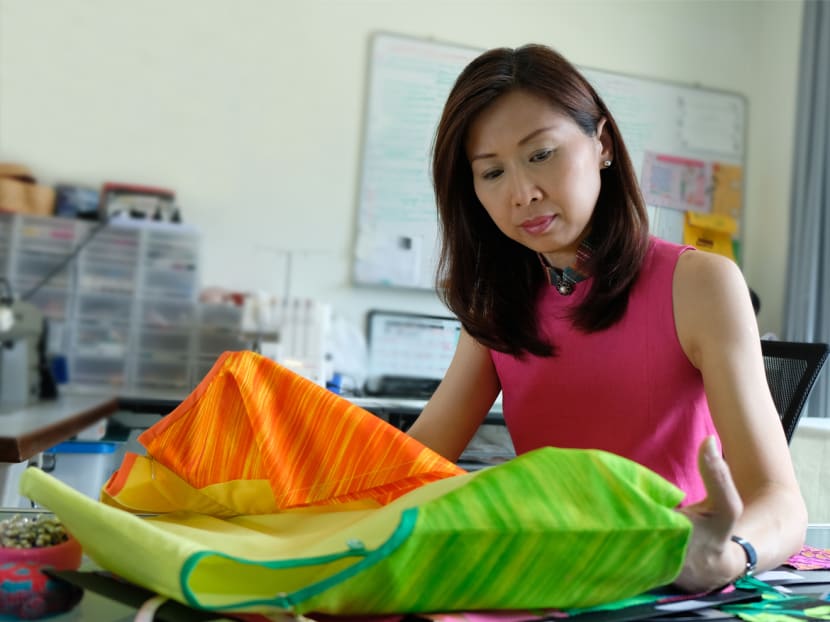 Formerly an airline crew member, Ms Ho's love of visual expression and design — which she honed by training at the Nanyang Academy of Fine Arts — led her to pursue an internship at Bates JPW Advertising, where she rose through the ranks over eight years to attain the position of art director.
However, becoming a mother meant that the long hours and punishing workload of the advertising industry were no longer for her. Wanting to prioritise her son, she left her job and at 30, started a business selling maternity clothing. She ran Bellithots Maternity for six years before pregnancy complications with her second child resulted in her winding up the company to focus on health and family.
Ms Ho never lost her interest in entrepreneurship, however. "As a mother of three boys, flexibility trumps all perks," she shared. "I'm a hands-on mother and I believe in spending time with my children, especially in their growing years. Entrepreneurship is rewarding to me as I can achieve this balance."
ONWARDS WITH NEW SKILLS AND A NEW LABEL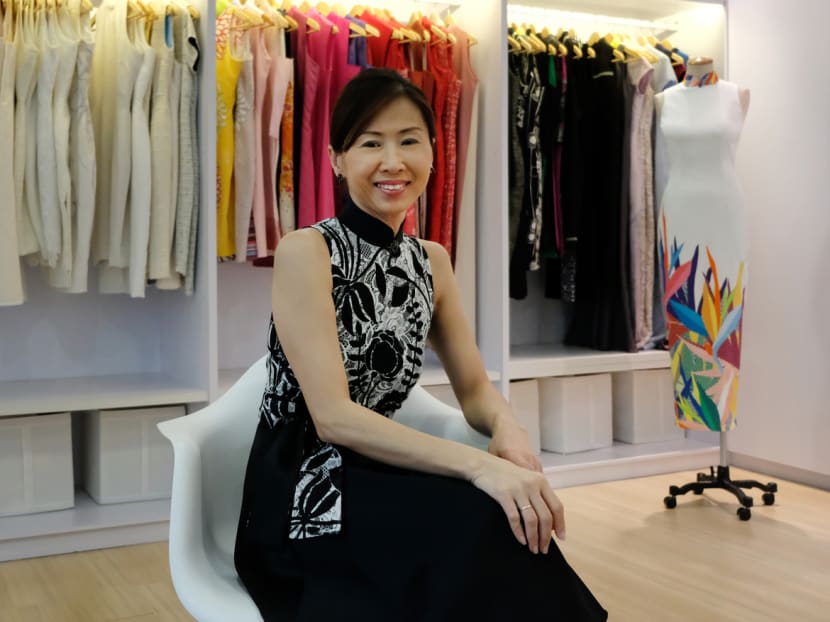 In 2013, Ms Ho spotted a banner advertising a sewing course by the Textile & Fashion Industry Training Centre (TaF.tc) while shopping at Tiong Bahru Plaza with her husband. The relatively short time commitment of only four months and the generous course subsidies were too attractive to pass up. "My TaF.tc Diploma in Apparel Design and Product Development gave me a complete overview of the fashion industry," she reflected. "I picked up new skills in product management, sewing, fashion design, merchandising and more. During those four months, I pushed my limits and honed my creativity."
With a household to run, Ms Ho often ended up studying or sewing into the wee hours of the morning. She also invested one year sewing free of charge to practise and build her confidence. While the fear of failure often crossed her mind, her determination eventually paid off. Today, Ms Ho is the founder and creative director of Qiqing Qipao, a fashion line that features cheongsams with a modern twist.
Her penchant for learning and embracing internships at every life stage gave her the know-how and confidence she needed to strike out on her own: "It was a big step for me to get out of my comfort zone," admitted the 50-year-old. "A three-month internship at a local brand provided a good training ground as I had the opportunity to work with people from all levels and pick up professional etiquette again. It facilitated the transition back into the workforce after a good 10 years as a stay-at-home mother."
Looking back on her journey to becoming a clothing designer and creator, Ms Ho has no regrets. "What's most rewarding is the control I have over my business," she said, comparing Qiqing Qipao with her former maternity clothing line. "Now I have the ability to design, draft, cut, and sew independently. I used to be reliant on my third-party partner to help with fabric sourcing. But now, I can go on sourcing trips and choose the best fabric for my customers with confidence."
Running her business has also validated her previously-acquired competencies. Ms Ho relies on the excellent communication skills she honed as an air stewardess to work with customers and understand their needs, while computing knowledge picked up during her advertising career came in handy while designing her website and managing the brand's social media platforms.
TAKING THE FIRST STEP ON SKILLS PATH
To give a leg up to people like Ms Ho, LinkedIn has announced the pilot of Skills Path in Singapore, a new programme that aims to help job seekers develop and demonstrate their abilities to prospective employers. Partner companies that have come on board are looking to increase the diversity and talent range of their workers. To date, these include CapitaLand, Carousell, foodpanda, Lazada, NTUC Enterprise, OCBC Bank, ZALORA, and Zuellig Pharma.
Supported by the National Jobs Council, Skills Path offers job seekers the opportunity to pursue an open role with listed organisations and strengthen their expertise to dovetail with the role's requirements by way of LinkedIn Learning. Job seekers will also be able to validate their skills by completing Skill Assessments. They can then submit a video or written response to interview questions set by the hiring company.       
For those intimidated by the prospect of acquiring new capabilities, Ms Ho says it is important to keep a positive mindset: "After going through my own journey and crossing my own hurdles, I've realised that it's not so scary or difficult after all. If we don't step out of our comfort zone or take the first step forward, we won't have the chance to succeed. If you never try, you'll never know."
Learn more about how Skills Path can help you transform your career — to learn new skills, and find a new job, perhaps even in a different industry.