1 in 4 firms falling behind in economic transformation: SBF
SINGAPORE — About a quarter of companies here have been slow to transform their businesses and are thus lagging behind.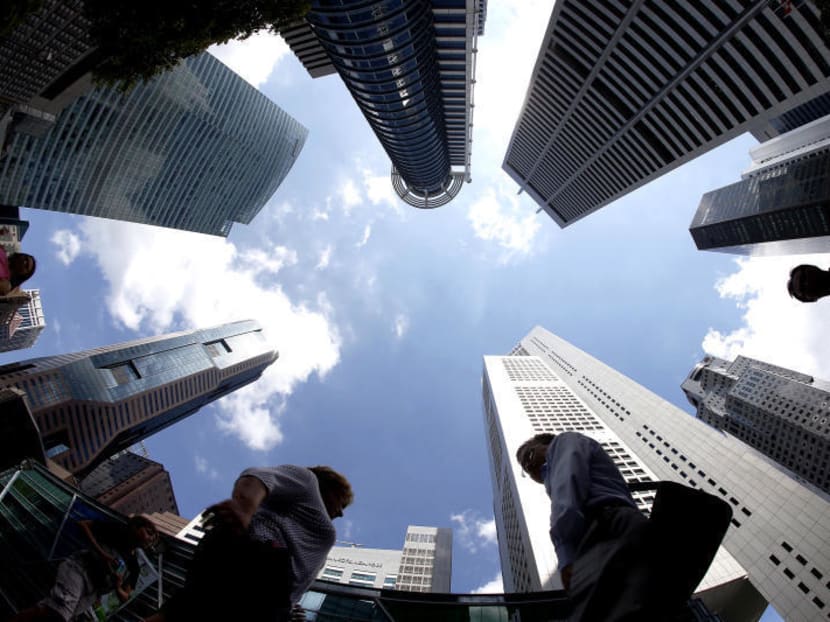 SINGAPORE — About a quarter of companies here have been slow to transform their businesses and are thus lagging behind.
This was among the findings of a yearly survey done by the Singapore Business Federation (SBF), which received about 1,000 responses from companies across all major industries here. The majority of the respondents were small and medium-sized enterprises, and only 16 per cent were large companies with annual sales of more than S$100 million.
Released on Thursday (Jan 11), the survey showed that among the "slow starters", only one in five indicated that they have stepped up in using new technology in the past year, while 60 per cent reported lower profitability in the past year, compared to an average of 44 per cent for all businesses surveyed. Just one in 10 saw profitability grow.
Overall, four in 10 survey respondents said that they have not digitised any part of their businesses at all.
SBF's chairman Teo Siong Seng expressed concern over the findings: "As SBF members are the larger companies, the proportion of 'slow starters' in the national population is probably larger."
He noted that the federation has set up a Digitalisation Committee to drive digital adoption and transformation among the Singapore business community. "This is a beneficial platform for businesses that are slower on the uptake of digital opportunities," he said.
However, a few companies said that there are challenges on the ground that prevent them from making changes as fast as they should, including cost pressures.
Mr Christian Eber, non-executive director of air-conditioning firm CE Engineering, listed high costs and workers' training as the main barriers to restructuring the business.
An online system to file service reports that the company tried to set up took three years, due to teething problems and staff members finding it cumbersome to use, he said. "Staff can't fully make use of the system, a lot of hiccups even today, and there are technical issues that we can't fix. In the end, it is not so productive to use it."
He also pointed out that with razor-thin margins in this business, it is nearly impossible to adopt new technology that might be quite expensive.
One food manufacturer, which declined to be named, also said that it is very costly to adopt technology, and it is unsure if it may need to upgrade digital systems often. "Our people are also not ready. They fear technology, and fear that it will take away their jobs," the company said.
On the other hand, a third of the survey's respondents have put in place "significant measures and changes to be at the forefront of change and innovation".
NOT ENOUGH KNOWN ABOUT GOVT'S ITMS
In 2016, as part of the Budget, the Government put forth the Industry Transformation Programme, under which Industry Transformation Maps (ITMs) have been developed to help 23 industries prepare for the future economy.
Half of the businesses polled by the SBF felt that the roadmaps are a good idea, but they did not know enough about them to assess the impact.
At a panel discussion on Tuesday, SBF's chief executive Ho Meng Kit was reported by The Business Times as saying that there was a divide between the ITMs and the private sector. "There is the sense that whatever is developed in ITMs is disconnected from the reality of industry," he said. This was partly due to ITMs being driven by a government agency instead of by the private sector, Mr Ho said.
At a press briefing on Thursday, Mr Ho clarified his comments in the news report in a two-page statement.
He said: "My intention was to share some feedback that I had received from some companies. These represented the perception of these companies on the ITMS.
"Unfortunately, my comments were misinterpreted to represent SBF's position on the full situation of the ITMs. SBF has been closely partnering our government agencies and member companies in the implementation of the ITMs."
At the earlier panel discussion, Mr Ho also expressed concern that the ITMs may be developed for larger companies in mind. Clarifying those remarks, Mr Ho said that the private sector is not homogeneous and companies are developing at different pace, so each firm would "view the ITMs through different lenses".
"As the ITMs are so crucial as a strategy, it is important that they reach out and are appealing to all... categories of companies," Mr Ho said.
WISHLIST FOR BUDGET 2018
The SBF survey found that the majority of businesses believed that digitalisation should be a key priority, with the highest proportion (60 per cent) of the respondents saying it should be the focus of the 2018 Budget. Other items on their wishlist were the relaxation of foreign manpower quotas (53 per cent), and facilitation of overseas markets access (51 per cent).
The survey also found that seven in 10 of the respondents said that hiring people with the right skills and attitude was the top challenge for businesses here, while 58 per cent flagged the cost of operations as an issue.
Mr Ho said: "There is scope for the Government to look at skills shortages and how to help companies address this gap. (It) can also (consider being) more flexible in manpower policies for the areas where there is a shortage of the relevant skills, especially when it comes to helping companies understand and adopt disruptive technologies and overseas expansion."
Some areas where manpower policies could be relaxed include those related to new technology such as artificial intelligence, Internet of Things and blockchain, because those with skills in these fields might not be completely found in Singapore, Mr Ho suggested. He hopes to see such flexibility in policies being proposed in the upcoming Budget.
The survey also indicated that efforts to encourage Singapore companies to venture abroad may be paying off, with more companies saying that they expanded overseas last year. Eight in 10 said that they did so last year, compared to just over half the companies polled in 2016.
The top three countries businesses were most keen to expand to are Myanmar, Vietnam and Indonesia.