The Big Read: No more 'divide and conquer', as banks face up to e-payment disruption
SINGAPORE — Amid the soul searching over why digital payments have yet to take off here, one should arguably look no further for the main culprits than the lucrative credit card business, and the plethora of systems and products that banks have invested heavily in to build their customer base.
SINGAPORE — Amid the soul searching over why digital payments have yet to take off here, one should arguably look no further for the main culprits than the lucrative credit card business, and the plethora of systems and products that banks have invested heavily in to build their customer base.
For so long, the mantra was to "divide and conquer", with banks aggressively segmenting customers to come up with products aligned with their spending behaviours, analysts noted. But to drive electronic payments in Singapore, the banks, as well as other industry players such as Mastercard, Visa, NETS and EZ-Link, now have to work together, for example, to develop a common QR code as part of a recently-formed taskforce announced by the Monetary Authority of Singapore (MAS).
This follows earlier initiatives such as PayNow, a nationwide service launched in July which enables consumers to transfer money to anyone across different banks using just their mobile numbers.
However, by all accounts, the Republic is playing catch up on this front. During the National Day Rally, Prime Minister Lee Hsien Loong pointed out how far Singapore is lagging behind China in digital payments. There, experts have noted, the revolution – which is driven by Tencent Holdings, Baidu and Alibaba Group Holding – was possible largely because China was able to leapfrog the era of credit cards into digital payments.
"I'm sure internally at some banks in Singapore… the credit card department at some time or another has raised their concern at the new e-payments drive," said Mr Michael Yeo, a research manager at IDC Financial Insights. "In Singapore, credit cards are a saturated market… For banks, they still remain an attractive business."
A recent PayPal survey showed that cash and credit cards are the among the most favoured payment modes among Singaporeans: 90 per cent said they prefer to use cash, while 74 per cent cited traditional payment modes such as bank transfers or Internet banking, and 61 per cent picked credit cards.
Over the past decade, the amount of money that the Big Three Singapore banks earned from credit and debit cards have shot up by as much as fourfold. DBS has seen the biggest increase: Its latest full year financial results showed that as a result of higher credit and debit card transactions, it earned S$483 million from such fees – compared to S$115 million in 2006.
Similarly, OCBC and UOB also saw big jumps in earnings from this segment: OCBC earned S$159 million from its cards, up from S$48 million in 2006 while UOB raked in S$368 million, an increase of almost 2.7 times over the same period.
Mr Jan Bellens, EY Global Banking and Capital Markets Emerging Markets Leader, noted that credit cards have been a lucrative source of revenue to banks. In Singapore, credit card transaction fees are higher than other countries. The fees here are between 1.5 per cent and 3 per cent, compared to China's cap of 0.45 per cent.
"On top of that, most local banks have raised their late charges recently, as well as imposing new higher annual fees, or hiking interest rate on outstanding balances," he said. "These increments are partly due to a need to maintain their net interest margin and profitability following recent increases in the SIBOR (Singapore Interbank Offered Rate)."
With Singaporeans holding, on average, 3.5 credit cards each, the mode of payment has become an "integral part" of consumer lifestyles here, Mr Bellens added. In a column published earlier this week, Bloomberg Gadfly writer Andy Mukherjee noted that the digital payment revolution in China not driven by any bank. And should the same thing happen here, "easy money isn't the only thing at risk" for the Singapore banks. "Losing dominance in payments could also mean losing customers to rival offerings in everything from wealth management to insurance," Mr Mukherjee wrote.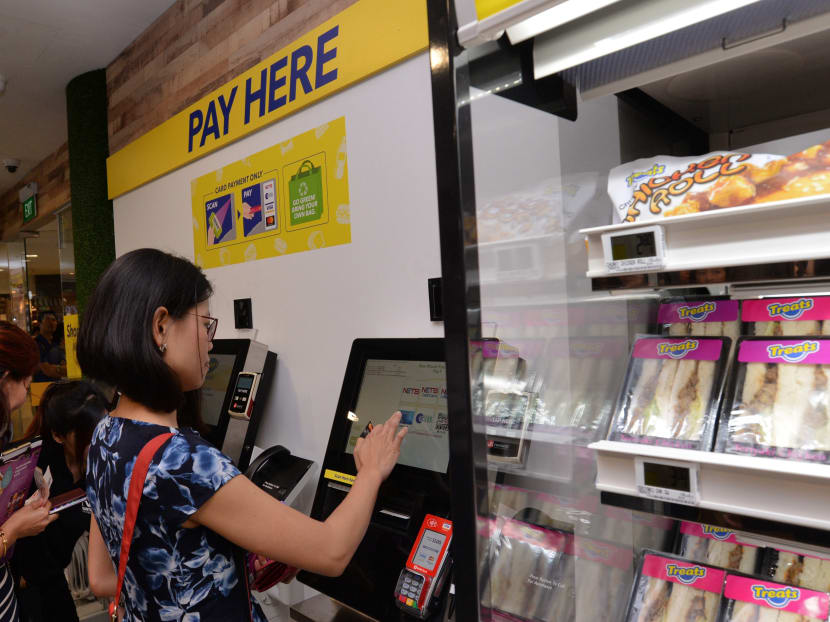 CREDIT CARDS COMPLEMENT E-PAYMENT DRIVE: BANKS
It is little wonder then, that banks have built up a formidable ecosystem for credit cards, with an array of products, reward schemes and tie-ups with merchants. Some of the most popular products include credit cards with cashback and those allow customers to earn air miles with their spending.
Such a developed ecosystem creates inertia for consumers to embrace a new payment mode. "Cards still offer a lot of benefits… A lot of consumers also prefer to use cards for big ticket and online purchases due to the protection that cards give. This is an area which new payments still lag behind in comparison," said Mr Yeo, who added that new cards targeted at specific customer segments would continue to be a major growth area for banks here despite the push towards digital payments. The rise of e-commerce in Singapore, which is "largely fuelled by credit card purchases", will also help to sustain the growth of the credit cards market, he noted.
Mr Yeo added: "What is important for banks to understand is the different functions and niches that the payments are being aimed at." Electronic payments can "live side by side" with the existing modes of payment, he said. For example, cards can continue to be used for overseas travel and big transactions, while the new breed of payments can replace what cash is being used for, including smaller transactions and those involving heartlands retailers, Mr Yeo said.
The banks said as much in their responses to TODAY's queries. They will continue to drive credit cards as a distinct product serving different segments, and not cannibalise digital payments.
Mr Desmond Tan, OCBC Head of Group Lifestyle Financing, pointed out that different places accept different payment modes, and the PayNow initiative may be used for transactions which credit cards do not cover. "In some cases, the availability of new e-payment systems are complementary to credit cards – more so than a threat," he said. "For example, PayNow may be accepted at a particular hawker centre now (and not credit cards), so customers can choose to pay by PayNow and that doesn't hurt the credit card transaction as it was never a payment option previously."
He added that consumers can also use mobile devices for credit card payments, thanks to mobile credit card processing technology. "This has made credit cards even more ubiquitous, which has fuelled the growth in spending and number of transactions," he said. "Even with new forms of e-payment modes being introduced in places such as hawker centres, coffee shops, and school canteens, it will have little to no impact to the cards business because these are merchants that traditionally do not accept credit cards."
Mr Anthony Seow, DBS Head of Cards & Unsecured Loans, added: "We consider cards to be a crucial part of the digital payments landscape as well, given that e-commerce as well as mobile contactless payments such as Apple Pay, Android Pay and Samsung Pay are reliant on credit and debit cards."
The real issue is the absence of an interoperable system which all payment modes can tap into, the banks acknowledged. And this is where the common QR code could come in, they added.
"One of our observations early on was that the lack of ubiquity in digital payment acceptance by merchants does in turn discourage consumers from making the transition to digital payments," said Mr Seow. A "national interoperable system" would accelerate the adoption of digital payments in Singapore, he added.
On its part, UOB has set up more than 10,000 contactless point of sale terminals which accept various forms of cashless payments, said Ms Jacquelyn Tan, UOB Head of Personal Financial Services Singapore. The bank also extended the PayNow function to UOB MyKey, a mobile keyboard that allows customers to make PayNow transfers via any social messaging app, such as WhatsApp or Facebook Messenger.
The MAS has been nudging banks and other industry players in this direction. Its managing director Ravi Menon has previously called for a common payments infrastructure, as he noted the plethora of payment apps and mobile wallets.
Pointing out that "social costs" of cash and cheques – including the cost of securing and storing cash, and process cheques - run up to the tune of about S$2 billion a year, Mr Menon said: "The economic cost of this heavy reliance on cash and cheques is not trivial."
In a response to TODAY's queries, the central bank acknowledged that interoperability can be improved, and last month's formation of the Payments Council – which brings together both payment services providers and users – was a step towards this direction.
"Singapore has the right infrastructure in place to achieve this, but will need better coordination within the payments ecosystem," said an MAS spokesperson.
The MAS also gave the banks credit for building key payments infrastructure in recent years, such as FAST – which allows instant transfers between different banks accounts – and PayNow.
"Peer-to-peer transfers between bank accounts is just the first step," the MAS spokesperson said. She added: "Banks are working on building better and easier ways for businesses to connect to and use PayNow. These initiatives set the stage for further applications to make e-payments more widely adopted and used."
'SO MANY CARDS, SO MANY TERMINALS'
The evolution of e-payments in Singapore can be traced back to 1985, when NETS was started to facilitate electronic transactions for retail. It was in the 1990s that credit cards took off here, and this was followed by the introduction of the ez-link card – a contactless stored value card - for public transport payment.
In places such as Hong Kong, for instance, the Octopus Card can be used for both transport and retail.
Mr Yeo felt that while it was difficult to design the NETS or ez-link systems with an eye on possible assimilation with other payment modes decades down the road, the authorities should have streamlined the later systems "in terms of branding, positioning and usage".
Today, the digital payments scene has a dizzying array of options for consumers – QR code payments, Apple Pay, Samsung Pay, Android Pay, mobile payment for public transport, just to name a few.
Just this week, ride booking service Grab jumped into the fray by announcing plans to make its in-app payment service GrabPay available for payments at food and beverage outlets, retail and others.
Not only do consumers have to turn to multiple cards or mobile applications when paying for something, merchants also need to install a multitude of terminals to contend with the different systems. "For a mature market, Singapore is lagging when it comes to e-payment adoption. Our ecosystem is fragmented, with various non-interoperable schemes and a multitude of mobile payments options," said Mr Bellens. "This is inconveniencing customers, as they need to carry various cards, and businesses, which have to bear the cost of installing multiple readers. Hence, many end up going back to the default cash transaction."
Apart from FAST and PayNow, previous mobile wallets or payment transfer systems were developed by banks mainly to serve their own customers or a select group of consumers, he noted.
Mr Yeo reiterated: "Future Government-led payments efforts will need to (tell) the consumers what role (the systems) play, how they differ from other systems and why consumers should use them."
The PayPal survey also found that the sheer number of payment options available and the lack of interoperability may pose a barrier to full adoption of e-payments. Almost two thirds of the respondents felt that more payment methods meant more confusion, and a similar proportion of merchants found it difficult to keep up with digital payment trends.
Merchants whom TODAY spoke to said that while going cashless appeals to them, they would like to see a more integrated and interoperable system.
Mr John Chen, co-founder of food chain Aloha Poke, said: "I definitely prefer an integrated terminal, as it would save space. We would also save on rental costs, as there is a separate rental fee for each terminal currently." Currently, the food chain offers NETS and credit card payments, as well as contactless options such as Apple Pay.
Taxi drivers, for example, also lament the staggering range of payment options that they need to provide.
Comfort driver Nick Tan, 37, said he offers eight payment modes for his customers. These include NETS, ez-link, credit cards, AliPay and Dash. "Everyone prefers different ways to pay. Singaporeans like to use cash or NETS, foreigners prefer cards, and then a lot of passengers from China use AliPay," he said.
MAS HOLDS THE KEY: ANALYSTS
While having an interoperable system could see banks losing market share, it may not necessarily spell bad news for them in the long run, analysts said.
Mr Bellens believed that while it was too early to measure the potential impact on the banks' business, their earnings from cards could be hit.
"For consumers, there is less hassle in needing to withdraw money at the ATMs, or needing to pay a convenience fees for various credit card usage, such as for taxi rides, online purchases of cinema or theatre tickets," he sad. "For merchants, using PayNow with the QR code not only dispenses with the credit card merchant fees, but allows for immediate fund transfers."
But Mr Chia Tek Yew, KPMG Singapore Head of Financial Services Advisory, noted banks would stand to benefit from a higher volume of transactions by "increasing e-payments and/or credit card usage among consumers and merchants".
Expecting the banks to come up with other services to ride on the common platform, Mr Yeo added that banks could gain from a previously "untapped source of transactions" which would have been carried out in cash in the past. "A great example would be using PayNow to split bills for dinner et cetera. This previously might have been done in cash," he said.
Even so, much would rest on the MAS in getting the banks and other industry players to come together for the greater good, and unify the fragmented landscape, the analysts said.
And the MAS is looking to do just that. Its spokesperson reiterated that the central bank is working with the industry on "simplifying e-payments acceptance at merchants".
The deployment of unified point-of-sales terminals and a common QR code would enable merchants and consumers to use a "single e-payment acceptance point that can accept a variety of payment options", the spokesperson added.
Unlike other countries where the e-payment drive is led by the private sector, the Singapore Government is taking an active role in the latest efforts, the analysts noted.
Nevertheless, Mr Yeo noted governments around the world have seen the benefits of going cashless, and are "trying to duplicate this private-led movement through a combination of policy, support, regulation and incentives". He added: "We will be watching with great interest to see if Singapore can produce an effective working model for doing this, and if there is any place in the world in which it is possible to do so - it is likely going to be Singapore."