Despite price surge, views mixed on gold outlook for 2017
SINGAPORE — While gold prices are going up, the prospects of rising interest rates and a stronger United States economy could dampen the outlook for the precious metal for the rest of the year, say analysts.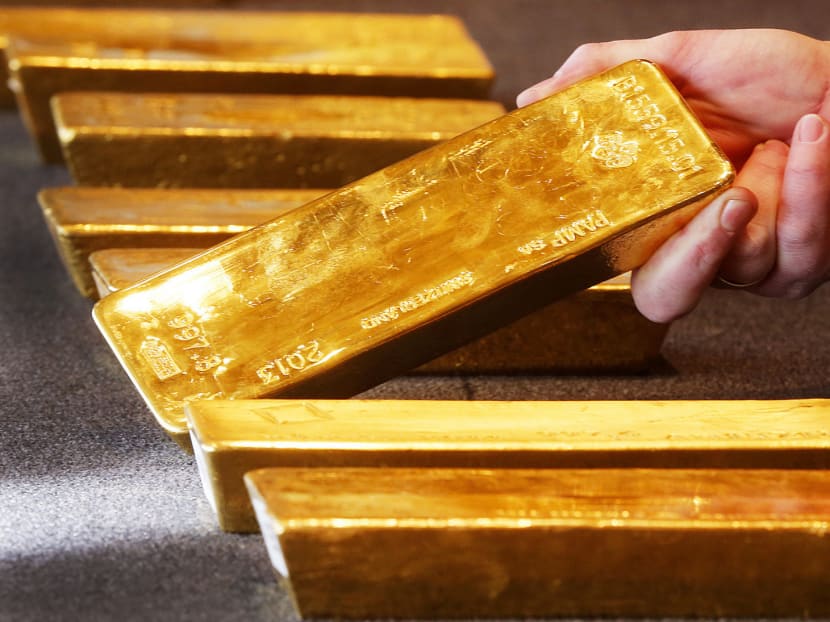 SINGAPORE — While gold prices are going up, the prospects of rising interest rates and a stronger United States economy could dampen the outlook for the precious metal for the rest of the year, say analysts.
Gold prices have been on the rise so far this year, with investors seeking to spread their risk amid uncertainty over global economic growth and widespread unease over US President Donald Trump's policies.
The precious metal held around-three-month highs last week, with the spot price hitting US$1,241.53 (S$1,763) an ounce on Wednesday (Feb 8) since Nov 11. Late Friday in Asia, bullion was changing hands at US$1,233.62 an ounce.
IG market strategist Jingyi Pan noted that gold prices have rallied since the start of the year, underpinned in part by the stronger US dollar and seasonal demand.
"This seasonal demand had been apparent as the 'safe haven' took off, despite positive sentiment in the markets, as seen with the stock market climb," said Ms Pan.
Even discounting the traditional rise in demand for gold as gifts in China before the Lunar New Year, which started at the end of January, gold prices are on the uptrend.
In a survey of 26 analysts and traders conducted by Bloomberg at the end of last year, two out of three were bullish on the outlook for gold in 2017. The median year-end forecast was US$1,300, with the year's peak expected at US$1,350. Two analysts in the survey said the metal may reach US$1,600 with the US Federal Reserve turning more dovish than expected.
However, analysts TODAY spoke to were divided over the price outlook this year.
Mr Barnabas Gan, economist at OCBC Bank, sees the price falling to US$1,100 by the end of this year.
"Our year-end call for gold remains a bearish one, with much of the fall underpinned by our expectations for the Federal Open Market Committee to hike rates two more times later this year. Gold, in our view, remains dominantly driven by dollar movement, and the rate hike should rally the dollar and drag gold to our year-end outlook of US$1,100/oz," said Mr Gan.
Ms Margaret Yang, market analyst at CMC Markets Singapore, added: "While the near-term support and resistance levels are US$1,136 and US$1,240, respectively, technically, gold price is still in a five-year bearish trend since its collapse in 2011."
Volatility in the stock markets may push investors to seek safer havens in gold. While US equities have rallied this year amid expectations of accelerating economic growth, hedge fund manager Seth Klarman cautioned against the euphoria that has buoyed the stock market since Mr Trump took office.
Describing "perilously high" valuations, "exuberant investors have focused on the potential benefits of stimulative tax cuts, while mostly ignoring the risks from America-first protectionism and the erection of new trade barriers", wrote Mr Klarman in a note to investors last week.
Boosting the bullion for now is a slew of chaotic political and economic events.
Apart from America's battered trade relationship with China and the United Kingdom's exit from the European Union, elections slated in European states including France, Germany and the Netherlands are brewing a fresh sense of uncertainty amid rising protectionist and populist groups.
The controversy over the temporary travel ban by Mr Trump on people from seven Muslim-majority countries further pushed investors to seek safer havens, even as the US jobs data late last week trimmed the near-term interest rate hike expectations.
"Gold prices are likely to see some interim support in the first half of 2017, on the back of risk aversion and uncertainties," said Mr Gan. "We continue to place Trump-centric concerns as one of the top concerns on our radar, given the uncertainty surrounding his policies."
Mr Albert Cheng, CEO of Singapore Bullion Market Association (SBMA), noted that Brexit and Mr Trump's policies would affect the US economy, equities and currencies, which have a bearing on the movement of the gold price.
"I see gold prices in 2017 to be more volatile, and trading within a narrow corridor. Any black swan event will force it out of range from time to time, but should be short-lived. We remain positive on gold as an asset class," he said.
In October last year, SBMA had launched a joint feasibility study along with London Bullion Market Association and Intercontinental Exchange Benchmark Administration to develop the US dollar price discovery mechanism for gold during Asian business hours.
"We are still in the process of conducting the feasibility study. The potential users that we have spoken to were positive on the suggested pre-AM gold price at 2pm Singapore time, they will find it useful and convenient … to use it to benchmark against their business transactions for settlement in the same day. However, it is too early to go into any detail at this stage," said Mr Cheng.