Gain City uses downturn to fortify market position
SINGAPORE — Downsizing, cutting down on showroom space, pruning product ranges on offer: These are what many retailers are doing as high rentals, dwindling footfall and rising staff costs continue to bite into profits.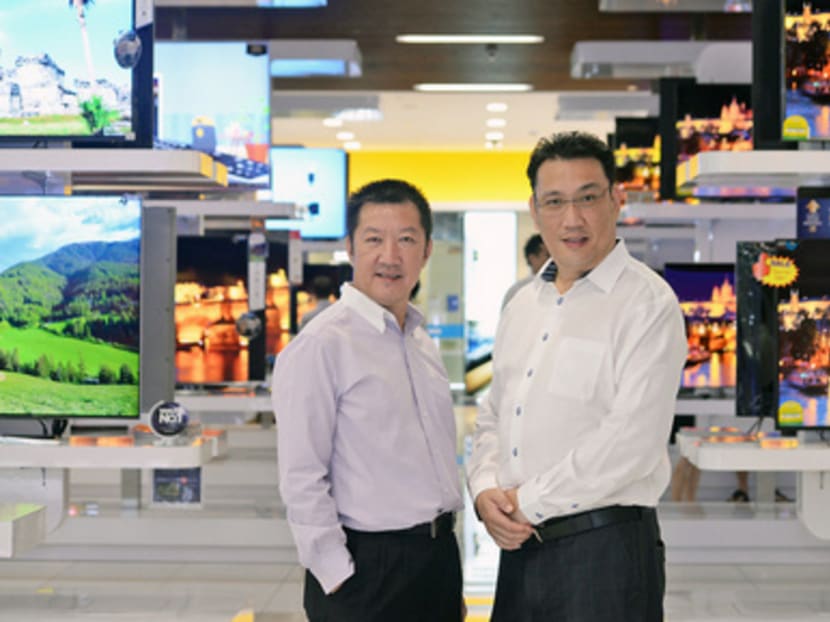 SINGAPORE — Downsizing, cutting down on showroom space, pruning product ranges on offer: These are what many retailers are doing as high rentals, dwindling footfall and rising staff costs continue to bite into profits.
But not all of them. Seemingly unfazed by industry headwinds, home-grown consumer electronics retailer Gain City Best-Electric is taking advantage of the tough business climate to strengthen its foundations and expand tactically to position itself in the market for the long haul. Sounds like a complex strategy at play? Not really. It is simple and straightforward.
Gain City Best-Electric has consolidated its operations by closing down its factory in Ang Mo Kio and three warehouses in Bedok, Pioneer and Serangoon, and pooled its resources to create a mega-retail hub in Sungei Kadut offering a wide range of products. The S$70 million, 11-storey retail and warehouse complex here stocks than 1,000 brands, including top-of-the-line offerings the company claims are not available in any other store in Singapore.
With a total floor area of about 538,196sqft, Gain City Megastore@Sungei Kadut is Singapore's largest consumer electronic, IT and lifestyle departmental store, said the company.
"Smaller players have been wiped out over the past few years given the tough business environment. Now, the game is among bigger players and the winners will be those who are able to minimise costs and optimise services and value additions as consumers continue to get more and more price-sensitive," said Mr Danny Teo, executive chairman and founder of Gain City Best-Electric.
The company has located most of its outlets in non-prime suburban areas to take advantage of the lower rentals.
"We are not focused on popular retail shopping malls. Instead, we have gone for neighbourhood locations. We are then able to pass on the cost savings to our consumers. Our products are on average 5-50 per cent cheaper than the competition. Moreover, the range on offer, particularly at our Sungei Kadut megastore, is nowhere to be found in Singapore," said Mr Kenny Teo, MD of the company, and the brother of Mr Danny Teo.
Three out of Gain City Best-Electric's network of 11 stores, including its outlets at Ang Mo Kio, Towner Road and the megastore at Sungei Kadut, sit on land the company owns, allowing it to have better control over costs.
"We intend to piggyback on the downturn, use it as an opportunity to better position ourselves in the industry. The underlying theory is simple — during an economic slowdown, people will not stop shopping but will look for more value in what they buy," said Mr Danny Teo.
Seeing opportunity in crises comes naturally to Mr Danny Teo, a secondary school dropout who has achieved outstanding business success despite his lack of academic qualifications. "People with (an) education are running on two feet and I am running on one," he said.
Gain City Best-Electric, however, is new to warehouse retailing in industrial estates compared with established players in this space such as Courts, Giant and Ikea in Tampines, as well as Big Box megastore in Jurong East and FairPrice's members-only Warehouse Club in Joo Koon.
To attract consumers to spend the entire day at the megastore, Gain City Best-Electric has built special audio rooms for customers to try out sound systems, set up space for events including cooking demonstrations for kitchen appliances, as well as a play area for children and a sky terrace. There are also two food-and-beverage outlets in the complex.
The company is also gearing up to launch its enhanced online retail website to mark its 35th anniversary. The e-commerce threat in Singapore in the consumer electronics space, said Mr Danny Teo, is not as big as it is in larger markets such as China and Australia. Singapore, he said, is a well-connected small market where retail outlets are easily accessible.
"Retailers are upping the ante by curating unique experiences for customers. Flagship stores continue to sprout around the island," said Mr Alan Cheong, senior director Singapore at Savills Research, pointing to Australian electronics retailer Harvey Norman's three-storey, 100,000sqft flagship outlet at Millenia Walk, the largest electronic and household appliance department store in the Central Business District.