Keppel bribery scandal: Govt-linked firms should set the right example, say experts
SINGAPORE — The share price of Keppel Corp, whose offshore and marine unit has been embroiled in an international corruption scandal, closed lower on Tuesday (Dec 26), as corporate governance experts called on government-linked companies (GLCs) to set the right tone and culture for firms here.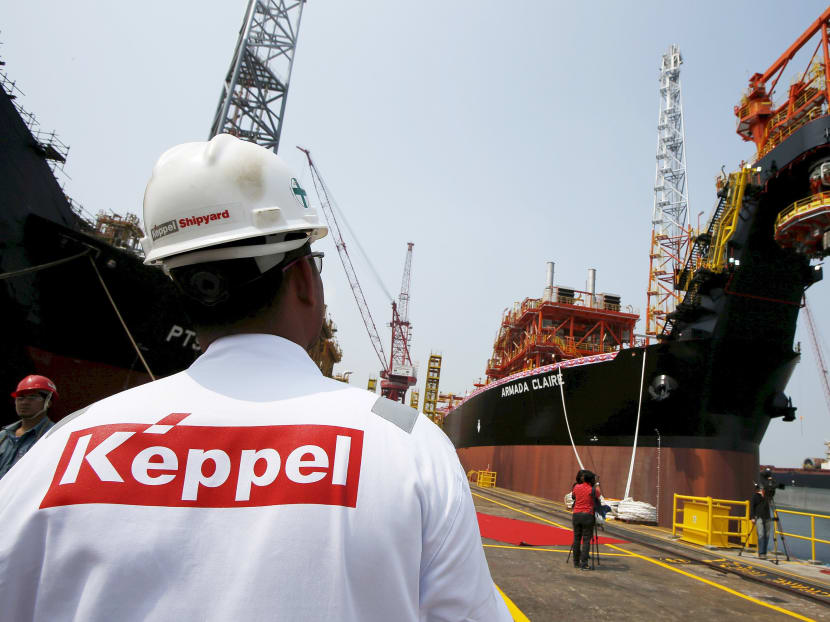 SINGAPORE — The share price of Keppel Corp, whose offshore and marine unit has been embroiled in an international corruption scandal, closed lower on Tuesday (Dec 26), as corporate governance experts called on government-linked companies (GLCs) to set the right tone and culture for firms here.
While corrupt practices may be rife in the offshore and marine sector particularly in some emerging markets, these companies ought to hold themselves to more stringent standards given the Singapore Government's pristine reputation and tough stance against graft, the experts stressed.
"Like it or not, stakeholders will hold Keppel Corp to a higher standard by virtue of (Singapore's state investment firm) Temasek Holdings being its largest shareholder. As a GLC, it will need to be even more stringent in embedding the right culture, and in sieving out corrupt, unethical and illegal practices," said accounting associate professor El'fred Boo from the Nanyang Technological University's Nanyang Business School.
Associate Professor Mak Yuen Teen, from the Department of Accounting at National University of Singapore Business School, added: "Even though we say that our GLCs are governed by their own boards and run by their own management, they are... still government-controlled companies with their shares held through Temasek. And as the controlling shareholder, Temasek has a stewardship role over the GLCs and need to hold the boards and management accountable."
On Saturday, Keppel Offshore & Marine (KOM) said in a press statement that it has agreed to pay US$422 million (S$570 million) in fines as part of global resolution with authorities in Singapore, Brazil and the United States.
The markets re-opened on Tuesday after the Christmas holiday, and Keppel's share price fell by as much as 5 per cent to S$7.09 in the day's trading. It recovered slightly to close at S$7.29, down 2.4 per cent. The share price of another Singapore company which was linked to the news, Sembcorp Marine (SembMarine), also tumbled by more than 3.6 per cent to close at S$1.87.
Brazil's state-run oil company Petrobras has been at the centre of Brazil's largest ever corruption scandal amid investigations into political kickback schemes involving contractors.
The US Justice Department said on Saturday that from 2001 to 2014, KOM engaged in a scheme to pay US$55 million in bribes to officials at Petrobras and the then-governing political party in Brazil, the Workers Party of Brazil. The bribes were paid to win 13 contracts with Petrobras and Sete Brasil, a privately-held Brazilian company that commissioned a large fleet of rigs for Petrobras' use. Sete Brasil was behind about US$10 billion of rig-building contracts awarded to KOM and SembMarine.
In recent years, several Singapore Technologies (ST) Marine executives — including its former group financial controller Ong Teck Liam and ex-chief operating officer Han Yew Kwang — have been hauled to court for conspiring with others to making petty-cash claims for fake entertainment expenses. The court had heard that corrupt payments were made by ST Marine — a subsidiary of defence conglomerate ST Engineering — to secure more business by bribing the employees of its customers who had sought ship repair services.
Keppel, Sembcorp and ST Engineering are all GLCs. The experts noted that corrupt practices may be rampant in the offshore and marine sector because of the massive scale of its projects, and high corruption risks exist in markets such as Latin America, Africa and parts of Asia.
Apart from the offshore and marine sector, industries that are exposed to bribery risks include defence, mining and natural resources and construction, Assoc Prof Mak said.
CIMB economist Song Seng Wun noted that for industries which involve business volumes totalling billions of dollars annually, "some companies can be caught up when business practices are not as straight forward as we see in Singapore".
"The large sums of money moving around creates greater temptation to (engage in) irregular business activities," he said.
Assoc Prof Mak noted that Keppel had previously refuted allegations that KOM's subsidiary Keppel Fels was involved in the Unaoil corruption scandal, which made headlines around the world last year. Then, Keppel issued a swift denial and said that it has zero tolerance for corruption. It has "a code of conduct which prohibits, among others, bribery and corruption", Keppel had said.
The latest case casts doubts on Keppel's credibility, the experts pointed out.
"With this Petrobras case now being proven, there will be concerns as to whether there are other cases. It is very important for Keppel Group to do a thorough review of its businesses - especially in high risk industries and high risk countries," said Assoc Prof Mak. "Any future lapses will have even greater implications."
Some of the experts said that Keppel's reputation could be hit by the bribery scandal, making it harder to win business deals.
Nevertheless, CMC Markets analyst Margaret Yang said investors seem to have a optimistic longer-term outlook on the company, going by Tuesday's relatively mild share price movements. "(Investors) may be looking for the long term view in light of the resurgent oil and gas sector," she said. "But we have to wait a few days to see the real impact, if any, when more investors return from their holidays."
Regardless, Singapore's reputation has certainly been tainted by Keppel's actions, Assoc Prof Boo said. "(It) will provide a reminder that the fight against bribery and corruption is a constant challenge and there is little room for complacency," he said.
Assoc Prof Mak added: "(The Keppel case) is very serious. We have never seen penalties of such scale for a Singapore company, although we have seen much larger penalties for some overseas multinational companies... It's a wake-up call as Singapore companies do business overseas (and) this is a key risk they must pay attention to."