Singapore a hotbed for cryptocurrency startups
SINGAPORE — On a cold winter's night in 2014, a Wall Street trader and a programmer were having a rigorous discussion over a few glasses of beer at a borough in New York.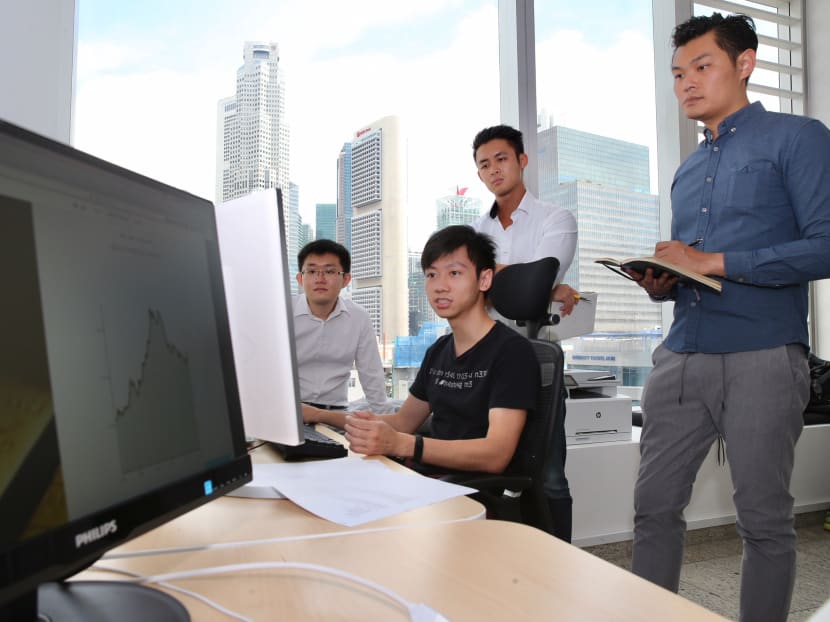 SINGAPORE — On a cold winter's night in 2014, a Wall Street trader and a programmer were having a rigorous discussion over a few glasses of beer at a borough in New York.
In spite of being situated in the Big Apple, widely regarded as the heart and pulse of the financial world, the two enterprising individuals were mulling over the underserved and unserved people on the other spectrum.
They had realised that the current world of finance was excluding a wide range of users — those who either had too little money to open an account or, due to circumstances, those who fall short of being involved in the financial world.
Amid the drinks, Mr KC Chng and his friend, Mr Anthony Claret Eufemio — who were aged 28 and 37 then — spouted the idea of selling gold, a universally-accepted and recognised stable asset, through the use of digital currencies.
The late night discussions spun the creation of DigixGlobal, a business representing physical gold bullion as transferable digital blockchain tokens on Ethereum. Ethereum is an open-source, public, blockchain-based distributed computing platform featuring smart contract functionality.
The business was incorporated two days before Christmas in 2014 in Singapore. It became one of the early adopters in utilising cryptocurrencies in the Republic.
"We realised the current world of finance was excluding a wide range of users that were unbanked or underbanked," shared DigixGlobal co-founder Shaun Djie, who joined the startup after leaving his job at a gold trading fund.
"Gold is the world's oldest and most stable asset. Serving the unbanked and emerging markets like Indonesia and India by making it digital would create a stable digital coin for the growing cryptocurrency market allowing for greater financial and social inclusiveness."
Singapore — described by some experts as a sound environment for cryptocurrencies and blockchain technology to thrive due to its top-class communications network, its reputation as a key financial hub and penchant for Fintech — is home to several cryptocurrency start-ups.
The list includes CoinGecko, which runs the third largest cryptocurrency data website in the world with over 13 million monthly page views. The startup, which was incorporated in Singapore in April 2014, has its core team currently in Kuala Lumpur with remote workers in several countries.
"We chose to incorporate in Singapore a few years back because there is more Bitcoin liquidity in the market back then as compared to Malaysia," shared CoinGecko's co-founder Bobby Ong.
"We needed the Bitcoin liquidity as some of our clients pay in cryptocurrencies."
The Republic is one of the early adopters of blockchain technology. Even before the terminology for Initial Coin Offerings (ICO) became popular, DigixGlobal was already involved in the ICO front. ICOs are used by startups to raise funds for new cryptocurrency ventures, but the method has been drawing flak amid the recent regulatory tightening due to fraud and scam concerns.
Not all cryptocurrency startups, however, should be viewed as frauds, said Mr Chng. The way DigixGlobal builds trust, he pointed out, is by letting the customers believe in the technology and the product it created. It must have worked. His company has come a long way since its first customer — a Dutchman who purchased gold tokens from the company in January 2016. It now has 8,000 supporters across various channels.
DigixGlobal uses the cryptocurrency Ethereum to power its business. Ethereum is a blockchain like Bitcoin but allows for smart contracts and asset tokens.
The company has a proof of asset protocol, which involves using blockchain to record the entire process every step of the way. Records of proof are published permanently. It also does its due diligence on its clients, using know your customer (KYC) compliance checks to check on the legitimacy of the client, on top of other background screenings.
The future of the cryptocurrency market is bright, Mr Ong believes, as he sees a future with tens of thousands of tokens in the market. There are currently over 1,000 cryptocurrencies and tokens. The market's entire cryptocurrency valuation hit a record of over US$200 billion (S$273 billion) on Friday (Nov 3). That is in stark contrast to US$17 billion at the start of the year.
According to Mr Ong, based on the data collected from his platform, most cryptocurrency users are males below the age of 35.
The cryptocurrency market is a global one, and the platform caters not only to users from English-speaking countries but also from Germany, Japan, South Korea and Russia.
"We see a future where ICOs will be regulated, especially for utility tokens and there will be many more tokens created for many other use cases," said Mr Ong.
There have been increasing interest in cryptocurrencies this year — especially in Bitcoin and Ethereum — because of the huge returns they have shown, noted Mr Ong. Bitcoin, which was priced at US$1,000 on Jan 1, soared to an all-time high on Friday (Nov 3) at US$7,454. The rise came after CME Group — the world's largest exchange owner — had announced plans to introduce Bitcoin futures by the end of the year.
But, like all trading activities, there are still risks to watch out for when getting into this new space, Mr Ong warned. These include wallet security, price volatility and the potential risk for scams.
He suggested that users need to take control of their own coin security and are "not advised" to store their "coins" in an exchange. That is because exchanges are very prone to hacking, which could cause users to lose all their coins.
With an increasing number of investors looking to jump in and "chase the next big wave" amid growing number of cryptocurrency fundraising campaigns, Mr Ong's advice to them is this: Do your due diligence.