'Your fried rice's ready, Chef'
SINGAPORE — They speak Chinese, cook up a mean dish of kung pao chicken, and are always consistent in exactly how much oil and salt they use.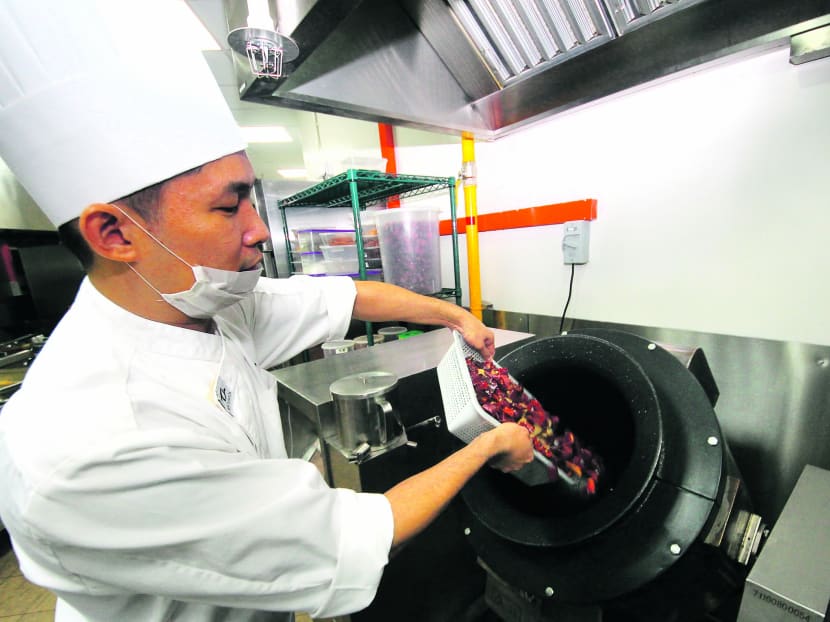 SINGAPORE — They speak Chinese, cook up a mean dish of kung pao chicken, and are always consistent in exactly how much oil and salt they use.
Meet TungLok's latest chefs, or rather, auto-cooking machines that can be programmed to whip up a variety of high quality Chinese dishes with minimal human effort.
When the restaurant chain opened its third central kitchen in Tai Seng Street in September, the company decided to go high-tech in an attempt to raise productivity against a tight labour market, and improve its lesser-known catering business.
It brought in three automated woks called Artificial Intelligence Cooking Machines (AICs), which can produce dishes at more than three times the speed of veteran chefs.
The machines are the first of its kind in Singapore.
Compared with manual cooking where a chef can handle only one wok at any time, only one employee is needed to operate all three machines, saving the company time and labour costs.
Using the example of fried rice, TungLok said the machines can whip up 100 kilograms of the dish in an hour, compared with 30kg if cooked manually. Such improvement in efficiency and productivity can help increase its catering sales by 15-20 per cent, it said.
At a demo yesterday, a staff member keyed in a pre-programmed recipe into the machine and stood back. Several seconds later, after calculating and releasing the required amount of oil into the automatically heated barrel-shaped wok, the machine prompted the staffer manning it to place the remaining ingredients into it. The wok began to rotate, mimicking the stir-frying action of a chef.
Within minutes, a piping hot dish of kung pao chicken was ready.
"(This) is a good illustration that even in a traditional area like the kitchen, with the intelligent use of technology, it is possible to enhance productivity, make the job of the workers easier, safer, smarter and at the same time, maintain or even enhance the quality of the output, in this case food," Minister for Prime Minister's Office Lim Swee Say told reporters during his visit to the central kitchen.
Mr Lim added that the labour market is expected to be tight in the "years to come".
According to the population white paper released earlier this year, Singapore's workforce growth is expected to slow to about 1 to 2 per cent per annum for the rest of this decade, compared with 3.3 per cent per annum over the past 30 years.
Beyond 2020, workforce growth will slow down further to about 1 per cent per year as the population ages.
"As we go through this transition of enhancing the quality of our growth, manpower growth will continue to slow down.
"Therefore companies that can find ways to make better use of every person, every worker, I'll say these are the businesses that will be able to cope better as we go through this transition," Mr Lim said, adding that companies can tap on schemes and grants by SPRING Singapore in their productivity journey.
TungLok said it invested S$150,000 for the three machines but received an undisclosed amount of subsidies under SPRING's Capability Development Grant.
The company will also tap on Inland Revenue Authority of Singapore's Productivity and Innovation Credit scheme to enjoy tax deductions or cash payout for its investment.
"The investment is quite low after the SPRING grant, so why not go for it? Manpower cost year-on-year has increased by two-digit, so that's become very expensive and it's also more difficult to retain staff," said Mr Andrew Tjioe, TungLok's Executive Chairman.
"With that in mind, such investment is worth it," he said.