Return of 'core leader' title implies a dismantling of CCP's unwritten rules
For those who do not follow the elite politics of the Chinese Communist Party (CCP) closely, the news of President Xi Jinping given the new title of a "core leader" might seem like a big fuss over a small matter.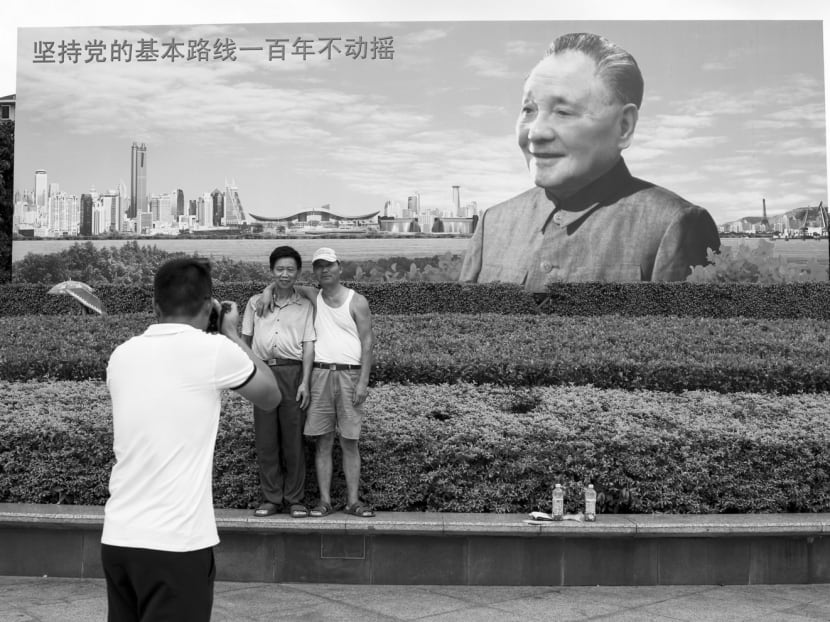 For those who do not follow the elite politics of the Chinese Communist Party (CCP) closely, the news of President Xi Jinping given the new title of a "core leader" might seem like a big fuss over a small matter.
Yet, the new reference to Mr Xi is a significant one. It opens the way to a gradual dismantling of the CCP's unwritten rules and norms that have governed elite behaviour and leadership succession for almost three decades.
It also signals a new era of growing unpredictability in the power struggles within the CCP, tearing apart existing playbooks.
The term core leader in the CCP is similar to the conch shell in the novel Lord of the Flies: A manufactured symbol of power that is inherently meaningless.
For decades, party leaders such as Mao Zedong and Deng Xiaoping did not require it to wield power.
Its first mention came on June 16, 1989, 12 days after the bloody Tiananmen crackdown. On that day, Deng said that "a collective leadership must have a core; without a core, no leadership can be strong enough".
He labelled Mao as the core — or hexin in Chinese — of the People's Republic of China's first generation leadership and said he himself was the core of the second generation.
More importantly, Deng bestowed this newly-invented title on then-new leader Jiang Zemin.
"Deng's purpose was to strengthen the authority of a weak new general secretary selected in a context of crisis and emergency," wrote veteran China expert Alice Miller in the China Leadership Monitor in July this year.
Deng's move worked. After seeing his two predecessors disgraced and purged, Mr Jiang was able to consolidate his power.
When his successor Hu Jintao was not given the title, it was widely seen as a sign of leadership weakness.
Now, after an absence of 14 years, it is back. Mr Xi, in a relatively short span of under four years, has amassed enough political sway to dust off the neglected crown.
Just like the conch, the core has taken on a meaning and life of its own, transcending its origins. Mr Xi's power will not be challenged in the short term.
DENG'S UNWRITTEN RULES
A key implication of the return of the core leader is the expected removal of several unwritten rules in the CCP.
Since the 1980s, Deng had attempted to establish a set of norms governing elite politics and introduce more orderly leadership succession.
He wanted to end the habit of purges. Mao destroyed two of his three anointed successors, while the third was removed after the Great Helmsman died.
To do so, Deng made the Party Congress a regular event, to be held once every five years. During the height of the Great Leap Forward and the Cultural Revolution, the congress lapsed for 13 years.
More importantly, he also introduced the principles of age caps, term limits and systematic succession.
All these gave the opaque world of CCP elite politics a veneer of transparency and, with the exception of the Tiananmen incident, they led to a relatively predictable era in the party's history.
Deng put an end to lifelong tenure of cadres — a principle that was subsequently exploited by Mr Jiang and his allies to outmanoeuvre rivals.
In 1997, Mr Jiang imposed a new retirement cut-off of 70 years old to force out legislative chief Qiao Shi, who was 70. Mr Jiang, who was 71, was exempted, presumably because of his status as a core leader.
Five years later, in 2002, the retirement age was brought down to 68, costing top adviser Li Ruihuan another term.
This move began a new guideline known unofficially as qishang baxia ("seven up, eight down"). It means those 67 years old or younger could stay, while those above 68 had to retire.
The CCP has stayed faithful to this convention. In 2007, three politicians in the Politburo Standing Committee who were older than 68 retired. In 2012, seven, including Mr Hu, stepped down.
But do not expect Mr Xi to keep to it. He has incentives to ignore the guideline so as to allow allies such as anti-corruption chief Wang Qishan, who is 68, to stay on during the next major leadership transition at the 19th Party Congress next year.
Such a likelihood increases after a director at the party's Central Policy Research Office told the media on Monday that qishang baxia is "something from folklore, and cannot be trusted".
It was a telling statement. The new core leader is laying the ground for a change.
THE INVISIBLE CROWN PRINCE
To further consolidate his power, Mr Xi is also likely to defy a Deng-established tradition of a clear successor in waiting.
When Deng pushed Mr Jiang to the top, he made it a point to also appoint a much younger politician, Mr Hu, to the Political Standing Committee.
The intention was to end speculation over leadership succession early on, smoothen political transition and create stability in the party.
The habit continued, when Mr Xi was clearly annointed as Mr Hu's successor in 2007, five years before he eventually took over.
If the script is followed, that means Mr Xi's heir apparent should be elevated to the Politburo Standing Committee next year.
But given his fresh and firm grip on power, Mr Xi is unlikely to countenance having a crown prince in waiting and stealing his limelight.
That brings us to the third rule of Deng which Mr Xi could break — a two-term limit as leader of the party.
If he succeeds in removing the age caps and delaying the leadership succession, Mr Xi would have set himself up nicely for a third term. His term is supposed to end by 2022, when he will be 69.
China's constitution sets a two-term limit for presidents, but there is no cap for the CCP's general secretary. So he could relinquish his state title, but hang on to the far more important and powerful party rank. Such an arrangement has precedents in the CCP, with the most recent in 1993.
Most indications suggest he would. Since coming to power in 2012, he has shown that, unlike his predecessor, he is not afraid to bend conventions and smash unwritten rules.
For instance, the arrest and conviction of the powerful former security czar Zhou Yongkang broke the long-held rule that Politburo Standing Committee members had immunity.
Deng's unwritten rules have always carried a fragility in a party where institutionalisation remains forlorn.
They look set to be dismissed as folklore and discarded as peripheral norms ill-suited in the core leader's new horizon.
Leadership politics in China is about to take a turn for the unpredictable.
ABOUT THE AUTHOR:
Peh Shing Huei is author of When the Party Ends, winner of the Singapore Literature Prize 2016, and former China bureau chief of The Straits Times. He is also the founding partner of The Nutgraf, a writing and communications agency.