3 factors complicating Thai Airways' bankruptcy process and restructuring
While I was the head of the corporate finance department at National Finance (now known as Thanachart Bank), I handled many cases of debt restructuring. The largest one was the 20-billion-baht debt of a hospital chain. Much like Thai Airways, creditors had to determine which has more value: Liquidating assets or keeping the business running.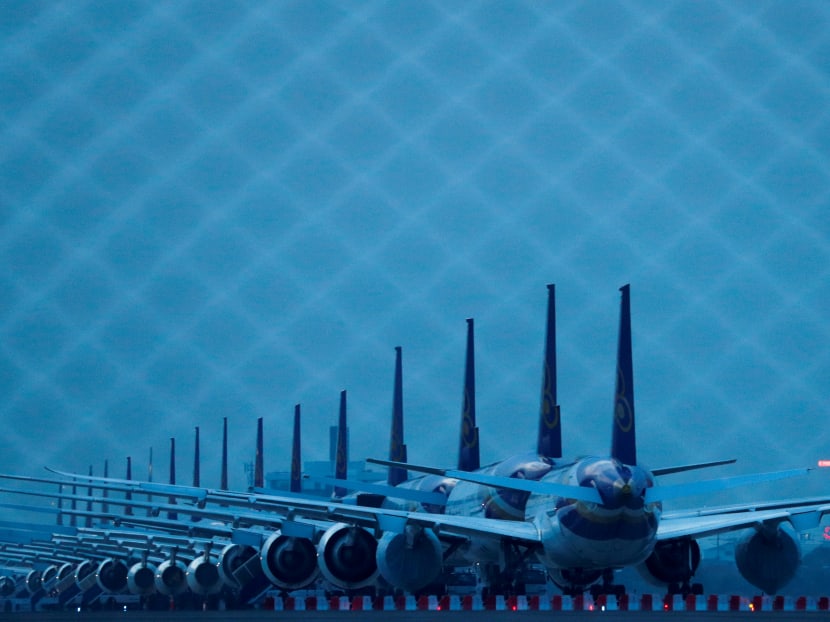 While I was the head of the corporate dinance department at National Finance (now known as Thanachart Bank), I handled many cases of debt restructuring. The largest one was the 20-billion-baht debt of a hospital chain.
Much like Thai Airways, creditors had to determine which has more value: Liquidating assets or keeping the business running.
I proved to all creditors that keeping a business running was worth more than tearing the company apart. I was right, and that hospital chain is still in business 22 years after the restructuring in 1998.
But the case of Thai Airways is much more challenging than the case of that hospital chain for three main reasons.
First, it has zero business since the closure of all Thai airports in April. Even if Thai airports reopen on July 1, Thai Airways will not fly its first flight until Aug 1.
Five months of zero business is estimated to cause 77.5 billion baht (S$3.47 billion) of lost income.
How can a company start a restructuring process with almost 80 billion baht in deficit? Who will finance that deficit?
Without cash for working capital, no airline could restart as there is no money to pay salaries, fuel costs, landing fees, maintenance fees and so on.
Furthermore, after returning to the sky in August, demand for air travel will be low as many countries, if not all, will impose their own restrictions like limiting travel purposes, requiring pre- and post-travel Covid-19 tests, restricting places to visit and needing constant reporting of traveller whereabouts.
It will be very lucky if airlines could fill 50 per cent of their capacity. This means Thai Airways is more likely to need additional cash to cover operating loss until the end of the year.
Huge financial losses in 2020 are not limited to Thai Airways. All airlines in the world need large financial support to keep themselves afloat.
The German government has injected 10 billion euros (S$15.67 billion) to support Lufthansa and the Hong Kong government has provided HK$27.3 billion (S$4.9 billion dollars) to Cathay Pacific.
Thai Airways will require about 100 billion baht in cash support to make up for past and future losses. Without an initial cash bailout, it is almost pointless to discuss business restructuring.
But who will provide such a large amount of cash to Thai Airways? The company is no longer a state enterprise and asking for the government's help is out of the question.
This leads to the second challenging point of Thai Airways' debt restructuring problem: The creditors.
Normally, commercial banks are the main creditors in most debt restructuring cases. Banks are familiar with the restructuring process and are well aware of the issue of haircuts such as reductions in loan principal and interest rates. Moreover, banks can provide needed cash for working capital.
In the case of Thai Airways, loans from commercial banks account only 3.6 per cent of total loans or 12.5 billion baht out of the total 352 billion baht total debt. The largest creditors are aircraft leasing companies totaling 126 billion or 36 per cent of total debt, following by 64 billion baht of debentures or 18 per cent of total debt.
If these two groups of creditors, who constitute more than half of total debt, do not agree with the restructuring plan, Thai Airways will automatically move to bankruptcy status and all assets will be liquidated.
Aircraft leasing creditors will agree to the restructuring plan only if the haircut or debt reduction is less than the resale value of aircraft. I will give you an example.
I borrow 10 million baht to buy a truck for my business and my business runs into financial difficulty. My company immediately files for Chapter 11 type protection like Thai Airways.
In the restructuring plan, I ask all creditors to take a 30 per cent debt reduction. The creditor of that truck will say no because the resale value of the truck is eight million baht. They will be better off foreclosing on the truck rather than reduce the loan to seven million baht.
The issue is more complicated in the case of "operating lease" creditors because Thai Airways just rent the aircraft much like you rent a car.
I am not a legal expert on operating leases. But I think they do not have to be bound by the restructuring plan. They just simply cancel lease contracts and take their aircraft back.
As of March 31, the operating lease contracts for Thai Airways totaled 85.8 billion baht covering 42 aircraft or half of Thai Airways' fleet.
In my experience, it is most difficult to come up with a successful restructuring plan when each type of creditor is treated vastly differently.
Those with good collateral assets, like aircraft, just walk away from the negotiating table and foreclose on their properties. They will get their money back faster that way unless they are assured they will get (most of) their money as promised in leasing contracts.
Can the restructured Thai Airways promise that? Mostly unlikely. This is the third challenging point of the restructuring plan: Shrinking market and intense competition.
The International Air Transport Association has projected that passenger numbers in 2021 will drop 21 per cent compared to the pre-Covid-19 level before recovering slowly, until reaching a 10 per cent drop in 2025.
Please bear in mind that the projection is based on a crucial assumption that passengers are allowed to travel freely, not with restrictions like nowadays.
Apart from a shrinking market, Thai Airways also faces fierce competition from low cost carriers, particularly in the short-haul Asia routes. The competition is likely to be more intense in the environment of a shrinking market.
I do not know the projection of Thai Airways' business under the "new normal". But, I do know that less income means a higher debt haircut.
At full income, Thai Airways is not able to service the 352-billion-baht debt. With an assumption of 30 per cent less revenue, it might need to ask for a 40-50 per cent haircut from creditors. Would creditors accept that?
With a huge cash shortage, creditors with advantages and a shrinking airline business, "smooth as silk" is not a phrase one can use at Thai Airways.
I am particularly concerned about advance ticket buyers who automatically became creditors to Thai Airways and risk a high level of haircut.
Advance ticket sales totalled 18.1 billion baht, which is not a small amount by any standard. Sadly, there is no one to protect their interests. BANGKOK POST
ABOUT THE AUTHOR:
Dr Chartchai Parasuk is a freelance economist. He was previously managing director of Thanachart Life Assurance.