3 ways to build Singapore's 2021 sporting highs into sustained success
The year 2021 was something of a purple patch for Singapore sports.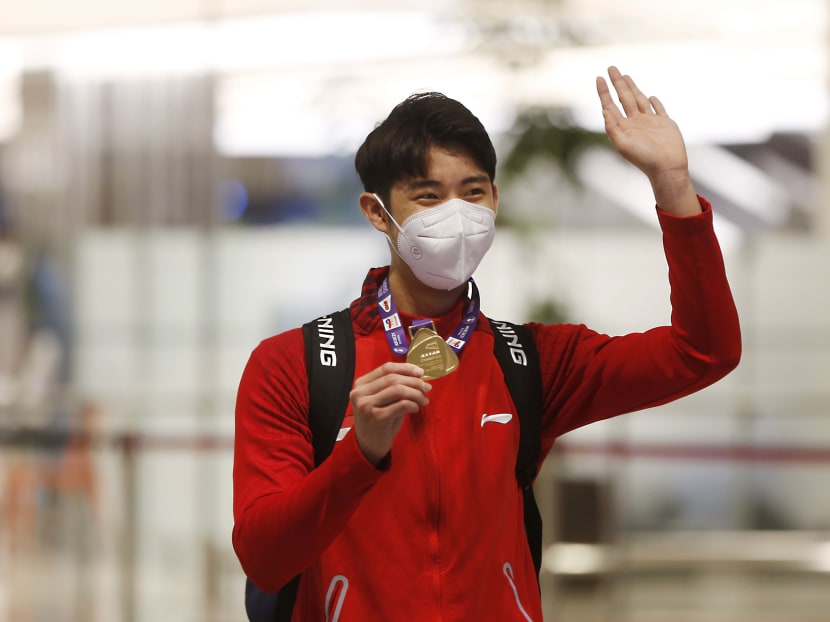 The year 2021 was something of a purple patch for Singapore sports.
Despite being the second year of the pandemic, Singaporean athletes across a broad range of events served up exciting performances and superlative results on the global stage.
These included our Olympians and Paralympians in Tokyo who competed in a significant number of different sports, young cyclists stepping up to the professional ranks in Australia, excellence in cue sports, world champions in badminton and bowling, and a resurgence in football.
The Olympics alone showcased the strength in breadth of our athletes, with 23 athletes competing in a record 12 sports, including first-time appearances in equestrian, marathon swimming and diving events.
Swimmer Yip Pin Xiu also flew our flag high at the Paralympics, winning her fourth and fifth gold medals in a campaign that dates back to 2008.
We then saw Aloysius Yapp becoming world number one pool player, Shayna Ng clinching gold at the International Bowling Federation Super World Championship, and of course the much-heralded World Championships win by shuttler Loh Kean Yew.
The year ended with a solid Suzuki Cup run by the Lions, who made the semi-finals for the first time since 2012 with some gutsy and gritty displays.
This united footballing fans and the general public alike, who have been justifiably critical of the lack of success by the team over the years.
Looking at all the results by Team Singapore in 2021, it is important to remember these were achieved against the backdrop of Covid-19, which severely curtailed training and competition opportunities at home and abroad, and created a general atmosphere of fear and uncertainty.
Even more heartening was the fact that the athletes who excelled were from both genders and spanned a range of age groups and demographics, demonstrating that we are no longer dependent on a few powerhouse sports to deliver reasons to cheer.
Before we consider how we can build on these strong results, it is worthwhile to examine some of the possible reasons behind such successes.
YEARS IN THE MAKING
Not many of us pay close attention to the process of sports development that takes place at the national level.
But one area worth tracking is funding, given how financial support is integral to many aspects of developing elite sports.
In Singapore, government support plays a major role, lacking as we do a robust sports industry that features strong corporate and commercial funding from the private sector.
The Ministry for Culture, Community and Youth manages the budget for sports at various levels in the country, and funds are disbursed and monitored by Sport Singapore (SportSG) to the national sports associations (NSAs) which then manage their individual programmes and initiatives.
In 2012, S$62.5 million was disbursed to some 30 NSAs.
Figures from 2020 show that some S$70 million is now spent each year on the High Performance Sports system to support the development of national athletes and NSAs, as well as invest in new and existing public sports infrastructure.
The exact budgets for individual sports are rarely disclosed officially.
Personally, I have seen the budget for fencing grow from around S$100,000 a year when I first entered the national team in the mid 1990s, to over S$500,000 when I retired in 2009, and subsequently to over S$1 million when I was president of the national federation.
These increases, while unspectacular, at least show steadily growing support for sports in the form of hard cash.
A portion of this goes to athletes who have been identified as having the results or the potential to excel, and the quantum ranges from a few hundred dollars a month for those at the lowest tier, to thousands for those who have won Olympic medals.
Loh Kean Yew for example was awarded the Sports Excellence Scholarship in 2019, after he knocked out China's Olympic champion Lin Dan at the Thailand open in January of that year.
The support he receives will surely go up following his world championship win.
More important than cash has been the discipline imposed by national sports regulator SportSG, which in 2009 introduced multi-year planning requirements for NSAs as a part of efforts to improve capabilities in the associations.
This was aimed at incentivising the federations to plan long-term to ensure the sustainable development of sporting talent that typically does not happen overnight.
There have been other significant initiatives that have impacted the local sports scene in positive ways, such as the launching of the Singapore Sports School in 2004, which offered a pathway for young budding sports talents to train and manage their academic lives at the same time.
And then there were the individual milestones, such as Joseph Schooling's landmark gold medal at the 2016 Rio Olympics in 2016, which inspired many athletes to dream big and aim higher than they might have in the past.
While difficult to quantify, I believe that these different factors have led to increased support for sports and sportspeople from a range of stakeholders, ranging from the Ministry of Defence, to corporates, and even friends and families of athletes.
This in turn provides important encouragement to athletes themselves to pursue their sporting goals with greater confidence and purpose.
For example, national kayakers Soh Sze Ying and Brandon Ooi last year relocated to Budapest in Hungary to be closer to world-class training partners and competitions, while also pursuing secondary academic degrees.
They are aiming to do well in the Asian Games this year, and to improve their world rankings.
WHERE TO FROM HERE?
All things considered, things are looking up for Singapore sports, and 2022 is set to be another big year, with the Southeast Asian, Asian and Commonwealth Games taking place.
There are three areas we can consider if we want to continue the momentum that has been gradually building up in our journey towards becoming a true sporting nation.
First, stakeholders in our sporting ecosystem, including the Government, media and private sector, should continue to build on the positive sentiments and growing appreciation for sports by the Singaporean public by celebrating the triumphs of our athletes such as the Lions and Loh Kean Yew, and profiling them more broadly so they can continue to inspire, entertain and unite the country.
At the same time, I hope that the general public and sports fans alike can continue to develop a deeper appreciation of sports and athletes, so that we don't just celebrate triumphs but also follow individual sporting journeys including the ups, downs, bumps and bruises.
This can be done by consuming sports content more widely and also delving deeper into different aspects to better understand what goes into sporting success.
We will then be able to fully appreciate and subsequently enjoy following the trials, tribulations and triumphs of our athletes and teams.
Lastly, we need to see a multi-stakeholder approach to developing sports.
Currently, the focus on sports is limited mainly to governmental support, and there is a need to harness support and resources from both the public and private sector in a more significant way, while also building sustained support from citizens as a whole.
Driven by the Government and sporting authorities, such an approach should take into consideration various public sector organs and agencies, private sector operators, infrastructure providers such as the Singapore Sports Hub, and the people sector which comprises fans and spectators, and of course the athletes themselves.
By uniting these various entities behind a common goal — to deliver broad-based success across the sporting landscape — we may be able to overcome the shortcomings and challenges facing a small country with a limited population that lacks a deep and mature sports culture.
In 2021, we got a taste of what a great sporting year can look like for Singapore. Here's hoping we see more of the same in 2022, and many years to come.
ABOUT THE AUTHOR:
Nicholas Fang, a former national athlete and sports administrator, was a Nominated Member of Parliament and Team Singapore's chef-de-mission at the 2015 Southeast Asian Games. He co-founded sports consultancy Novastella and is a non-executive independent director of the Singapore Sports Hub.