After agony of HBL, can parents empathise more and not add to kids' fears this exam season?
The year-end examinations are almost upon us once more. And some families will have sons and daughters taking one of the high-stakes, high-stress national exams – Primary School Leaving Examinations (PSLE), the O-Levels, and the A-Levels.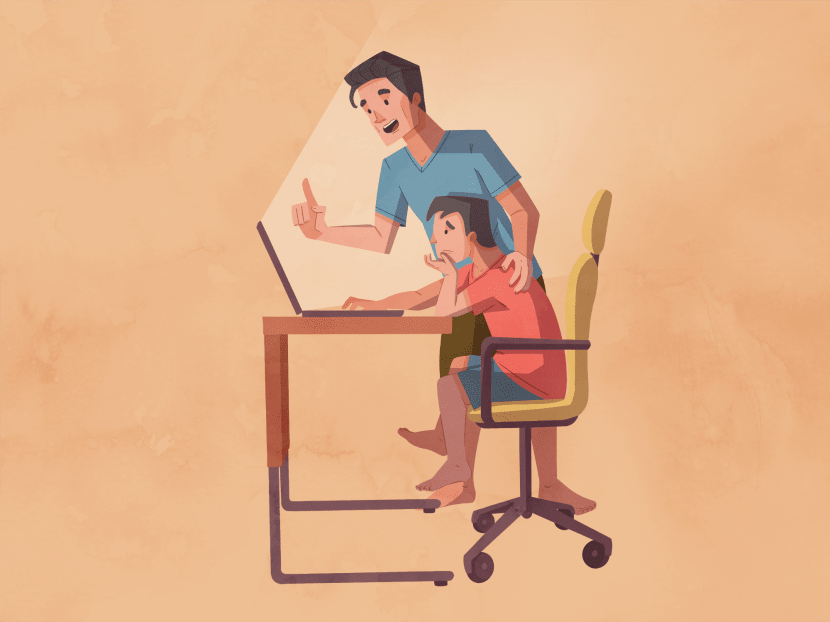 The year-end examinations are almost upon us once more. And some families will have sons and daughters taking one of the high-stakes, high-stress national exams – Primary School Leaving Examinations (PSLE), the O-Levels, and the A-Levels.
This year, the usual anxieties have been compounded by the disruptions wrought by Covid-19. For many schools, especially for the primary schools, the well-oiled and practised revision machinery ground to a halt when home-based learning kicked in.
As an educator and a father of three sons (two of whom will be sallying forth onto the PSLE and O-Level battlefields soon), home-based learning (HBL) has been extremely instructive. And in more ways than one.
At the big picture level, the speed and efficiency (well, mostly) with which schools went online was very impressive. Though not without kinks, the transition was smooth, the teachers were willing and able, if not one then the other.
The IT infrastructure largely held up. And parents and whichever adults were at home gamely tried to keep up.
The small picture? Well, that was different. For the keen and disinterested observer, HBL was a smorgasbord of vignettes of frustration, hilarity, and agony, often all at once. I'll recount one episode.
During the circuit breaker, one of my jobs was to sit next to my nine-year-old during his Zoom lessons, while keeping out of camera shot. My task? To keep him awake, keep him focused, without myself drifting off.
Each Zoom class was a study of the human condition, or at least a study of very young humans in a modern technological society.
As I stared at the screen, I could see the faces of the other kids "staring" back at me. It did not take long to figure out which child was accompanied by an adult and which was not.
For example, the boy who pressed his face right up against the webcam and licked it? Clearly, flying solo.
The girl sliding down her chair, dozing off, until she disappeared completely from screen? Also on her own, I suspect. Unless her grown-up too had also passed out.
My favourite was that one boy, oblivious to his teacher and classmates, studying intently the massive booger freshly excavated from a nasal cavern, gripped between his forefinger and thumb, meticulously rolling and stretching it to test the limits of its elasticity.
The very picture of concentration that is, alas, misapplied.
Also, those children accompanied by a grown-up during those online classes, the signs were there too, though that is not to say that these nine-year-olds were incapable of behaving in class sans chaperones.
What signs? The stealthy hand encroaching surreptitiously from off-camera, sneaking up on an unsuspecting, inattentive and dozing head and delivering the wake-up smack.
Or the hand descending from above onto a wandering skull, swooping down to clamp it back in place and into focus. And more disconcertingly realising that the hand is mine.
Every now and then, from some unmuted microphone I heard the *pssskkkchhh* sound of a canned drink being opened off-screen; it could be a soft drink, but somehow, I rather suspect a stronger drink.
Yes, Covid-19 led to such unexpected moments of absurdities, which at times were cathartic. But some things also stayed the same: Preparations for these exams, and the attendant stresses, anxieties and frayed tempers. Now, all made worse by the pandemic.
When the pandemic first broke, the Canadian federal government put out a message to its employees that laid out the principles of working from home. This has since gone viral.
The first of the "Covid-19 Principles" states: You are not "working from home", you are "at your home, during a crisis, trying to work".
The second principle: Your personal physical, mental, and emotional health is far more important than anything else right now.
When I substituted "work" with "study" in the first principle, I became a little more forgiving of unfinished homework and missed lessons. I realised that some days, it just wasn't possible to focus on the near-unending stream of online assignments. 
I learned to empathise with my son's struggles because I too struggled with the new reality of working from home.
On such days, we found ourselves playing board games and cards, reading comics, and tending our tomato plant project. Doing just about anything else other than homework and work, just to maintain some sanity.
I am not levelling this at our teachers, whose efforts and commitment I applaud and am truly grateful for, but at parents.
As we prepare our children to take these exams, have we considered the psychological dimension of it all? Of what it might be like for our children and our youths to handle both exam pressures and the anxieties of coping with an existential crisis?
In normal times, in the lead-up to major exams, many parents — and I include myself — see their children virtually as exam-taking machines, to be pumped and primed, fuelled and revved, and driven to maximum capacity.
Of course, as parents, we want to drive our children to excel, to realise whatever potential is imbued in them. Cross a line, though, and we drive them to ruin.
We probably will not get to do it this year, but during the PSLE a few years back, some of us parents kept vigil in the school chapel. A father stood up to share.
Tentatively, he brought forth a photograph of his son. It was of him as a five-year-old. We know this boy: In Primary 6, he is taller than his father.
"Look at him in the photo. So young, so small. Look at him now. Look at all our sons now. Big, strong. My son can almost carry me. This past year, we spent pushing them. Scolding them. Sometimes we beat them. But inside every one of them is still that child who just wants his mummy and daddy to love him. And we are doing all these things to them. Because we love them?"
Perhaps you think I am being sentimental. Or that I am soft and lacking in the renowned Singaporean stoicism. Maybe you're right.
But this experience is as fresh in my memory now as it was that day in the chapel. And especially given these unusual and traumatic times, all the more we must remember that beyond the report book and the exam results, there is a young human being trying to make sense of it all.
It is all too easy to get swept up amidst the pressure, the competitiveness, and the fear of failure. I struggle and often fail to keep an eye on the big picture, and not fixate on grades. 
But more so now than any other time, we parents ought not to be adding to our children's fears and confusion.
ABOUT THE AUTHOR:
Dr Adrian W J Kuah, a father of three boys aged nine to 16, is director of Futures Office, National University of Singapore. This is his personal comment.