Are Indonesian politicians prepared for Covid-19?
With scientists warning that the number of confirmed cases could reach between 11,000 and 71,000 by end April if drastic measures are not taken to slow down the spread of Covid-19, are Indonesian politicians ready to cope with the unprecedented challenges it poses?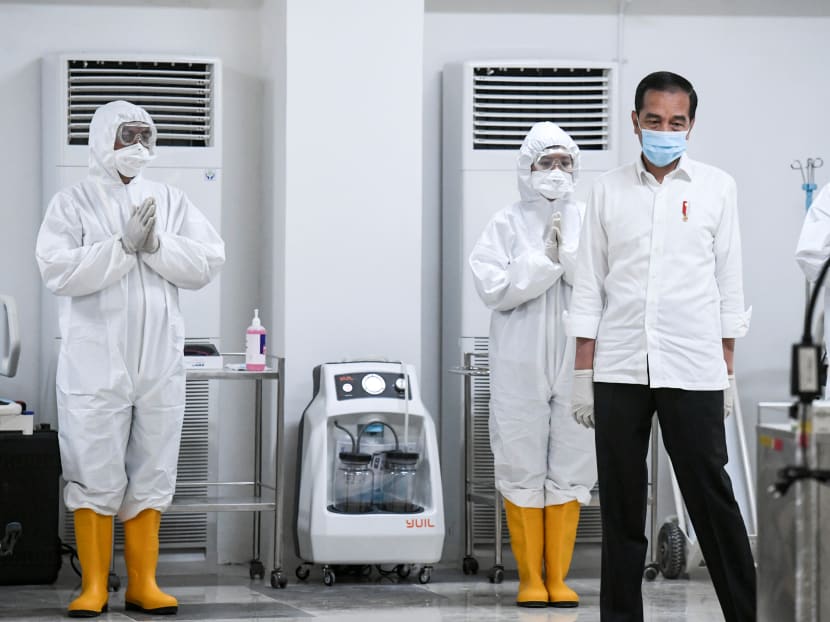 Indonesian President Joko "Jokowi" Widodo and his government have received much flak for their handling of the outbreak of Covid-19 in Indonesia. Most notably, their early treatment of the import of the coronavirus as an economic hiccup rather than a public health crisis has cost the country precious time in preparing for a pandemic that has ravaged other countries with more robust healthcare systems than Indonesia.
As casualties of the virus grew exponentially in the last week — reaching 686 confirmed cases and 55 deaths on Tuesday (March 24) — the authorities can no longer remain in denial.
With scientists warning that the number of confirmed cases could reach between 11,000 and 71,000 by end April if drastic measures are not taken to slow down the spread of Covid-19, are Indonesian politicians ready to cope with the unprecedented challenges it poses?
One key issue that politicians have to deal with is the sheer scale of managing the implications of such a pandemic in a sprawling nation of 267 million people across 18,000 islands.
Criticised for under-testing and thereby underestimating the spread of the virus among the population previously, the Jokowi administration finally rolled out a rapid testing kit on March 20.
The test would be applied to around 600,000 people across the country who had contact with people found to have Covid-19.
At the same time, the Athletes' Village for the 2018 Asian Games hosted in Jakarta has been converted into an emergency medical facility that can treat as many as 24,000 Covid-19 patients. The air force has also flown in nine tonnes of medical aid from China, in the form of masks, goggles, protective clothing and test kits, with another 20 tonnes in the pipeline.
But apart from the matter of medical logistics, political leaders have to surmount the cultural hurdle involved in imposing social distancing measures in a country with a very strong sense of communalism, especially among religious communities.
Just last week, 8,000 people turned up at an international Islamic gathering organised by Jama'ah Tabligh in Gowa, South Sulawesi, in spite of objections from local authorities.
A similar event in Malaysia in late February involving 16,000 participants had led to more than 500 infections. Similarly, in Flores, East Nusa Tenggara, more than a thousand people turned up for the installation of a new Catholic bishop on March 19.
In dealing with these communities, local authorities had to tread carefully, not just because religion is a sensitive issue in Indonesia, but also because these communities are important vote banks for direct local elections.
For the Jama'ah Tabligh event in Gowa, the Gowa District Head and police had to negotiate with organisers all night before they eventually agreed to call off the gathering and send the pilgrims home.
Aside from managing cultural and religious sensitivities, politicians leading local governments, whether at the provincial, district or municipal levels, will have to demonstrate competence in combating Covid-19 at the frontlines in order to secure their political futures.
Jakarta governor Anies Baswedan had declared a state of emergency in the nation's capital on March 20 for two weeks in a bid to contain the spread of the deadly virus.
With the highest casualty rate of 427 confirmed infections (at least 42 of whom are medical personnel) and 32 deaths, Jakarta is the epicenter of the pandemic in Indonesia.
Public entertainment venues have been closed and religious activities, such as Islamic Friday prayers and Christian services, suspended. Public transport hours have been shortened and businesses advised to minimise staff coming in to work.
West Java governor Ridwan Kamil had outlined seven red zones where Covid-19 cases had been found in Indonesia's most populous province.
The province will carry out active tracking and testing of those who had come into contact with infected patients.
Ganjar Pranowo, governor of Central Java, had also closed tourist destinations and pushed for rapid testing for high risk zones like Solo and Semarang.
All three governors are front-runners for the presidential election in 2024. Thus, they will have to show themselves to be proactive and competent in handling the Covid-19 crisis in their respective provinces in order to increase their chances in vying for the country's top post.
However, these regional officials are also limited in terms of the measures they can employ. When Mr Baswedan proposed a lockdown of the national capital, Mr Widodo declared that only he had the authority to impose a lockdown.
Since early March, the Jokowi government has shifted gears significantly with the formation of a Covid-19 fast-response team led by National Disaster Mitigation Agency head Doni Monardo.
Mr Monardo is a senior military general that can mobilise military and police resources in mitigating the crisis, and his appointment signifies that Mr Widodo is seeing Covid-19 as a potential security crisis.
The fear is that Covid-19 could precipitate social disorder in Indonesia. Mr Widodo had openly admitted that his administration withheld information on the spread of Covid-19 in its early days because it did not want Indonesians to be thrown into panic mode.
Social disorder may also erupt if a critical mass of Indonesians has to face abject economic hardship. This is why Mr Widodo has reservations about imposing a national lockdown.
Many Indonesians, especially daily wage earners and those in the informal economy, will be destitute if the government does not offer them financial assistance. The rupiah has also fallen to more than 16,000 per United States dollar, the lowest since the Asian Financial Crisis in 1998. One may recall that the financial turmoil at that time led to the downfall of then President Suharto.
The question remains whether current social distancing measures, without the strict imposition of a lockdown, is sufficient to turn the tide of Covid-19 infections. If not, Indonesia may have to implement harsher social discipline, whether it is called a "lockdown" or not.
Otherwise, as the toll on lives accumulates, politicians will have to answer for it at the polls. Moreover, it is almost a given that the economy will be turning south.
The central and regional governments should put in place a social safety net if they want to avoid the panic that Mr Widodo is so keen to avert.
ABOUT THE AUTHORS:
Hui Yew-Foong is coordinator of the Indonesia Studies Programme and visiting senior fellow at the Iseas-Yusof Ishak Institute and Made Supriatma is visiting fellow in the same programme.