Ban on flavoured cigarettes could curb youth smoking in Singapore
Smoking remains one of Singapore's most pressing health issues. Over half of those who smoke will die from a tobacco-related disease.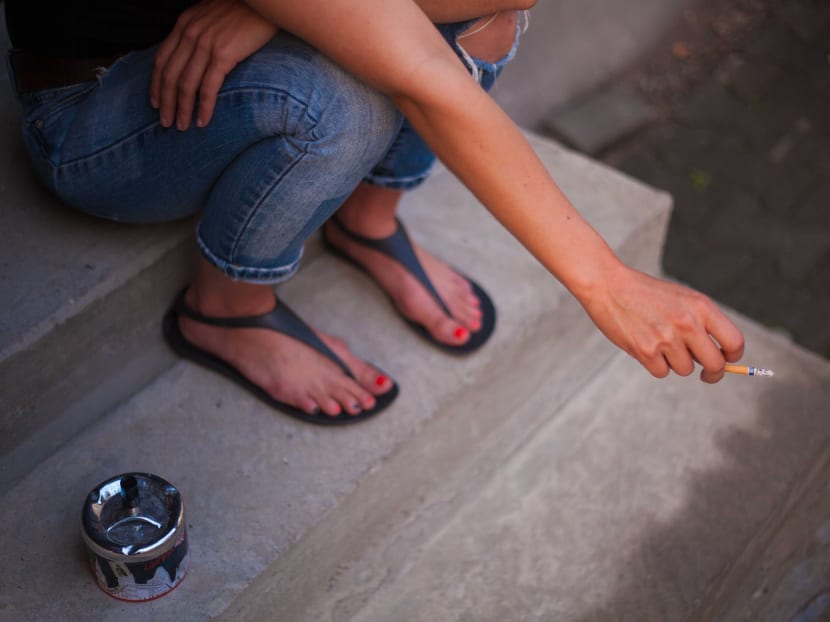 Smoking remains one of Singapore's most pressing health issues. Over half of those who smoke will die from a tobacco-related disease, and smoking rates among young Singaporeans have not decreased since 2004.
Could a ban on tobacco flavours be the answer?
Half of the cigarettes sold in Singapore are flavoured with menthol. Tobacco companies add menthol into cigarettes to hook young people.
For most people, when they first try smoking it's not exactly a positive experience. They get a throat scratch, they cough.
Menthol numbs that harshness so that young people who try smoking with a menthol cigarette are more likely to continue smoking.
Menthol also interacts with nicotine in the brain to make it more addictive. International research consistently finds that those who smoke menthol cigarettes tend to be young, just starting to smoke, and on average more addicted than those who smoke regular cigarettes.
Another issue with menthol cigarettes is that many people think that, because they create less throat irritation, they are "safer" than regular cigarettes. That is a myth.
Adding menthol into a cigarette does not make it less deadly. If anything, menthol cigarettes are more harmful than regular cigarettes because they are more addictive.
Tobacco companies, of course, have known this for decades. And that is why they market menthol cigarettes so aggressively in Singapore.
My research of leaked internal tobacco industry documents found that, in Singapore, tobacco companies used menthol cigarettes to target teenagers.
They also described Singapore teenagers as an important target group, to be "carefully watched and their current needs, wants, values, interests and activities monitored".
Throughout the 1980's and 1990's, tobacco companies learnt that Singapore youth were becoming more health-conscious. They also knew, from their own market research, that the young believed menthol cigarettes were "safer".
In response, tobacco companies developed menthol cigarettes with novelty features and new flavours.
They designed attractive blue and green-coloured packs with words like "'fresh"' and "'mild"'. They promoted these brands in popular youth venues like nightclubs and bars. They also targeted girls with slim-shaped menthol cigarettes.
Nowadays there is a wide range of flavoured cigarettes sold in Singapore in colourful packs, with youthful brand names like "'Marlboro Mega Ice Blast"' and "'Lucky Strike Click4Mix"'.
While most of these are menthol-flavoured, some contain other flavours like lemon, berries and bubblegum.
Some of them contain a "'pick and mix"' of different flavours. Some also have a crushable flavour capsule in the filter. International studies consistently find that these "'capsule cigarettes"' appeal mostly to youth who are drawn to their novelty.
And these flavoured cigarettes make up half of Singapore's cigarette market.  
Other territories like Canada, Brazil, Turkey, the European Union and parts of the United States are now banning tobacco flavours.
Research so far shows that this discourages youth from smoking and encourages quitting among those who already smoke.
In Singapore, the impact of a tobacco flavours ban could be substantial as Singapore's cigarette market is the most menthol-dominated in the world.
In other countries with a large menthol cigarette market, like Thailand, the US and Hong Kong, menthol cigarettes comprise less than a third of the total cigarette market volume.
This also means that, if Singapore were to pursue a tobacco flavours ban, we should expect some pushback from tobacco companies.
When tobacco companies fight public health measures, they usually operate through front groups or third parties like retailer associations, consultancies or "'public interest"' groups.
In other countries, the most common arguments they have used to fight a tobacco flavours ban is that it will put retailers out of business, cause illicit cigarette trade, or infringe on people's right to smoke.
Let's briefly unpack these arguments.
Will a tobacco flavours ban put retailers out of business?
If you own a specialist shop that sells only flavoured cigarettes, then chances are that, yes, a tobacco flavours ban will put you out of business.
But most tobacco retailers in Singapore are not specialist shops. They are supermarkets, convenience stores or family businesses that sell other products besides cigarettes.
If they no longer sell flavoured cigarettes, they will still generate revenue from the other products they sell.
In fact, they will probably generate more revenue than before from those other products because generally, when money is no longer spent on a good, it is not lost but spent on other goods.
Will a tobacco flavours ban result in illicit cigarette trade?
Contrary to popular belief, illicit trade is not caused by tobacco taxes or other restrictions. It is the result of poor governance and leaky borders.
In 2015, when the Nova Scotia province in Canada banned menthol cigarettes, illicit cigarette trade in the province actually fell.
Provided that Singapore maintains its controls over cigarette smuggling, it is unlikely that a tobacco flavours ban will result in illicit cigarette trade.
Does a tobacco flavours ban infringe on people's right to smoke?
Smoking is not a right but a privilege. A highly destructive privilege that must be balanced against the rights of others to breathe clean air, and the rights of youth to be protected from a deadly and highly addictive drug.
Perhaps it's time to consider whether, by allowing the sale of flavoured kiddie cigarettes, we are failing to protect the rights of our younger generation.
Comedian Sacha Baron Cohen brilliantly highlighted the absurdity of this whole situation in the context of gun control when, in character as Erran Morad, he convinced a "'gun rights"' advocate in the US to promote weapons like the "'puppy pistol"' and "'gunny rabbit"' to arm preschool children.
Cigarettes, when used as intended, kill one in two persons. If the idea of kiddie guns seems ridiculous, why are flavoured cigarettes still on the market?
ABOUT THE AUTHOR:
Yvette Van Der Eijk is Senior Research Fellow at the Saw Swee Hock School of Public Health, National University of Singapore.