Can Indonesia achieve its Covid-19 vaccination target?
Indonesia's Member of Parliament, Ribka Tjiptaning, caused quite a stir recently when she, in a hearing with new Health Minister Budi Gunadi Sadikin, questioned why Indonesia had primarily settled for the Chinese-made Sinovac vaccine with which to inoculate its people against Covid-19.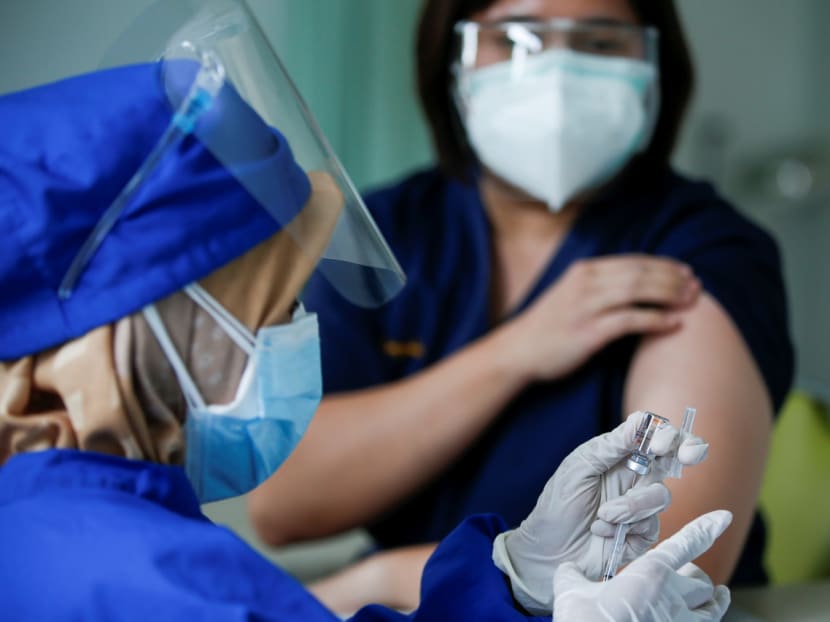 Indonesia's Member of Parliament, Ribka Tjiptaning, caused quite a stir recently when she, in a hearing with new Health Minister Budi Gunadi Sadikin, questioned why Indonesia had primarily settled for the Chinese-made Sinovac vaccine with which to inoculate its people against Covid-19. 
She argued that Sinovac was a dubious choice since it had not even passed the third phase of clinical trials in Indonesia, before declaring that she would rather pay hefty fines rather than be injected with the vaccine.
It was particularly embarrassing for the government because Ms Ribka is an MP from the Indonesian Democratic Party of Struggle (PDI-P), the largest party in the coalition which supports President Joko "Jokowi" Widodo.
High-profile recalcitrance may not be the only problem besetting Indonesia's inoculation drive, which is critical given that the Covid-19 situation in the country has shown no signs of abating and has recorded five-figure new daily cases since the start of 2021. 
A nationwide poll of 1,202 people conducted in December by Saiful Mujani Research and Consulting found that only 37 per cent of the respondents wanted to be vaccinated, with 40 per cent undecided and 17 per cent saying no outright.
This is perhaps not surprising given that a survey conducted last year by the government's official statistics body, BPS, revealed that 17 per cent of Indonesians did not believe that the coronavirus was real. 
Even before the Covid-19 pandemic, many Indonesians of ultraconservative religious views had embraced conspiracy theories about vaccines; the most popular of which was that vaccines were invented by Jews and Americans to destroy Muslims around the world. 
To be sure, the Indonesian government still has a few things working in its favour in the vaccination exercise.
To begin with, there is ample political will in the government's camp to carry out its target of inoculating 181.5 million or around 67 per cent of the country's population within a 15-month timeframe.
Aside from a soft approach in the form of "educational" campaigns on both conventional and social media, a range of punitive actions against vaccine refuseniks ─ mostly fines ─ is being prepared by both the central and provincial governments, though criminal prosecution was recently ruled out by the Health Minister.
There are signs the government is prepared to be tough with vaccine detractors. 
Following her tirade, Ms Ribka soon found herself moved by her party to another parliamentary committee, away from the public health sector which had been her specialty for years.
President Jokowi also went out on a limb to vouch for the safety of the Sinovac vaccine by taking the jab in a livestream. 
But his critics lashed out against what they saw as a publicity stunt on social media. 
Some even claimed that the public had been duped and that Mr Joko had been given a "European-made" vaccine instead of Sinovac.
Such speculation arose because the vaccine injected into the president had come from a glass vial while earlier photos had shown the Sinovac vaccine in ready-to-inject packaging with its own needle. 
Sinovac's local partner, the state-owned PT Bio Farma, however, refuted the claim, saying that the older packaging had only been used when the vaccine was undergoing clinical trials in Indonesia. 
A key factor in the government's favour is that the vaccine is free to all Indonesians. 
Indonesia arrived at this decision after much controversy surrounding an earlier plan to charge the public for the Covid-19 vaccine.
Amid a social media storm and accusations of the government trying to fleece the people during a pandemic, Mr Joko intervened and announced that the vaccine would be made available to all Indonesians free of charge.
This will work to the government's advantage, since most Indonesians have been gravely affected by the pandemic in economic terms.
Official statistics estimate that around 25 million Indonesians have lost their jobs since the virus hit the country and that 40 per cent of those who have retained their livelihoods have seen their income plummet, in some cases by half.
NUDGING INDONESIANS TOWARDS INOCULATION
In his latest stick-and-carrot manoeuvre, Health Minister Budi has told parliament that his ministry plans to issue a vaccine certificate for Indonesians who have taken the jab.
"It could be a digital certificate stored in Apple or Google Wallet and people with this can order plane tickets without having to take PCR (polymerase chain reaction) or antigen rapid test," he said.
Although the plan has been criticised by health experts for oversimplifying Covid-19 protocols, it will most likely prove popular with the public.
Covid-19 tests, be it PCR or antigen, are not free in Indonesia, except for government employees. 
Private citizens who are tested at government facilities are still required to pay if the test comes back negative.
To illustrate, an Indonesian wishing to take a train from Surabaya to Malang can expect to pay between 35,000 rupiah (S$3.32) and 65,000 rupiah in fare but will have to fork out additional 150,000 rupiah for an antigen rapid test, which is the minimum requirement for non-aviation travel.
Those who travel by air will have to take a PCR test, which normally costs between 900,000 rupiah and 2.5 million rupiah depending on how quick the test result is.      
Unsurprisingly, Indonesians have long complained about the unsubsidised mandatory testing for Covid-19, not only for travel but even to get a health certificate for a marriage licence, for example. 
Hence, the chance to circumvent it with a vaccine certificate will most likely be welcomed.
All things considered, Indonesia's inoculation endeavour still hangs in the balance.  
President Jokowi said on Jan 15 that his administration aims to have 92.6 million vaccinated by June, half of the 181.5 million overall target.
Given that the first official vaccinations took place on Jan 13, the government only has less than 170 days to achieve this goal. 
It requires more than 1,000,000 jabs a day to be performed on average as it takes two injections within a space of two weeks to complete the inoculation process. 
The picture becomes bleaker given that World Health Organization statistics also show that Indonesia has the lowest ratio of health workers to population in Southeast Asia.
There is no doubt that Indonesia has its work cut out in its vaccination programme. 
Vaccine-compliance, while not an impossible task, may require unprecedented mobilisation of all the forces at the government's disposal, including the military. 
Yet the question remains whether, given the sheer workload involved, it is attainable within 15 months.  
ABOUT THE AUTHOR:
Johannes Nugroho is a writer and political analyst from Surabaya whose commentaries have appeared in the Jakarta Post and Jakarta Globe since the 1990s.