Can Jewel Changi Airport continue to shine, for both Singaporeans and foreign travellers?
For Changi to continue to grow as a hub in competition with other regional airports that may be better placed geographically for connections to Asia, Changi must think of ways to promote and sustain travellers' interest in Jewel in the longer term.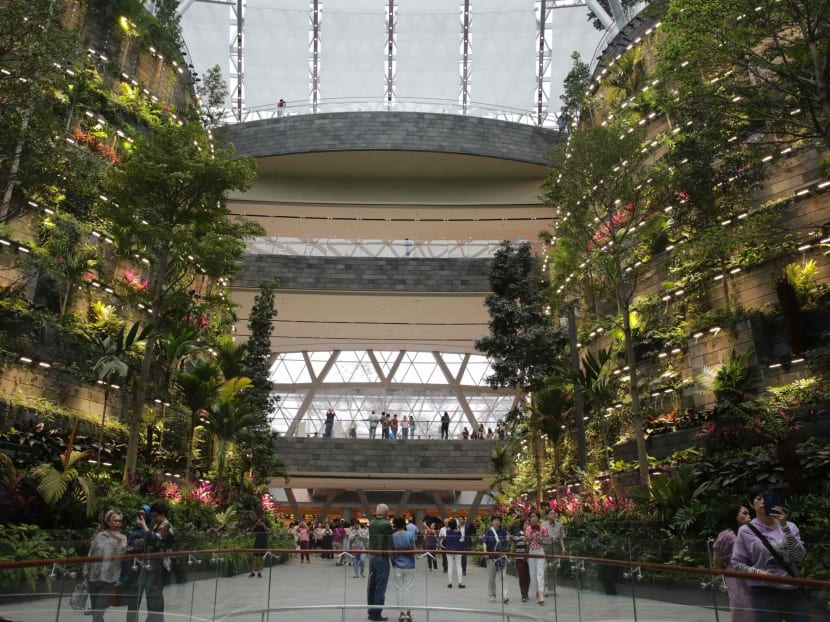 Changi Airport has stolen a march on Hong Kong International Airport (HKIA) by opening Jewel ahead of the latter's Skycity.
Conceived as a destination in itself to enhance Changi's hub status and boost its appeal to travellers, Jewel is an immense complex of gardens, attractions, and an impressive list of retail and dining outlets. It also boasts a hotel for travellers wishing to stay longer.
HKIA's Skycity, which at 350,000 sq metres is more than twice Jewel's 135,700 sq metres, will open only in phases from 2023 to 2027.
It aims to transform HKIA from a city's airport into an airport city, a familiar line that could well have been touted by Changi as competition among hub airports drive them to be more than just efficient transportation centres but lifestyle destinations as well.
In 2013, when Prime Minister Lee Hsien Loong first announced plans to construct Jewel, he spoke of how with the boom in air travel, Singapore has to "plan ahead and continually build up Changi" as a hub.
Jewel will not be just for visitors but for Singaporeans too, added Mr Lee.
Indeed, more than half a million Singapore residents visited the complex in the first week that it opened, and going forward, Changi expects six out of 10 visitors to be Singapore residents.
Changi will therefore want to ensure that Singaporeans continue to visit Jewel, whether or not they are flying.
Seasonal programmes, promotions and novelties will help maintain the appeal. Theme events such as Star Wars, Pokemon and Harry Porter are examples of crowd pullers. Constant renewal to provide fresh attractions will keep them coming back.
READ ALSO:
Appraising Changi Airport's shiny new Jewel: Will all that glitters turn to gold?
At the same time, for Changi to continue to grow as a hub in competition with other regional airports that may be better placed geographically for connections to Asia, Changi must think of ways to promote and sustain the traveller's interest in Jewel in the longer term.
Over the years, Changi has piled on more shops, eateries, lounges and facilities that include a cinema and a swimming pool within the transit area. As many of these can be easily replicated, the competition has driven hub airports to provide experiences that will differentiate themselves.
Incheon Airport, for example, boasts an ice-skating rink as well as a casino and a golf course only two and five minutes away respectively by complimentary shuttle.
Last year, Changi handled a record 65.6 million travellers. But 30 per cent of these passengers passing through the airport did not visit Singapore, and Changi is hoping Jewel will also be able to entice these travellers to step out to see what it has to offer and hopefully come back for a longer stay.
The competition for layover/stopover traffic has become keener with more airlines mounting nonstop flights between destinations, including the ultra-long haul. Qantas, for example, is flying nonstop from Perth to London, and has plans to do so from Sydney to London, bypassing a stopover in Singapore.
So can Jewel attract more travellers to use Changi, whether to break their journey or connect flights?
The rain vortex which is the world's tallest man-made waterfall inside a building is a sight to behold.
The Canopy Park and Forest Valley are havens for the long-distance traveller looking to stretch their limbs and relax in a more serene environment. The Sky Nets, Canopy Maze and Canopy Bridge promise to be great fun, and travellers will be spoilt for choice by the array of eateries and a shopper's paradise where almost every global brand name may be found.
However, most travellers want to get from Point A to Point B in the shortest possible time, and that means a short layover when they have to break their journey. Cathay Pacific for one offers connections at HKIA between North America and Asia for as short as 50 minutes.
Jewel therefore cannot be an incidental or just another product to pamper layover passengers but has to be that one more reason for travellers to want to fly via Singapore even if the transit may be longer and the airfare somewhat higher than other available options.
In fact, for a normal transit of two to three hours, it seems to be offering too much. Besides, the complex is located outside the transit area, and not all passengers may want to get out when there are already ample facilities within the transit terminal to engage them.
For travellers with some six hours or more between flights, they may choose the complimentary city tour instead for a real taste of Singapore rather than a huge mall and entertainment centre.
Jewel must therefore make it worth the traveller's while and a preferred option, especially for families with children considering its theme park atmosphere.
As it is now, jostling with the crowd and waiting in long lines is not something that will appeal to transit/connecting passengers who are constrained by time when they can enjoy the facilities within the transit area with more comfort.
There must be better ways to manage this to make it less stressful for the time-sensitive traveller.
Priority queues, easier access to Jewel and re-entry into the transit area, and better controlled shuttles between the terminals may be considered.
Joint promotions with airlines offering package deals to include Jewel as a stopover attraction will extend its reach. More can be done to provide experiences related to Singapore's diverse ethnic culture and various festivities.
A plus point is the convenience of checking in for a flight at Jewel, which will encourage travellers to visit Jewel on their way out of Singapore, especially for tourists when hotel check-out time may be hours ahead of their flight.
Jewel definitely impresses, having won rave reviews for its attractions. However, it would be a pity if the actual experience falls short of expectations because of inadequate or a lack of proper facilitation.
You can bet Changi's rival HKIA is watching closely to see if they could draw some lessons from Jewel's experience as they develop Skycity.
ABOUT THE AUTHOR:
David Leo is a published author and an aviation veteran, having worked in airline and airport operations for 30 years.