Children, this is why daddy has embarked on a new career
This is a letter from Edmund Twohill, a former Singapore Armed Forces regular, to his two children, aged three and six, on why he decided to give up a soldiering career to go into the banking sector.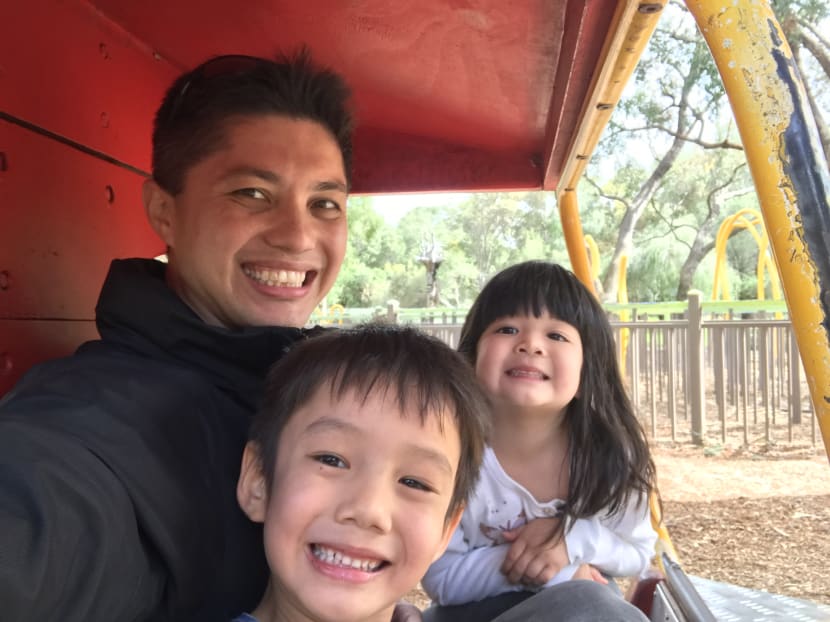 This is a letter from Edmund Twohill, a former Singapore Armed Forces regular, to his two children, aged three and six, on why he decided to give up a soldiering career to go into the banking sector.
Dearest Nathaniel and Emily,
As you must have observed by now, daddy is very passionate, and cares deeply about our little island. 
I thought it was important that I take this chance to share with you a bit more about Singapore in 2019, beyond teaching the National Day Songs to you every year around the August period (you do sing them very loudly!), and highlighting the importance of the Singapore Armed Forces (SAF) whenever you see me in my army uniform. 
During the 2019 Bicentennial commemorations, we will be reminded of numerous characters that daddy learnt about many years ago, in secondary school history lessons. I want to highlight the early immigrants who came here.
In essence, they had to disrupt their lives as they knew them and take a bet in search of better options. But moving to Singapore was no guarantee of a better life, as they had to work hard and exploit whatever opportunities presented themselves.
Our family story is similar. Grandpa Twohill came to Singapore in the late 1970s as a young man, in search of opportunities. He also found love and decided to settle here. He took a big risk as he was already doing very well as an accountant in Australia. 
Unlike grandpa, daddy did not look overseas for opportunities in my youth. Instead, I decided very early on that I wanted to sink roots here for the long haul. I've taken my bet on this little island and plan to stick to it. 
However, if you're wondering why I wear my army uniform less often these days, it's because I am also in a process of personal disruption.  
2018 was a difficult year for me as I reflected on whether I should continue my career with the SAF. I was happy, learning new things every day and blessed with excellent bosses, colleagues and buddies.
But as I observed the technological changes happening around us — social media, big data, machine learning and other trends — and Singapore's drive to become a Smart Nation, I did a lot of introspection and asked if I would allow myself to be disrupted and become more relevant.
I acknowledged the tensions I would face trying to balance learning new skills, anchoring myself in a new industry and spending quality time with you.
Financial stability was also on my mind, as mummy and I wanted to ensure that we could continue to provide for you, both physically and in terms of providing you with access to opportunities. 
It was a stark question: Was I willing to take another bet, on myself this time — in addition to my bet on Singapore?
I have always been interested in technology but the present fourth Industrial Revolution is different.  
The author, seen here with his family, says the decision to make a career switch was not an easy one.   Photo courtesy of Edmund Twohill
A growing amount of research suggests that introducing artificial intelligence (AI) into any production process is potentially transformative, presenting a more efficient means of completing tasks previously done by humans. It may also change the current state of daily interactions among people.
Today's AI applications already transcend multiple sectors.
In the next 10 to 15 years, AI is expected to present tremendous opportunities for the economic development of all nations. A PriceWaterhouseCoopers study estimates that AI technologies could increase global gross domestic product by US$15.7 trillion by 2030. 
By 2025, we can expect a 30 per cent increase in productivity in many industries and an 18 to 33 per cent reduction in manufacturing labour costs because of AI. 
Amidst all these changes, could daddy afford to sit still? Unlike grandpa Twohill who had to move abroad in search of opportunities, the opportunities were in a way "showing up" right in front of me. 
I started to question if I was adequately preparing myself to exploit them. With technology moving so quickly, could I wait to be disrupted?
Over time, it became clearer that continuing on my current trajectory in the SAF was not going to allow me to sufficiently embrace the opportunities available. I wanted to get more deeply involved in technology and learn new skills. 
But the prospect of entering a new field, though exciting and exhilarating to some extent, was also fraught with risks and uncertainty.
Most importantly, could I adequately deal with failure? I agonised about this for days and nights. It was not easy; there was a real possibility that I would fail. But luckily, I had Mummy's support and eventually convinced myself that I could take that leap of faith.
The decision to disrupt myself was also facilitated by my earlier bet on Singapore. I had access to numerous job opportunities and adequate government support.
Fundamentally, it boiled down to me making a commitment: To do the switch, continue with it for the long haul, with no turning back. If I failed in the process, there would be no time for regret or self-pity. I would need to suck it up, learn my lessons and move on.  
With that, I have joined a local bank, where I hope to learn more about financial technology, product development/delivery processes and developing digital ecosystems. 
In the immediate term, I will definitely have to travel more but hopefully mostly within Asia, so we still have plenty of time for cuddles and bedtime stories. In the future, we may also move overseas because of my work, so get ready. 
Amidst all the uncertainty, though, I am reassured by my earlier bet on Singapore. While I previously contributed to ensuring that the SAF was strong, my bet on Singapore will continue if I can contribute to ensuring that my new employer (and by extension, the local financial scene) remains strong in the digital era.
Your opportunities to contribute to Singapore will eventually come. I am also sure you will face even more personal disruptions that Mummy and I can ever imagine.
In retrospect, what has kept me grounded amidst such changes are my personal values and principles that I have tried to internalise from my time in school, the SAF and in life.
As you grow up, you too will face a range of experiences, hopefully more good than bad ones and lastly, mummy and I will always be with you on this journey.
Lots of Love,
Daddy 
ABOUT THE AUTHOR:
Edmund Joseph Twohill served more than 10 years as an army regular before joining a local bank in early 2019 to work on its digital products. This piece first appeared in The Birthday Book (2019), a collection of 54 essays on "narratives, undiscovered and underway" in Singapore. TODAY will be publishing other essays from the book.