Commentary: 4 ways human beings can stay unique amid advance of artificial intelligence, automation
In an open letter published by the Future of Life Institute on March 29, over 10,000 signatories including industry experts called for a moratorium of at least six months on the development of powerful Artificial Intelligence (AI) systems.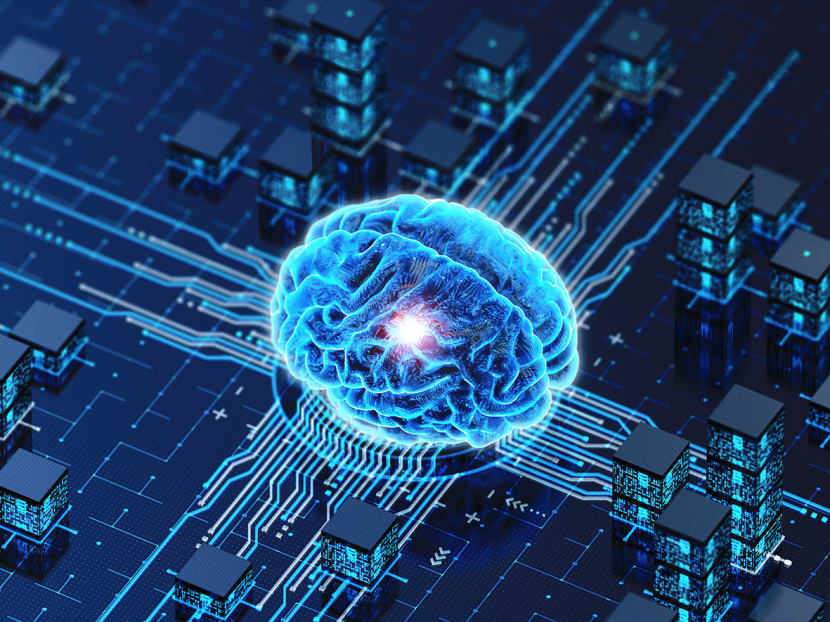 In an open letter published by the Future of Life Institute on March 29, over 10,000 signatories including industry experts called for a moratorium of at least six months on the development of powerful artificial intelligence (AI) systems.
Amid concerns about the potential of AI to displace jobs and spread disinformation, the letter also expressed anxiety of a more existential nature.
"Should we develop nonhuman minds that might eventually outnumber, outsmart, obsolete and replace us? Should we risk the loss of control of our civilisation?" These were among the questions posed by the letter, whose signatories included technology mogul Elon Musk and Apple co-founder Steve Wozniak.  
Apocalyptic fears of AI taking over the world are not new. Through the years, they have found expression in numerous science fiction works as well as movies such as the Terminator and Matrix franchises.
We care about the survival of the human race because most of us believe that human beings have intrinsic value, even if machines have superior strength and powers of computation.
Contemplating what makes us stand apart from automation and AI can spur us to take greater responsibility for one another and for our shared environment.
REMARKABLE PROGRESS OF AI
Despite breathtaking advances in AI,  experts remain divided on whether artificial general intelligence (AGI) — a hypothetical AI that can perform any intellectual task that a human being is capable of — is even attainable, or whether machines can ever gain sentience or consciousness.
Even if AGI is not realisable, the remarkable progress of automation and AI over the decades has already transformed the world profoundly. Machines have replaced manual labour in a range of routine tasks, and obviated the need for human memorisation or mental computation.
In 1997, IBM supercomputer Deep Blue famously defeated the world chess champion Garry Kasparov in a six-game chess match.
Nearly two decades later, Google DeepMind's computer programme AlphaGo outplayed South Korean grandmaster Lee Se-dol in Weiqi (Go), a game considerably more complex than chess.
Machine learning has now gone a step further.
"Generative AI", trained on massive volumes of data, is capable of creating pictures, videos and prose with humanlike sophistication.
The release of OpenAI's chatbot ChatGPT last November captured the public imagination with its problem-solving capability and creative output, spawning global interest in large language models that power such chatbots.
Beyond routine tasks, AI is now making inroads in domains previously thought to be the exclusive province of software engineers and creative professionals.
While generative AI today still suffers from various glitches, such as the tendency to "hallucinate" or make up facts, it is just a matter of time before such kinks are ironed out.
Already, the next generation of AI is being trained and will possess capabilities that will far exceed today's best-in-class AI.
FOUR WAYS HUMANS REMAIN UNIQUE
In light of this, it is worth asking: What will remain unique to human beings as AI continues its inexorable progress? What value can human beings bring to the table that AI cannot?
Four things come to mind.
First, relationships.
As long as AI does not gain sentience, relationships with a machine cannot satisfactorily substitute for relationships with human beings or animals. Japan has produced robot companions for years, while also pioneering digital pets such as the Tamagotchi.
However, the human desire for relationships with other people and the demand for animal pets remain as strong as ever.
Recently, South Korea's DeepBrain AI began offering a service that allows family members to "speak" to the recently deceased via a digital avatar generated from past photos and videoclips.
Similar technologies have been adopted by funeral companies in China. However, this can at best ease the pain of losing a loved one; interaction with the avatar will never be as satisfying as actual communication with a live person.
Second, sports. It has been two centuries since the development of steam-powered locomotives that could outrun the fastest horses, not to mention human sprinters.
Yet athletics and other sports continue to captivate global audiences. Chess and Go engines can outthink and outcompute any human being, but the recent World Chess Championship was still closely followed by chess aficionados worldwide.
Sporting contests will continue to draw fans for their sheer drama and unpredictability, where feats of human endurance, verve and ingenuity, alongside human fallibility, are on display. 
Third, human interest stories based on real life. AI may be able to generate gripping stories as well as the best novelists, but there will always be demand for books and films based on true stories that inspire as much as entertain.
In these stories, protagonists may face moral or ethical dilemmas; they may make personal sacrifices for a greater good, or struggle against the odds en route to achieving success or self-mastery.
These are uniquely human journeys that we can relate to. AI, devoid of feelings or conscience, can only become such protagonists in works of science fiction that ascribe to them human characteristics.  
Finally, there is philosophy and religion, which speak to the aforementioned themes of relationships, values and the struggle to overcome.
Religious devotion is something unique to human beings even among living things, while every human culture has developed its own philosophical traditions.   
Notwithstanding advances in science and technology, limits to human understanding and capability remain.
Humankind's considerable ingenuity continues to run up against the barriers of life and mind  — the ability to create life from inorganic matter, and the ability to endow machines with consciousness.
While it is conceivable that these barriers may one day be breached, they remain a distant possibility for now.
Answers to the big questions of origins, existence and purpose remain elusive. Why is there anything at all, and what meaning or purpose do we have in this vast universe? This leaves plenty of room for philosophical discourse and religious contemplation.
UNIQUE RESPONSIBILITY
A reflection on what is unique to humankind should draw attention to homo sapiens' unique responsibility for our world.
Since the 20th century, humankind has acquired the power to destroy Earth through nuclear weapons, as well as to accelerate climate change through large-scale greenhouse gas emissions.
Yet the signatories of the open letter on AI have a point: The human species has yet to establish rules and guardrails to govern AI for the public good, just as we still lack the international rules and frameworks to keep our planet safe against the spectre of nuclear war or the inexorable warming of the planet.
There is therefore urgency for the human species to reflect on our responsibility as caretakers of this planet for other species and children yet unborn. This must stem from the values to which we individually and collectively subscribe. 
Given what is unique about humanity, we should cherish and nurture relationships, enjoy the thrills of sport, express the human spirit through the stories we tell, and contemplate the universe and our place in it.
Perhaps doing so will stir in us greater care and compassion for fellow human beings and other inhabitants of this amazing planet we live on.
The rise of AI is focusing minds on what it means to be human. For this, at least, we can be grateful.
 
ABOUT THE AUTHOR:
Terence Ho is Associate Professor in Practice at the Lee Kuan Yew School of Public Policy and the author of Governing Well: Reflections on Singapore and Beyond (World Scientific, 2023)