Commentary: COP27 sees a growing link between climate and biodiversity crises that Singapore should care about — here's why
On the facade of the venue where the United Nations climate summit COP27 is currently held in Egypt's Sharm El-Sheikh city hangs several banners highlighting the priorities of the annual conference.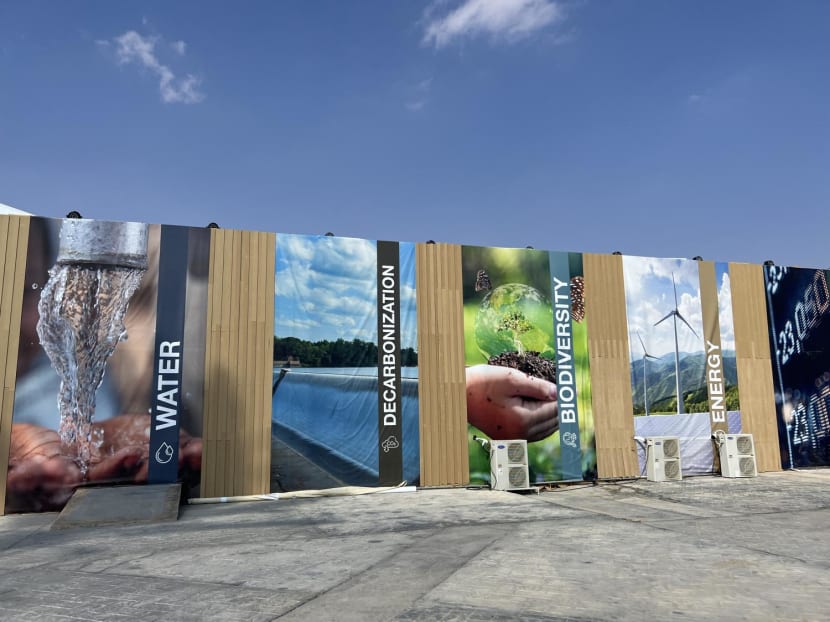 On the facade of the venue where the United Nations climate summit COP27 is currently held in Egypt's Sharm El-Sheikh city hangs several banners highlighting the priorities of the annual conference.
Most of them highlight traditional focuses of the event, such as decarbonisation and energy. But one particular banner stood out for me  - biodiversity.
It's a sign of the growing recognition of the links between the climate and biodiversity crises, which have erstwhile often been treated as two separate issues.
There are other signs. An Ocean Pavilion, set up for the first time at the conference, highlights issues facing the blue parts of the planet, while multiple talks on the nexus between nature and climate have been held at the conference's Nature Zone.
Nature-focused policies have also been rolled out at COP27, with the United States releasing a Nature-Based Solutions Roadmap on Nov 8 with recommendations to help the US "unlock the full potential of nature-based solutions to address climate change, nature loss, and inequity".
The White House said this is the first time the US has developed a strategy to scale up nature-based solutions.
This "nature renaissance" at the climate conference comes after several recent developments that highlighted the importance of tackling the two planetary crises in tandem.
Last year, experts from the United Nations' climate and biodiversity scientific panels published, for the first time, a report that examined how biodiversity protection and climate action could be aligned.
With COP27 taking place right before the UN biodiversity conference in Montreal in December, the climate conference looks set to be a platform that could galvanise international action to tackle climate change and also slow the rate at which wildlife is disappearing.
The impacts of the climate crisis are felt worldwide, and Singapore is not exempt from rising temperatures and the looming threat of sea-level rise.
Singapore's participation at the COPs, and the climate targets the country has made under the Paris Agreement, show its commitment to doing its part to help with the global problem.
Moreover, as a trade-exposed country that has a sizeable petrochemical industry, it also has to keep abreast of developments at COP27 that could affect its competitiveness as the world seeks to wean itself off fossil fuels.
But why should the city-state take an interest in how the COP27 climate talks could impact biodiversity conservation?
NATURE AS A SUPPLIER OF CARBON CREDITS
First, Singapore will likely rely on the purchase of carbon credits from nature-based projects to help it meet its climate targets.
At last year's climate conference in Glasgow, Scotland, countries agreed on a broad framework of rules that would allow them to buy carbon credits to meet their climate change targets.
The development of international carbon markets allows Singapore to look beyond its own borders to cut its carbon footprint.
The country's small land area means it cannot deploy large renewable energy farms at scale, while other low-carbon fuels, such as green hydrogen, is still not yet commercially viable for the country.
This means that in the near-term, even as Singapore contributes to research and development of emerging low-carbon technologies, it would need to buy carbon credits to meet its eventual goal of having its emissions reach 60 million tonnes in 2030, before coming down to net-zero by 2050.
There are many types of carbon credits on the market, including technology-based ones such as direct air capture that sucks up planet-warming gases from the atmosphere. But these are still small in scale, and are costly to develop.
Nature, on the other hand, has a ready-made "technology" that does exactly that: trees.
Reforestation projects can help to draw down the amount of planet-warming carbon dioxide (CO2) in the atmosphere. Each tonne of CO2 removed by the reforestation project could be sold as a carbon credit, which can be bought by another country who can claim the emissions reduction as its own.
Nature-based carbon projects will likely be a major supply of carbon credits that countries will use in the near-term. Forbes has reported that nature-based carbon projects represent the largest category of carbon credit projects in the already operational voluntary carbon market, comprising nearly half of credits issued.
Nature-based carbon projects can offer CO2 removal credits, such as from a reforestation project, or credits from avoided emissions, like when a forest is saved from being cut down.
Discussions on nature at COP27, including whether avoided emissions could be a source of carbon credits, are important to follow as they may affect the quantity of carbon offsets available worldwide, and Singapore's access to them.
SHAPING SINGAPORE'S CARBON SERVICES SECTOR
Two, Singapore aspires to be a carbon services hub, and the outcomes of COP27 could help guide the development of this industry.
Carbon services support the development of carbon markets, and can include the monitoring, reporting and verification of the emissions reductions from carbon projects. 
This sector has been identified under the Singapore Green Plan 2030 - the country's blueprint for sustainable development - as an area of green growth and source of new jobs for Singaporeans.
As at January 2022, there are over 70 organisations involved in carbon services and trading in Singapore.
Given that negotiations on carbon markets at COP27 have a strong focus on ensuring that carbon projects deliver "real, measurable and long-term benefits related to climate change", Singapore could contribute its expertise to carbon projects worldwide.
There are already developments on this front.
At COP27, the National University of Singapore's Centre for Nature-based Climate Solutions launched a $15 million research project called the Carbon Market Integrity Research and Development Programme Singapore.
It will help in the development of carbon estimation models that can more accurately assess the carbon storage potential of Southeast Asia's diverse habitats, including rainforests, mangroves, freshwater swamp forests, peatlands, and deciduous forests.
Currently, estimates on natural carbon storage by forests are made using global or pantropical models. But this is a one-size-fits-all approach, and the lack of accurate estimates on the carbon stocks could deter investors from establishing such projects.
With insufficient certainty about the amount of carbon credits that can be sold, investors may instead opt to use the land for other uses, such as cutting down forests to grow cash crops like oil palm, where their return-on-investment is more certain.
The Singapore-led research effort could contribute to the conservation of these rich, natural carbon stores in the region.
REAPING NATURE'S MANY BENEFITS
Lastly, the science is clear that climate change and nature are intertwined.
It would not be possible to limit global warming to well below 2 deg C above pre-industrial levels - the target set out under the Paris Agreement - without ensuring that nature is conserved too.
Nature features in all of the pathways to net-zero emissions by 2050 laid out by the UN's Intergovernmental Panel on Climate Change.
But nature's ability to take in and store carbon is just one of the benefits it provides. Research from the NUS Centre for Nature-based Climate Solutions has also shown that nature conservation could benefit humans in other ways.
Healthy forests, with a diverse assemblage of pollinators, can also help to boost agricultural yield of nearby communities, cleanse water, and conserve the biodiversity in Southeast Asia - the world's third largest rainforest basin.
Protecting nature will help protect human communities too, and Singapore can be part of the global movement to tackle the twin planetary crises of climate change and biodiversity extinctions.
As Professor Koh Lian Pin, who heads the NUS centre, puts it: "We need to protect the goose that lays these golden eggs."
Nature provides us with many other intangible benefits too. Our nature reserves, for example, provide respite from city life, and greenery throughout the urban landscape helps to cool the environment.
For me, a source of wonder and intrigue that no technology can ever replicate is in simply knowing that beautiful and paradoxical creatures - whether scaly mammals (pangolins) or the feathered descendents of dinosaurs (birds) - still exist in the wild areas of the world.
Nature, and its links to human and planetary health, make its conservation important. The goose that lays golden eggs should also be appreciated in and of itself.
ABOUT THE AUTHOR:
Audrey Tan was a former environment journalist for almost 10 years and has attended three COP climate talks. She is now the science communication and outreach lead at the National University of Singapore's Centre for Nature-based Climate Solutions and the Tropical Marine Science Institute.