Commentary: A deep dive into the strategic significance of Singapore's new submarines
In World War II, Allied submarines and surface combatants conducted massive operations across the Pacific theatre to sink Japanese cargo ships conducting resupply missions across the Japanese military installations.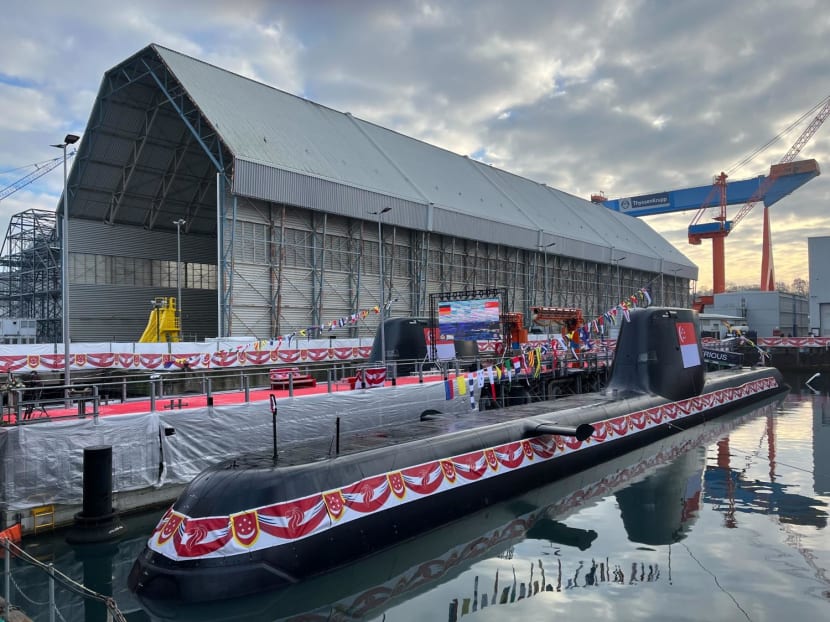 In World War II, Allied submarines and surface combatants conducted massive operations across the Pacific theatre to sink Japanese cargo ships conducting resupply missions across the Japanese military installations.
In a war of attrition, these submarines sank more than three quarters of the Japanese merchant fleet over a three-year period, disrupting and crippling Japan's sea lines of communication (SLOC).
Even today, food, grain and goods shipment transiting in and out of the Black Sea shipping lanes was disrupted during the onset of the Ukraine-Russia war, resulting in a cascading effect in the global food security, prices and supply chain.
Events like these have proven that SLOC can be weaponised in an event of heightened tension. And in a world of growing geopolitical uncertainties, SLOC and the globalised world continue to face threats of disruptions from the seas.
Modern navies today are seeing the value of submarines and are using them to complement surface combatants as a silent deterrence in the seas.
Submarines that can prowl large swaths of water virtually undetected are now elevated to a strategic weapon to counter threats both on the surface and sub-surface.
Despite its relatively small numbers and tonnage, its stealth and heavy armaments give it the ability to cripple surface forces several times its size.
PROTECTING SLOCS
Singapore — with its SLOC extending far beyond the Straits of Malacca to the West, and South China Sea to the East — is vulnerable to having its SLOC being cut off, even for events not close to home.
To add to its capability in protecting its SLOC, the Republic of Singapore Navy (RSN) embarked on its submarine journey in 1995 and began debunking myths that submarines were not suitable for shallow waters.
The strategic nature of submarines means they can be deployed in the event of hostilities to disable aggressor forces attempting to cut off Singapore's SLOCs, or even cripple them in port. The notion that a submarine is there, in itself, is a psychological deterrence to naval commanders.
There have been success stories of how RSN's Challenger and Archer-class boats are able to evade and penetrate modern anti-submarine warfare (ASW) screens set up by professional navies such as the United States and Australian navies, securing "hits" on its intended targets.
For example, the RSN shared in 2019 that RSS Swordsman remained undetected in multi-lateral war game Bersama Lima 2018, which saw participation of air and naval assets from Australia, New Zealand, Malaysia, Singapore and United Kingdom.
It is with such confidence that Singapore embarked on its next-generation submarine fleet, starting with a clean slate with the Type 218SG Invincible-class submarines.
After almost 30 years of submarine operations, RSN knew what it wanted and what it didn't. Hence, Type 218SGs are modified for Singapore's unique requirements.
These include materials suited for saline tropical waters and novel computer and automation technologies to reduce operator's workload.
In light of the busy maritime traffic around Singapore's seas, the Defence Science and Technology Agency (DSTA) packed the combat management systems with new data analytics and artificial intelligence software to automatically plot and classify sonar contacts, and provide navigation and tactical recommendations to the operators.
The new electric X-rudder drive allows these submarines to execute sharp and precise movements in shallow waters.
The Fuel-cell Air Independent Propulsion (AIP) system on the Type 218SG is also not found on other regional submarines. With nearly no moving parts, the AIP makes the RSN's submarines among the most silent in Asia Pacific.
Not only saving costs for unnecessary modifications, it also future-proofs the submarine for new systems and manpower requirements.
The first Type 218SG submarine, Invincible, was launched in February 2019. The second and third boats, Impeccable and Illustrious, were launched on Dec 13 at a ceremony officiated by Prime Minister Lee Hsien Loong and Mrs Lee as the Lady sponsor.
TIMELY INVESTMENT
Singapore's investment into new submarines comes at a time when submarine proliferation in the region is picking up.
Over the last two decades, the regional submarine fleet has more than doubled; Myanmar, Vietnam are new entrants while Thailand is seeking to start its own. Indonesia and China are on their way to expand their current fleets.
However, for the RSN, it is the nearly 30 years of continuous sub-surface experience that becomes an intangible military asset to complement modern submarines.
The above-mentioned examples show that RSN commanders have the ability to navigate older submarines to "defeat" modern warships.
Now fluent in Swedish and German submarine theories and distilled for Singaporean operating concepts, the new submarines — equipped with wider range of sensors, payload, automation and increased stealth — will allow RSN submariners to better maximise their skills over a longer period of time underwater and with greater effect.
Over the years, RSN's professional stature has been elevated, which helps it attract high-level training opportunities with other navies looking to put its anti-submarine warfare skills to the test.
Even without sailing on one, RSN submariners are pushing training limits now with the new integrated submarine training suite.
TRAINING BREAKTHROUGHS
With a digital twin known as the virtual procedure trainer as its backbone, it links with the command and dive simulators and a maintenance trainer, enabling the entire set of submarine crew to conduct drills simultaneously.
Such progress in training methodology is believed to be among the first in the world.
At the launch ceremony of Impeccable and Illustrious in Kiel, Germany, PM Lee also announced the establishment of the Submarine Affiliation Programme between the two countries.
The programme will see both navies conducting professional two-way exchange of best practices on submarine training. Such exchanges are likely to evolve into operational ones as ties deepen.
As the Singapore Armed Forces (SAF) move towards its SAF 2040 vision, RSN submarines will be no lone wolves.
In a network-centric SAF, submarines will provide and receive valuable intelligence from assets across the air, land and sea, as a single fighting unit.
Submarines will work even closer with unmanned systems, or even deploying on their own for reconnaissance purposes.
As operational tempo hastens, demands on sailors will increase.
It is through constant training and sailing that the boat commanders will be able to effect the silent arts of submarine warfare and dominate the naval arena.
ABOUT THE AUTHOR:
Chen Chuanren is a freelance defence journalist, writing for defence publications including Shephard Media and AviationWeek Network