Commentary: Domestic helpers who are single mothers like me struggle with separation from children — more employers' empathy would help greatly
This year, I wanted to focus on what I believe is my purpose in life: to continue volunteering and advocating for my fellow domestic workers.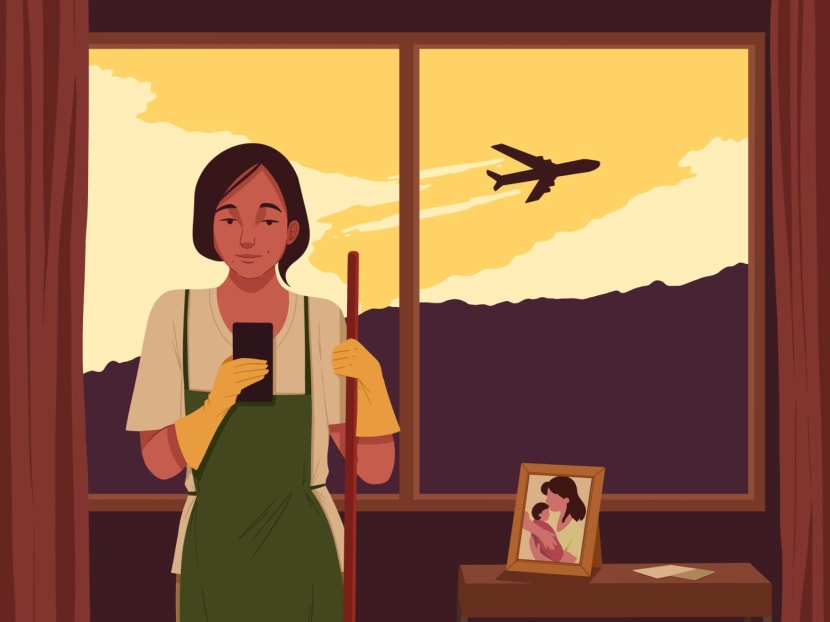 This year, I wanted to focus on what I believe is my purpose in life: to continue volunteering and advocating for my fellow domestic workers.
But to do so, I needed a good re-start: reflecting on my own identity as a single mother.
I realised that many domestic workers here are single mothers. They are sole providers – mothers who believe in hard work to achieve their dreams.
Many of us here have been away from our children and family for a very long time. For me, that period has been more than two decades.
Yet, I'm still here, like many of my fellow domestic workers. We share a goal of providing a good life for our children. Leaving them under the care of our families and for some, our distant relatives, takes a lot of courage.
Every single mother puts in twice the effort, twice the work. Because she has to be both a father and a mother. Leaving for work everyday is a must. And coming home to tuck in the children at night sometimes happens.
She gets tired. Hopeless and helpless most of the time, the smiles and giggles of her children put her together back again, and her resolve to keep going never weakens.
When she makes the difficult decision to leave her children for years to work in another country, for the sake of their futures, no one knows how it actually starts to kill her inside.
When she hears their voices, it gives her joy. Seeing their faces on video calls relieves her longing for them. She puts on a brave front, like a suit of armour over her delicate body. The courage of facing these responsibilities alone makes her stronger.
MY OWN JOURNEY
I left my children 27 years ago to work in Singapore as a domestic worker. They were toddlers then.
My eldest, Christian, was almost four; the second, Airra, was two and a half; and my youngest, Christopher was one and a half years old. They had no memories of me from before I left. I'm blessed to have my parents to take care of them.
But as their mother, I should have been by their side, when they were sick. How many birthdays have I missed? I should have been the one who sent them to school and helped with their homework.
As a single mother, I had to do the duty of a father too. I had to find a job to provide for them. And the latter kept me away for that long.
My experience as a single mother has taught me to be independent. To rely on my own capabilities to survive.
In my first year, I fought the feeling of being homesick. The mark of tears on my pillow reminded me of the nights I missed my children. The number of phone cards I placed in my album reminded me of how much I spent every week when I called them.
I thought I would only work in Singapore for two years, then go home to be reunited with my children. But I did not have savings. My salary was spent to pay a year's debt.
My employer at that time wanted to renew the contract, but in return I would have to agree not to go home, because of their busy schedule.
I was devastated, but there was little I could do. I could not afford to lose my job at that time. So I signed another two-year contract, and then another, till I stayed for more than two decades.
I spent 11 years with my first employer´s family. In all, I have worked with 14 employers in 27 years, including my current employers.
Most of my employers treated me well, like a part of their family. I often tell them about my family background, children and my grandchildren.  It eases my homesickness and it will help them to understand me.
These are the things that employers need to know when they hire a domestic worker: Her struggle to fight loneliness, being away from her loved ones.
Sadly, domestic workers are sometimes misunderstood, treated unfairly, and treated like robots or slaves. Yet they stay humble, in order to keep her job for her children.
If employers would make an effort to get to know their domestic workers instead of threatening to confiscate their phones all the time, and not allowing them to communicate with their family and children back home, the days would be easier.
MY HOPE FOR EMPLOYERS
I hope employers will always empathise with their domestic workers, treat them like fellow human beings, and welcome them to the family.
Every employer should treat their domestic worker this way to have a harmonious relationship. Allow them to go back for vacation to see their families at least once a year.
When I volunteered at HOME on Sundays, I met domestic workers who came complaining about being exhausted.
Their employers asked them to work non-stop. Even their off days were limited. Every worker needs a day in a week to rest. To recharge, relax, spend time with family.
Foreign domestic workers are generally women. A large number of us are mothers. Many are single mothers.
To have one day a week off is important for our personal matters, spending time talking to our friends and family. Especially talking to our children who inspire, energise and pull us through our difficult days.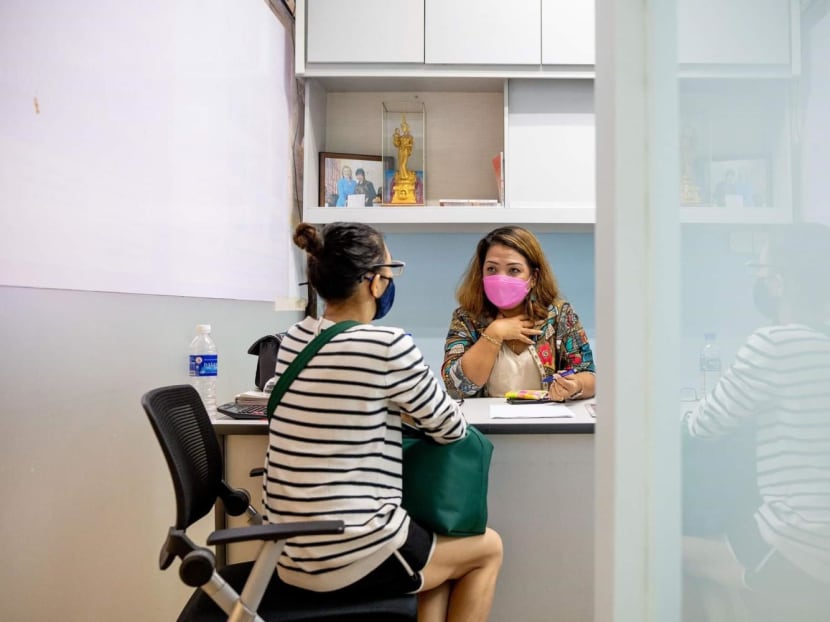 Every single mother's agony is being away from our children for a long time. We sacrifice our time with our kids to a job that might give a better life for them. No matter how difficult it is, we always think of their welfare.
However, it can also be our biggest regret, because our precious times have been taken away. Single mothers like me will never stop working.
Like many of us here, we do our job with love. We persevere to protect our job because of our children. We always aim for good relationships with our employers to work happily.
All we ask is for our employers' understanding that we left our families to work in another country.
As an advocate for my fellow domestic workers, I want to see every domestic worker given fair treatment – especially the single mothers.
ABOUT THE AUTHOR:
Bhing Navato, 49, is a Filipina domestic worker in Singapore for 27 years. She is a Help Desk volunteer with HOME, an organisation dedicated to supporting and empowering migrant workers who suffer abuse and exploitation. This piece first appeared in The Birthday Book: (Re)Start, a collection of 57 essays on what it means to have a new start in Singapore.