Commentary: From fighting climate change to illnesses — why mangroves are worth celebrating
While Singapore's remaining mangroves now cover only 8.1 sq km, they are prized for their rich biodiversity, and are gaining huge attention for their ability to help us mitigate and adapt to climate change.
July 26 has been adopted by the United Nations as the International Day for the Conservation of the Mangrove Ecosystem.
Every year, academics, non-governmental organisations, and the public come together to raise awareness of the importance and vulnerability of this important coastal forest.
In Singapore, we have lost many of our mangroves since the 1950s due to land reclamation and the construction of freshwater reservoirs.
While our remaining mangroves now cover only 8.1 sq km, they are prized for their rich biodiversity, and are gaining huge attention for their ability to help us mitigate and adapt to climate change.
Here are 10 reasons why our mangroves are worth celebrating:
1. MANGROVES ARE SURVIVORS
The coastal zone is a stressful place for a plant to live. It's flooded by the incoming tide, hit by waves, and the water has high salinity. And yet mangroves are the only trees able to tolerate these dynamic conditions.
Over the last 90 million years they have evolved different mechanisms that help them to propagate and root quickly, or to block salt from their roots.
For example, the iconic arching above-ground roots that characterise mangroves such as the Rhizophora are an adaptation to help breathe in waterlogged soils. These adaptations help mangroves to survive where no other tree can.
2. MANGROVES ARE HOME TO UNIQUE BIODIVERSITY
Animals in the mangrove ecosystem are also uniquely adapted to the coast. For example, mudskippers are fish that can survive both in and out of water.
But being between the land and sea means mangroves are also home to oceanic fauna such as octopus, and terrestrial fauna including monkeys, deer and tigers!
We can still find iconic animals, such as otters and estuarine crocodiles, in Singapore's mangroves. And at least 67 species new to science were discovered for the first time here.
These include various beetles that were discovered in Mandai Mangrove and Mudflat, and the cheryl crab (Praosia punctata) that was first found in Sungei Buloh Wetland Reserve.
3. MANGROVES ARE WORTH A LOT OF MONEY
Mangroves are valuable because they provide multiple benefits to people, supporting the livelihoods of hundreds of millions of people across the tropics.
Studies estimate that the benefits provided by mangroves are worth as much as US$57,000 per hectare per year.
This means that globally mangroves could be worth a staggering US$774.5 billion every year, Indonesia's mangroves could be worth US$151 billion per year, and even Singapore's small mangroves could be worth US$46.2 million per year.
4. MANGROVES FEED US
Mangroves are so valuable in part because they are home to a number of commercially important fish species, particularly when they are juveniles.
The tangled mangrove roots can act as a nursery for young fish, allowing them to hide from predators until they are large enough to survive in the open water.
5. MANGROVES PROVIDE US WITH PHARMACEUTICALS
Mangroves produce many chemical compounds often in response to their stressful environment, but some of these compounds can have inadvertent pharmaceutical use.
Compounds produced by mangroves have been linked to potential uses against diabetes, and others may have potential anti-tumour properties.
Recently, researchers in Thailand showed an extract from the Avicennia tree could help tackle baldness.
There is a wealth of pharmaceutical uses of mangroves that we are only now beginning to understand.
6. MANGROVES SUCK UP GREENHOUSE GAS EMISSIONS
Mangroves have gained recent interest because of their ability to be a "natural climate solution" to mitigate climate change.
Mangroves are a "blue carbon" ecosystem that suck up carbon dioxide from the atmosphere by photosynthesis and store it in their soils. Mangroves do this at densities three to five times that of rainforests, because their soils are waterlogged.
This means that carbon in leaves, branches and roots doesn't get broken down by microbes, but instead our carbon emissions get trapped in the soil for thousands of years.
This means that globally, the conservation and restoration of mangroves could lead to a climate change mitigation potential of 726 million tonnes of carbon dioxide per year.
Even in Singapore, mangroves are able to store 1.6 million tonnes of carbon dioxide emissions. This total stock of carbon is roughly equivalent to one year's worth of carbon emissions for 621,000 people in Singapore.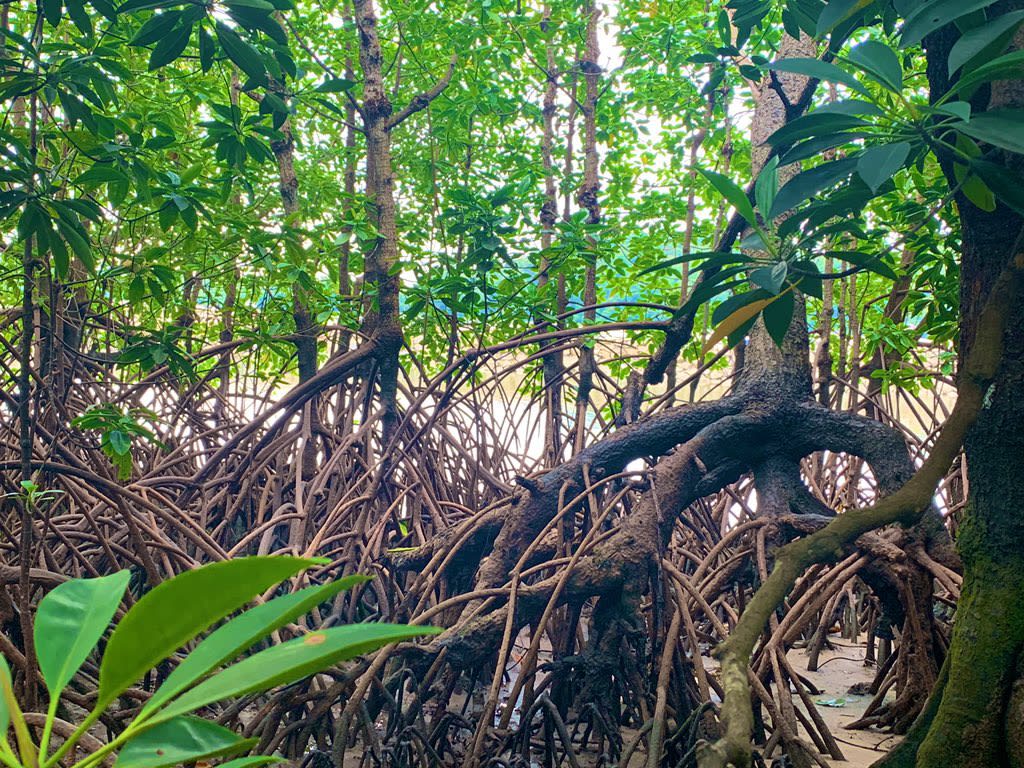 7. MANGROVES WILL SOON BE A BIG BUSINESS
Mangrove carbon is worth a lot of money. Many companies must meet their net zero carbon emissions targets. Companies are increasingly interested in buying carbon credits to offset emissions they can't minimise.
The high carbon densities of mangroves mean they produce a lot of carbon credits across a small area, and these credits can be used to fund mangrove conservation and restoration.
Our research shows that protecting mangroves with carbon credits could generate US$1.2 billion per year — money that can go towards conserving mangroves and the livelihoods of coastal communities.
8. MANGROVES PROTECT COASTLINES AGAINST STORMS
Tangled mangrove roots are a great sponge to incoming storm waves, because as the wave hits them it causes friction and reduces the wave energy and height.
As a result, there is now huge interest in Singapore and elsewhere in using mangroves for coastal protection, or integrating them into existing sea walls as a form of hybrid engineering.
Some insurance companies are now thinking about how mangroves could be used to reduce insurance premiums.
9. MANGROVES HELP US ADAPT TO SEA-LEVEL RISE
Tangled mangrove roots do more than just reduce waves — they slow down the water enough that floating sediment particles sink and deposit on the forest floor.
Over time, these layers of sediment consolidate and build up at the rate of a few millimetres a year.
This is important because it means in some places, this increase in surface elevation might be able to keep up with some rates of sea-level rise, protecting our coastlines in the future.
10. MANGROVES ARE A CONSERVATION SUCCESS STORY
Despite their importance, mangroves have long been cut down and converted into aquaculture, agriculture, hotels and urban development.
It's estimated that the world has lost 20 per cent of its mangroves since the 1980s at a rate of one to three per cent per year, higher than other ecosystems such as tropical rainforests.
But in the early 21st century, we've seen an amazing reversal in the fortunes of mangroves, where they are now lost at an average of 0.13 per cent per year — an order of magnitude reduction.
This is due to better measurements and knowledge of mangroves, stronger protection and increased restoration, meaning we are well on the path towards halting mangrove loss completely.
This success is something to celebrate and learn from so that we can better conserve other ecosystems too.
Our knowledge of mangroves has come a long way. Research into Singapore's mangroves continues apace, and more mangrove nature areas will become accessible to the public over the next two years, including Khatib Bongsu Nature Park in the northeast and Mandai Mangrove and Mudflat Nature Park in the northwest.
These are just a handful of the reasons why we should celebrate our mangrove forests, and why it is crucial to protect them so they can provide their benefits to our shorelines for decades to come.
ABOUT THE AUTHOR:
Daniel Friess is an Associate Professor in the Department of Geography, National University of Singapore, and Deputy Director of the NUS Centre for Nature-based Climate Solutions.