Commentary: How to be better understood at work and sell your ideas to bosses successfully
In 2013, I presented a business plan to a panel of senior executives in the software company I was working for. The presentation went horribly wrong.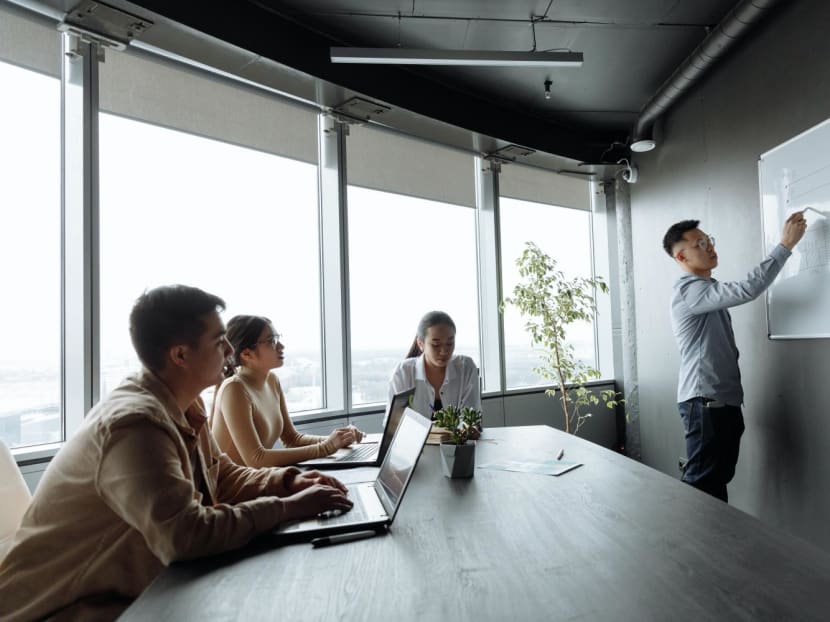 In 2013, I presented a business plan to a panel of senior executives in the software company I was working for. The presentation went horribly wrong.
My pitch was about how I would launch a new line of computers for consumers in Singapore. I had spent weeks collecting data and preparing the PowerPoint.   
After I had spent an hour presenting my grand plan, the bosses looked at me blankly.
One then said coldly: "Ian, we don't know what you were talking about, but it sounds like a poor business plan. Your plan is not approved."
I was flummoxed. Where did I go wrong? As someone who had spent a decade working in the media, I prided myself on being an effective communicator.
But that day, I realised I was a novice in the art of business communications, which all should master early to be seen as workers who can articulate and achieve company goals effectively.
Every day, millions of people are in meetings pitching ideas, explaining results or discussing critical issues with their colleagues and bosses.
Office workers often have to deal with colleagues who are distracted by work demands, family matters, or just plain exhaustion.
Who wants to be stuck in another long meeting, much less listen to your presentation? This is why communication in the workplace is more challenging than in most scenarios.
If you have been facing challenges getting your message across in the workplace, always consider the following three things — your "business literacy", your audience management and your message delivery.  
BUSINESS LITERACY
"Business literacy" is simply knowing how a business is run and what are the key levers that make it profitable.
Companies can get very complex in their operations, to the point where many employees do not actually know how profits are actually made.
Thus, if you ask someone "which is the most profitable product" or "the fastest growing division" in their company, he or she may be stumped.
I have seen many marketers waste their time trying to ask for marketing budgets for products that management is disinterested in. They have the misguided notion that as long as they have a cool marketing strategy, the bosses are sure to approve.
Instead, management often focuses on the most profitable or the most revenue-generating product.
You can find out these facts and numbers by reading the company's financial reports.
If you find financial reports difficult to digest, then look for the financial presentations that summarise the same numbers in simple infographics.  
For smaller companies that do not produce financial reports, you can have a chat with the sales team or the finance person to learn how the company really works.
When you are "business literate", you will understand what makes management tick. Then you will be able to craft a relevant message that gets them to sit up and pay attention.
AUDIENCE MANAGEMENT
People often like to say they are "data-driven" and indeed, having good data does make for strong business cases.
However, relationships can matter more than data. Abraham Lincoln once said: "If you wish to win a man over to your ideas, first make him your friend."
If you pluck up the courage to ask a boss out for coffee, you will break the ice, and learn how he or she evaluates people and business. This will improve the way you communicate with them in every scenario.
You should also cultivate positive relationships with peers in different departments.
For example, I was usually with the sales and marketing team in my previous firms, but I spent a lot of time working with colleagues from finance, legal, operations and logistics.
I learnt a few important things from these interactions.
Every role comes with its unique lingo and work priorities. A lawyer is concerned about risk and compliance matters, while an operations person worries about supply chain matters.
Once you begin to understand and speak your colleagues' "language of work", they will provide you invaluable help and feedback whenever you ask.  
For example, the finance guy will advise you whether your plan fits into the profit goals of the company, and the operations person will help you source the best suppliers.
MASTERING THE DELIVERY
Workers can spend hours or days preparing many presentation slides to impress management, but most of the time, the crucial discussion will centre around just a few slides.
Really, less is more.
Your PowerPoint presentation just needs three to five key slides to sell your idea. Any secondary slides should be moved to the appendix in case you need to use them.
And here's one last tip — share your presentation with the audience well before the meeting and ask for feedback early.
You may not know who will read your presentation in advance, but by sharing it early, you can minimise surprising the decision-makers. Nobody likes to be surprised with unexpected information or requests.
Most of these lessons were hardwired in me after my failed 2013 business pitch. Here is where I stumbled and how I picked myself up:
First, the senior executives I pitched to were people who had sold highly profitable software for years and they were unfamiliar with the low-margin consumer hardware I was in charge of.
The bosses did not "understand" what I presented because I was using business lingo for consumer electronics, which was different from the enterprise software jargon they used daily.
Finally, these were executives I had not interacted with before, and a few had just moved from Europe to Singapore. Thus, I went into the meeting completely blind to their perspectives.
To salvage the situation, I asked for forgiveness and was granted a second chance to present the plan a week later.
Before the next meeting, I had coffee with the bosses to get to know them better and asked for their individual feedback on my plan. I also revised the plan to use business jargon that they could understand.
The business plan did not change in its essence, but after I made it relevant to the decision-makers, the plan was promptly approved.
It goes to show the crucial nature of communication — understanding others and making yourself understood.  
The workplace is a tough and stressful arena. Work on your communication skills and you can avoid fighting many unnecessary battles. 
ABOUT THE AUTHOR:
Ian Tan is a communications expert and business leader who has worked in the media and the IT industry for over 22 years. He writes daily on LinkedIn on storytelling and sustainability.