Commentary: How to help youth use smartphones, well, smartly
Singapore is one of the most connected nations in the world, and most of our teenagers are connected through the smartphone, which is their always-on-hand device.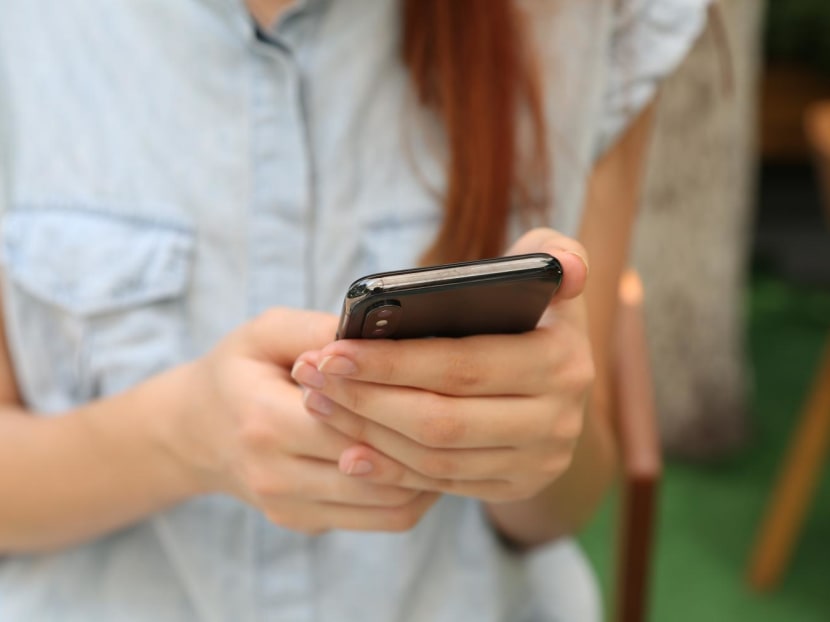 Singapore is one of the most connected nations in the world, and most of our teenagers are connected through the smartphone, which is their always-on-hand device.
But adult opinions about smartphones are generally mixed, with some bemoaning the evils of smartphone usage and taking a protectionist stance towards younger teenagers and others taking a liberal hands-off approach, trusting them to self-regulate.
Most adults fall somewhere along the two extremes.
Between March and April 2021, we conducted a survey of 5,732 secondary school students aged 13 to 17 from six secondary schools to find out about teenagers' reading habits using print and technology. Of those surveyed, 95.2 per cent owned their own smartphones.
During interviews with a smaller group of 67 students, platforms such as TikTok, Instagram, Youtube, Spotify and Netflix and WhatsApp were often mentioned.
Given the ubiquity of smartphone usage, teenagers need to be better equipped to use smartphones for their learning.
Parents and adults can guide them on how better to use their smartphones for three different kinds of literacies: Digital literacy, news literacy and leisure reading literacy.
DIGITAL LITERACY
In today's multimedia environment where teens have easy and instant access to all sorts of information, they need to be able to navigate the digital environment well. Digital literacies involve the knowledge and skills to search, evaluate and create digital content.
Students need to be able to query search engines, navigate hyperlinks and evaluate the multimodal content online.
When we asked students about how they looked for information, they told us they "would just search it up on Google". Few students were aware of other search engines or evaluated the quality of the information they found online.
When asked who taught them to use the internet, the common response was that they learnt to do it on their own, without parental or teacher guidance.
Many teenagers may be experts at looking for entertainment online but less experienced in knowing about the learning possibilities afforded by their smartphones.
For example, when one of the authors was providing volunteer tuition, she realised that her students were not aware that they could go online to search for information about her chosen career choice in nursing.
The author and student went online together and looked for information about the length of study and the potential income based on the educational pathway chosen to weigh pros and cons.
Knowing how to search for online information effectively is fundamental and should not be taken for granted amongst teenagers.
Schools could set aside time to teach students how to navigate the online environment productively and responsibly.
Using inquiry-based methods, real world tasks can be designed, and students tasked to solve them while learning digital literacy skills.
Complementing the cyber-wellness lessons in schools, parents and teachers could also have conversations with teenagers and guide them on the use of filters, keywords, quotation marks, and operators to search for information with their smartphones.
NEWS LITERACY
Given the importance of news reading to learn about current affairs, teenagers need to know how to get their news, where to get their news and understand why it matters where news comes from.
In a study conducted in Israel, it was found that teenagers and adults consumed news differently.
Teenagers read less news than adults but were more likely to use their smartphones for news reading compared to adults.
Similarly, many teenagers in our study reported using their smartphones for news reading. We found that teens read more news as they get older, from 45.4 per cent in Secondary One to 67.9 per cent in Secondary Four.
Some teens would subscribe to news media apps, while others would use news aggregators such as Google News.
A few had access to hard copies through school or home subscriptions, and many relied on social media platforms such as Instagram or Telegram to push news to them.
Given the risks of "fake news" as well as misinformation, schools need to teach students how to evaluate the information they read and how different news agencies adopt specific perspectives and, as a result, angle their stories differently.
We need to help them to understand the algorithms that drive the kinds of news that arrives in their social media platforms and teach them to read widely.
Parents and teachers can also help their teenagers download reliable news apps and discuss with them how the same news could be presented differently by various sources to provoke specific responses. 
LEISURE READING LITERACY
Leisure reading is vital for teenagers' development of reading proficiency, mental wellbeing and lifelong learning, and smartphones can be a means to more engaging and convenient reading resources.
The National Library Board's apps, including Libby and Overdrive, make available a treasure trove of e-books.
Avid NLB users in our study told us that while they mostly prefer print books, they appreciate the convenience of e-books, which could be borrowed anytime, anywhere and read on the go.
Smartphones are also a rich resource for online reading materials from all over the world.
Fan fiction published on platforms such as Wattpad and Archive of Our Own and webtoons, or comics specially designed for online reading, provide reading materials not otherwise available in physical format. Online novels and audio books in other languages open new worlds of reading resources.
However, teenagers who enjoy reading are more likely to use their smartphones for reading. Teenagers who do not enjoy reading in the first place are more likely to use their smartphones for other functions such as playing games and checking social media.
Some students also told us that the smartphone was distracting, with notifications interrupting their reading experience.
Teachers and parents can help teenagers learn to use their smartphones for leisure reading by introducing them to the various reading platforms and resources available.
Putting time aside in school for reading, helping students to find online reading sites, installing reading apps and making time for recommendations are ways to introduce teenagers to more online reading material.
ADDRESSING THE DIGITAL DOWNSIDE
To guide our teenagers to use their smartphones well, we also need to recognise the downsides of the devices.
Eye strain, addiction and distractions were some of the reasons that students in our study acknowledged were potential problems with smartphone usage.
Research has also suggested that online reading is not conducive to what cognitive scientist Maryanne Wolf terms "deep reading". Rather, the tendency is to skim and scan.
This means that cognitively challenging articles requiring focus and concentration are best read in print or at least on a larger device to avoid the tendency to browse and swipe.
Finally, despite near-universal access to smartphones, smartphone digital divides continue to exist.
Some teens may have limited access to mobile plans or paid subscriptions. Many teens may be experts at looking for entertainment online but less experienced in knowing about the learning possibilities afforded by their smartphones.
During the 2020 Circuit Breaker when students were fully at home during home-based learning, our study showed that students on financial assistance read less, enjoyed reading less and read less news than before the physical school closure compared to students who were not on financial assistance.
This suggests that schools should continue to play a key role in students' development of digital literacies and their use of technologies for learning, especially for those with lesser home support for learning such literacies.
Given the pervasiveness of smartphone usage in today's world, guiding our teenagers to use their smartphones well is one way we can prepare them for life-long learning.
ABOUT THE AUTHORS:
Associate Professor Loh Chin Ee, Dr Sun Baoqi and Assistant Professor Victor Lim Fei are co- investigators of the Designing School Libraries of the Future Study. This opinion is based on the Reading Habits of Singapore Teenagers 2021 Report, which shares some of the study findings. Results were published earlier this year.