Commentary: Illegal vapes' sweet-smelling juices mask their dangerous connection to organised crime
Soon, officers from the National Environment Agency (NEA) will be patrolling the streets, wary eyes out for litterers, smokers taking a puff in prohibited areas and a new offender: users of illicit electronic vaporisers.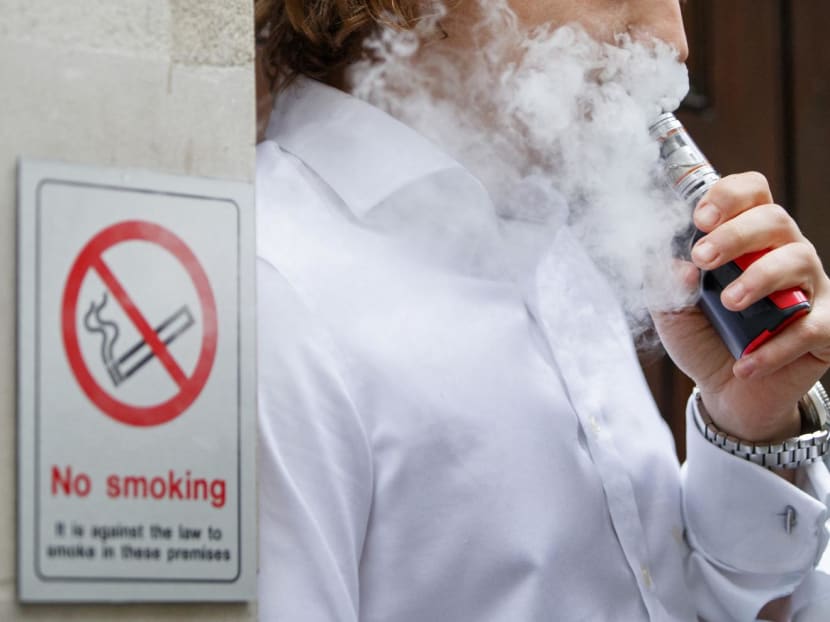 Soon, officers from the National Environment Agency (NEA) will be patrolling the streets, wary eyes out for litterers, smokers taking a puff in prohibited areas and a new offender: users of illicit electronic vaporisers.
It is part of a new cross-agency initiative between the NEA and Health Sciences Authority (HSA) announced in March, as Singapore steps up enforcement against e-vaporisers —  more commonly known as vape.
This collaboration will allow NEA officers to take action against vapers if they catch a whiff of the activity. This is welcome news.
The pilot programme is coming at a timely moment, just slightly a month after HSA announced that almost 5,000 people were caught for vaping in 2022 — almost four times the number in 2020. Hopefully, more enforcement on the streets will push the numbers down.
So far, the current penalties have not stemmed the influx of vapes into the country.
Sellers and importers may incur fines up to S$10,000 and be sentenced up to six months' jail — chump change compared to importing contraband cigarettes where fines can amount in the millions.
It is clear that the low-risk, high-reward environment of vapes poses an attractive proposition for distributors and consumers alike. That is why it is encouraging to see the vape issue being increasingly flagged in Parliament.
In February, two Members of Parliament filed Parliamentary Questions asking the Minister for Health whether there was a need to toughen punishment for both importers and users. The Government has now answered through action.
It is a good start to stop the vape trend, for its flow into Singapore is just the tip of a bigger problem. Illicit vapes may be the front-end symptom of a wider network that can possibly be tapped by crime syndicates for other illegal businesses.
Before this tricky issue becomes harder to contain, Singapore is taking pre-emptive measures. This will help it avoid becoming a hot spot for the smuggling of more dangerous goods like narcotics and even firearms.
SMALL DEVICE, OUTSIZED IMPACT
One reason why demand remains high is due to people's misperception of vaping's small impact on society, including the health impact on users.
Vapes are also less taxing on one's wallet — a point made even more pertinent after the recent 15 per cent tax hike on tobacco.
With a pack of cigarettes now going for more than S$15, there is a fear that more smokers will become vapers. For a similar price, one gets a box of three vape refill pods, each able to last from three days to a month.
But the illegal vape trade is more than just the exchange of sweet-smelling juices.
The business is connected to organised crime that sees a gateway to more insidious activities — once criminals identify a channel with lax enforcement, vapes could be a primer to deal in other illicit items. For instance, there are already vape juices laced with cannabis, which are outlawed here.
Products are also easily procured across the border in Malaysia and once they are home-free in Singapore, island-wide distribution poses little issue.
Given Singapore's reputation as a global trading hub, it could also become a distribution point for these products within the region and beyond.
Now that Singapore has ramped up its fight against vapes, the combination of heightened enforcement and penalties will help greatly in not only punishing offenders, but also serving as a warning to others. This could provide a platform to take even more action.
TAKING A HOLISTIC APPROACH
Cutting the supply off from its source would deal a major blow to perpetrators trying to gain a foothold in Singapore. It stops the flow of money, which is an easy way for bad actors to obtain funding for other unlawful businesses.
This would require even more co-operation among agencies such as the Government, border controls and even e-commerce companies that allow such products to be sold on their platforms.
With technology, they will be able to pinpoint the source and shut down imports before they lead to further harm.
Cross border collaborations in particular will be invaluable, especially when online retailers in Malaysia have been knowingly supplying vapes to smugglers targeting Singaporeans. It has already been proven effective in stopping other crimes such as scams.
As local laws against vaping are still being queried and debated on, constantly arming law enforcement agencies with up-to-date knowledge to carry out prosecution is also crucial.
A country that has put its foot down on illicit trade is the Philippines.
Its House recently passed a bill that classifies the smuggling of tobacco products an act of economic sabotage — a non-bailable offence. If and when passed by the Senate, cigarette smugglers will face between 30 to 40 years of imprisonment.
Singapore, likewise, is doing something similar with illicit drugs, by increasing punishments and expanding its jurisdiction on a wider variety of abusive substances. The same can apply to vapes.
With crime syndicates increasingly able to slip past defences and engage in illicit trading of vapes, we must eliminate this growing problem before it snowballs into something larger.
Illegal trades that go on unabated represent lost revenue for a country. From an economic standpoint, that money could be used to develop infrastructure or improve social services to benefit Singaporeans.
Make it hard for syndicates to thrive, and we can ensure a safer Singapore for all. As things stand, we are off to a good start in 2023.

ABOUT THE AUTHOR:
Shane Britten is chief executive officer of Crime Stoppers International, an independent non-profit organisation that educates communities worldwide about transnational crimes and provides a vital link between members of the public and law enforcement agencies.