Commentary: Rethinking Singapore's space constraints through graffiti
Several years ago, a friend and I were discussing why it is rare to hear music in the corridors of our public estates; why we rarely hear people singing spontaneously, beyond designated venues or licensed arrangements.
Several years ago, a friend and I were discussing why it is rare to hear music in the corridors of our public estates; why we rarely hear people singing spontaneously, beyond designated venues or licensed arrangements.
Do we not have a musical culture? It can't be — music runs deep in our cultures, and we have immensely talented artists making music for international audiences.
Was it that Singaporeans are afraid of becoming public nuisances, or of public law being enforced on them?
Perhaps; but this didn't explain the paucity of music even in private spaces (except the frequent frustrated playing of an ABRSM (The Associated Board of the Royal Schools of Music) exam piece, as many aspiring pianists can attest to).
The answer we settled on, not to fault our housing planners, is that we live in close quarters; any little move we make could impinge on our neighbours' private lives.
We respect each other's space, so we uphold a sacred silence. Only creatures outside this social arrangement, like the insolent Koel bird or the rude jungle fowl, can flout the rules.
This silence exemplifies how physical land will beleaguer us as an increasingly contested commodity.
We have nearly 8,000 inhabitants per sq km, a fact hardly lost on anyone who has experienced our national education curriculum.
Our population is hardly static; it will continue to swell, and the space will only become more shared and scarce.
It is frustrating and claustrophobic, but if we change and challenge how we perceive and use space — and more broadly, refuse to passively accept that our physical and social circumstances are inoperable — there may yet be reprieve and opportunity.
My re-enchantment with space in Singapore emerged during my experience with graffiti. Graffiti is an art style where artists write their names in public places, typically for visibility, and often, notoriety.
The contemporary form and practice started with a teen in Philadelphia, who anonymised himself with the moniker Cornbread, and used a crayon to write his name on public utilities along his route between home and school.
Amidst the destitution and social dislocation of minority communities along the east coast of America in the 1970s and 1980s, graffiti caught on as an underground movement for youth to express themselves and reclaim their physical spaces, before becoming globally popularised in documentaries like Style Wars.
Singapore has a small stable of writers, responsible for the murals that contribute to much of the visual vibrancy of Kampong Glam. (Graffiti practitioners prefer to call themselves "writers", and their practice "writing", as opposed to being called artists or painting. Graffiti writers write their name as opposed to painting their name.)
Locally, graffiti is almost synonymous with the crime of vandalism, and mentions of the art tend to bear connotations of punished foreign tourists and swift enforcement action. But the practice of graffiti lent me new eyes to see how we see space.
In cities like Tokyo, New York, and Brasilia, where graffiti thrives, almost any surface becomes an opportunity for a writer to "get up" and make their literal mark.
The practice of widespread and lawless tagging is certainly proscribed by our laws, but any space can present opportunities, through community collaboration. (Tagging is graffiti slang for a stylised signature and the simplest form of graffiti writing.)
In the last decade, graffiti crews have worked with governmental bodies like the National Arts Council and the Singapore Land Authority to revitalise disused spaces.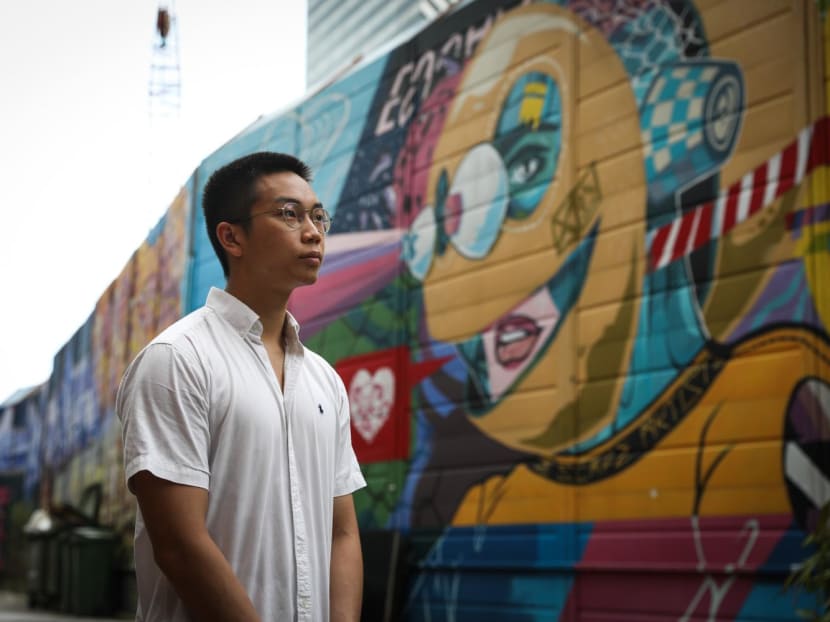 In 2018, graffiti writers covered the buildings in 369 Tanjong Katong Road, the disused Tanjong Katong Technical School, with breath-taking murals, bringing colour to almost every inch.
Today, murals line the viaduct beneath the junction of North Buona Vista Road and Commonwealth Avenue West, spicing up hikes along the Railway Corridor.
Private entities, such as businesses and landowners, have been brought into the conversation.
In 2014, Eminent Plaza, once feted for frog porridge, was turned into a writer's paradise when real estate giants Tong Eng Group, with most tenants having vacated the mall, let the building be painted and appropriated by artists of different media to give the building a fitting farewell.
Graffiti continues to be isolated to several primary enclaves, such as Somerset, Kampong Glam, Katong and Keong Saik Road.
But there are plenty more blank walls in our estates and neighbourhoods. Certainly, unlike other cities, writers cannot monopolise spaces without accountability.
However, this apparent limitation does not render our spaces untouchable. The graffiti writer's desire to practise, the Government's mandate to ensure our communities aesthetically flourish, and private owners' interest in making their locales more vibrant, all converge on the wall.
While the sites of 369 Tanjong Katong Road and Eminent Plaza are either fully or entirely demolished; writers such as Slacsatu, Antz, and ZERO continue to "get up", most recently turning dull sound barriers into the face of a bustling Kampong Glam.
Such projects like the "Graffiti Hall of Fame" along Ophir Road on the fringe of the Kampong Glam enclave continue to demonstrate the yields of collaboration.
Graffiti is but an example of reframing and remaking space — giving it a restart.
All space, with its limits and quirks, presents opportunities, platforms for conversation, engagement, and collaboration between stakeholders, to create a more ideal environment.
As society restarts in the wake of the pandemic and tourists return, I hope that we will only burgeon in our curiosity to re-conceptualise how space is and can be used, beyond its limitations.
Perhaps we will have more murals for tourists to gawk at, more platforms for sub-cultures to stake their claim on our shared space, and contribute to Singapore's multiple, interweaving narratives.
Let's challenge and capitalise on our spatial limits — restarting where appropriate, but also rediscovering what is already here — to push the boundaries of our culture.
ABOUT THE AUTHOR:
Benjamin Peck, 24, is an undergraduate at Yale-NUS College who divides his time between reading law, delving into ethnographies, learning about new blockchain projects and dancing the stress away. This piece first appeared in The Birthday Book: Restart, a collection of 57 essays on what it means to have a new start in Singapore.