Singapore sports must learn lessons from Schooling's decline
Joseph Schooling did Singapore proud at the 2016 Olympics in Rio de Janeiro. He opened the door to possibilities for Singapore sportsmen and women. The way forward now from his loss in Tokyo is to learn from Schooling how he achieved his Brazilian feat. More crucially, Singapore sports must also learn why he was unable to repeat it in Tokyo or at other competitions on the world stage.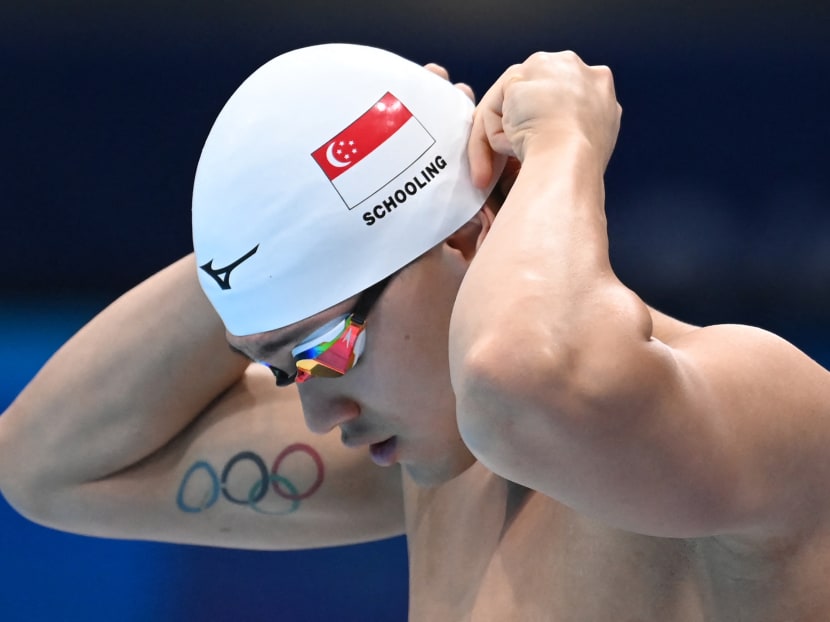 Just after 9.10 am on Aug 12, 2016, Singapore erupted in jubilation as Joseph Schooling touched the pool wall first in record time in the 100m butterfly race at the Rio de Janeiro Olympics.
It was a spectacular and unprecedented gold medal for the Lion City, made sweeter as he finished ahead of multiple world and Olympic champion Michael Phelps, as well as South Africa's Chad Le Clos and Hungary's Laszlo Cseh, who all tied for second.
On Thursday (July 29), in Tokyo, Schooling's defence of his Olympic title failed. It was just as spectacular as he was bundled out in the heat.
No Olympic swim gold medallist in recent memory has not managed to get past the preliminaries.
To add salt to injury, he finished the race last.
Even Anthony Nesty, who won Suriname's first gold at the 1988 Seoul Olympiad in the same fly event, reached the final of the next Games in Barcelona and bagged a bronze medal.
There have been encouraging words for Schooling and Singaporeans after the Olympic champion's fall from his throne on Thursday.
His defeat however did not really come as a surprise.
Chatting with fellow veteran journalists more than a year ago, we didn't think he could win again.  
That assessment came after he showed up at the 2019 SEA Games overweight. It also came as swimmers such as Caeleb Dressel were posting better times in the 100m fly.
Without a doubt, Schooling did Singapore proud at Rio de Janeiro. It was historic for a Singaporean, native or naturalised.
He opened the door to possibilities for Singapore sportsmen and women. But the way forward now is to learn from Schooling how he achieved his Brazilian feat.
More crucially, Singapore sports must also learn why he was unable to repeat it in Tokyo or at other competitions on the world stage.
Money to train doesn't seem to be the issue. As an Olympic Champion, he is in the top band of Sport Singapore's (SportSG) spexScholarship programme that pays him a stipend of at least S$8,400 a month. Since Brazil he has also snagged a slew of sponsorship backings.
But is this enough? While such figures are never made public, news reports have offered estimates. 
An ABC news report in 2012 suggested that Missy Franklin, then 17, would spend upward of US$100,000 on swimming-related expenses for that year alone. 
She won five gold medals at the London Olympics that year.
Schooling's parents have already spent upwards of S$1 million to prepare for Brazil, and it would be too much to ask more of them as it had drained their resources substantially.
So, what led to the Tokyo debacle?
He admitted to the Sunday Times in February 2020 that he felt out of love with swimming after Brazil, and "did not want to get into the pool and just wanted to have fun".
It led to his leaving University of Texas in Austin after completing his undergraduate degree, when his student visa also expired.
Schooling returned to Singapore in June 2018.
He trained in Singapore, but his decline was already well under way. It showed when he failed to qualify for the 100m fly semi-finals at the World Championships in South Korea the following month. 
By the time of the 2019 SEA Games, Schooling was carrying at least 5kg extra weight. With help from the Singapore Sport Institute, he managed to shed some kilograms off, but it was too late.
There may have been other factors that may have affected his preparations for Tokyo. It was recently reported that his father, Colin, is getting treatment for  liver cancer. 
Although Schooling told The Straits Times after his Tokyo loss that his father's illness had no bearing on his performance, he described the cancer experience of his father as "like a movie…so surreal".
Still, it is evident that a good part of Schooling's paltry performance in Tokyo was self-inflicted. 
When he made the decision to head back to the United States in early 2020 and trained under long-time coach Sergio Lopez at Virginia Tech, the work to get back to fitness was already a mountain too high to climb. 
While he had slowed down, Dressel was swimming faster, so did other potential rivals. The gap was just too big to bridge.
While in Singapore, Schooling was also no longer in an ecosystem that had moulded and honed him for Brazil. It was what Dressel has, and Phelps had. 
It keeps them on their toes, with regular competition at the very top level. It is what makes sure they are battle-ready constantly.
What was also missing in Schooling's regime is the fabled village that raises world champions. He lost that when he made the decision to return to Singapore on the expiry of his student visa instead of applying for a professional visa to remain and train in the US.
If there is a trained mentor to motivate him and even crack the whip to remind him of his commitment to swim in Tokyo, his defence of the 100m fly title may have turned out differently. Singapore just doesn't have this at the moment for world champions.
This and an efficient ecosystem need massive funding. Perhaps going forward, these are what SportSG and Singapore Inc ought to put more thought into if we are to raise another Joseph Schooling.
The 2016 Olympic champion's failure in Tokyo is not a total loss. It offers lessons and none other than Schooling can offer insights into his achievements and shortcomings.
Learning from failures, after all, beats a path to success.
ABOUT THE AUTHOR:
Ian De Cotta, a former senior sports correspondent with TODAY, is a media consultant.